An Ounce of Prevention
A focus on preventing illness is transforming sick care into healthcare.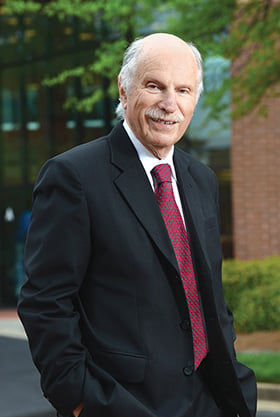 It's been almost three centuries since founding father Benjamin Franklin opined that an ounce of prevention is worth a pound of cure. Although Franklin's oft-repeated quote was actually in support of fire insurance – recognizing the devastation a house fire could cause a family without the means to rebuild – today's leaders are recognizing and promoting the value of prevention when it comes to healthcare, a value that is evidenced by the 2010 passage of the Affordable Care Act (ACA).
Preventive care includes services like vaccinations and screenings that have the goal of helping people avoid illness and improve their health. The ACA requires that most healthcare plans cover a set of these services at no cost to the patient, including no co-pay, even if the deductible hasn't been met. This is a seismic shift in the medical world, from a focus on treating a problem or person after they've become sick to placing a priority on reducing risks and keeping people from getting sick – or getting worse.
"That has been one of the thrusts of the ACA – the whole idea of covering preventive care, making sure people have the coverage from dollar one," says Robert Pallay, M.D., a family physician in Savannah who has made preventive care part of his practice throughout his 37-year career, but in recent years has seen prevention become more important across the board.
"Healthcare as a whole is shifting to a prevention model," agrees Michael Privette, executive director and vice president of the Metro Atlanta American Heart Association. "Certainly the Affordable Care Act has designed a system that incentivizes providers to keep people healthy as opposed to treating sick people, and I think that is completely consistent with our vision of what healthcare should look like – not sick care, but healthcare."
Others in the healthcare industry agree with Privette. In fact, the entire healthcare model in America is moving from a costly one of fee-for-service – meaning the more care the provider gave, the more the provider was paid – to one where the care provider also takes on some of the risks of costs of care, says William A. Bornstein, M.D., Ph.D., chief quality and medical officer for Emory Healthcare.
"The idea is that it creates more incentives for keeping people healthy," says Dr. Bornstein. "As professionals we are all interested in doing that, but what this newer model does is it really creates a financial model that sort of aligns the incentives in such a way that healthcare providers can invest in doing things for keeping [patients] healthy."
The increased focus on prevention goes far beyond the idea of keeping healthy people healthy. Prevention is also about keeping sick people from getting sicker.
While the majority of people targeted by preventive efforts are generally healthy, approximately 5 percent of patients in the medical system, most often those with multiple chronic illnesses, are responsible for as much as 50 percent of total healthcare costs, says Dr. Bornstein. "While it is too late to prevent those illnesses, we can prevent exacerbation and the need for hospitalizations and other expensive forms of care."
There is also a middle tier of patients who are not as ill as the 5 percent, but have one or two chronic illnesses, Dr. Bornstein says. "We want to prevent them from getting sicker and moving into that high-risk group."
So, whether it's a nation trying to trim its nearly $3-trillion spending on healthcare, a company wanting to reduce employee absenteeism and boost productivity or an individual striving for good – or better – health and a better quality of life, few would disagree that prevention just makes sense.
---
A Shifting Focus
The American Heart Association, whose 90-year history has been largely defined by its investment in research to ensure survival for people who have suffered heart attacks or strokes, has also shifted its mission largely to one of prevention.
"What shifted in 2010 was the launch of our 2020 Impact Goal, and this speaks directly to the issue of prevention," says Privette. "The goal is that by the end of the decade, by 2020, we improve the cardiovascular health of all Americans by 20 percent. The second part of that goal would be that we would continue to reduce death from heart disease and stroke by 20 [percent]. What was pivotal about that moment was that we got into the business of aggressively educating the public and consumer of how they can prevent heart attack and stroke from happening in the first place."
The plan outlines seven modifiable risk factors for heart disease. "No matter what your history or genetic predisposition, the most important risk factors are the ones you can control: blood pressure, cholesterol, blood sugar, BMI [body mass index], physical activity, healthy diet and smoking," says Privette. "If we can keep those risk factors in a healthy range, 80 percent of cardiovascular disease is preventable."
Some experts attribute educational efforts such as the Heart Association's as well as the wealth of health information in the media and online for the prevention movement.
When Dr. Pallay began practicing in the late '70s, he says, patients came to his office often knowing very little about health conditions or even the questions to ask him. Now the majority of his patients come with a lot of knowledge from shows on TV or from different sites on the Internet.
That knowledge, along with increased healthcare costs in the form of high copayments or deductibles, has led consumers to take an interest in prevention, Dr. Pallay says. "Those pieces have led people to being much more sensitive about their healthcare and about their health and wanting to have a part in figuring out what they need to stay healthy. I think that is what has changed over the last [number of] years."
---
Beyond Education
While education about the effect lifestyle changes can have on health as well as the desire to be healthy are crucial, Dr. Bornstein notes they are only part of the healthcare puzzle. Often because lifestyle changes are difficult to make, he says. It's hard to quit smoking, eat right and exercise – all activities that can have a huge and positive impact on health.
Dr. Bornstein cites obesity as an example of a health risk factor that is difficult for Americans – and Georgians – to manage. A 2013 report by the Trust for America's Health ranked Georgia the 19th most obese state in the country, with 30.3 percent of the adult population meeting criteria for obesity. "People largely understand the health risks and they kind of know what to do, but making those changes is very difficult," says Dr. Bornstein. "Education is helpful, but there may be other approaches in terms of helping people make these changes in their lives."
Researchers at Emory and other institutions are interested in some of those other approaches, such as incentives needed for people to make changes, Dr. Bornstein says.
Not surprisingly, some of the leaders in providing incentives for improving health for their employees are the same ones that are in the business of providing healthcare.
The Phoebe Putney Health System in Albany, for example, has extensive health and wellness initiatives for its employees, which it sees as playing a significant role toward its strategic imperatives of reduced absenteeism, enhanced productivity, enhanced employee morale and enhanced engagement, says Will Peterson, assistant vice president of human resources at Phoebe. "We have a very comprehensive health and wellness program that is visually evident when you step onto our campus. We have a state-of-the-art health and wellness facility that we refer to as HealthWorks that is free of charge to all employees and their spouses and dependents up to age 18. And we offer a comprehensive lineup of access to physical, cardiovascular and emotional wellness resources that expand far beyond that of just a typical fitness facility."
Employees participating in Phoebe's company health plan also have access to Provectus Health Strategies' My Best Health Partner program, which offers a free health screening with individualized recommendations for preventing and controlling health problems as well as incentives for following the recommendations. "If [employees] are complying with their prescribed care program, that compliance results in continued eligibility to that resource, free monitoring, reduced medical premiums as well as contributions into a before-tax health savings account," Peterson says.
"I think this is the way of the future. It is the way of the present. It is clearly where employers are trending," says Peterson. "I think in some capacity, employers will be forced to find ways to establish these types of resources and make them affordable and make them accessible for their workforce and their families."
---
The Future
Experts, including Daniel Blumenthal, M.D., president of the American College of Preventive Medicine (ACPM), a professional medical society for physicians and researchers specializing in the field of preventive medicine, have different visions of the future of healthcare, but most agree that a focus on prevention will be key.
Dr. Blumenthal cites cancer death rates, which started decreasing in 1990 after rising for decades, as an example of the power of education and efforts for prevention. "The decrease is almost entirely due to reduced smoking rates and to screening; improved treatment has contributed very little. But nearly 20 percent of adults still smoke, and if we can reduce that significantly, we can make further reductions in cancer as well as heart disease, lung disease and other ailments."
Dr. Bornstein believes the personal technology, including smartphones, watches and activity trackers that record data on individuals related to their habits, lifestyle and activities – called biometrics – will play a role in healthcare in the future. In some ways, the future is already here. For example, clinical trials that involve sensors embedded in temporary tattoos or tiny scannable strips that can be implanted in the body to read health data are available today.
These relatively new devices are already helping healthy people stay healthy by tracking sleep, physical activity and other lifestyle factors. Eventually they may help keep people who already have medical conditions from getting worse.
Although it will take time for researchers to develop ways to process information from these devices in a way that is clinically meaningful and protects patient privacy, Dr. Bornstein believes that the use of such devices holds promise.
"Let's say, for example, you have an Apple watch, and it is able to measure your heart rate. And let's say you have a medical problem such as heart failure, and we are able to develop a predictive model where a change in the heart rate and a change in body weight and a change in activity predicted that a patient was getting worse. Provided that patient had authorized the data to be sent to us and for us to connect with them, we might call them and say, 'We've noticed the following and think things may be getting worse. Can you come in so we can check you out?' We would be able to do that early [rather] than having them wait to a state where they are overtly symptomatic and might have to be hospitalized," he says.
"When you think about it, prevention is not just for the healthy, but also for people with chronic illness to prevent those exacerbations and consequences," Dr. Bornstein says. "I believe it's not that far off."
---
THE SUBWAY TO BETTER HEALTH
Phoebe Putney and other health organizations are partnering with businesses to promote wellness and prevention, whether that involves offering health screenings at malls, conducting lunch and learns at local businesses or working with restaurants to develop healthier menu options. The American Heart Association has worked with SUBWAY, for example, to develop sandwiches with less sodium – a key dietary factor in hypertension and heart disease.
"SUBWAY came to us and said, 'We want to get some of our sandwiches in line, but here's the trouble: If we take all of the salt out of those foods and people eat them, they won't taste good,'" Michael Privette, executive director and vice president of the Metro Atlanta American Heart Association, says. "Over a period of time, roughly six months, they gradually reduced the amount of sodium in their product and brought them within a healthy range.
"The human palate is sensitive to quick changes to sodium in our diet. If you gradually decrease it, you are unlikely to notice that change, so SUBWAY did just that." SUBWAY now has six or seven sandwiches that meet the American Heart Association Heart-Check meal certification program, an AHA designation designed to make it easier for consumers to select heart-healthy foods.
Many other restaurants, including the Atlanta-based Chick-fil-A, are offering an increasing array of healthier menu options as well as the opportunity for customers to select healthier accompaniments such as fresh fruit cups and green salads instead of French fries as part of their meals.
"SUBWAY was really the pioneer," says Privette. "I think that the trend is catching on, and then increasingly the American Heart Association will find like-minded partners in the fast food service industry because this is what consumers are going to be looking for – healthier options." – Mary Anne Dunkin