Masters Of Change
Georgia's MBA programs are responding to the ever-changing marketplace with aplomb.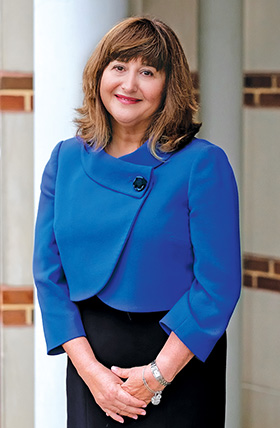 "If we go back 20 or 30 years ago, career prospects meant climbing the career ladder in one organization," says Harley E. Ryan Jr., associate dean for curriculum and teaching at the J. Mack Robinson College of Business at Georgia State University (GSU). "Nowadays, the director of our Career Management Center likens it to climbing a rock wall. That means you zig and you zag. That means you have to cross boundaries."
And that means you need modern skills to succeed. In response to changes in both modern business and its students, Georgia's colleges and universities are continually updating and refining their MBA programs' delivery, focus and mission. Today's MBA programs offer students more specialized areas of study, more options for when and where they study, and more value-added services and soft skill development to effectively prepare tomorrow's executives and entrepreneurs.
---
Added Value
When Heather Giroux lost her construction project management job in 2009, she had a couple of options. She could collect unemployment while she looked for a new job in construction, an industry hit particularly hard in the recession. She could try to transition into a new career. Or, as she ultimately chose, she could earn an MBA to make herself more marketable whether she stayed in construction or not.
Giroux enrolled in GSU's Flex MBA program in the fall of 2010, eventually working full time and taking evening classes before graduating three years later. Working while earning her MBA allowed her to implement process improvements at her job, like investing in a customer relationship management system, and see their effects firsthand. And while she also learned valuable skills like negotiating and analyzing markets and competition, her biggest takeaways weren't covered in case studies or class discussions.
"I learned that especially when getting something like an MBA, a lot of it is more who you're networking with in your classroom at the time than the actual grade that you're getting," she says. "You need to understand what you're learning and get a good education, but it's also a great way to have a captive audience of other people who might not become necessarily business leaders, but who will be someone of value at a lot of different types of companies."
Value is a constant consideration for business schools nationwide. As Rajaram Veliyath, associate dean for research and graduate programs at Kennesaw State University's Coles College of Business, notes, "It's not just subject knowledge that's important; it's how to make an impact within an organization."
In schools across the state, teaching students the intangibles of business – the soft skills of leadership, communication and teamwork – is often translated into an intentional focus on experiential education.
Case studies, class discussions, pitch competitions and market simulations help students traverse the bridge from theory to practice. Emory University's Goizueta Business School furthers this development outside of the classroom with dedicated leadership experiences where students gain valuable feedback on their leadership style and how they're being viewed by others, says Vice Dean for Programs Robert Kazanjian.
But value is delivered in other ways as well, including career counseling and personal marketing guidance. Each school offers some degree of career counseling, with many branching out of resume reviews and interview preparations and into one-on-one coaching and mentorship programs to help students clarify and target their career goals.
These career development programs aren't limited to students in a particular program, either. All career counseling services offered to Georgia College's on-campus students in Milledgeville are extended virtually to its fully online Georgia WebMBA students, and many schools have developed career counseling services that are unique to full- or part-time students, simply because every type of student understands their value.
"Even students who have very good jobs want to cover things like how to develop a personal brand, how to develop a professional road map and how to network more effectively. They see this as not just learning the business content, but the soft skills that MBA programs are known for," says Susan Perles Gilbert, dean of Mercer University's Eugene W. Stetson School of Business and Economics. "I think we have sort of relegated a lot of those soft skills to full-time MBA programs for students who don't have jobs and whose motivation for getting the degree is to get a job. But the truth is that the working students want that kind of attention as well."
Giroux was eventually recruited for her current position as a regional solutions consultant at ARC Document Solutions, a document management company that caters to architecture, engineering and construction professionals, because a company recruiter found her resume on the Career Management Center portal. For her – and for many full-time, part-time and online students like her – this value-added benefit turned out to be just as valuable as the skills and tools learned in the classroom.
---
Flexible Options
Most, if not all, of Georgia's colleges and universities with MBA programs offer a multitude of options for students to take classes in person, online or a combination of both.
KSU, for instance, offers classes for its part-time MBA program at both its Kennesaw campus and at its satellite location at the Galleria in northwest Atlanta. Students in the University of Georgia's Professional MBA program can choose from two locations: one in Buckhead and the other in Lawrenceville. And at GSU, where the majority of classes have historically been held downtown, more and more options are being explored to expand access and increase convenience.
"As an institution whose mission is critically intertwined with providing educational opportunities for working professionals, you have to be convenient after work. One way we're doing that is we're increasingly relying on technology. The other way is we have shifted much of our MBA operations to our Buckhead location," says GSU's Ryan. "In terms of adapting, we not only have to adapt in the types of experiences we give students, but also in the access. We can have the best experiences in the world, but if it's not accessible to a student, then they're not going to be able to take advantage of it."
In addition to expanding its physical footprint, GSU is also expanding its simulcast options, which allow for an interactive experience across two physically separate locations. Currently, the school has one classroom downtown equipped for transmitting and receiving signals with two or three going online by the end of the semester, plus plans to roll out three to four transmit-and-receive-equipped classrooms in Buckhead and one large, 60-person classroom in Alpharetta within this semester. It has even partnered with an insurance institute in Bermuda to simulcast its Professional MBA with a concentration in risk management to insurance professional expatriates living on the island.
"We're making a big investment and a big commitment not only to simulcast, but to technology-enhanced learning," says Ryan. "This can be online; this can be what we call blended experience, where some of it is online and some is a live experience. Likewise, the simulcast could be a blended experience. … There are many, many opportunities here to increase what I would call the experience for students to build a sense of community across multiple geographically disparate campuses that would not exist otherwise."
At Mercer University, evening and online students can now choose between taking classes at the school's Atlanta campus or online – or a combination of both. The school's online and evening programs are currently combined, giving students more options than in the past.
"What we're seeing is that people are not signing up in droves for a fully online program, but they are really liking the flexibility of taking online courses as different needs come up," says Gilbert. She estimates a growth rate of 15 to 20 percent per term for Mercer's online MBA classes.
"I don't think [online classes] will replace the live classroom experience," she says. "We think cohort programs are great for networking and for having a more intimate relationship with faculty … but there's no denying the fact that students like having the option."
---
Specialized Study
Not only do students want more options for where and how they take classes, but they also want more specialized lines of study, as evidenced by the number of newly created concentrations and MBA dual degree programs across the state.
"People are asking for combinations; they're asking for an MBA with a business analytics track. They're asking for a joint degree in MBA and a master's of accountancy," says Gilbert. "We're also seeing more interest from other professional schools that are here at Mercer," she says, including physical therapy and nursing.
KSU offers MBA/master's dual degree programs in conflict management, information systems and public administration, with a few more in the works. Plus, Georgia College, already a state and national leader in online MBA education through its participation in the WebMBA consortium, became the first college in the state to offer a fully online master's degree in logistics and supply chain management, according to J. Whitney Bunting College of Business Dean James E. Payne.
But it's not just specific subject areas students want. It's also knowledge areas, and one in particular – entrepreneurship.
"Clearly a big trend in business education right now reflects research … that 55 percent of millennials hope to own their own business," says Gilbert. "That was a really big wake-up call for business schools, because we had spent decades preparing students to work in Fortune 500 companies. And now we are seeing it up close and personal that students want to know how to create their own company or work with small technology startups in hopes of being if not the owner of the next Uber, then maybe one of the first 100 employees."
But how do you teach entrepreneurship? At a growing number of Georgia's business schools, the answer lies in experiential learning through interactive classroom exercises, co-curricular experiences to build professionalism and practical knowledge, and work with nonprofits to benefit entrepreneurs in other parts of the world.
Micro-entrepreneurs in metro Atlanta and coffee farmers in Los Robles, Nicaragua, benefit from the insights of Emory University's MBA students through the school's Social Enterprise @ Goizueta (SE@G) program. Its Start:ME accelerator program helps jumpstart small businesses in Clarkston and East Lake with network access, business advice and financing. SE@G also works with the Farmers to 40 program in Los Robles, which has helped Nicaraguan coffee farmers earn fair compensation for more than five years, and SE@G, in partnership with Comunidad Connect and Los Robles residents, completed construction on the village's first community health center last spring.
Mercer University became a founding sponsor of Atlanta Tech Village, a startup hub, in 2013. Through internships at InpharmD, an individualized healthcare information website and app located at the village, Mercer students can work alongside founder and Mercer clinical pharmacy professor Ashish Advani to gain a realistic understanding of the atmosphere, challenges and triumphs of working in a startup environment.
"We believe that this experience of working with a startup will be a good experiential opportunity. They will have a structured, planned set of deliverables that they have to produce, whether it's a business plan or a marketing strategy or a new logistics or distribution system," says Gilbert. "There has to be some learning that comes out of it so students [learn] – in addition to 'What does it take?' and 'What is the experience of working as an entrepreneur?' – 'Is this something that you really have a passion for?'"
Educating students to be effective, impactful leaders in modern business necessitates changing pedagogical methods as well. The adaptations that Georgia's colleges and universities have made and will continue to make are about satisfying the needs of Georgia's industry and professional workforce – but it's about more than that, too.
"It's about convenience. It's about effectiveness. It's about adaptability. It's about preparation," says Ryan. "When you put all those things together, I think it's a win-win situation. The challenge is that it challenges us as educators, as professors and as professional staff to do things differently as well. You cannot teach the way you always have taught."