Flight Commander
As the 2015 Most Respected Business Leader, Shan Cooper's employee-centered leadership reflects her own determination and sense of integrity.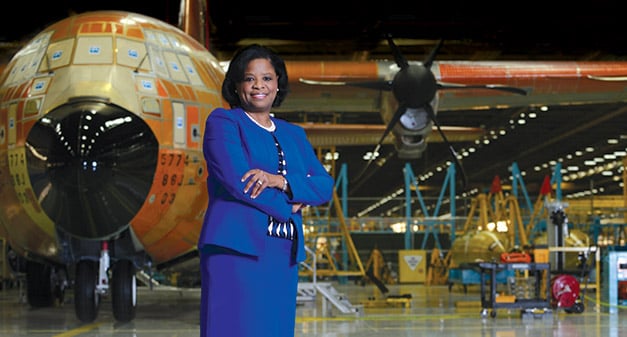 Stop just a minute and picture a major U.S. defense contractor. Bombers, fighter jets, wing assemblies, all constructed and tested in a huge facility in the South. Now, imagine the general manager of that plant – maybe a retired Air Force member or a former pilot or engineer, probably male.
You'd be wrong on all counts at Lockheed Martin Aeronautics Co. (LMAC) in Marietta, where the vice president and general manager, who is known as a brilliant strategist, a big-picture thinker, a change agent and any other superlative you can conjure, is also a woman. Shan Cooper's background, not in engineering or airplanes, but in human resources, meant she learned the ins-and-outs of airplane construction on the job. It's her willingness to get her hands dirty, while maintaining her employee-centered leadership of Lockheed Martin, that led to her being named Georgia Trend's 2015 Most Respected Business Leader.
LMAC has been a huge part of Cobb County since the first C-130s rolled off the line in 1954. Today, the company's nearly 6,000 employees continue to manufacture these workhorses – and get them in the air using the runway at nearby Dobbins Air Reserve Base. Lockheed plays a critical role in Cobb's economy, with an annual payroll of more than $600 million and a commitment to giving back that translates into more than 30,000 employee hours of volunteer service.
Cooper admits her route to the top spot at Marietta's economic powerhouse was circuitous and credits a series of mentors and her own willingness to step outside her comfort zone for making the journey possible.
She grew up in Anniston, Ala., the daughter of parents who told her she could do anything she set her mind to. "I thought for certain that I was going to be a doctor," Cooper says. "And that's why originally I was just dying to go to Emory, because it was known for its medical school.
"I'm graduating from high school, pretty much near the top of my class. I'm so excited about going to college," she says. "I didn't know how I was going to get there, but my mom had always told me that I was going to college, period. My parents weren't college graduates; they were high school graduates. I remember going to [my guidance counselor] saying, 'I've heard about this college called Emory University in Atlanta. And I really want to go there.' And she said, 'I just don't think you'd ever be accepted there. Why don't we look for a junior college for you?'
"I remember, just like it was yesterday, going home and talking to my mom about it. 'Mrs. XYZ doesn't think I can get accepted.' And [Mom] said, 'What do you want to do?' And I said, 'Mom, I really want to go to Emory.' And she said, 'Then go.'
"Emory was the only school I applied to. I'm sure my dad [a pastor] prayed a whole lot that week – and my mom. 'God, please, let this child get accepted to Emory, because if not, what are we going to do with her?'''
It was a good lesson in "don't believe everything somebody tells you." If you've got a dream, make it happen. She was accepted and majored in biology and religion – showing an early interest in people, both body and soul. But following the medical school entrance exam, she abruptly changed her mind. "My senior year in college I took the MCAT, walked out and thought, 'Oh, my God, I really don't want to do this.'
"While getting my MBA [also at Emory], I worked in the office of executive education in the business school, which gave me wonderful opportunities to work with … a lot of the Fortune 500 companies in the Southeast. Lockheed at that time happened to be one of our clients. I became really good colleagues with the VP of HR for Lockheed. He said, 'When you're done with your MBA, you've got to come work for us.'
"I really liked Lockheed, because as I worked with their leadership team, they spent a lot of time talking about ethics and integrity, which is very rare when you think about an engineering company, just industry in general, but they did." This appealed to the part of Cooper that had grown up with a pastor father who stressed honesty and integrity as the most important values.
"Her father deals in angels," says Johnny Whitaker, LMAC's director of communications. That's as close as anyone in her family is to the aerospace industry, he adds.
But she has another link. "My uncles and family members, even my brother all served in the military. I've been around it pretty much all my life," she says. She took this tenuous family connection to the military and jumped in at Lockheed, knocking people's socks off from the very beginning with her smarts, enthusiasm and ability to put everyone at ease.
"You talk to anyone in the company, when you say you're working for Shan, everyone is so jealous," says Rainia Washington, vice president for diversity, culture and equal opportunity programs for all of Lockheed Martin, and someone who has worked for Cooper twice. "Everyone wants to work for Shan."
Following her stint in Marietta, Cooper was transferred to corporate headquarters in Bethesda, Md., where she originated the position that Washington holds today. "She really created the conversation around diversity and inclusion for Lockheed Martin," Washington says. "She created the language. She became the face of diversity and inclusion. … She really paved the way for us to pick up the reins and take it to the next level."
After a few years in Bethesda, Cooper returned to Marietta, which she considered home, as head of HR.
When her predecessor, former facility GM Lee Rhyant, was diagnosed with cancer and would have to be out for treatment, "I went into his office. I said, 'Lee, it's time for us to determine who's going to sit in your seat while you're taking care of yourself,'" she recalls. His response took her by surprise: the company had already decided Cooper would be the one to stand in for him.
Cooper was stunned. "To be asked to run a major facility like this while the boss was out was really scary. It's rare that you see an HR professional transition to be an operations leader. It's pretty much unheard of," she says. "You have to be willing to learn new things, step out of your comfort zone. And then you also have to work for a great company that's willing to give you the opportunity.
"I remember us laughing. I remember him saying, 'Well, Shan, just don't burn down the place. Remember, you've got two fire departments that you own, right here on site.'"
She did so well that when Rhyant returned, Cooper retained some of the responsibilities she had taken off his plate. When it came time for him to retire, he backed her as the one to fill his position. She started as general manager in January 2011.
---
We Got a Girl
Once she stepped into the general manager role for good, she did encounter a few challenges. "Everybody in the free world knew that I didn't know how to build an airplane. I'm known as the HR leader. The challenge there becomes, one, leveraging your team; [and two,] really getting out there to learn this business," she says.
She spent days clambering through the aircraft along with the production operations director, David Logan, who acted as her teacher on the finer details of building planes. "That was how I spent many of my Fridays and many of my Saturdays, crawling around airplanes and learning them."
How well did she learn those lessons? "I think I can [build one now]. I don't know if I would fly in it," she laughs. "I've got those fire stations close by."
She says she was accepted as the new leader – the first woman to lead the plant. "After I'd been here for a while, I see one employee on the plant floor and he says to me, 'You know, Shan, I'm glad you're here and everything, but when they first announced you, I thought, we got a girl.'" She breaks into a wide smile at the memory. "I thought [that] was hilarious. I said, 'Yeah, we got a girl.' We had a lot of fun with that."
That right there – the fun – seems to be integral to Cooper's leadership. Make it fun. Make it so people want to come to work. "People come here, and they don't want to leave because the work is exciting," she says. "You're doing new and cutting-edge work. And it's constantly changing; you're constantly raising the bar. I think people come here, and they get excited. Then [they] meet good people here, so it's easy to stay."
---
Change Agent
"The word that describes Shan to me is that she's a change agent," Washington says. "She drives change so effectively in the organization that you never even really realize that she just changed [things] for the better, which is an amazing trait to have."
"I think the key, for me, is being transparent," Cooper says. "I care about the team that works here. So being able to say to them, 'Yes, this change is coming,' or 'Here's why we have to change' [is important]. People say [that] people resist change. It's not that they resist change, they just need to understand it."
"I think many times we think linearly. Shan has the ability to think beyond what's around the corner," says Amir Kazmi, head of commercial business for Lockheed Martin Advanced Technology Labs in California and someone Cooper has mentored for many years. "She inspires teams to achieve what may seem impossible, because she understands but is not constrained by present realities."
In fact, it was her motivation that gave Kazmi the confidence to develop an idea he had for collaborative software. "Shan saw the potential of my simple product idea on the back of a napkin; she encouraged me to pursue it and enabled me to make the idea a reality." That reality led to an Asian-American Engineer of the Year award for Kazmi for his product idea.
Bringing out the best in people is another of Cooper's leadership qualities. And the only way to do that is to get to know your employees. "I spend a lot of time out in the plant. I spend a lot of time interacting with our employees, understanding their families. It's important to me because they're people first. I recognize that the airplanes don't build themselves. It's going to take a talented workforce to do that."
While she's working to ensure the workforce at LMAC makes the most of its talents, she's also reaching out to the community, inviting folks in as part of the Lockheed family. For example, Lockheed is located on Dobbins Air Reserve Base; Dobbins is, in effect, the company's landlord. With a corporate-wide Family Day – a time for LMAC employees to show their families what they do at work, complete with kid's events, food, music and production line tours – coming up, she extended an invitation to Dobbins' base commander to participate.
"That's the first time Lockheed's ever extended something that's brought me over the line, into the inner circle," Col. Brett Clark, installation commander at Dobbins, says. "It's all part of her leadership. It's not just a professional acquaintance, but [as] a friend. She can do both those things simultaneously: Make you feel like you've known her as a friend forever, yet know unequivocally that there's a professional, astute businesswoman standing right in front of you."
---
Team Dobbins
Dobbins and Lockheed have an interdependent relationship, say both Cooper and Clark. LMAC is what's known as a government owned-contractor operated facility.
"We're more than neighbors," Cooper says. "There's a significant level of interdependency between Dobbins and Lockheed Martin. We actually call ourselves Team Dobbins. We rely on them. They rely on us. In addition to that, they're a great source … of talent for us. These are folks who actually know our aircraft. They understand how they operate, how they work."
"Shan has played an important role in the chamber's efforts to protect Dobbins Air Reserve Base from some form of base closure action coming from the declining military budgets within the Department of Defense," says David Connell, president and CEO of the Cobb Chamber of Commerce. "Her support for our military men and women is unparalleled, including being a strong proponent for hiring veterans." Cooper's active with the Cobb chamber, serving as a member of the executive board.
There's concern for Dobbins' future, with another round of possible base closures coming in 2017, so the Cobb chamber and business community have been focusing on getting the word out about the essential nature of Dobbins' work. For Cooper, it's more personal than that. "The thought of them not being there, I could never get over that. You think about 20,000 jobs out there potentially going away. That would hurt this economy tremendously," she muses. "So we are supporting the community's efforts to ensure that people know [Dobbins'] mission, how they contribute not just to Georgia, but to the country. They do some wonderful things for the world. We want to ensure they have a future here. Because their future in many ways is our future. I can't test aircraft without a runway."
Testing aircraft on the Dobbins runway is essential to Lockheed's work. "We [build] 24 aircraft per year," Cooper says. "We're still doing the C-130 program. But what we're really excited about is what we call the LM-100J program." The air freighter will carry bulk and oversized cargo to hard-to-reach locations around the world.
"We do the F-35 wing line here; we're excited about that," she says about the line of fighter jets used by the U.S. military. "I tell them all the time, 'You can't fly without us.' So we are critical to that project. We're looking forward to having more opportunities here around the F-35 program."
She's also looking ahead, planning and positioning LMAC to be part of new opportunities, such as the latest jet to be used to train military pilots that's in development. "We want to win it first for Lockheed Martin," says this consummate team player. "Then we want to be positioned to bring that program right here to Marietta."
---
A Lasting Legacy
"Education is a personal passion for me," Cooper says. "When I'm talking to students, I often talk to them about never giving up." She shares the story of how she got into Emory, despite her guidance counselor. "I would like to have a sincere impact on the education process for our youth, whether it's getting girls excited about engineering and science and making sure they know they can do anything they put their mind to, or it's reaching out to at-risk youth so that they can have a sense of hope. Those are things to me that are important."
Cooper puts her time where her passion is. She serves on the board for the Georgia Partnership for Excellence in Education, and she works with Girls Inc., the Girl Scouts and the YWCA. In addition, she speaks to teachers and invites them to visit Lockheed. "We bring teachers in here so they can see how they can have science and technology be fun."
"Her most recognized role in Cobb County is the focus and passion she brings to public education," Connell says. "Through her work, the implementation of more STEM education is clearly recognized."
"It's less about me at this point in my career and more about the people I can impact along the way," Cooper says. "At some point, some bright, shining star will push me out of this seat. I hope I go kicking."