Better Times Ahead
While the floor covering industry was battered during the recession, thanks to refocusing and preparing for better times, it's now poised for steady growth.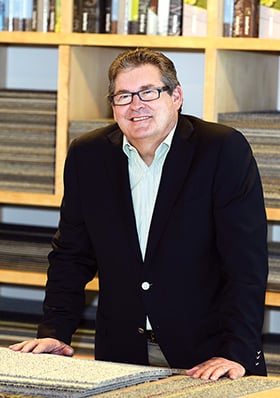 Back in 2008, no one, it seemed, was building new houses, and few were investing in commercial construction. The floor covering industry, once the mighty economic engine of Northwest Georgia, was sputtering to a standstill. Plants closed, people lost jobs, and some wondered if the region would ever regain the worldwide clout it once enjoyed.
Fast forward seven years, and that great economic engine has roared back to life, with new investments and job announcements being cranked out on a regular basis as residential and commercial construction ramps up across the state and around the world once again.
It's a sight that Joe Yarbrough, for one, is happy to see.
Yarbrough, president of the Dalton-based Carpet and Rug Institute (CRI), the industry's primary trade association, has seen considerable change in Georgia's carpet sector during his 45 years in the industry, and the last decade has been no exception.
"I've seen it mature from the standpoint of sophistication with financial acumen and the way companies operate their businesses efficiently and effectively," the longtime Mohawk Industries executive says. "It's been interesting to see the transformation from a totally entrepreneurial activity to one that has a very sophisticated business model. I mean that in a complimentary way; there is still a tremendous amount of entrepreneurial spirit."
The silver lining to the whole Great Recession was that it gave many floor covering companies a chance to retool and rethink their business model. Innovations in materials have led to more cost-effective and earth-friendly products, automation has brought efficiencies to the manufacturing process, and environmental programs have now become standard almost across the board.
Continued capital investments by some of the major flooring companies have primed them to increase capacity now that the commercial and residential markets are growing again and consumer confidence, thanks to lower fuel costs and interest rates, is on the rise.
In fact, just over the past year, announcements of growth and investment have come from flooring companies across the state.
Dalton's Mohawk Industries recently purchased Belgian vinyl and laminate manufacturer IVC Group for $1.2 billion. The company is also expanding yarn facilities in Dalton and Rome, creating 420 new jobs and investing about $85 million into the two conversion projects.
Cartersville's seeing a boom in expansions with carpet fibers manufacturer Aquafil undergoing a $25-million expansion that will add 50 jobs; rugs manufacturer Surya's $30-million expansion of its corporate and distribution center will retain 250 jobs and add 200 more; and Belgium-based floor-covering manufacturer Beaulieu International Group will establish its U.S. headquarters, creating 350 jobs and investing $200 million.
In Ringgold, Shaw Industries Group is growing its reclamation and recycling program in a $17-million expansion of its Evergreen facility that will include the addition of 70 jobs. Shaw has also invested $100 million in the conversion of a Ringgold rug plant to a luxury vinyl tile facility.
Mannington Mills is expanding again in Morgan County, creating 200 jobs and investing $50 million into the 550,000-square-foot project over the next four years.
And two years ago, Dalton-based Engineered Floors, the carpet manufacturer founded by Bob Shaw in 2009, announced a $450-million investment that would bring 2,000 new employees to two new plants in Whitfield and Murray counties over the next five years.
---
Laying Down Trends
While these big announcements have drawn a lot of attention, CRI members have also been investing heavily in innovation strategies over the past several years.
Streamlining and automation of the manufacturing process has both reduced the number of workers needed in the plants and increased the education and training necessary to do the often computer-based work. In order to ensure a steady supply of well-trained employees, flooring manufacturers have teamed up with technical colleges that provide the specialized training needed through Georgia Quick Start, the state's program to help industry train workers for new positions and technical processes that ensure new employees can operate and maintain the technology required for a 21st-century manufacturing facility.
"There has been tremendous improvement in automation and technology in all of our processes," says Vance Bell, chairman and CEO of Shaw Industries. "We have invested a lot of money over the last five or six years in systems. We have robotics in place and some very automated systems in both manufacturing and logistics. The real challenge is to make sure we have the workforce readiness to be able to use and monitor that equipment. It's certainly a different environment than 10 or 15 years ago. Greater skills are required. Even hourly operators are expected to be able to enter and retrieve data from process systems."
New products have also been developed, and others are gaining popularity. For example, there has been a shift in the polymers used in carpet fibers with increased usage of PET (polyester) and other materials that are more easily recyclable and offer a softer texture.
"We have seen a trend toward softer carpet fibers with the industry providing products that are soft to the touch," Yarbrough says.
Phillip Bridges, global vice president of manufacturing for Milliken's floorcovering division, says carpet tile continues to gain strength in the commercial market.
"From a functional standpoint, the ease-of-maintenance benefits with carpet tile is unmatched," Bridges says. "Modular carpet allows facility managers to easily manage inventory and lift individual tiles as needed for spot cleaning or replacement. Also, designers can use multiple colors of carpet tile from the same collection to create a new and unique look. In addition to the original carpet design, designers can create large-scale patterns across the floor by strategically placing tiles."
Milliken continues to innovate its offerings using infusion technology, which combines the up-market look and feel of solution-dyed nylon carpet fibers with the pattern capabilities available only through printed carpet tile.
---
Environmental Efforts
Nowhere has technology made such a difference in the flooring industry than in the focus on sustainability over the past few years. Since the 2002 founding of the Carpet America Recovery Effort, a nonprofit organization working with government and industry to divert carpet from landfills and encourage the use of recycled materials in manufacturing, more than 3 billion pounds of post-consumer carpet has been diverted from landfills and most manufacturers have developed robust sustainability programs.
Interface, a global company with U.S. operations based in LaGrange, has long been a leader in sustainability. It is incorporated throughout the design and manufacturing process of its modular carpet and was part of founder and former chairman Ray Anderson's vision for the company. In fact, the company is on track to eliminate any negative impact on the environment by 2020.
Shaw has recycled more than 700 million pounds of carpet since 2006 through the company's take-back program and its reclamation network. The growing commitment to recycling prompted the expansion of its Evergreen reclamation facility in Ringgold.
"We collect and process one way or another more post-consumer carpet than any other manufacturer that I know of," Bell says. "Our recycling operation converts it back to usable carpet material. We also use it in a waste-energy process. It's part of our Cradle to Cradle design philosophy." This guiding principle means carpets are designed so that waste is not an option; rather, products are created that will be deconstructed and recycled back into their original materials time and time again.
Mohawk's commitment to green practices includes the introduction of SmartStrand, the industry's first bio-based carpet made from corn sugars, which the company says saves enough oil each year to provide gasoline for all the cars in a mid-size city.
The 2014 Southeastern Corporate Sustainability Rankings placed Mohawk at No. 2 in Georgia for its sustainability practices. "We lead the flooring industry in sustainability," Jeff Lorberbaum, chairman and CEO of Mohawk Industries, says. "Mohawk offers more than 500 different products made with recycled content." For instance, the company has been recognized for its transformation of nearly 5 billion recycled plastic bottles into premium carpets and rugs, and for recycling 24 million pounds of used tires into decorative doormats each year.
Philip Ivey, sustainability leader for Milliken's global floor covering division, says sustainability has been part of Milliken's culture for more than a century.
"Notably, the Milliken family of companies is a carbon-negative manufacturer certified by the Leonardo Academy Cleaner and Greener Program," Ivey says. "This allows Milliken to offer carbon-neutral floor-covering solutions to end users that desire to lessen their carbon footprint.
Through a combination of rigorous business practices, Milliken captures and offsets more carbon dioxide than its global operations emit. It sustainably manages more than 130,000 acres of trees to offset its energy consumption and uses renewable energy sources to reduce its energy use even more, including harvesting methane from a nearby landfill in LaGrange. The company also diverts 99 percent of its waste away from landfills and has repurposed or reused more than 494,000 pounds of carpet.
---
Bright Future
Across the flooring industry and in all sectors, business is growing again, both here and around the world. The commercial market, which accounts for 95 percent of Interface's business, is starting to pick up after a down period. There's pent-up demand in the hospitality market, with major renovations underway.
"The multi-family market has gone crazy with a lot of construction," says Dan Hendrix, chairman, president and CEO of Interface. "It's been one of the hottest markets the past three years. The commercial office market will continue to improve. I can't call it robust, but there is definitely an improving trend.
"I feel like 2015 started out better than 2014, and it feels like the momentum is sustainable," Hendrix says.
The CRI's Yarbrough agrees.
"The housing market has had a negative impact on the residential carpet market, while the commercial market and multi-family housing market have been relatively strong the past few years," Yarbrough says. "My sense is we will see residential market improvement in the next year or two as well."
Shaw Industries also saw a strong recovery in 2013, and Bell sees nothing but blue skies ahead for the industry.
"We are more optimistic about this year and the next two or three years," he says. "Business is looking up this year, and we know that housing will recover over the next three or four years."
Lorberbaum sees the future of flooring in the rebounding residential market. "Residential remodeling makes up about 60 percent of flooring sales in the U.S., and as home values increase, employment stabilizes and consumer confidence grows, we anticipate that more people will invest in remodeling their homes," he says. "Positive consumer sentiment is now consistently reported at levels not seen since before the recession. There may be monthly variations in how enthusiastic consumers are, but the stabilization of the labor market, increased wages, improving home values and lower gasoline prices are all contributing to a more optimistic consumer outlook."
Mohawk's Lorberbaum is anticipating sales will increase this year from 3 to 4 percent, with new construction and commercial expenditures projected to grow faster than remodeling. That outlook is reflected in the forecast by the National Association of Home Builders, which predicts growth in new single-family construction in 2015, with Harvard's Leading Indicator of Remodeling Activity Index predicting greater residential remodeling investments.
"We believe that a more favorable lending environment in 2015 will support an increase in approvals for both new home mortgages and refinancing, which should free up funds for greater remodeling investments," Lorberbaum says. "Beyond 2015, we believe that home ownership among millennials will rise with the increased formation of households and the desire for comfortable and stylish family environments. We are making home remodeling a more appealing investment by creating the next generation of flooring products at all price points to help create more beautiful, low maintenance homes."
A report by the National Association of Realtors backs up Lorberbaum's assertions, citing rising rents as a primary factor in an increasing number of millennials buying houses.
To meet the growing demand, Mohawk has several expansions in the works. Mohawk's Summerville carpet fiber plant expansion, which will add 500 employees, will allow Mohawk to create stain- and soil-resistant polyester carpets with 100 percent recycled content.
It's announcements like this that ensure that no matter what lies ahead for the floor covering industry and the sectors it serves, Georgia's reputation as a leader in the field will stay intact.
---
International Carpet
Georgia may be most well known for flooring manufacturing, but the state's transportation and logistics infrastructure also make the area a natural for distributing carpet made elsewhere.
Joseph Frank notes that he is probably the youngest leader of a carpet company in Georgia. Frank, 36, took over as CEO of Kane Carpet last year following the sudden death of his father, industry veteran Herb Frank. The company remains a family-run business with Joseph Frank's brothers Dovi and Meyer holding management positions.
The Franks manage Kane Carpet from their base in Brooklyn, though Joseph Frank visits the company's customer service, sales and distribution center in Calhoun about once a month. Kane imports all of its carpets, primarily from a mill in Israel, but also sources from mills in Belgium, the Netherlands, Turkey and China.
"We were brought up on this business, and we love what we do," Frank says. "We're not a typical carpet manufacturer. One of our favorite sayings is that we think outside the beige. We are more design oriented.
"We compete in the middle to high-end market," Frank says. "We are extremely value driven. We take a high-end expensive look and drive prices down, making it more affordable for the middle market."
Kane employs about 60 people at its distribution center in Calhoun and sells to about 2,000 retailers across the U.S.
"We feel like we are in a perfect place," Frank says. "Nobody can make carpet in America cheaper than Shaw and Mohawk. We primarily make woven products, and no one is doing that in the U.S. Everyone is importing."
Kane's business has been on somewhat of a roller-coaster ride the past two years. Sales were up 14 percent in 2013, but were down 4 percent in 2014. Frank is optimistic that this year will be better.
"January was good, and we hope the bad weather in the Northeast won't affect us too much," Frank says. "We are forecasting 15 percent growth in 2015."
Frank says Kane has an ongoing challenge, and that is to find skilled installers who can handle the challenging methods of woven carpet installations.
"We're not getting any young blood in the installation field," Frank says. "That's the biggest challenge on my side." – John W. McCurry