Art of The Meal: Pacci Italian Kitchen + Bar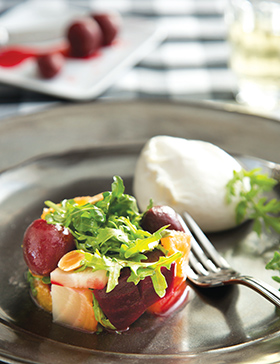 Talk about eating your words. I hesitated only momentarily before lifting another forkful of deconstructed asparagus carbonara, a vibrant color wheel of cubed pancetta, vegetables, poached egg and savory zabaglione at Savannah's new Pacci Italian Kitchen + Bar.
It was my last meal of an eye-opening city dining tour that included such new enterprises as The Grey, the most exciting experience of the trip (featured in Georgia Trend's April issue and since nominated for a national James Beard award as Best New Restaurant after only two months in operation); Hugh Acheson's beautifully renovated warehouse, The Florence; the pleasantly scruffy Ampersand; the effortlessly elegant The Collins Quarter; and the fun, creative Asian-inspired mini-chain that includes Fire Street Food and Chive Seabar and Lounge. You'll be hearing more about them in upcoming reviews.
Just a few weeks before, for a story about restaurant trends in the state, Georgia Trend writer Susan Percy asked me which region was most ready for a boom. "Savannah?" she asked hopefully. I said I didn't think so – the little town once boasted a nationally respected dining scene, with Elizabeth's on 37th and a deep bench of supporting players, from Mrs. Wilkes' and the Pink House to newcomers like Local 11 Ten.
Despite the enduring high quality of that old guard, after the economic crash, it seemed Savannah lost its culinary mojo as both vanguard and conservator of Southeastern port city flavors, its few new restaurants inconsistent. Instead, I put my money on the North Georgia mountains, where young local chefs are celebrating the growing interest in Appalachian foodways in homespun restaurants on tiny town squares.
Well, color me updated. Since that tour, I'm delighted to declare I might well be completely wrong. (It wouldn't be the first time, but I'll wait until after a similar tour through the foothills to decide.) But it seems the entire town is sprucing itself up, from the updated Broughton Street shopping district and new hotels to … heck, even Midnight in the Garden of Good and Evil is getting a new Metabook app.
Pacci Italian Kitchen + Bar, in the sleek new Brice Hotel on Bay Street (formerly the Mulberry Inn), is the latest endeavor of Roberto Leoci, also chef at his eponymous casual trattoria on Abercorn. On two visits, Pacci delivered flawlessly, its updated Italian mission accomplished through attentive but not intrusive service and consistent, near-obsessive attention to detail. It's exactly the kind of result you hope to find in a hardworking hotel restaurant, especially when a chef must often depend on his staff when he's not there.
It appears Savannahians are embracing Pacci – on a weeknight, it was humming with hotel guests as well as diners familiar with the staff and menu. The large courtyard, with umbrellaed tables, should be a pleasure on a Savannah spring evening. It's a contemporary but not aggressively challenging bill of fare, focusing on ingredients (often local) and ease rather than complexity.
Dishes and cocktails are often seasonal, from our wintertime Fig Old Fashioned to a burrata-and-beet salad with Marcona almonds and blood orange vinaigrette. The "Hog Farmer," a pizza-like flatbread, is rustic and irregular, sprinkled with sausage – a perfect starter for a group. Pastas, such as the creste de gallo ("rooster's crest"), pumpkin-filled ravioli and pan-browned gnocchi, are housemade. Standout entrees included the Seafood Mediterraneo (the local fresh catch on my visit was flounder with capellini and a white wine caper sauce); and the North Carolina trout, with orange-sage sauce over fingerling potatoes and halved, roasted Brussels sprouts.
Desserts are respectably Italian, which is to say rich and generous without overwhelming. The tiramisu represents well, but the lemon sorbet with spicy peach jam, toasted Georgia pecans and amaretto cookies speaks Italian with a specifically Savannahian drawl. So did perhaps my favorite dish of the two visits: The brunch menu's arancini, converted from the dinner menu's traditional fried, mozzarella-stuffed rice balls, to crisp, shrimp-stuffed grits globes on a pool of marinara.
Pacci, like its Italian name, translates to the whole package – a blend of diverse and homegrown flavors, just as it appears Savannah itself is becoming.
---
Pacci Italian Kitchen + Bar
601 East Bay St. (at Houston St., in the Brice Hotel), Savannah
912.233.6002 or www.paccisavannah.com
Hours: Breakfast and lunch, Mondays-Saturdays. Brunch Sundays. Dinner nightly.
Parking: Valet and on-street.
Dress Code: Effortlessly stylish (aka Italian).
---
Speaking of coastal discoveries …
On St. Simons, long the proud standard-bearer of fried seafood and righteous barbecue (Southern Soul just keeps getting better, now with an even more adventurous brunch and online sale of such housemade hot sauces as peach-habanero), we were thrilled to find little Island Pho, a calm oasis featuring the Vietnamese rice noodle soup along with cool, translucent spring rolls, traditional entrees like "shaking" beef, fruit smoothies and beer and wine. Southern Soul, 2020 Demere Road, 912.638.SOUL, southernsoulbbq.com. Island Pho, 111 Longview Plaza Driveway, 912.268.4081, islandpho.com.