Southwest: Enjoying A New Normal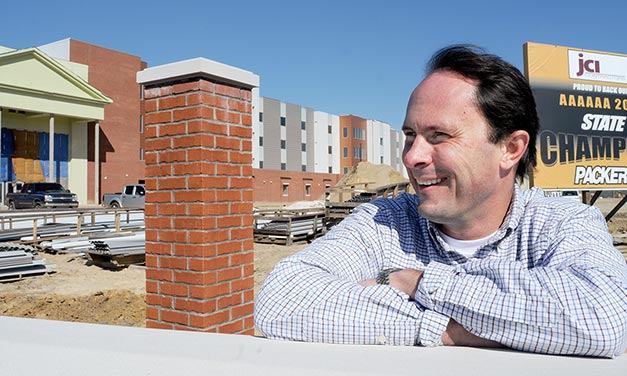 As the bad economy slowly becomes a bad memory, the folks who live and breathe economic development in Southwest Georgia are finally able to talk about the local economy with words not often used in recent years.
Good words, like "definitely better" and "prospects at an all-time high," that have gone mostly unused since before the Great Recession have once again become a regular part of the conversation.
"We've all been through some bad years, but the economy is looking much, much better," says Shelley Zorn, executive director of the Thomasville-Thomas County Economic Development Authority. "A good economy is looking like the new normal."
From Thomasville to Tifton, Albany to Valdosta, economic development leaders are seeing reasons to believe the future does look brighter. To help ensure growth, they have banded together to market the entire region as a good place to do business.
There's "a lot of excitement that this will help all of us," says Darrell Moore, chairman of the organization called Locate South Georgia, which is a collaboration of 21 South Georgia counties to encourage economic development in the region.
"That makes us stronger to market the region as a whole," Moore says. "Each of us wants to attract new business to our own county, but we also know that a new business in one county also benefits all the neighboring counties."
Moore, president of the Moultrie-Colquitt County Chamber of Commerce and the Development Authority, says the goal of Locate South Georgia is to bring awareness to what the region has to offer, from tax abatements and low-cost utilities to tax credits for creating jobs. "We will have events to bring project managers here, and we'll go to Atlanta and elsewhere for events," he says.
The counties currently participating in Locate South Georgia include Berrien, Brooks, Colquitt, Cook, Crisp, Decatur, Dougherty, Grady, Lee, Lowndes, Mitchell, Randolph, Seminole, Terrell, Thomas, Tift, Turner and Worth. Representatives of AT&T and Georgia Power are also participating, and other counties are interested in joining the group.
For his own community, Moore says, "I feel good where we are right now. We just held our own last year, with some gains and some losses, but 2015 is off to a good start. Agriculture, our mainstay, is strong, we have several industries planning or considering expansions and we have some good prospects."
Thomasville's Zorn has a lot of experience in the economic development business. That makes it worth noting when she says, "2014 was the best year I've seen in the 15 years I've been in economic development, and this year looks even better. We already have 13 existing industries expanding in 2015, adding 700 new jobs. We love new industry, but the key to our growth is our existing industries and fortunately they are doing well. You can most definitely tell the economy is getting better."
With 120 existing industries of all types, Thomas County enjoys a more diverse economy than many of its Southwest Georgia neighbors. "Agriculture is really big here, and it has done well in recent years," says Zorn, "but we also have a variety of companies in a variety of sizes, all the way from a three-person manufacturer to baking giant Flowers Foods, which has its headquarters and a bakery right here in Thomasville."
In addition to its growing existing industry, Zorn says she's excited to have a new 293-acre industrial park to help lure new business. "I've already got four really good prospects interested in sites in the park," she says.
Others in the region are reporting similar good news.
With a deal-closing fund in hand and a rebranding campaign underway, Albany's Justin Strickland is looking forward to a busy future.
"We have a great pipeline of projects," says Strickland, president of the Albany-Dougherty Economic Development Commission. "We've been busy laying the groundwork for a productive 2015 and are already starting to see retail coming back."
Strickland says the first phase of a community-wide rebranding campaign has been completed, and "we have seen some very positive traction in trying to make everyone who lives here an economic developer." He says the campaign's goal is to encourage residents to have pride in their community, thereby making them part of the team selling Albany as a good place to live and do business.
A key tool for recruitment is the job investment fund announced last year by the city of Albany and the economic development commission. The first project through the fund is a $200,000 grant for agricultural aircraft manufacturer Thrush Aircraft to expand production at its Southwest Georgia Regional Airport facility.
"They'll be creating over 100 new jobs as they expand their production line so they can build larger aircraft," Strickland says.
"I am very bullish on the Tifton economy and prospects for growth in the coming year," says Brian Marlowe, president and CEO of the Tift County Development Authority and the Tifton-Tift County Chamber of Commerce. "Our existing industries continue to add jobs and expand. Furthermore, our prospect activity is at an all-time high and plans are underway for a new spec building in our new industrial park."
Marlowe says 2014 was "a banner year" for Tifton and Tift County. "We celebrated the opening of American Textile Company's new 200,000-square-foot manufacturing facility in September and were also fortunate to locate Rush Truck [Center], Tire Distributors of Georgia and Lanter Delivery Systems to Tifton in 2014."
In Lowndes, Andrea Schruijer, executive director of the Valdosta-Lowndes County Development Authority, says, "We're seeing more activity than in a long time, and the good news is it's coming from both existing and new industry. We've had some growth during the past couple of years, but much of it came from our existing industry expanding. As we get into 2015, we're seeing more interest from new prospects."
Schruijer is expecting especially strong growth in retail and hospitality. "We have eight exits off I-75, so we attract shoppers from throughout the region plus all the travelers looking for accommodations and food," she says.
Schruijer says Valdosta-Lowndes has plenty to offer prospects, including three industrial parks "with some 500 acres completely ready."
Lowndes' neighbor, Cook County, started 2015 on a high note.
"We're excited about the remainder of 2015, as the first quarter brought us two great announcements," says Lisa Collins, director of economic development for the Cook County Economic Development Commission.
From Blue Sky Biomass Georgia came word that it is investing $30 million and creating 90 jobs in a facility in Adel to manufacture wood pellets, primarily for power producers in Europe. And peanut combine manufacturer Colombo North America announced plans to expand, investing $1.5 million in a new, larger facility in Adel on a 10-acre site on Interstate 75. The expansion will create up to 10 new jobs.
Collins says the county has been laying the groundwork for growth, completing a $5-million improvement project at the local airport and making infrastructure improvements at the county's 3,000-acre megasite industrial park. The megasite runs parallel to I-75, with a portion "ready to develop."
"We are currently working with three large manufacturing prospects and are seeing a steady pipeline of other inquiries," Collins says.
"2015 is looking very promising," says Bruce Drennan, executive director of the Cordele-Crisp County Industrial Development Council. "We have two big projects in the works. One's a frozen poultry exporter looking at building a refrigerated warehouse, and the other is a company that needs a manufacturing facility to make chemicals for municipal water systems. Together, the two would add about 140 jobs."
Both of the companies were attracted by the Cordele Intermodal Center, an inland port that serves as a staging area for container cargo going to and from the Port of Savannah. Companies can bring their cargo to the Cordele facility, where it is shipped by rail car to Savannah and loaded directly onto a ship.
Lee County has had good success in recent years attracting commercial projects, and it looks like that trend is continuing, says Winston Oxford, executive director of the Lee County Development Authority and president of the chamber of commerce.
"We ended 2014 with more than $12 million in new commercial completed or under construction, and we have two more $3-million projects breaking ground this year," he says. "I've also got a handful of good prospects looking at us. … It's looking like a good year."
Karen Rackley, president and CEO of the Sylvester-Worth County Cham-ber of Commerce, is also expecting a good year.
"We added 150 new jobs last year, and our unemployment rate has been steadily dropping," she says. "We have a new Walmart open, we've added a number of new small businesses and our largest company, ConAgra Foods' Peter Pan Peanut Butter plant, is expanding and has added 45 new jobs."
Local community leaders "have been working really hard to be ready to welcome new industry," Rackley says. "We have a new 196-acre industrial park that is shovel ready for tenants. The economy is looking better, optimism is up and it looks like it's all starting to come together."
Read about individual regions: