South Metro: Start Your Engines
Fast cars, films and industrial development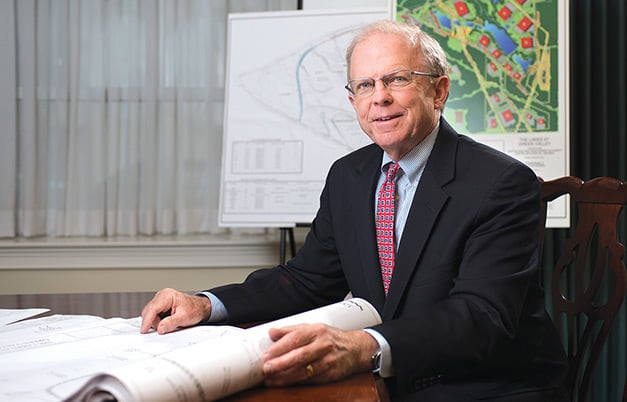 The motto for South Metro Atlanta in recent years could very well be "Lights! Camera! Action!" With the emphasis on action. It's true the Southside has attracted more than its share of film crews and film studios, but the action can also be found in nearly every aspect of the economy and economic development.
Not only is the region – which includes the southern end of Fulton, along with Clayton, Coweta, Fayette, Henry and Spalding counties – coming back from the recession, but it's finally coming into its own.
In decades past, this region was usually an afterthought for companies seeking to expand or people looking for a place to call home. Many looked north to the top end of the Perimeter. Corporate executives in particular favored the big houses and quality of life offered by Alpharetta and Roswell.
While it may not exactly have caught up to its Northside rivals, South Metro has certainly narrowed the lead and now seems poised to compete in new and innovative ways.
The level of economic activity has been kicked up a few notches with a wide range of development getting ready to come out of the ground.
"Companies that had been holding back on expansion and retooling are now taking action thanks to the improving economy and balance sheets," says Al Nash, executive director of the Development Authority of Fulton County.
He cites the decision by Porsche Cars North America Inc. to build its new headquarters adjacent to Hartsfield-Jackson Atlanta International Airport as the development that really got the economic ball rolling on the Southside. The German carmaker is the first company to locate within the Aerotroplis Atlanta business district, constructing a facility on a 26.4-acre site. Along with the Porsche Cars North America headquarters, the complex includes the Porsche Technical Service and Training Center and the Porsche Customer Experience Center, featuring a 1.6-mile test track and handling road course.
"The availability of land and the accessibility of the infrastructure needed to accommodate growth has led to a lot of wins over the last two or three years," Nash says.
Those were two big factors that are helping seal the deal for a number of big projects in the area.
Taking a cue from Porsche, Walmart plans to invest $108 million and employ 400 people over the next three years in a new fulfillment center near Hartsfield-Jackson to process online orders. The 1.2-million-square-foot facility at the Majestic Airport Center IV Industrial Park in Union City will open in late 2015.
---
Driving Development
All of this is part of a drive by the Atlanta Aerotropolis Alliance, convened by the Atlanta Regional Commission and comprised of leaders from the region's public and private sectors. Its job is to foster a new level of development with the airport at its center.
The term aerotropolis was coined to describe an urban environment that develops around an airport and reflects a growing realization that airports – both here and around the world – are likely to become centers of trade and commerce, as well as population hubs.
"[The alliance is] working together to foster and continue to advocate for the appropriate growth and development in and around Hartsfield-Jackson," says Michael Hightower, founder and managing partner of real estate developer The Collaborative Firm and a member of the aerotropolis board.
As more companies like Porsche and Walmart begin to cluster around the airport, that will lead to additional residential, retail and other commercial development nearby. While aerotropolis isn't going to replace either North Fulton or Midtown Atlanta as the place to live and work – at least not any time soon – the region is likely to become more attractive to some of the same kinds of companies and people that once would have located farther north, according to Hightower.
South Metro has some assets that those regions lack – most importantly, low-cost land ripe for development.
"If we look at the north region, it is developing and has developed at such a fast rate that the amount of undeveloped land has diminished quickly," says Ken Dobson, economic development administrator for Fulton County. "The area of the county that provides the greatest opportunity for large, medium and small-scale real estate development is South Fulton."
To help pave the way for that development, the county has been putting money into infrastructure. It's also engaged in some innovative public-private partnerships with the development community – including around another Fulton County airport.
Fulton joined forces with Majestic Realty to create a $120-million privately financed real estate development initiative at Charlie Brown Airfield. The plan calls for about 2.8 million square feet of state-of-the-art industrial logistics, warehousing and distribution space supporting about 1,200 jobs. It will also produce new tax revenues for Fulton County, according to Dobson.
An unused runway will be converted to a pad-ready site for new corporate jet hangers. A new control center is also to be privately financed and constructed by the developer as a part of this transaction, he says.
"Majestic provides the financing to the partnership, so there is no public money in the financing at all," Dobson says. "This is on the northern-most tip of the Fulton Industrial Boulevard north of I-20. You get 1,000 jobs. You get improvements to the airport. You get the added traffic coming in from the corporate tenants that park their planes there. It begins to create an engine for other businesses and real estate development in that area."
---
Building Blockbusters
Then there is the true "lights and camera" aspect of economic action. Movie and television filming has become big business in this region. A wave of film crews have been drawn to the state by generous tax credits, and a surprising number have decided South Metro is the place to set up camp.
Fayette County got a big boost when it was selected as the new home for Pinewood Atlanta Studios. The British-based film company is best known for producing some of the biggest movie blockbusters of recent decades, including the James Bond series, Harry Potter and more recently a slew of Marvel Comics superhero epics.
The complex, which opened last year, features five state-of-the-art soundstages on 288 acres and handles big-budget productions such as Marvel's AntMan, set for release this year.
The company was drawn to the area by easy access to the airport, but also by the rural aspect of Fayette County. An advance team from Pinewood had looked first at Peachtree City, where Drop Dead Diva among other shows had been filmed and where there was an existing soundstage. They decided that it was a little too close to air traffic and a bit too noisy, according to Fayette County Commission Chairman Charles Oddo.
"They really had much grander ideas in mind," he says. "So on the way home, the head of the development authority took them up a country road in Fayette. They drove past a piece of property that was rural, and Pinewood fell in love with it."
The 300-acre property was a family farm. The family – whose members now live mostly out of state – were willing to sell to the right buyer. Across the road was an empty elementary school that also became part of the deal and has since provided offices for the studio's other businesses, such as catering and vehicle rentals.
"They loved it because they thought they could have their studios there and be surrounded by enough greenspace that it would be like being in the country," says Oddo. "That's pretty much like what their studio might be like in England."
The studio itself was constructed in a wheat field and is just a short distance from barns and other fields. It is now churning out blockbuster films, and that has attracted a number of additional businesses that support film production, including a Home Depot distribution center that will provide lumber to build movie sets and other supplies.
Pinewood joins the EUE/Screen Gems Studios Atlanta. That 10-stage, 33-acre studio complex opened in 2010 on the former Lakewood Fairgrounds. Then there's the Raleigh Studios Atlanta complex in Senoia – the town that has become closely identified with the zombies of The Walking Dead television series.
More studios are on the way. Movie mogul Tyler Perry signed an agreement with the redevelopment agency marketing the now-closed Fort McPherson property in East Point. He is expected to acquire about two-thirds of the sprawling army base for his own future film studio. The deal includes 330 acres of the 488-acre site with plans to build 16 soundstages for a purchase price of $30 million.
The remaining acres will be redeveloped with greenspace, new streetscapes and transit, with a portion reserved for the Veterans Administration.
---
Manufacturing Wins
The rising tide of development also bodes well for Clayton County, which suffered more than most Metro Atlanta counties during the Great Recession. Here the county is making good use of its assets, including the highest level of tax incentives available to businesses in the region.
The county can offer new businesses that want to expand as much as $4,000 per qualified job for five years, according to Bill Keir, deputy director of the Development Authority of Clayton County. "For a large employer – and we've had several this year – that can be quite significant."
Clayton had three big wins announced by Gov. Nathan Deal in the past year. The biggest of these was Chime Solutions Inc., an outsourcing firm for human resources and staffing that also operates call centers, which announced that it was moving its operations to Morrow.
The company took over a former JCPenney building at Southlake Mall. The 65,000-square-foot facility is being converted into a state-of-the-art call center that will eventually employ more than 1,120 workers.
The move was good news for Southlake, which was purchased last year by Vintage Real Estate of Los Angeles. Since then the company has been busy investing funds in upgrading the mall and attracting new tenants.
More good news came with the announcement that Kroger would be building a 1-million-square-foot distribution center at the former Fort Gillem property in Forest Park. State and local leaders see that deal as the first step to turning the abandoned army post into a major distribution hub for the metro area and the Southeast. The grocer will hire 120 workers and invest more than $175 million over five years.
The Pentagon decided to close Fort Gillem in 2005 as part of the Defense Base Closure and Realignment (BRAC) process to eliminate unneeded military facilities around the country. When the last military personnel left in September 2011, Forest Park purchased the base from the Army for $30 million. Ownership was later transferred to the Forest Park/Fort Gillem Implementation Local Redevelopment Authority.
Further south, Henry County has long been regarded as the king of the big-box warehouses and logistics centers. Along with company expansions and relocations, it also added an important educational asset when Southern Crescent Technical College's new satellite campus opened last summer.
The 25-acre campus is adjacent to Henry County High in McDonough. It will include general purpose classrooms for pre-health, business management and criminal justice courses and laboratories for CISCO networking, computers, life science and an MRI/CT simulator.
The county also expanded its college and career academy, Henry Academy for Advanced Studies, making it one of the largest in the state.
A growing number of foreign companies are starting to locate throughout the metro area, and nowhere is that trend more apparent than in Spalding County. Three international companies moved operations to The Lakes at Green Valley, the first and only "eco-friendly" industrial park in the state, according to David Luckie, executive director of the Griffin-Spalding Development Authority.
"We've landed three companies in that park, and they all happen to be Japanese," he says.
Otsuka Chemical Co. Ltd., a maker of titanate friction material for disc brakes, invested $15 million and hired 32 workers for their operation. They were followed by Toppan Printing Co. Ltd, whose $100-million investment yielded 80 jobs for the county. They will be producing plastic film for food packaging.
The third newcomer is Marukan. This vinegar brewery is expected to add 15 to 20 jobs and invest approximately $13 million in its operations. The company has been owned by the same family since the 1600s, according to Luckie.
Spalding County also scored a win in the war against off-shoring of manufacturing. The country's last towel manufacturer, 1888 Mills, decided against leaving the county and instead consolidated several plants into a single location. In the process, the firm not only kept 200 jobs here, but also added another 100 to its payroll. The company purchased and is retrofitting the 500,000-square-foot former NACOM facility on Airport Road in Griffin as its new home.
"Sometimes with technology you can automate and gain enough efficiency to make it competitive, even with paying a higher labor rate," says Luckie. "That's what has kept them here in the U.S."
By maintaining its operations in the U.S., the company is also able to promote its "Made in the USA." label. One of its biggest customers is Walmart, which has lately been promoting American-made merchandise.
The county will soon be more hospitable to food company startups. Work is underway at the University of Georgia Griffin campus on a new Food Technology Center.
The state-of-the-art facility will house pilot plants and laboratory spaces for food production and development. Its researchers will provide innovative guidance to business owners in a wide variety of areas, including food product development, packaging and marketing.
Healthcare has been getting extra emphasis in Coweta County, where the HealthSouth Rehabilitation Hospital opened in Newnan. The 50-bed hospital offers comprehensive inpatient rehabilitation services. The new facility will create 120 new jobs with a capital investment of more than $20 million.
The county's Shenandoah Industrial Park became the home of a new 460,000-square-foot Niagara Bottling facility. The company, which announced Coweta County as the location for its newest facility back in March of last year, began production in December.
It's just another sign that South Metro Atlanta is poised for action.