Northwest: Ramping Up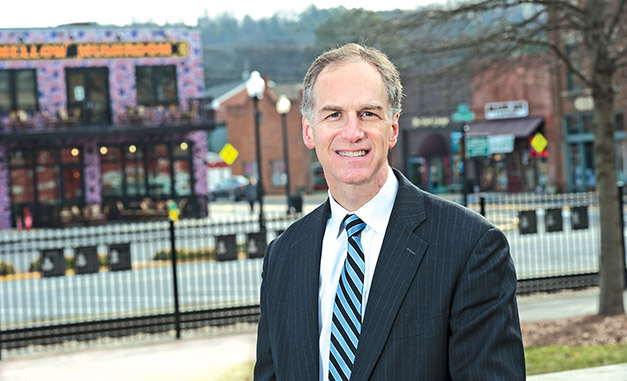 Across Northwest Georgia, the flooring industry is kicking back into gear, while new industries and businesses are taking advantage of all the region has to offer.
Activity in Bartow has been through the roof over the past year, with a number of companies locating or expanding in Cartersville. Beaulieu International Group is constructing its U.S. headquarters and a vinyl manufacturing facility on 120 acres in Bartow County that will create 350 jobs. Surya, which sells and distributes rugs, broke ground in August on a 1-million-square-foot warehouse and corporate headquarters in Cartersville, just 15 minutes down the road from its existing location in Calhoun. The new facility should be ready by the end of 2015 and will add 200 jobs. Italy-based Aquafil will invest upwards of $25 million to expand its Cartersville carpet fibers manufacturing operation, which will create 50 to 60 jobs.
In the automotive arena, Voestalpine, an Austrian auto parts manufacturer, opened a new facility in Cartersville last spring and immediately broke ground on an expansion. The $70-million investment should create about 220 jobs.
Daiki Corp., a construction equipment manufacturer that had its building wrecked by an EF-3 tornado in January 2013, reopened its Bartow County facility. A $25-million investment paid for repairs and installation of the newest equipment, as well as reinforced concrete to withstand future storms. Vista Metals, which produces aluminum parts for the aerospace industry, expanded its building. The development allowed the company to increase the capacity at its Adairsville plant by 60 percent or an additional 40 million pounds of aluminum each year.
In healthcare, the Cartersville Medical Center finished its $30-million renovation and expansion, which included more rooms for cardiac care, trauma and pediatrics. The facility expanded the number of spaces in the emergency room to 30, added new X-ray equipment and a CT scanner. It's also adding a $1-million interventional radiology suite this spring.
"It's a great location, a location of choice," says Joe Frank Harris Jr., president and CEO of the Cartersville-Bartow Chamber of Commerce. "It's a community that works together. There are a lot of people who don't really care about who gets the credit."
Downtown Cartersville passed a festival ordinance in 2014, allowing for the sale of beer and wine. That led to a First Friday concert featuring an Allman Brothers tribute band in August that Tara Currier, manager of the Cartersville Downtown Develop-ment Authority, says drew more than 400 and was the city's largest-attended event. A 30,000-square-foot mixed-use development on the south end of Cartersville is also currently in the works.
"We're just happy to be a part of Team Bartow," Currier says.
In Walker County, Pennsylvania-based plastics manufacturer Audia International is expected to open its new $50-million, 240,000-square-foot facility in August. Audia will hire around 100 people to start, with more expected.
"Companies find we have a pro-business atmosphere in Walker County," says Larry Brooks, executive director of the Walker County Development Authority. "It's a great incubator for people to make an investment and continue to grow."
Euclid Chemicals, parent company of PSI Fibers, has purchased the former 200,000-square-foot Imperial Cup building in LaFayette. The company, which makes synthetic fibers used in a variety of concrete applications, has been working out of a nearby smaller facility.
Unique Fabricating, which makes a variety of die-cut and molded automotive parts, is constructing a 75,000-square-foot building across from its existing facility in LaFayette that will add another 75 new jobs.
Roper Corp., an appliance manufacturer, spent an additional $50 million to expand its range and cooktop fabricating facility in LaFayette that opened in 2013.
The Northwest Georgia Joint Development Authority, which includes Walker, Catoosa, Chattooga and Dade counties, expects to see continued growth in the automotive fields.
"As Volkswagen expands [in Chattanooga], we expect to see more of an impact beyond that 30-mile radius," says Keith Barclift, project manager for the Northwest Georgia JDA. "I think you'll see a lot more activity in Northwest Georgia. As far as floor coverings, we hope to see jobs continue to come back."
Catoosa County has enjoyed growth in the commercial and retail areas with the development of the new Parkway Plaza strip shopping center in Fort Oglethorpe that is expected to open this spring. Outdoor retailer Cabela's also plans to open a new 70,000-square-foot store adjacent to Costco this spring in Fort Oglethorpe, bringing up to 140 new jobs.
Martha Eaker, president and CEO of the Catoosa County Chamber of Commerce, says the new developments are expected to bring $250 million in additional tax revenue.
Shaw Industries Group announced it would retool an old rug plant in Ringgold, which will reopen as a luxury vinyl flooring plant. Shaw promised to create 90 full-time jobs by 2018 at the facility. Also in Ringgold, ground has been broken on the Georgia Northwest Technical School campus, which will open by 2016.
Chattooga County has focused on tourism over the past year and has seen the number of visitors increase. Ridership has grown on the Tennessee Valley Railroad historic steam engine train, which starts in Chattanooga and ends in Summerville, with many trips completely sold out. Sylvia Keziah, executive director of the Chattooga County Chamber of Commerce, says the next focus will be revitalization and beautification of downtown Summerville.
Dade County has a 200-acre site that was certified ready for development and is actively seeking a business partner.
Rome and Floyd County have seen a $31-million investment from carpet manufacturer Mohawk Industries and $30 million from the Bekaert Corp., a manufacturer and supplier of steel wire products, to modernize its facility, which will lead to the retention of 120 jobs.
Wright Metal Products Crates, which makes steel products in the lawn and garden and power sports industries, will create 50 jobs with its $1-million modernization of a building in the Floyd County Industrial Park. Increased sales enabled Neaton, an automotive supplier, to announce its fifth expansion at its Rome facility. The company is investing $8 million, which will create 50 new jobs.
Floyd Medical Center announced an $18-million renovation of its 1956 hospital in Rome pending a certificate of need approval next month. If approved, the renovation will include consolidating the intensive care unit and the coronary care unit into one location to make room for another observation area, along with upgrades to the hospital kitchen, neonatal intensive care unit and the ER.
"With a solid educated workforce and with available sites, manufacturers have found a place where they can be competitive," says Al Hodge, president and CEO of the Greater Rome Chamber of Commerce.
Dalton and Whitfield County are showing increased recovery from the recession that damped the area's flooring industry.
IVC broke ground in June for a new vinyl tile manufacturing facility in Dalton. The $100-million investment will add 200 jobs. The company opened its first American production plant in Dalton in 2011 and this spring began 24-hour production of fiberglass sheet vinyl.
BioBased Technologies, creator of a polyol used in products ranging from lubricants and building products to adhesives and carpet backings, is relocating its state-of-the-art lab from Arkansas to Dalton. The 7,500-square-foot lab began operation in April 2014 and will eventually add up to 20 jobs, including chemical engineers, chemists and lab technicians.
"We said that 2014 was a year of construction and getting things in place," says Brian Anderson, president and CEO of the Greater Dalton Chamber of Commerce. "We're hoping 2015 will be the year the hiring will come."
In Polk County, the new 65,000-square-foot Polk Medical Center opened in Cedartown in November. The $40-million, 25-bed critical care facility is expected to create 65 new jobs. The old facility has been converted into a public assistance facility dubbed "One Door Polk" that will offer a variety of healthcare and social services and create an additional 75 jobs.
Jefferson Southern Corp., a manufacturer of automobile body components, expanded its facility in Rockmart by 81,000 square feet to the tune of $22.8 million, with plans to hire 40.
"We are seeing activity develop," says Rachel Rowell, president and CEO of the Development Authority of Polk County. "We are extremely hopeful with the site and rail availability that we'll see some business coming to Polk County."
Haralson County's biggest activity is the $245-million expansion of the Honda Precision Parts of Georgia plant in Tallapoosa. The new plant, which manufactures transmissions, will double the capacity of the existing facility and eventually create 600 new jobs.
Eric McDonald, president and CEO of the Haralson County Chamber of Commerce, says the area is under consideration for 18 projects from companies from six different countries. "Hopefully we can get one of them to land," McDonald says.
The Mill Town Music Hall in Bremen continues to fuel tourism in the area thanks to acts like Travis Tritt, Loretta Lynn and the Oak Ridge Boys.
Gilmer County and the municipalities of Ellijay and East Ellijay are in the process of finalizing a joint development authority. The pieces should be in place by mid-year.
"This will be a big boost to our ability to recruit and retain jobs," says Paige Green, CEO of the Gilmer County Chamber of Commerce.
With manufacturing limited because half the county is public land, Gilmer continues to emphasize small niche businesses. Two new wineries opened in 2014, and there is continued growth in the agri-tourism industry.
In Murray County, PolyTech Fibers is building a $12-million plant in Chatsworth to manufacture polyester fibers. The plant will have 114 workers and be capable of producing 80 million pounds of fibers each year.
Gordon County will enjoy improved access off Interstate 75 when the $17-million Union Grove exit opens this summer, easing access for suppliers in the area, says Kathy Johnson, president of the Gordon County Chamber of Commerce.
The biggest jobs news came when LG Hausys announced it was investing $40 million to build its third plant in the area. The new auto skin plant is expected to be online by the end of the year and will create 50 jobs.
Read about individual regions: