Northeast: Reinvention and Teamwork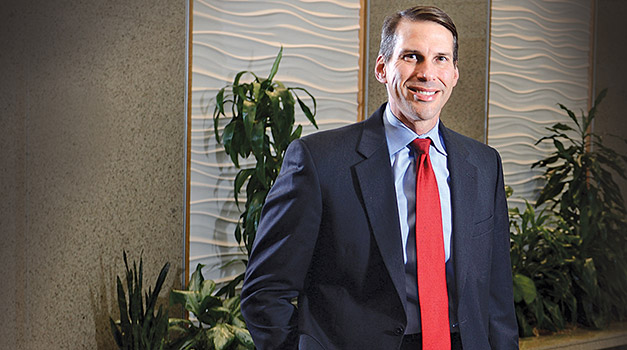 In an area challenged by mountainous topography, limited traditional assets and lack of much interstate access, the counties of Northeast Georgia continue to find value in teaming up to attract new industry to the region. From the North Georgia Net-work to a network of wineries, to suppliers networking with big industry to send goods and employees across county lines, Northeast Georgia is reinventing itself one opportunity at a time.
Last year brought a great deal of growth across the Northeast region of the state, with Hall, Hart and Jackson counties taking a big lead. In Hall County, 24 economic development projects were announced in 2014, bringing 1,300 new jobs and $150 million in investments over the next 18 months. Investing companies include Kubota, King's Hawaiian, Jinsung TEC, Georgia Chair, Big Creek Foods and Innobots.
The growing healthcare services sector added the Northeast Georgia Health System Customer Service Center in Oakwood and the 100-bed Northeast Georgia Medical Center – Braselton opening this spring. "Healthcare services account for 14 percent of all employment in Gainesville-Hall County," says Tim Evans, vice-president of economic development for the Greater Hall Chamber of Commerce and chairman of the Georgia Economic Development Association.
Haering Precision USA LP announced plans in 2014 to construct its first manufacturing facility and U.S. headquarters in Hart County's Gateway II Industrial Park off I-85, bringing a $54-million investment and 400 full-time jobs within five years. An additional 400 full-time positions are projected within 10 years. The German company fabricates precision automotive parts and plans to construct an onsite "academy" for workforce training and development.
Also in Hart County, Lake Foods' $4.5-million expansion will add 120 full-time positions.
In Jackson County, completion of a $14.6-million distribution center for Ollie's Bargain Outlet resulted in 175 new jobs, and another 100 came from consolidation by Hitachi Koki in Braselton, says Josh Fenn, president, CEO and economic development director for the Jackson County Chamber of Commerce. A 380,000-square-foot facility for DSC Logistics, a third-party logistics firm, is currently under construction that will bring in 75 jobs. A lot of spec building construction was announced, including an 840,000-square-foot project by IDI Gazeley and a 1.1-million-square-foot spec building by Ridgeline Property Group in partnership with Hillwood Investment. TPA Group plans to begin construction this year on a 614,000-square-foot building.
"They're investing millions in hopes of attracting tenants. That's how much confidence they have in Jackson County," says Fenn, adding that the growth was recently acknowledged by CBRE's 2014 4th Quarter Atlanta Industrial Report. It places Jackson ahead of all Metro Atlanta counties in new industrial speculative construction, accounting for approximately 30 percent of the total.
Next door in Athens-Clarke County, Ethicon Inc., a surgical suture manufacturer, completed a $185-million facility and created 75 jobs. Equipment is being installed, and the facility should be up and running and fully staffed by 2017, says Ryan Moore, director of the Athens-Clarke County Economic Development Department. The Caterpillar plant that opened in 2013 has increased from 350 employees to more than 800.
Much to the delight of many in Athens, Southern Brewing Co. broke ground in 2014 on a brewery with a tourism component and outdoor event space that will create 30 jobs.
"The beer industry in Athens has really flourished," says Moore, who's counting on some new legislation this year that will benefit operations such as Southern Brewing and the existing Terrapin Beer Co. Current laws create a separation between brewpubs and breweries, the latter of which aren't permitted to sell food or beer on site. "They can't even tell people where they can buy the beer. A lot of our laws are antiquated. There's some talk about a few bills that we hope will be part of the session this year."
Other counties in the region also saw significant growth, including Oconee County, where SpringHill Suites became the first major hotel there, providing about $100,000 in additional tax revenue annually. Single-family home-building permits and sales of both existing and spec homes have also jumped significantly.
In Rabun County, where tourism is the biggest mainstay, an expansion is in store for one of two manufacturers in the industrial business park. Parkdale Mills is renovating a 750,000-square-foot textile factory to house what they say will be the world's largest, most modern yarn manufacturing facility in the world. The expansion brings an $85-million investment and 210 jobs to the county.
In Banks County, Wincorp International, a Jamaican-owned agribusiness, will break ground this year on a multi-million dollar refrigeration and distribution building. The county's biggest deal of 2014 was the sale of Chimney Oaks Golf Club and the planned construction of 200 homes on the site that will increase the total residential tax base there by 33 percent. About 60 new jobs were created when Factory Direct Wholesale, an Internet sales company, moved into Banks last year.
Towns County continues to benefit from the presence of Young Harris College, which last year added the $44-million Rollins Campus Center, housing space for student organizations, new dining and banquet facilities, the Zell and Shirley Miller Library, a Chick-fil-A and Starbucks. The center was built with a focus on the environment and anticipates receiving Leadership in Energy and Environmental Design (LEED) Silver Certification.
Expansions in Jackson County by Toyota and Kubota last year created additional jobs for residents of neighboring Madison County. This year, a number of smaller businesses will create an additional 100 jobs or more. The new companies include Entourage, a ladies clothing and gift distribution center, and SML Composites LLC, a manufacturer of components for automobiles and aircraft.
Wine and weddings are spurring the economy in Lumpkin County, says Steve Gooch, executive director of the development authority. "Our tourism is really increasing – the vineyards and wineries and weddings. That's been a super fast-growing industry for us."
In addition, The Louver Shop announced a 2015 expansion that will include 70,000 square feet and 30 to 40 jobs. The completion this year of a $55-million expansion by ball-bearing manufacturer Koyo will result in 50 to 60 jobs. An expansion by Edmunds Foods poultry processing facility is also in line for 2015.
Arcadia, an aluminum awning manufacturer, recently committed to lease a spec building that is still under construction, says Gooch. Also under construction is the $10-million Chelsey Park Health & Rehabilitation, which is set to open in May, bringing 100 jobs. It's the only facility of its kind in Georgia, says Gooch, and will serve patients suffering from severe strokes and ALS, also known as Lou Gehrig's Disease.
Habersham County voters passed a Special Purpose Local Option Sales Tax (SPLOST) last November, $2 million of which will be used to improve an industrial park, while $700,000 will go toward an airport expansion, including space for new hangars and a parallel taxiway.
In Elbert County, downtown Elberton is seeing the renovation of the Elberton Arts Centre as well as a $3.6 million renovation of the 1920s-era Samuel Elbert Hotel, which will reopen as an upscale hotel.
An increasing tax base and decreasing unemployment illustrate continued growth in Dawson County, where unemployment dropped to 4.9 percent in November 2014, from 10 to 11 percent in 2010. Metal fabricator Impulse Manufacturing and SleeveCo., which makes labels for consumer products, each added equipment and employees in 2014 to handle new contracts. A 2015 commitment to build in Dawson was made by MESH Engineering, drawn to the county by the availability of the North Georgia Network, a fiber optic system completed in 2013. Also, two large retail projects are planned, including a 350,000-square-foot facility by Blanchard Real Estate Capital.
Stephens County boasts an impressive list for 2014, including the opening of the new $3.2-million Currahee Campus healthcare wing at North Georgia Technical College and the completion of their $998,000 Phase 1 fiber optic system across a 70-mile stretch between Stephens, Franklin and Hart counties. GEM Southeast, which manufactures a variety of restroom accessories, broke ground in December for an expansion at its ASI Plastics facility, investing $10 million and creating 30 new jobs, says Tim Martin, executive director of the Stephens County Development Authority.
Kautex of Georgia Inc. added 125,000 square feet and 80 jobs to its Lavonia facility, says Frank Ginn, director of the Franklin County Industrial Building Authority. Southeast Metals & Recycling will complete construction on their new facility this year, creating 25 to 30 new jobs. Patterson Pump invested $5.2 million in the county last year. Coats and Clark, a textile manufacturer, is gaining $25 million in new business and will add 5 to 6 new jobs to meet demands. This year brings continuation of the $66-million Georgia Department of Transportation project to widen Georgia Highway 17, between Toccoa and I-85. Completion is set for spring 2016.
Mitch Griggs, executive director of the Development Authority of Union County, expects the planned construction of a casino 18 miles away in Murphy, N.C., to have an impact on the county, as it will bring some 600 to 800 new jobs to the area. He anticipates increased tourism as well, bringing more people from Atlanta through Union County.
Downtown revitalization in Blairsville continues, spurred by improvements made by property owners that have brought in new tenants. Changes in regulations have freed up a 6.5-acre downtown property owned by the city, and development there this year will entice more people off the highway. A second solar generation facility will open in 2015, and plans are in place for a third.
Despite the challenges of the past few years, business is looking up in Northeast Georgia.
Read about individual regions: