Metro Atlanta: On The Move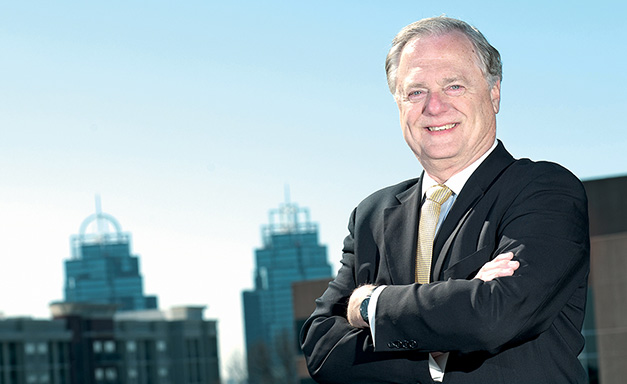 Throughout the Metro Atlanta region, you can see the signs of economic growth. From retail stores filling out strip centers in Barrow County to a new Braves stadium in Cobb and sprawling corporate campuses in Perimeter, the signs all point to an economy that is once again on the move.
"I think it's abundantly obvious that construction activity is up all over the region," says Brian McGowan, executive vice president and COO at the Metro Atlanta Chamber of Commerce. "When I came here about four years ago, there really wasn't much happening at all. Now we have major billion-dollar projects being built in different parts of the region, from Pinewood studios to the south to Avalon in the north, a new stadium and all the new activity around Midtown.
"Just a few years ago things looked pretty bad, and now they look pretty exciting," McGowan adds.
One big difference is companies throughout the metro region are hiring again. Georgia's job-growth numbers are rising this year, and a predicted 2.3 percent increase will completely replace all of the jobs lost during the recession by mid-year, according to a report from the Selig Center for Economic Growth at the University of Georgia. The report added that 72 percent of the state's job growth will occur in the 28-county Atlanta Metropolitan Statistical Area.
Companies are both hiring and spending again, and increasingly they are putting their money, their workers and their operations in Metro Atlanta. The uptick in jobs is drawing people to the region, and that in turn is spurring home building and retail.
"We're getting a lot of people moving here from different parts of the country because the cost of living is really high in other parts of the country, but also Georgia and Atlanta has a very business-friendly environment," says McGowan. "We're the No. 1 state in the U.S. to do business according to three different surveys."
If in decades past the advice was "go west young man," now it has become "go south and stop in Atlanta," according to McGowan.
"People are recognizing that the south is really a place of economic opportunity," he says.
Atlanta seems to have become a mecca for corporate headquarters. In the busy Central Perimeter business district that extends across both Fulton and DeKalb counties north of Atlanta, several big campuses are taking shape.
There is perhaps no better example of that business friendliness than the decision by German luxury automaker Mercedes-Benz to relocate its U.S. headquarters and as many as 800 jobs to Atlanta from New Jersey. The company plans to build a 12-acre headquarters campus at Georgia 400 and Abernathy Road in Sandy Springs on a site known best for its c. 1929 Glenridge Hall mansion, which has been used in Driving Miss Daisy and The Vampire Diaries.
It's true the state offered the company more than $23 million in incentives to move south, but the win is also an indication that the city has grown sufficiently in sophistication and amenities to entice the most demanding of executives.
Mercedes-Benz will be joining State Farm Insurance Co., which is building a 2.2-million-square-foot mixed-use project in Dunwoody. It will be one of the largest corporate office developments in Metro Atlanta's history and house some 3,000 employees, with that number expected to rise to 7,000 over the next decade.
With a direct connection to the Dunwoody MARTA station, the development will eventually include 100,000 square feet of retail, restaurants and entertainment, along with a 200-room select service hotel.
"They located where they are to be on the MARTA system," says Tom Mahaffey, president of the Sandy Springs/Perimeter Chamber of Commerce. "They have a ramp going into the platform of the MARTA station in Dunwoody. We have AirWatch [an enterprise mobility management company], which specifically located near the Sandy Springs MARTA station so their employees – many of whom are millennials and live in the downtown [area] – can commute by train to work."
MARTA also provides a direct link to one of the mightiest engines of development in the state – Hartsfield-Jackson Atlanta International Airport. As the busiest airport in the world with connections to the rest of the country and beyond, the airport is essential for luring companies here. It's also become something of a destination in and of itself with the emergence of the Atlanta Aerotropolis Alliance. Created by the Atlanta Regional Commission, its job is to foster a new level of development with the airport at its center.
Porsche Cars North America Inc. is building its new headquarters and corporate campus adjacent to the airport on a 26.4-acre site. The complex includes the Porsche Technical and Service Training Center and the Porsche Customer Experience Center, featuring a 1.6-mile test track and handling road course.
"[The alliance is] working together to foster and continue to advocate the appropriate growth and development in and around Hartsfield-Jackson," says Michael Hightower, founder and managing partner of real estate developer The Collaborative Firm and a member of the aerotropolis board.
The Southside of Atlanta is hot in a way never before seen. A bevy of new companies are expanding and relocating here, including several movie studios. The most notable of these was the opening last year of Pinewood Atlanta Studios in Fayette County.
The British-based film company is best known for producing big budget blockbusters including the James Bond and Harry Potter series along with several Marvel Comics superhero epics, like the upcoming AntMan, filmed here in Georgia.
"That bodes [well] for the entire economy, because that means lots of hotel rooms and houses are being rented, restaurants are serving customers and other industries are providing services [to the movie crews]," says Fayette County Commissioner Steve Brown. "There's a huge ripple effect. They're not just doing business in Fayette County, they're doing business all over Metro Atlanta. It really is a regional effect."
Another factor driving development is the region's congeniality to entrepreneurs.
"We're seeing a vibrant, growing entrepreneurial ecosystem in Atlanta where young entrepreneurs are coming here from other places because they recognize the assets of a low cost of living and low business regulations," says McGowan. "It also provides this great quality of life and an interesting place to live."
NCR Corp. recently announced it will be moving its headquarters, along with more than 3,600 employees, from Duluth to Atlanta's Technology Square at Georgia Tech by early 2018 – a prime location for innovation-driven enterprises seeking the kind of talent nurtured by this nationally recognized engineering school. Microsoft decided to put one of its Innovation Centers in downtown Atlanta's iconic Flatiron building in hopes of fostering its need for innovation.
Metro Atlanta's construction trades are working again. Look around and you'll see a growing number of cranes moving materials as new buildings come out of the ground. Among the biggest of these efforts is the Atlanta Falcons' $1.2-billion football stadium downtown.
North of the city in Cobb County, work is also underway on SunTrust Park, the new home for the Atlanta Braves. It will be situated at the intersection of I-285 and I-75 in the Cumberland Galleria district.
A number of mixed-use developments are poised to spring up around the stadium in what has become the county's most valuable real estate. Consider that the Cumberland Community Improvement District (CID) is just 2 percent of Cobb's land but contains about 40 percent of the value of the county's commercial zoning and permits.
"We've had a lot of quiet investment over the years, both in the form of private investment and corporations being here," says Malaika Rivers, executive director of the Cumberland Community Improvement District. She can point to major corporate headquarters for The Home Depot, Travelport and Genuine Parts.
Almost 3,000 residential units are planned or under construction within the Cumberland CID, and that number is likely to grow with the Braves' plans for their own mixed-use development around the stadium. This area is also slated to get $1 billion in new transportation projects to relieve some of the expected traffic that a major stadium – not to mention more full-time residents – will bring.
These projects include new managed lanes on the I-75 corridor alongside the Braves' new park and stretching north for 30 miles. The $840-million system should be completed in 2018. Secondary roads like Cobb Parkway will also be getting widening and other improvements as well.
One trend that has been obvious in recent years has been the creation of a host of new cities throughout Metro Atlanta. This year the General Assembly may put yet another one before the voters with HB 165, a proposal for a city of South Fulton.
The new city would include all remaining unincorporated areas of Fulton County that had not already been annexed by other cities. The unincorporated area covers about 105 square miles bounded roughly by Atlanta to the north, Chattahoochee Hills to the south, College Park to the east and Douglas County to the west. More than 90,000 people live in the area.
When people think of Atlanta, they are increasingly including the outer counties in that idea – and with good reason. Counties like Cherokee to the north are becoming increasingly urban as development creeps out of the perimeter. This sprawling, once-rural county has experienced tremendous growth over the past decade. From about 90,000 people in 1990, the population has swelled to more than 225,000 today. It's also attracted more than its fair share of new business.
The I-575 corridor has attracted a number of new companies into the 3,772-acre Technology Ridge Opportunity Zone. Another opportunity zone offering favorable tax incentives for jobs is helping fuel business growth near I-75, including a large part of the Cherokee 75 Corporate Park – one of the state's few Georgia Ready for Accelerated Development (GRAD) sites.
What makes Cherokee so attractive to businesses and people?
"It's predictability," says Cherokee County Commission Chairman L.B. "Buzz" Ahrens Jr. "What you get is what you see. But what you don't see is even better. You don't see that water and sewer quality. You don't see the outstanding public safety, but it's there."
On the metro area's outer northeast edge, Barrow County is also experiencing a return to prosperity, according to Guy Herring, economic and community development director for the county.
Building permits are on the rise, with 330 single-family homes constructed last year.
"We see that continuing," he says. "We have about a year and a half of lots left, at which time we expect raw land development to occur again."
Retail is also surging again. Two major shopping centers – Barrow Crossing and the Gateway – are filling out once-empty stores. While they were anchored by Target, Publix and The Home Depot, the recession had scared away smaller retailers. Those bad days are now over, and business is humming once again.
Barrow and other counties in this region have profited from the spillover generated by the huge Caterpillar plant near Athens, which is fueling growth locally. Two nearby suppliers for the company have expanded and added workers, he says.
All the activity and the reappearance of construction cranes across Metro Atlanta are a good reminder of how far the region has come in the last few years.
Read about individual regions: