Four For The Future
Collaboration is key for four communities in Georgia that are rebuilding and rebranding, combining their resources and thinking long-term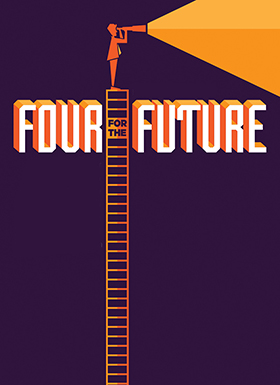 As Georgia continues to gain a solid economic foothold in these post-recession years, communities across the state are finding that by partnering together, a positive vision can lead to concrete change citizens are eager to support.
For the third year in a row, the University of Georgia's Public Service and Outreach (PSO) division and Georgia Trend magazine have recognized four communities that have worked across public-private sectors and nonprofit boundaries on challenging issues to improve the quality of life for their citizens. From rebuilding after a fire and reinvigorating a tourist destination to consolidating two governments and developing a downtown master plan, these partnerships show what happens when effective collaboration, strong leadership and innovative ideas unite for a larger common goal.
As part of its mission as a land grant university, the University of Georgia's PSO division provides the resources of a large institution to communities to help them succeed, contributing to the state's short- and long-term vitality.
"The four communities recognized this year are great examples of the strength in public-private partnerships," says Jennifer Frum, vice president for public service and outreach at the University of Georgia. "As a result, each is in a better position to grow, attracting new industry and jobs, improving the quality of life and and increasing the opportunity for prosperity for all residents." – Christy Simo
CLARKESVILLE: Rising from the Ashes
Adversity often sparks collaboration. For the city of Clarkesville in North Georgia's Habersham County, the sparks were not metaphorical. Late at night on March 5, 2014, fire swept the eastern end of the town square.
"Three out of seven buildings that made up the east side of our square were destroyed or rendered useless," says City Manager Barbara Kesler. "We lost seven thriving businesses overnight. It was devastating."
"The city had never dealt with this type of catastrophe before, so we had no crisis management plan for how private or public entities should respond," says Mary Beth Horton, Main Street director for the city. "The Department of Community Affairs was tremendous. The day after the fire, we had calls from the commissioner's office saying they were ready to work with us."
The city moved quickly to restore downtown activity. A large barricade erected around the burned buildings became the canvas for a mural drawn by a local artist, and townspeople were invited to help paint the mural at a sidewalk party in April, scarcely a month after the fire. "Clarkesville Strong" appeared on windows and signs downtown as fundraisers were held to support those who lost jobs. But more far-reaching plans were needed, too.
"The city waited to see if investors were going to come in and do something to get those buildings functioning again," Kesler says. "When we saw the market was not going to absorb that space, we felt the city needed to step in and do something to make redevelopment happen."
By the summer, the city had contracted with the Carl Vinson Institute of Government (CVIOG) at UGA to help with the development of a master plan. In fact, Clarkesville become one of the first cities to qualify for the Renaissance Strategic Visioning and Planning (RSVP) program. A joint effort of the Georgia Municipal Association, the Georgia Cities Foundation, CVIOG and the state Downtown Renaissance Partnership, RSVP communities work with UGA faculty and students to develop a strategy for downtown revitalization efforts.
"We started by casting a wide net among the community, inviting anyone … residents, business owners, even the naysayers … to take part in what they wanted to see happen," Horton says. "We wanted a new vision not only for the burned area but for all of downtown. We set up 13 different focus groups, including realtors, bankers, churches, high school and college students, people over age 60, merchants and property owners. We also got input from people outside the city, because they come into downtown to do their shopping and eating, so their opinion is just as important as the people who live in the city."
More than 600 electronic and paper surveys were returned, an enormous response rate in a town of 1,733 citizens, and a town hall meeting was held to capture any voices that might have been missed by other efforts. The result is a master plan for all of downtown Clarkesville.
"We've identified short-term projects we can tackle in 2015 that begin to enhance the image of downtown and make small steps toward the rebuild," Horton says. "The long-term plans include things like the brick-and-mortar rebuilding and streetscape expansions."
Citizens are excited about some of the immediate small-scale projects, like repainting long-vanished parking stripes throughout downtown to reduce parking confusion and conflicts, renovating public restrooms in Pitts Park adjacent to downtown and reopening an abandoned public building near the park for community use. These are baby steps, Horton says, but they prove to citizens that the plan won't collect dust on a shelf, helping build support toward the day larger projects are tackled.
"The silver lining of this catastrophe," she says, "is that we've been able to produce this knock-out plan that's going to transform the way everybody feels not only about their own hometown but also about their relationship with local government." – LT
---
JEKYLL ISLAND: Making a Comeback
As the state and the country slipped deeper into a recession in 2008, Jekyll Island was faced with losing its most endangered species: the tourist.
The Jekyll Island Authority (JIA), which is charged by Georgia law to self-sufficiently manage the state-owned barrier island, knew it would take more than just gussying up existing infrastructure to lure tourists and convention-goers back to its white sandy beaches and wind-swept wilderness. It would need a plan.
Now, after six or seven years and about $178 million in revitalization projects on the ground (with millions more on the way), the traditionally affordable and naturally splendid Georgia coastal hideaway of the vacationing average class seems poised for a commercial comeback, thanks to the island's caretakers striking a balance between conservation and construction with a new long-range master plan.
"Visitation is definitely coming back. We're up to about a million visitors a year right now, and we're certainly looking to build that up soon," says Jones Hooks, executive director of the JIA. "We were encouraged to forge public-private partnerships, and our partnership with the private sector has proven to be the appropriate strategy."
It was a strategy born out of a challenge. "We were facing some real problems. Of course, we did have a few curve balls thrown our way."
At its height, Hooks recollects, Jekyll Island drew almost 2 million visitors a year – business groups and professional organizations to the convention center; families to the public beaches, moderately priced hotels and villas; and the wealthy to the Jekyll Island Club Hotel.
But by the mid 2000s, the convention center and many of the hotels were outdated or neglected, and struggling. The numbers of conventions and visitors and almost everything else related to the island was in a downward trend, and sinking deeper as a global recession gained momentum in 2008. Then came the big split, and things got a little worse.
In 2008, the JIA signed a 25-year deal with Atlanta-based Linger Longer LLC to develop and manage two hotels, lofts and timeshare units, in addition to 30,000 square feet of retail. A year later, both sides walked away from the deal.
"There was a lot of public concern," Hooks says now, remembering the accusations and acrimony and handwringing over the scheme. "And at the time, with the economy in the tank, hospitality projects were suffering more than most. It was a challenge to find developers who would work with us. But we decided after Linger Longer that it would be better to look at various private partners rather than one big master contractor."
The JIA invested about $40 million to replace the old convention center with a new 128,000-square-foot structure, and the first new lodging in decades, a $22-million Hampton Inn & Suites opened.
This year, Hooks expects to see the grand opening of a 200-room Westin hotel and a $16-million Holiday Inn Resort, along with the retail Beach Village. At its height, Jekyll Island had about 1,650 hotel rooms. There were about 880 at the start of this year, but eventually, with several planned hotel developments by TrammellCrow in the works, Hooks says there could be 1,850 rooms.
To make room for these accommodations – and bring back the endangered tourists – JIA had to plan. And they had to overcome the old "65/35 law," adopted in 1971, which limited development on the island to 35 percent, reserving the other 65 percent for conservation.
Over the years, there had been much debate about how to measure the island's acreage, specifically if the marshland was included when calculating that number.
"That rule was in the way of everything, every conversation, whether it was a focus group, steering committee, or the authority board – everything came down to that issue," says Langford Holbrook, a community planner with the Univer-sity of Georgia's Carl Vinson Institute of Government, who was called in to serve as project manager for the Jekyll Master Plan.
With the Vinson Institute facilitating, JIA began the process in 2011, and by 2014 it had a new master plan for development on Jekyll Island.
"It was a long, sometimes painful process," Hooks says. "That's bound to happen when you get a lot of different folks with different opinions who are very passionate about Jekyll Island."
After much debate, a new bill created a compromise that replaced the old percentages with a fixed maximum acreage for development. Under this new law, which Gov. Nathan Deal signed last April, a maximum of 1,675 acres can be developed on Jekyll Island, with future development limited to 78 acres. Of those 78 acres, 12 have already been designated for a campground expansion, and only 20 acres can be used for any new commercial construction to keep the beauty of Jekyll Island intact.
"It's all about balance," Hooks says. "And right now, as far as those 20 acres are concerned, we have no plans whatsoever." – JG
---
MCRAE-HELENA: Bringing Everyone Together
Mike Young knew from the look in June Bradfield's eyes that he was onto something good. There they were, the mayors of two adjoining South Georgia towns – Young of Helena, Bradfield of McRae – kicking around ideas for a municipal win-win.
Helena needed to fix its wastewater system but didn't have the money. McRae had plenty of extra capacity and could stand to make a little money.
"The total cost for us was going to be about $6.5 million, and that doesn't count operational costs. That's just to get started," says Young, whose predecessor had tried to work out a wastewater arrangement with McRae, which is the seat of Telfair County, but they couldn't reach a deal. "I figured, different mayor, different city council, it was worth talking to McRae again, maybe save ourselves some money and make McRae a little more."
During negotiations, McRae's leadership expressed one major desire: They wanted it all, ownership of the whole water and wastewater system, and then they could charge Helena like they would any other customer.
"It came to me and Mayor Bradfield talking, and I got to thinking," says Young, who was captain of the local fire department at the time. "I said to her, 'you might want to sit down for this, but once you take over our water and sewer, all that's left to us is police and trash pickup. Let's think outside the box and consider making our two cities into one.' I said something like that. Well, her eyes just lit up."
He means in a good way. As of Jan. 1 of this year, the two cities became one, McRae-Helena, the first cities in Georgia to consolidate since Graymont and Summit became Twin City in 1921. Local leaders put aside whatever old grudges and municipal mistrust there might have been to form the new city, which now has a population of 8,900. That number includes the inmates of two nearby prisons – the federal, privately managed McRae Correctional Facility and Telfair State Prison, which is located in the city formerly known as Helena and is probably the biggest user of the wastewater system.
"Our main industry around here is the prison system, which may seem unfortunate in some ways, but we're grateful for everything we have," says Bradfield, who chose not to run for mayor of the new consolidated city.
Young did, however, and he defeated his challenger, McRae incumbent city council member David Neal, in a December runoff.
"What impressed me most about this consolidation is how our elected officials chose to set aside their personal situations for what we feel will be the betterment of our city," says Young, who gave up his fire captain post and took a job as a truck driver. "I'm the mayor of a new city, and I didn't want there to be any kind of conflict of interest."
The cities held numerous public hearings before McRae's city council voted unanimously for the change, and Helena's council approved it with a 4-3 vote. The public process did have its excitable moments.
"You'd be amazed at the things people will say out loud at public hearings," muses Bradfield, a former local school superintendent who has lived in the area all her life. "But hopefully, this consolidation will make us a more efficient community and improve our options for economic development."
Experts with the Carl Vinson Institute of Government (CVIOG) helped local leaders along the way, finding or creating answers to questions about combining municipal programs and services, reviewing local ordinances and zoning codes, and facilitating the work that erased old city boundaries.
"This was the kind of collaboration that can only happen when both parties recognize the mutual benefits," says Ted Baggett, who heads the CVIOG's local government program. "Here are two communities who had the vision to ask, 'What if we pool these assets and resources and move forward together?'" – JG
---
ROME: Growing and Changing
When the city of Rome asked UGA's J.W. Fanning Institute for assistance in developing a master plan for downtown redevelopment in 2012, they were met by surprise. Like most downtowns in Georgia, Rome's had suffered a decline as businesses moved out to shopping developments in the suburbs, but the city had met these challenges successfully. Rome's downtown is a model of economic success and partnering for growth. Why did it need a new master plan?
"Downtown revitalization is like a marriage. It's forever," says Ann Arnold, who has been Rome's director of downtown development for 15 years. "You have to think that way, because a downtown is always growing and changing."
The largest intact Victorian-era district in Georgia, downtown Rome has enjoyed good economic health in recent years. Arnold points especially to its use of the Downtown Development Revolving Loan Fund, a "gap financing" program of the Department of Community Affairs (DCA) that makes low-interest loans available for public and private development in Main Street cities.
"Rome has received more of those loans than any other city in the state," Arnold says. "Close to $7 million in loans have generated about $26 million reinvested in downtown and created 320-plus jobs as a direct result."
But while downtown Rome entered the new millennium in good health, factors beyond its boundaries were again coming into play. Built at the confluence of the Oostanaula and Etowah rivers, Rome's downtown is bounded on three sides by water. In 2007, the city completed construction of the Chief John Ross Memorial Bridge, a pedestrian bridge connecting downtown to the Heritage Park Trail on the western bank of the Oostanaula. The bridge also linked downtown to an area of the city not traditionally included in its planning.
"We knew there was going to be more development on that bank, and we wanted it to complement what was happening in downtown, not compete with it," Arnold says. "We felt we needed to grow downtown in that direction."
The new master plan calls for creation of a River District across the Oostanaula, and the city will include it in its Business Improvement District, allowing the city to support economic development with tax incentives, loan programs and access to dedicated funds. The city is also holding planning and visioning sessions with property owners in the River District. Cooperation is important, Arnold says, but innovation should also be encouraged so that new development meets market demands.
This year, construction of a Courtyard by Marriott hotel will be complete, offering lodging and 4,000 square feet of conference space at the foot of the pedestrian bridge, just across the river from downtown's Forum Civic Center and the Town Green. With a Hampton Inn also under construction, downtown Rome will soon have three hotels where 10 years ago there were none.
A second focus of the new master plan is on downtown residential space.
"We're at 97 percent occupancy on the first floor of downtown, but we have opportunities for living space on the upper floors," Arnold says. "When you've got people living downtown, you've got a built-in audience."
Arnold wants to grow the existing 168 apartment units downtown. To do this, the city responds to inquiring developers with advice, support and assistance with applying for DCA's loans. The city gathers department leaders to meet as a group with business interests. Arnold credits internal and external partnerships like these for much of Rome's success. The city has also drawn on assistance from UGA's Public Service and Outreach program as well as multiple state agencies and non-profit associations.
Rome isn't waiting for a lull to spur action. As with marriage, even communities that believe all is well can benefit from regular renewal of plans, relationships and vows. – LT