East Central: Reinvigorating Business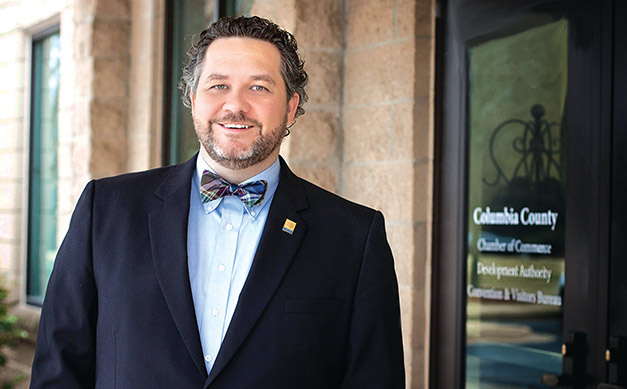 The adage, "you have to spend money to make money," could describe Georgia's East Central region, with millions being invested in new facilities, roads and jobs.
A $500,000 grant – awarded by the OneGeorgia Authority in late 2014 – is funding new workforce development and business innovation efforts by the Development Authority of Bulloch County, Georgia Southern University and Ogeechee Technical College. The grant will be split to fund equipment for Georgia Southern's Innovation Incubator and Fabrication Laboratory (FabLab) that will create startup businesses and products, and to support Ogeechee Tech's new Industrial Maintenance and Advanced Manufacturing Skills Training Program.
"One of the biggest issues for businesses to expand or relocate in the community has to do with the workforce," says Benjy Thompson, CEO of the Development Authority of Bulloch County. "My sense is that OneGeorgia saw this as a community-wide effort to address the elephant-in-the-room topic."
That elephant in the room is jobs, or specifically that there are not enough qualified people to fill those potential jobs when businesses expand or move to the area. Region-wide, however, concerted efforts are being made to train people and provide the specific skillsets required by new industry. Richmond and Columbia counties – in partnership with three South Carolina counties – are conducting a regional workforce study that will look at primary industries and their job needs and training requirements.
One evolving sector is information technology, fueled by the relocation of the U.S. Army Cyber Command headquarters to Fort Gordon in Augusta. Initially, 1,500 jobs are expected to be added. When the relocation is complete by 2019, more than 2,600 military plus 900 civilian and 200 contractor jobs will have been created. More jobs – estimates say up to 7,000 – could be generated by support companies and commercial and residential construction around the base. Unisys announced in November 2014, for example, that it plans to add 700 jobs in downtown Augusta over the next five years as it provides services to the Army.
"We're seeing a lot of cyber security contractors moving to Augusta," says Walter C. Sprouse Jr., executive director of the Augusta Economic Development Authority. "We have a very smart workforce in Augusta. What's happening is that so many companies are seeing that if they have anything to do with information technology jobs, they need to be in the Southeast somewhere. And if they need a low cost of living and they don't want traffic, then here we are."
Millions of taxpayer dollars are being directed to transportation projects in the region, through the 1-cent T-SPLOST that voters passed in 2012. Economic development leaders hope new and expanded roadways will make towns and counties more accessible. Already in 2013 and 2014, $123.8 million was raised in the 13 counties that comprise the Central Savannah River Area (CSRA) Regional Commission, says Andy Crosson, executive director. Out of 84 planned regional projects, 10 were under construction in early 2015.
Thanks to jobs created by big names such as Starbucks as well as smaller homegrown businesses, the region is experiencing a drop in unemployment, especially in the past six months and particularly in sectors such as manufacturing, technology, healthcare, retail and back office operations. The CSRA's unemployment rate ranges from a low of 5.2 percent in Columbia County to 12.3 percent in Jenkins County for December 2014. Only three counties are in the double digits, down from 2013, Crosson says.
"Things are getting better in the rural areas, not just in the urban centers," he says.
In Jenkins County, Carbo Ceramics finished half of its proposed $200-million project, with production on one line starting in August and another line expected to be completed this month. The company, which plans to build two more lines, expected to have 70 workers by April, says Mandy Underwood, executive director of the Millen/Jenkins County Chamber of Commerce and Jenkins County Development Authority.
Solar farms are also gaining ground in this sunny region of the state. In October, a 10-acre solar farm that generates 1 MW opened, adding $1 million to the tax digest, Underwood says.
New businesses are also expanding. Asama Coldwater Manufacturing moved into Warren County in 2014 and hired 80 workers, exceeding expectations. Asama, based in Michigan, then announced a $12-million expansion that will add 40 more jobs.
Companies have a more positive outlook than in years past, says O.B. McCorkle, executive director of the Development Authority of Warren County.
Development authorities have acquired land for industrial parks and corporate centers, which is paying off in some areas. In early 2015, Starbucks was completing its first Georgia manufacturing plant in Augusta, creating more than 140 direct jobs and hundreds of indirect transportation, construction, supply chain and other jobs, according to the Augusta Economic Development Authority. Augusta Renewable Energy is spending $20 million to build its first anaerobic digestion facility, which is expected to use the coffee grounds from the Starbucks facility as its main energy source.
Hollander Sleep Products – the nation's largest bedding company – is creating 220 jobs at a 208,000-square-foot manufacturing and distribution center in Thomson that is expected to open in the second quarter of 2015. Hollander's decision to locate in Stone Business Park should create momentum at the Georgia Ready for Accelerated Development (GRAD) certified-site, says Ralph C. Staffins III, former executive director of Forward McDuffie. Hollander is using 40 acres in the 420-acre property, which is the only GRAD site along I-20 from Metro Atlanta to South Carolina.
"During the recession, or the hard times, we positioned ourselves," he says. "We worked on our workforce. We worked on things that were going to attract new companies."
Also near I-20, the $30-million University Hospital McDuffie opened in December. The 25-bed facility will employ 190 workers and create a domino effect with doctors' offices and other support services locating around it. In Columbia County, Georgia Regents Medical Center was awarded a Certificate of Need in 2014 to open a new hospital.
Economic development leaders are seeing an increase in U.S. and international businesses interested in their facilities and land.
"I've been fielding tons of requests from prospects," says Tiffany Rainey, director of economic development for Washington-Wilkes Payroll Development Authority. "You get the sense that things are really picking back up in the state as a whole, and even for rural communities."
Some counties are being reinvigorated by the expansion of existing companies or the return of businesses that halted operations or moved during the recession. Viracon, an architectural glass fabricator in Statesboro, added 125 net employees as part of a $2-million investment. The company, in the community since 1998, had halted local operations for a period.
Washington County's workforce grew by 100 jobs when Trojan Battery, headquartered in California, reopened its Sandersville facility in 2014. The company, which has 130 employees, plans to expand by 135,000 square feet and add another 125 jobs.
"We were delighted to see them come back," says Charles Lee, executive director of the Development Authority of Washington County.
In Columbia County, GIW Industries is undertaking a $40-million expansion of its manufacturing plant in Grovetown that will add 50 jobs.
"It's a continuation of a story that I think we're seeing across the region – new growth and expansion of existing industries," says Robert F. Bennett, executive director of the Development Authority of Columbia County.
Some communities, like Washington, recognize that their historic character attracts more than tourists and could bring in new businesses. In downtown Statesboro, voters passed a redevelopment powers law and a tax allocation district in late 2014 to support business development in the "Blue Mile," which links the county courthouse to the main entrance to Georgia Southern and its 20,500 students.
Development authority officials are hunting for more sites, knowing it could help them edge out the competition.
"There are not many other large, large pieces of land in Georgia," McCorkle says. "Some large projects come through that we would like to take advantage of. Because we are a rural county, that's one thing we have that other people don't have. We have land."
Read about individual regions: