Creating Opportunities
At Georgia Southern, providing a quality education means students graduate with the skills they need to launch a career.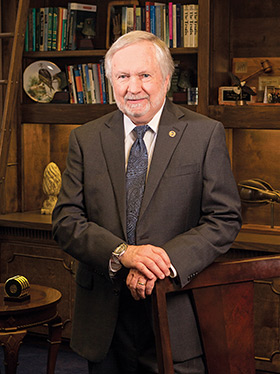 Re-shoring isn't a word that has been bandied about much in the United States over the past 20 years. In fact, as manufacturers moved production overseas, the word heard most often was off-shoring.
All that is changing, however, as labor costs rise in China and manufacturing goes increasingly high-tech. Many companies are finding that it makes financial sense to bring production back home, and they are often moving to the Southeast, thanks to our history of manufacturing, a lower cost of living and the availability of skilled labor.
That growing need for skilled labor led Georgia Southern University (GSU) to add a manufacturing engineering degree program in its College of Engineering and Information Technology. It's just one way the university is responding to the needs of industry. It's also part of Georgia Southern's DNA to anticipate the needs of area businesses and provide the educated workforce required.
Situated an hour northwest of Savannah in Statesboro, Georgia Southern opened in 1908 as First District A&M School, teaching agricultural production techniques and homemaking. As its focus changed to educating teachers, its name changed in 1924 to Georgia Normal School and then to South Georgia Teachers College in 1929 (shortened to just Georgia Teachers College in 1939), before broadening its offerings and becoming Georgia Southern College in 1959. Today, Georgia Southern University offers its 20,500 students more than 120 bachelor's, master's and doctorate degree programs in everything from early childhood education to business to nursing to engineering.
An emphasis on economic development – and even on what some in higher education consider dirty words: workforce development – starts at the top. Georgia Southern President Brooks Keel has economic development in his background. Prior to his arrival five years ago at GSU – something of a homecoming for the Augusta native – Keel served as vice chancellor of research and economic development at Louisiana State University and then as associate vice president for research at Florida State University. In both of those positions, he strengthened relationships between the university and industry.
Now, he's applying those lessons at GSU. "When you talk about economic development and the role that a university plays, there are many aspects that a university can and should do," Keel says. "Workforce training and education is certainly one of those. But also providing the expertise and the environment that's attractive for business to come into that community is another very, very important role that a university plays."
Inviting business leaders to be part of advisory boards is one way the university is making the environment business-friendly. "We do this for virtually all of our disciplines," Keel says. "It's a group of [business] leaders in that particular discipline that meet on a regular basis with the dean, the department chairs and the faculty and talk about where industry is going and about how the curriculum that we're doing at Georgia Southern meets the workforce needs. It helps us make sure that we're teaching kids what they need to learn, but it also gets industry involved and engaged with the university at a very early stage. That helps us meet the needs of industry in a much better way. It also opens up tremendous opportunities for our students."
Made in America
Listening and responding to the needs of business led to the newest degree program in the newish (2012) College of Engineering and Information Technology. This fall, the college will add a manufacturing engineering degree program – the only one in Georgia, and, in fact, the only one for about 500 miles.
"We recognize that manufacturing is coming back to the United States," says Mohammad Davoud, dean of the Allen E. Paulson College of Engineering and Information Technology. "As a state institution, we have a responsibility to bring about programs that help the economy of the state, to provide the opportunity for companies to perhaps come here and set up shop and in addition to help our current companies in the state and our region, to provide them with skilled engineers."
To help students and potential employers find each other, the college has a strong co-op and internship program that the manufacturing engineering degree will be part of as well. "We recognized that engineering is a profession you practice; it's a profession you do, at the end of the day. So we established the office of co-op and internship in the college," Davoud says.
"We have a large number of students who are doing internships and co-ops. That's where the rubber meets the road in terms of marrying the classroom with the business or the teaching with the workforce in incredibly significant ways," Keel says. "By the time that young person graduates, he or she will have already spent a significant amount of time with the business. It reduces the amount of on-the-job training that the business does and also significantly reduces the turnover that you see with young people getting jobs. If you take care of that sort of dating or courting, if you will, while that student is still a student, and if the marriage doesn't work, the industry has not wasted a significant amount of time and effort in training that young person."
"Our students are prepared to work in a variety of industries and government agencies: aerospace, automobile related, any manufacturing environment, anything mechanical, electrical," Davoud says. "They are all hiring manufacturing engineers. No matter what the product may be, [manufacturing engineers] come up with the equipment, machinery, tooling and facilities setup to produce that product."
"This [manufacturing engineering degree] is something I'm incredibly excited about," Keel says. "We asked industry, what are you needing? What are we not doing in terms of providing training for our engineers? What skill set are our kids missing? And almost to a person they would tell us they need more experience in manufacturing. We felt that in order for Georgia Southern to meet the workforce needs, not just for today, but five and 10 years down the road, we needed to tweak our curriculum, we needed to provide these young people with more specific training that's going to make them incredibly competitive for what we see is going to be an explosion in terms of business and industry in the state."
City Collaboration
In a project that marries manufacturing with business and strengthens a partnership between GSU and the city of Statesboro, the College of Business Administration is opening a FabLab – short for fabrication laboratory – this fall in downtown Statesboro.
"Georgia Southern has a fantastic relationship with Statesboro, going all the way back to our founding in [1908]," Keel says. "And that outstanding town-gown relationship continues. We wanted to have a physical presence of Georgia Southern downtown. We opened what we call City Campus [in 2010], directly across the street from the Courthouse, right in the heart of downtown Statesboro."
City Campus is home to the Small Business Development Center and the Bureau of Business Research and Economic Development, which gives people who are starting new businesses a convenient place to go for expertise and advice in getting established. The desire to expand City Campus offerings led to a partnership with the Downtown Development Authority that resulted in a $1-million grant from the United States Economic Development Administration to create the FabLab.
"We're going to have a 3-D printer in this facility and several other pieces of machinery to allow an individual to go in with an idea, to put it on a computer, print it with the 3-D printer and see if they can take this idea up through the conceptual phase and to a product that may have some actual commercial benefit – commercial value," Keel says. "It's another great way to make sure the city of Statesboro and the campus of Georgia Southern move even closer together both geographically, but more importantly, philosophically. We're excited about what this is going to do for the relationship we have with the city."
"The concept [for the FabLab] came about in a strategic planning retreat that the Statesboro Chamber of Commerce put together back in 2011," says Dominique Halaby, director of the Bureau for Business Research and Economic Development and the go-to guy for all things FabLab related. "We have a growing creative class, this momentum to have this creative and innovative environment here in Statesboro. When you couple that with the emphasis on manufacturing through our College of Engineering, the FabLab proves a fantastic concept to be able to bring and engage our students, faculty, businesses and even the K-12 system with robotics competitions, anybody in our region will be able to be innovative and create just about anything that they can imagine."
The idea of the FabLab is to be a business incubator on steroids, offering the traditional incubator ingredients, such as mentoring, office and conference space, programs and access to business expertise, combined with the equipment needed to manufacture prototypes. This will allow entrepreneurs to work through some of the strategic issues of product development and present a working prototype to investors, Halaby says.
"We've modeled ourselves after other FabLab-type programs around the country," he says. "They've been able to integrate very successfully with middle and high school programs. We want our kids, particularly those in 8th or 9th grade, to have access to these types of resources and challenge themselves. So they're not just getting the theoretical component in school or hearing the teacher. They get to make something.
"This is going to be open to all, not just students and faculty, or people registered in a particular course, but anybody, any business, any individual, K-12 system, can be a part of this," Halaby says. "What we're doing is really trying to change the culture of innovation in rural America.
Teaching Teachers
Georgia Southern got its start as a teachers college, and it hasn't forgotten its roots. The College of Education (COE) continues to design programs based on up-to-the-minute research that ensure teacher candidates are prepared to be the kinds of teachers our students and our schools need.
Partnerships with area schools that result in improved learning for all is the goal of the COE's Partnership Council. "We know that success in our teacher education programs is inextricably linked with our partnerships with our schools," says Christine Draper, associate professor in the COE and coordinator of the Partnership Council. "Our students have always done 1,000 field hours, because we firmly feel that the best way to learn about teaching is to be in the trenches, learning from actual teachers in actual classrooms and from actual children. But we wanted to move beyond that. We wanted to make these partnerships stronger."
The Partnership Council is made up of COE faculty and administrators, school district teachers and administrators, and members of the Regional Education Service Agency. The council meets on a regular basis to discuss the needs of schools and educators and ways the university and student teacher candidates can help meet those needs.
"One thing that is very prominent in teacher preparation currently is we don't just graduate our students and hand them off," says Thomas Koballa, dean of the College of Education. "We continue to work with those students in those early years, years one through three, trying to support the schools as they work with these new teachers. The partnerships, those are opportunities to not only benefit the university by placing student teachers, but also for university faculty and school faculties to work together to address common problems. That's a real focus of what we do."
A recently funded project about how to teach diverse learners – the idea that every child learns differently and that students have many cultural, linguistic and intellectual differences – was derived from requests from those in the field. Projects such as this reinforce the education teacher candidates receive as part of the new dual certificate program in special education-early childhood education.
"Special education has changed," says Program Coordinator Catherine Howerter. "We went from a time when students were pulled out, and they weren't included in the classroom. Now we're leaving them in the [general education] classroom, and the special-ed teacher is going into that classroom. The gen-ed and the special-ed teacher are teaching together."
This new way of teaching special-needs kids led to the development of the dual-certificate program. "It definitely makes our students more prepared to teach a wide range of students, to work collaboratively with others and, at the end of the day, to get a job," Howerter says.
"I wish [the dual-cert program] was all that was offered, because it teaches you to look at individuals," says Jessica Davis, a junior in the program. "Special education is about meeting every student where they are and helping them in the way that's going to make them more successful as a student."
Teacher candidates in the dual-cert program take some of the same coursework as those in general and special-ed programs, along with some specific courses created to meet the needs of both programs. "Their fieldwork is a little bit different," Howerter says. "Our dual-cert students are in what we call inclusive classrooms [that include the general students along] with kids with disabilities. They also go out into the special-ed classrooms. So they're getting a taste of both worlds."
These programs are just a few of the ways President Keel and others are looking to put Georgia Southern on the map, helping to meet the needs of businesses and getting the state's best and brightest young people established in a rewarding career once they're out of college.
---
STUDENT-SUPPORTED SUSTAINABILITY
As tuition and fees continue to go up at colleges and universities across the state despite the often loud grumbles from students, Georgia Southern University (GSU) found that students were happy to pay an additional $10 per semester as a sustainability fee – in fact, they voted it in themselves.
The vote "originated with a student organization called SAGE, Student Alliance for a Green Earth. They did a lot of surveying to find out whether or not students were interested in a fee and what level of fee they would support for sustainability," says Lissa Leege, director of the Center for Sustainability (CfS) at GSU, the recipient of the student's largesse. "It was proposed through the entire campus … so all the students were able to vote on it. Unbelievably nearly 75 percent of students voted to support this fee that was student initiated. The students understand the value of sustainability, and they're willing to pay a pizza's worth of sustainability fee a semester."
The CfS has made the $10 per student per semester go a long way. "We've been able to dramatically increase our offerings and the things we're able to do on campus and in the community," Leege says. "We offer environmental community cinema. We do sustainability field trips to area locations. We bring in fantastic internationally known speakers on sustainability. We offer campus sustainability awareness – a full week of events related to sustainability." Called No Impact Week, it's the longest-running program of its kind at any university in the country.
The program that's having more impact than Leege could have dreamed of, however, is the grant program. "Any student, faculty or staff member can apply for funds to improve sustainability on campus in some way," Leege says. "Over the course of the past year, we have allocated nearly – this still blows my mind – $448,000 toward sustainability improvements on our campus.
"I was truly overjoyed after we had our first [funding] meeting and I realized, 'my goodness, we just spent $238,000 on sustainability in one pop,'" Leege says. "What a tremendous moment of pride for Georgia Southern to know that its students are sending us in the right direction." – Karen Kirkpatrick