Central: On A Hot Streak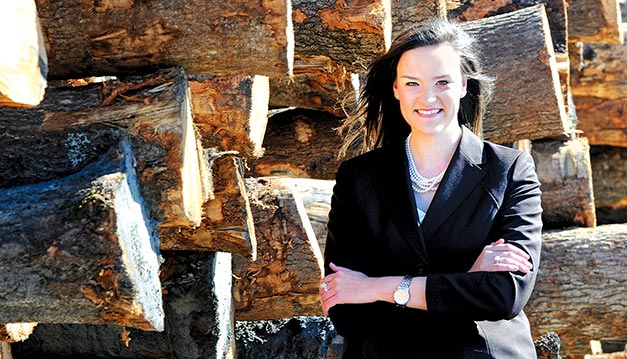 Georgia's Central region has one of the state's most diverse economies, from high-tech firms in the north to ag-related industry on the south end of the region. Over the past year, several counties have landed major projects, including expansions in food processing and life sciences. Expect that momentum to continue into 2015, with several counties planning to announce major job-creating industrial site decisions this year.
The economy is rolling along nicely in Bibb County, spurred by the long-awaited start of construction of the nearly 1-million-square-foot Kumho tire plant, a project announced in 2008 but delayed due to the recession. The $400-million investment by the Korean conglomerate will result in the employment of 450 when it becomes operational in early 2016. The plant has made its initial hires and will be sending key personnel to Korea for training later this year. This project is likely to pay further dividends if suppliers locate in the area as expected.
"We've already met with one supplier, and Kumho has mentioned that there are other suppliers they will introduce us to," says Pat Topping, senior vice president of the Macon Economic Development Commission.
Existing businesses are expanding, too. Geico, which Topping says has had a presence in Macon for 40 years, is in the process of growing its employment to nearly 6,000 at its two call centers.
Forest products pace the economy of Fitzgerald and Ben Hill County, and that sector received a nice boost in late 2014 when Choice Wood, a wood processing and manufacturing start-up, began operations. Choice Wood leased a 200,000-square-foot building and plans to eventually create 50 jobs by producing processed wood bundles, which are prevalent at the entrances to supermarkets and other retailers during winter months. Choice Wood is a sister company to Enviro-Log, the third-largest producer of manufactured fire logs in the U.S.
"That's our big thing for 2014," says Ashley Morris, executive director of the Fitzgerald-Ben Hill Development Authority. "The Development Authority is also working on a strategic planning process to assist our community in competing statewide in terms of economic development."
Morris says growth in forest products and in food processing have helped the county's jobless rate drop into single digits for the first time in several years.
Dooly County's economy revolves around agriculture and food processing, and the county's biggest recent expansion combines the two. Tyson Foods plans to spend $110 million this year to expand its processing plant in Vienna. The project will add 500-plus jobs and 100,000 square feet to a facility that already employs 700 – making Tyson the county's largest employer by far.
"This is pretty important for us," says Bob Jeter, director of the Dooly County Economic Development Council. "We're a rural county, and most of our businesses are not this large."
Brad Lofton believes Dublin is one of the emerging hot spots in the state. Lofton, president of the Dublin-Laurens County Development Authority, says 2014 was one of the best years for the county in recent memory, continuing a hot streak over the last three years. Dublin's economy has evolved considerably since the days it was a center of textile manufacturing.
"We have a tremendous amount of activity in the pipeline," Lofton says.
Foreign investment has been strong. Recent projects include plans by Germany's AWEBA Group to establish its first North American headquarters in Dublin, investing $6 million into a die-making facility that will create more than 50 jobs. The largest foreign direct investment project, employee-wise, is a 150-job, $20-million plant that Valmiera Glass announced for Dublin last July. Latvia-based Valmiera will locate on 40 acres in an industrial park near Interstate 16 and will produce fiberglass products for the North American market. End uses include thermal insulation, smoke and fire protection, composites and building products. YKK AP America, one of the county's biggest employers, recently invested $20 million in new equipment.
Lofton says Laurens County's international culture gets a boost from the Carl Vinson Veterans Administration Medical Center, which employs many international physicians.
The big news in Jasper County continues to be Norton Packaging's plant in the Monticello Industrial Park. Norton, which produces food-grade containers for restaurants and restaurant suppliers, opened a 45,000-square-foot facility last year and employs more than 40. David Dyer, director of the Economic Development Authority of Jasper County, says the company plans to double those figures within two years.
"We built a rail spur for them, and they've done a marvelous job of hiring local people," Dyer says. "We're very pleased with Norton."
Dyer says the county continues to broaden its relationship with Mercer University. The development authority has been working with representatives of the Mercer University School of Engineering to develop a long-range economic blueprint for the county.
"This is one of the things I am very excited about," Dyer says. "We were able to learn about the kind of growth that interests our citizens."
Another important project underway is construction of a hospice facility. Dyer expects the hospice to create 40 jobs when it opens next year.
Putnam County's largest recent economic development win figures to boost its standing as a life sciences cluster in the state. Aalto Scientific, a manufacturer in the medical diagnostics industry, is moving its manufacturing and corporate headquarters from Carlsbad, Calif., and is the first occupant of Rock Eagle Technology Park in Eatonton. The company, a privately held business founded in 1979, says the new location will improve its logistics and turn-around time.
"They [Aalto] brought production online in January and will be in full production and fully staffed by July," says Terry Schwindler, economic development director for the Putnam Development Authority. "They are slowly moving equipment from their San Diego site. They already have plans for expansion. Within three to five years, they will double both their footprint and their number of employees."
Schwindler says companies hoping to serve as suppliers to the huge Baxter International plasma products facility in development 35 miles away in Covington are looking at potential sites in Putnam County. "We had a couple of companies looking here, and we are hopeful. We have 130 acres available in our technology park."
Other recent job generators include the Harbor at Harmony Crossing, a memory care and assisted living center that opened in October and employs 25.
Another target sector is IT and software. Vizitech USA, a developer of 3-D learning software, opened an office in Eatonton in January 2014 and now employs 18.
Judy Sherling, executive director of the Development Authority of Jeffersonville-Twiggs County, is hopeful that the long-awaited HelioSage Richland Solar Center will get underway this year. The proposed solar panel project would cover 200 acres.
"We have a tremendous opportunity to land some new business here," Sherling says. "We think we can land some businesses due to the port expansion, and we want to invite them to look at our industrial park."
Twiggs County targets the logistics sector as its top priority, with its location about 145 miles from the Port of Savannah a big advantage, she says.
Industrial prospect activity is picking up in Lamar County with the possibility of a significant announcement this spring, says Missy Kendrick, executive director and president of the Barnesville-Lamar County Industrial Development Authority. She says the county stayed relatively robust economically during the recession.
Continental Tire is the largest employer, and Lamar also has a small cluster of aviation-related companies. There have been expansions at Ranew's, a Caterpillar supplier, and at Jordan Forest Products, a lumber company.
"We have weathered it pretty well," Kendrick says. "Many of the surrounding counties lost business and industries, but fortunately we have remained strong."
Another county anticipating a significant industrial announcement this spring is Wilkinson County. The mineral kaolin remains king, but the new project will be unrelated. Otherwise, the theme has been expanding businesses, including Rescar Industries, a railcar refurbishing firm, which recently added 20 employees.
"We have taken steps to better position ourselves for projects and have been focusing on our six rail-served, pad-ready sites," says Jonathan Jackson, economic development director for the Wilkinson County Development Authority. "Our story has been business retention and expansion."
Read about individual regions: