Art Of The Meal: Southbound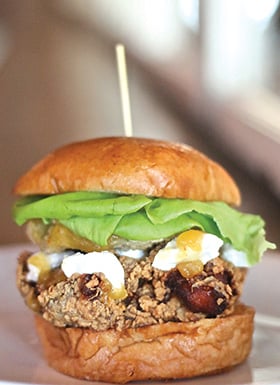 It's fun to see a restaurant plant a flag. It's the first of its kind; you know it's going to be a game-changer in its area – geographic or culinary. (Sometimes both.) That's Southbound – which opened in downtown Chamblee last May. Weirdly, this area near Atlanta's Mercer campus, wedged in a developing neighborhood between Buckhead and the throbbing restaurant destinations along Buford Highway, has long been underserved for this kind of smart, youth-oriented spot.
Big points for the beautiful renovation of a former Masonic Lodge, now a cavernous den outfitted with old exposed brick, bronzed kettle light fixtures, an upstairs bar/dining room and a screened porch that ought to start being pleasant right about now. It looks like the perfect adjunct to this fast-growing area of lofts and condos, once known only for car dealerships and light industry. Judging by the crowds we saw on our visits, the neighbors think so, too.
Southbound joins a growing number of projects by ambitious young chefs and restaurateurs embracing Southern foodways in interesting and globally conscious ways. The menu (it's open for lunch and dinner five days a week) offers Dixiefied staples like country fried steak, spicy fried chicken, Hoppin' John, biscuits and gravy, and fried green tomatoes – but often garnished with little kick-starters like pineapple-habanero jam. You'll also find braised lamb with polenta, a crispy eggplant sandwich with green tomato chutney and salads and sides featuring Satsuma oranges, pepitas, farro and Southbound's house-made charcuterie.
Mostly, however, Southbound seems not to want to break new ground, but to serve its friends and neighbors well. That's an honorable mission – perhaps more so than ego-driven goals. And on most counts, Southbound succeeds beyond anything else around it. The cocktails and wines are terrific. The Cucumber-Gintini is a gentle, not too-sweet intro to warm weather – like spring itself. The Manhattan is rye-based, with orange bitters – always correct. Wines include a food-friendly Rousseau Frères rosé and a crisp Italian Raetia pinot grigio.
However, while we largely loved the food and atmosphere, we did encounter a few hiccups: Dinner began with mushroom toast, two baguette slices heaped with soy-sautéed fungi, sprinkled with farmer's cheese. Delectable. However, while my dining partner's country fried steak with mashed potatoes and braised greens was also on point, my pan-roasted chicken on wild rice Hoppin' John was too rosy-red at the center. Our waiter agreed and quickly whisked it away, only to return it slightly overcooked.
Similarly, at lunch almost everything was great – starting with a prickly sweet ginger-carrot soup. This time, my blackened catfish and grits were perfectly done, with an intriguing green tomato chutney and drizzle of lemon oil, but the fish was so aggressively blackened it tasted mostly of char instead of spice. Maybe someone at the grill was a little over-caffeinated. Similarly, my friends' sandwiches (spicy fried chicken and a shrimp roll with cool boiled, spiced crustaceans on Bibb lettuce with mayo) had spot-on, well-seasoned fillings, but both the burger-style bun on the chicken and the split hot-dog-style bread on the shrimp roll were thickly blackened from edge-to-edge, charcoal bludgeoning the flavors within. Again, a well-trained waitress, after seeing our reactions, quickly returned with crisply browned replacement buns.
Ah well. Some journeys are not about the destinations. We drowned our sorrows in chess pie, contemplating another order from the bar. With its apparent dedication to its neighborhood, Southbound may improve its execution and detail-orientation. However, even with these small issues, Southbound is a milepost, pointing the way for this booming part of town – and for this style of eating.
---
Speaking of mileposts …
It is a work in progress, but The Café at Linton's, in the Atlanta Botanical Garden (ABG), is another promising development. The little spot by Linton Hopkins (Restaurant Eugene, Holeman & Finch) is in temporary digs while its new home is constructed, an impressively large dining room and rooftop terrace slated for completion by late fall. Still, there is much to recommend this tiny café, including Julia Child's beef bourguignon and White Oak Pastures chicken pot pie. (Menus are seasonal and change often.) For a cold snap, try the fantastic hot chocolate, with house-made marshmallows. Bonus: During April, the ABG allows you to have dinner at the café without requiring the admission fee. 1345 Piedmont Ave. NE (in the ABG), 404.585.2061. www.atlantabotanicalgarden.org/ visit/café-lintons-garden