A Helping Hand
With more than 60 nonprofits dedicated to assisting people with cancer, help is often just a click away.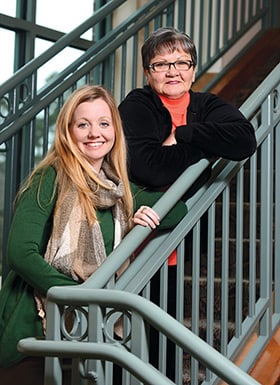 When Debra Light of Winder was diagnosed with lung cancer for the second time in October 2014, she knew she was in for a struggle – not only physically and emotionally, but also financially.
Surgery to remove the tumor on her lung was $117,000, and the biopsy was more than $9,000. She does not know yet how much the cost of radiation and chemotherapy will be or how much of the costs her insurance will cover.
"People don't realize how expensive cancer is," says Light, 61, a former district manager with The Atlanta Journal-Constitution who has been on medical disability since her first cancer diagnosis almost a decade ago.
A social worker at her radiologist's office did realize, however, and put Light in touch with The Cancer Foundation of Northeast Georgia (www.cancerfoundationofnega.org), an Athens-based organization that provides financial assistance to people in 18 surrounding counties who are undergoing cancer treatment. The organization assisted with her most immediate financial need, sending her gas cards to help with the daily – sometimes twice-daily – 36-mile round trip for treatment and doctor's visits in Athens.
"It has been a godsend to have a little extra help," says Light. "That is one less stress – paying to go back and forth for treatments and to the doctor."
Easing Cancer's Burden
Relieving the financial stress of a cancer diagnosis is the mission of The Cancer Foundation of Northeast Georgia. The foundation was founded in 2005 by the University Cancer and Blood Center, an oncology group in Athens, when the physicians realized that many patients from the largely rural surrounding area were missing appointments because they could not afford their co-pays or transportation or to take off work.
In its first full year, the organization awarded $40,000 for patients' copays, insurance premiums, gasoline and basic living costs, says Executive Director Kimberly Liebowitz, who was the foundation's only staff member for its first six years. Raising money through special events, grants and round-up programs with area utilities, the foundation was able to add one full-time and one part-time staff last year and, in 2014, awarded $173,000 to help Northeast Georgians like Light who were having trouble paying for or traveling to treatment or meeting their basic living expenses due to a cancer diagnosis.
"Our mission is strictly to help alleviate the financial burden of cancer," says Liebowitz.
Residents and businesses of Northeast Georgia who give to the foundation have the satisfaction of meeting a tangible need – a tank of gas, a rent or mortgage payment – for a deserving person right in their local area, she says.
Keeping It Local
When people think of cancer nonprofits, they tend to think of huge ones like the American Cancer Society or Susan G. Komen, which fuel most of the cancer research. But there are many other smaller organizations with important roles, says Karen Beavor, president and CEO of the Georgia Center for Nonprofits (GCN), an Atlanta-based organization that delivers a wide range of services and support to help the state's nonprofits succeed.
In fact, there are more than 60 non-profits related to cancer in Georgia according to the GCN, which lists these and other nonprofits that companies and individuals can support via its Georgia Gives Day website (www.gagivesday.org). The third annual Georgia Gives Day, "a flashmob of giving," will be held this year on Nov. 12, and registration is already available on the website.
"Nonprofit cancer organizations in Georgia have varied service missions," says Beavor. Some fund research, some promote education and some fund cancer screenings for high-risk, uninsured patients. Some, such as Rome-based Cancer Navigators, help patients navigate the health system when they receive a cancer diagnosis, while others – including the Atlanta Hospital Hospitality House or Ronald McDonald House – provide housing to patients and/or their family members who must travel for treatment.
Organizations such as the Georgia Ovarian Cancer Alliance and Georgia Prostate Cancer Coalition focus on specific types of cancer, while others, such as Camp Sunshine – which offers year-round recreational, educational and support programs for children with cancer and their families – focus on certain populations.
Some of these offer services statewide, while others, such as The Cancer Foundation of Northeast Georgia or Young Survival Coalition, an organization for young women in the Atlanta area with breast cancer, limit services to a region or metro area.
"Georgia has a robust, full system of support that has a lot of facets," says Beavor. While large organizations will always be crucial to cancer research and awareness, smaller organizations sometimes serve a purpose or fill a need that a larger organization can't, she says. For example, the Peachtree City-based Breast Cancer Survivors' Network offers among its services more than 35 breast cancer support groups throughout Georgia, including groups for young adult survivors, minorities and Spanish-speaking women.
"When a lot of people think of breast cancer, they think of Komen for the Cure, but this is a network of peers who have gone through that and it is really a support network. There are so many of these types of organizations, and they need to be local and available to local people," says Beavor.
"I think treatment is local and people's lives are local. Some organizations can serve a broad area because their particular service lends itself to being done on the Internet – information or referrals, things like that," she says. "But some of them are on-the-ground kind of stuff."
Georgia Trend highlights some of these nonprofits that are making a difference in the lives of Georgians.
Jay's Hope
When Cindy Gaskins' 2 1/2-year-old son, Jay, was diagnosed with a malignant brain tumor in 2002, she was overwhelmed by the support she received from family and friends. Even though Jay's treatment meant a move to Memphis for herself and Jay, she knew her husband and daughter, Kaitlyn, were well cared for back at home in Macon. "They had a lot of help at home with home-cooked meals, and their laundry was taken care of," says Gaskins.
But even during the bleakest hours with her young son, Gaskins' heart went out to families who didn't have the support hers did. "Hearing their personal stories of loss of income and worrying about losing their homes and being unable to pay for medications or put gas in the car to go home for a visit, I just knew that I was being called to do something to give back," says Gaskins. In 2006, tragedy gave her that opportunity. "Jay passed away after a three-year battle. We started Jay's Hope right away with $500 left in his medical fund that friends and family had collected and donated."
For the organization's first few years, Gaskins, a social worker with a nonprofit background, ran Jay's Hope out of her home – alone. Later, she was able to acquire donated office space near the children's hospital in Macon and hire a full-time and two part-time staff. Using funds from several fundraisers and grants from individuals and local businesses, Jay's Hope helps families with financial needs directly affected by their child's illness – medications, medical equipment, gas cards or car repairs for families traveling to treatment – but more importantly it provides emotional and spiritual support for families.
Monthly get-togethers allow children with cancer and their families to spend time with one another and know they are not alone.
"Our families also have access to us 24/7," says Gaskins. "Being a social worker, I definitely have been able to use my experience ministering to these families. They know they can call me, and I have walked in their shoes and know what they are going through and can give them guidance about what is going on with their child. Sometimes they call in the middle of the night. Sometimes they call just to cry or call to scream."
A Christian-based organization, Jay's Hope prays for and prays over its families and benefits from the involvement of local churches, says Gaskins. "We support any family with any faith, but we also don't hide that we are a Christian organization."
For more information on Jay's Hope, visit www.jayshope.org.
Cancer Navigators
"You have cancer" are perhaps the three most dreaded words in the English language. Hearing that phrase triggers a wide range of emotions that make it challenging to process the information you are receiving about your health. For patients at Harbin Clinic, Floyd Medical Center and Redmond Regional Medical Center in Rome, a 501(c)(3) called Cancer Navigators can help bring a sense of control to the difficult cancer diagnostic and treatment process.
Cancer Navigators was started in 2006 by two physicians – Matthew Mumber, M.D., a radiation oncologist, and Thomas Simpson, M.D., a hematologist/oncologist – along with Dan Sweitzer, then vice president of Floyd Medical Center. Since that time, it has helped an estimated 4,000 patients navigate the healthcare system – and life – with cancer.
"The original goal was to help navigate the health system when [people] are most vulnerable and provide continuous navigation from diagnosis through treatment and even past active treatment," says Sweitzer, who now serves as acting executive director of Cancer Navigators.
The most vulnerable time for most patients, he says, is immediately after diagnosis and before they become established with an oncologist. That is when a nurse navigator first meets with patients. "The nurse navigator follows them heavily during the early part of the journey, when they are deciding on what type of treatment, where to go for treatment, learning what cancer is and what their options are," says Sweitzer.
Nurses also identify patients who have other needs – such as transportation, nutrition or assistance in applying for Medicaid or Medicare – and refer them to one of two service navigators on staff. "Our goal is to try to identify all of the things that might prevent patients from receiving the maximum benefits of the treatment," Sweitzer says.
Later in the treatment phase, Cancer Navigators educates patients on how to move into being a survivor instead of a patient, offering two-day retreats in North Georgia and eight-week sustainable wellness programs.
Cancer Navigators is governed by a local board, half of whom are involved some way in cancer treatment and half who are cancer survivors, says Sweitzer. "Another important fact is that we don't charge patients, and we don't collect insurance. All of these services are paid for." The majority of funding comes from donations followed closely by grants from local and state organizations. The rest, he says, comes from various fundraising events, many of which were developed by former patients.
For more information on Cancer Navigators, go to www.cancernavigatorsga.org.
Georgia CORE
In 2004, cancer incidence and mortality rates in Georgia were among the highest in the nation. Depending on where in the state a patient lived, those interested in trials for cutting-edge therapies had few or no options from which to choose. The Georgia Center for Oncology Research and Education (Georgia CORE) has shown what a difference a decade of hard work and cooperation can make.
Funded in large part through the state's tobacco settlement money and private donations, Georgia CORE is a public-private partnership of clinicians, scientists, educators, research professionals and those affected by cancer who are dedicated to ameliorating the devastating effects of cancer, says Nancy Paris, president and CEO of Georgia CORE.
As part of that mission, Georgia CORE partners with the Georgia Department of Public Health to develop and implement Georgia's Comprehensive Cancer Control Plan. The plan is part of a national effort by the Centers for Disease Control and Prevention (CDC) to reduce the death rate from cancer and develop a cohesive cancer-fighting strategy for the state.
"One of the great aspirations when we began this was no one would have to leave Georgia in pursuit of better care, that we really would build the best here and maintain the best here," Paris says.
The first goal of the organization, which was founded in 2003, was to build the state's research portfolio, she says. "We had great doctors, we had great cancer facilities, we had a wonderful public health system and we had great academic institutions. What we didn't have was a strong research system. We didn't have as much research funding for our scientists and scholars as surrounding states – Alabama, North Carolina and Florida – did. We didn't have as many clinical trials as surrounding states did."
In an early survey by Georgia CORE, the organization identified 82 clinical trials in Georgia, Paris says. Today, the state has 600 available trials, thanks to a collaboration of 24 leading oncology practices, hospitals and academic centers – from Harbin Clinic in north Georgia to Archbold Medical Center in Thomasville near the Florida border and from Lewis Cancer and Research Pavilion at Saint Joseph's/Candler in Savannah to Amos Cancer Center at Columbus Regional Healthcare System, just miles from the Alabama-Georgia line.
"Not every trial is in every center, but there are trials in every center over the state," she says. The clinical trials give the majority of Georgia's cancer patients access to innovative new treatments close to home.
As the volume of research and availability of clinical trials has increased, a very important statistic – cancer mortality in Georgia – has decreased. "Now when you look at how Georgia is compared to the rest of the country, we are right in line," says Paris. "Our mortality rates have fallen over 10 years, and the line is consistent with the national picture."
Other accomplishments of Georgia CORE include a consortium of public health departments that has expanded screening of and genetic counseling for young women who are at high risk for hereditary breast and ovarian cancer.
"Georgia CORE is a truly unique program," says Paris. "It is pretty extraordinary that we have built a partnership on this commitment to improving the quality of care for patients and quality of life for survivors."
For more information on Georgia CORE, visit www.georgiacore.org.