2015 Economic Yearbook
Georgia Trend's annual region-by-region look at the state's economy reveals that we're making the most of the growing recovery and our status as the No. 1 state in the nation for business.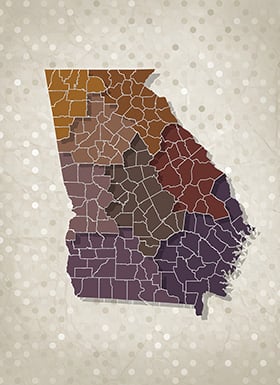 Reports of increasing economic activity, new jobs and businesses – even improvements in the housing industry – show that Georgia is continuing to make the most of the growing recovery and its status as the No. 1 state in the nation for business. Put on your seatbelts as the Peach State moves forward. It's going to be a wild ride.
From new stadiums to massive corporate campuses, growing retail and an aerotropolis, the Metro Atlanta area is booming, with job growth poised to outpace the national average.
Northwest Georgia continues to be the country's flooring capital, with new investments by industry stalwarts, but the area is also seeing new activity from a variety of sectors and a jumpstart in tourism. In Northeast Georgia, expansions in healthcare and a commitment to working across county lines are yielding economic dividends throughout the region.
In the West Central part of the state, Kia and Fort Benning continue to drive the economy of the entire area. While in Central Georgia, diversity is the key, with everything from high tech to agriculture to tire production fueling growth. East Central Georgia is focused on creating the workforce required by an influx of industry in areas as diverse as the energy sector and cyber security.
In Southwest Georgia, economic developers have joined together to market the region – a decision that's already bearing fruit. The biggest thing in Southeast Georgia, is, of course, construction starting on the Port of Savannah project, but that's just the tip of the good economic news coming out of that region.
Stories in this year's Economic Yearbook were written and reported by Stan Awtrey, Lori Johnston, John W. McCurry, Bobby Nesbitt, Don Sadler, David Shivers, K.K. Snyder and Randy Southerland.
The Simon S. Selig Jr. Center for Economic Growth at the University of Georgia's Terry College of Business provided the statistical information for the tables included. Georgia Trend's Economic Yearbook divides the state's 159 counties into eight regions established in 1996.
Population and income data for 2014 have been projected based on 2010-2013 trends in income and 2009-2013 trends in population. Per capita personal income estimates were calculated based on revised population and income data from the U.S. Census Bureau and the U.S. Bureau of Economic Analysis.
Estimates of population and per capita personal income for 2014 are based on extensions of existing trends and reflect growth or decline based on data that already have been recorded.
Total population estimates are based on data through 2013 from the U.S. Census Bureau. County population projections for the year 2014 have been controlled to the reported state total for 2014. Employment data are for January-June average covered employment, defined as jobs, by place of work, covered under Georgia's unemployment insurance law, and are not comparable with other nonagricultural employment statistics.
Preliminary employment estimates are based on information through June 2014 from the Bureau of Labor Statistics. Data for per capita personal income, by place of residence, were derived from data through 2013 issued by the U.S. Bureau of Economic Analysis and are given in current dollars. Revisions from the BEA income data result from incorporation of the five-year economic census and the benchmark input-output accounts.
For more information, readers may visit the Selig Center website at www.selig.uga.edu. – Karen Kirkpatrick
Read about individual regions: