Southern Culture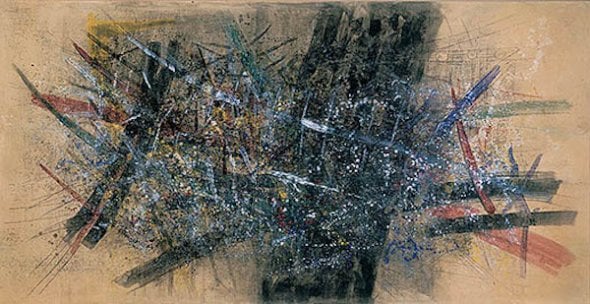 After months of hibernation it feels good to get out and partake in some local culture — whether indoors or out, art is best seen in natural light. A number of new shows happen to feature this writer's favorite style: abstract painting.
Chaos and Metamorphosis pretty much sums up this genre, so it's fitting that it's the title of a show of works by Italian artist Piero Lerda. Weaving weird symbols and recurring images into his colorful mixed-media collages, he strikes a tone at once funny and intriguing. His works are on view at the Georgia Museum of Art at the University of Georgia in Athens through May 10.
Imagining New Worlds is a retrospective of the great Cuban surrealist Wifredo Lam, and it also features responses to his legacy by two contemporary artists with Georgia connections, José Parlá, who attended the Savannah College of Art and Design, and Atlanta-based artist Fahamu Pecou. Lam's evolution shows how surrealism provided the gateway to abstract expressionism. Especially fascinating are his giant Easter Island-esque concrete slabs, which resemble Stonehenge drenched in a rain of phosphorescent colors. See this show at the High Museum in Atlanta through May 24.
Other artists of note whose works I've enjoyed recently include Georgia Trend 2015 Notable Georgian Alex "Hense" Brewer at the Railway Arts District Studio Cruise in Avondale Estates, Steve Pomberg at Beep Beep Gallery in Atlanta and Ryan Coleman at Sandler Hudson Gallery in Atlanta.
This is a good time for seeking out these artists and finding your own local discoveries. — Ben Young
Image Credit: Wifredo Lam's, letterbox, Courtesy of the High Musuem