Valdosta | Lowndes County: Keeping The Home Fires Burning
Business growth, military outreach and cultural resources.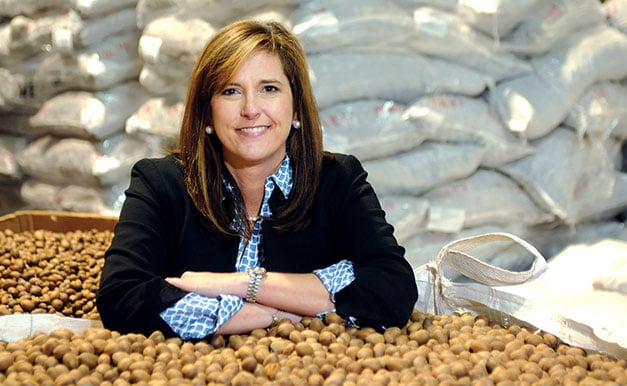 When Myrna Ballard and her husband first came to Valdosta, they expected they would probably stay four or five years, then move on.
That was in 1985. This year Ballard begins her 20th year as president of the Valdosta-Lowndes County Chamber of Commerce.
"We just fell in love with the place," Ballard says while showing a visitor around the city's bustling downtown, a mixture of renovated historic buildings, modern government structures, residential lofts, retail and restaurants fronting tree-shaded streets.
In the chamber's stately offices, Ballard and other community leaders talk about their joint vision for downtown and the local economy in general. For years, officials have recognized the need to retain young talent graduating from Valdosta State University (VSU) and Wiregrass Georgia Technical College and encourage entrepreneurship. A number of years ago, the "Business Plan of the Year" competition was established, with the annual winner receiving $10,000 in seed money to help start a new business in the community.
Now a drive is underway to push the needle further on entrepreneurship with a proposed business incubator downtown. According to local realtor and chamber board member Ron Borders, discussions over the past couple of years with the business, political and faith communities have yielded a consensus.
"We've identified some things that we can work with, and the cream that rose to the top was a business incubator," Borders says. "We have heard from recruiters, both Georgia Power and private recruiters, that in the funnel process [for companies] to select a community, having an incubator is a good sign. It's a sign that your community is progressive and leans toward those things – that buzzword STEM: science, technology, engineering, mathematics – that indicate a community is progressive" and willing to work to better itself.
The chamber, business community and Valdosta State University are currently partnering to develop a feasibility study for the incubator. Borders expects that will be completed in March. The next step is a business plan, determining what will be required for someone's business proposal to be eligible for incubation, and what the process will be for eventual graduation into commercial space outside the incubator.
While in the incubation period, probably up to two years, businesses will pay a modest rent but share resources like a receptionist, office equipment and a conference room to hold down overhead costs while they get on their feet. They will also have access to the Small Business Development Center at Valdosta State and the chamber's SEEDS Business Resource Center.
Part of the Valdosta-Lowndes chamber's state legislative agenda this year is lobbying for funding for Invest Georgia, a statewide venture-capital effort for small-business startups. Money from the state would complement a similar local effort, Invest Valdosta. Southwest Georgia Bank executive vice president Jeff Hanson says it is extremely difficult for new businesses to become bank-qualified for a loan due to strict regulatory requirements. Venture funds such as Invest Georgia or Invest Valdosta could be more flexible and help startups reach the stage where they can become bank-loan qualified.
Officials also expect the business incubator will help boost the downtown residential presence, with the idea that new business owners will want to live close to their work. There are already several dozen downtown loft residents, says Borders.
Valdosta State is integral to the community, so city and university officials want to put in landscaping along Patterson Street that will create a seamless transition between downtown and the VSU campus to the north.
"No doubt about it, Valdosta is a wonderful college town," says university President Dr. William McKinney. "We were jumping for joy back in July. Valdosta made a 'Top 50 College Towns' [Great Values College ranking], and with good reason, but we have to continue to grow." Part of that growth could include a VSU presence in the downtown area, similar to Savannah College of Art & Design in Savannah.
"Our success is tied to the success, and the economic success, of this community and this region," Dr. McKinney says. "Because we're not going anywhere, we have an obligation to find those new ways to keep this place strong, to keep it growing."
The city and the university are dependent on each other, Ballard says. "To attract students to Valdosta State, Dr. McKinney needs a cool community where students want to be," she says. "Declining communities that don't have a great downtown with cool and sophisticated things to offer, that hurts you."
---
Stepping Up for Veterans
Moody Air Force Base has an annual economic impact of hundreds of millions of dollars on Lowndes County, so city and county leaders regard good relations with the air base as paramount. "We are always vigilant about Moody," Ballard says. "We do not take it for granted."
Some good news came recently when it was announced that the A-10 squadrons based at Moody that were on the list for federal defense cutbacks have been extended for at least one more year. In 2020, F35 jets are scheduled to come online, and Ballard hopes Moody will have a good shot at those.
In the meantime, the chamber and community have embarked upon a mission to make personnel at the base feel welcome and help them integrate into the community. Borders cites the Right Start program, in which members of the chamber's South Georgia Military Affairs Council personally meet with new arrivals at the base; more than 900 were greeted in 2014, he says.
Another chamber program, Operation Moody Transition, was cited by the Air Force as "historic," says Ballard. The initiative helps people who have been separated from the military, either voluntarily or involuntarily, to make contact and achieve good relations with local employers. The goal is to persuade them to remain in the community as civilians. "They had never heard of a community doing this," she adds.
"We taught them how to speak civilian. We also taught the employers how to translate military qualifications into civilian qualifications," Ballard says. "We did some good matchmaking; we have some folks who actually ended up in good jobs here in Valdosta and have some very happy employers because they had been unable to fill some of these positions."
---
Locals First
There have not been any major industrial newcomers recently, says Lowndes County Commission Chair Bill Slaughter. "Most of the growth has been on existing business and industry, and that's where our major focus has been: to make sure first of all that our local people are taken care of and all of their needs have been met."
In 2014 alone, four companies announced major expansions: CJB Industries, a chemical formulation and packaging firm, invested more than $2 million to expand and added 10 new jobs; Fussell Tire & Services, logistics/distribution service and support, did a $2-million expansion, adding 10 jobs; Bimbo Bakeries USA, food products logistics and distribution, invested $771,000 in a new facility; and Express Scripts, specializing in customer service operations, added 175 jobs to bring its total to 310. South Georgia Pecan Co. has also continued to grow, says Valdosta-Lowndes Development Authority Executive Director Andrea Schruijer.
Schruijer says Lowndes County, the city of Valdosta, and the development authority have made economic development a priority. In 2008, a 15-year, $15-million bond issue was passed. "We've taken that money and invested that back into our industrial parks," she says, including purchase of two new sites that are now shovel-ready with infrastructure.
A goal for Slaughter is the designation of Valdosta as an inland container port, a future hub for shipping and distribution. Lowndes County is currently included in the Cordele region, but Slaughter says there is discussion about creating as many as six inland ports in the state. With Valdosta's proximity to I-75 for north-south travel and I-10 in north Florida for east- or west-bound traffic, "I felt the potential was there to take a good, hard look at the Valdosta-Lowndes County area for consideration of having its own designation," he says.
In trying to make the case for such a designation, early work is underway on four-laning State Highway 133 from Valdosta to Moultrie, and eventually to Albany. "We're going to be looking into it a little bit deeper and seeing where we can go with it," Slaughter says.
Schruijer adds that Lowndes County is perfect for an intermodal facility, with its highway connectivity, the presence of two CNG (compressed natural gas) pump stations available for trucks now utilizing that clean-energy source, and Fussell Tire in the Westside Business Park that services CNG trucks.
Also on the green-energy front, in December Valdosta earned Smart Municipality of the Year honors from the Technology Association of Georgia. Among the strategies cited in the award were a partnership between the industrial development authority, Sterling Energy Assets and Hannah Solar LLC to develop a 0.35 megawatt solar array on city property that sells electricity to Georgia Power. Sterling Energy and Hannah Solar invested $1.75 million in equipment and construction for the project.
---
Conference Connections
Tim Riddle heads the Lowndes County Tourism Authority and manages the James H. Rainwater Conference Center, which helps pump a lot of revenue into the local economy.
"We host right around 400 events per year. In our last two fiscal years we've calculated direct economic impact of $4.1 to $5.4 million directly attributable to events and attendance at the center," he says.
"We are slowly working to change our mix of events and event types at the facility," Riddle says. "It was constructed with a view to increase hotel-room nights, and we have definitely refocused on that mission. We completely revamped the sales effort here in October of 2012, and we are starting to see the results of some continuous, focused efforts in this fiscal year." Facility revenues in November 2014 were up 44 percent over the previous November.
The conference center itself is undergoing some "revamping." Recently the lobby was repainted and recarpeted, and two executive boardrooms received new carpeting. The entire parking area was repaired, resealed and restriped. "The place looks almost brand-new," Riddle says. "Plus, new lobby furniture [is expected to be] arriving in late February or so."
A draw for fans of Western folklore is the exhibit at the Lowndes County Historical Society and Museum commemorating the years John Henry "Doc" Holliday, the notorious Wild West gunfighter and gambler, spent in Valdosta as a teenager.
Tourism in general for Lowndes County is pretty wild; Wild Adventures, that is. The wildlife-themed amusement park four miles off I-75 on Old Clyattville Road has an elephant-like footprint on visitor spending, with its animal exhibits, amusement rides and concert venue.
"They are obviously our anchor attraction, bringing over a half-million visitors to our area on their own that provide major spin-off to the rest of the area," says Riddle. As of last January, the tourism-related industry as a whole, including restaurants and hotels, employed more than 2,400 people in the Valdosta-Lowndes economy.
Between thriving local businesses, the military presence, a growing university and a focus on tourism, leaders are seeing a bigger and better Valdosta-Lowndes County economy.
---
LOCAL FLAVOR
From Land to Sea: Valdosta is not a coastal town, but a group of students at Valdosta State University have developed a biodegradable material that could net a closer green connection between the inland Georgia city and the sea.
The biology and chemistry students, under the direction of VSU professor Dr. Tom Manning, have filed for patents related to a project that uses cellulose and cement to form a bioactive concrete. Experiments and trials conducted in the Florida Keys in 2013 have shown great promise for promoting marine life growth and holding together reefs.
They discovered a number of other uses for it, too, including hosting marine organisms, acting as a food source for numerous marine life forms and, along the Panhandle coast, providing colonization sites for oysters. The biodegradable system will leave behind a functioning marine ecosystem as it decomposes.
The project is so promising that the state of Florida shortened its normal timetable for granting scientific work permits, which is routinely 18 months. The students received theirs in three days, according to Dr. Manning.
Last summer, Dr. Manning and students Brittany Butler, Sydney Plummer and Tess Baker participated in the National Science Foundation's (NSF) merit review process in Washington, D.C. There, scientific professionals evaluate and give feedback on potential commercialization of research projects and provide recommendations for Small Business Innovation Research grant applications, which provide seed funding for market entry. Out of 24 entrants nationally, the VSU team's project was one of six recommended for commercialization. The team received a grant from the NSF's I-Corps Program.
Over the course of the project, the team has developed partnerships with Valdosta businesses the Langdale Co. for wood and the Scruggs Co. for cement. The companies have also assisted in quality control. The hope is to continue these partnerships and license the project to the point it produces jobs for the Lowndes County community.
"To me," says Valdosta-Lowndes Development Authority Executive Director Andrea Schruijer, "it's such a great story taking place of innovation and green technology and evolving our coastal environment." – David Shivers