Leading The Charge
Meet six of Georgia's new county commissioners who are ready to make a difference.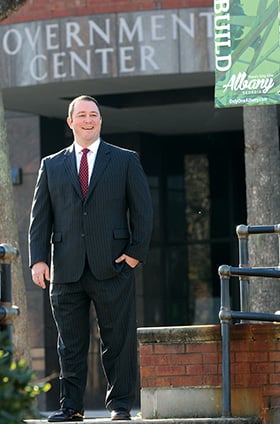 Georgia is known for a lot of things – peanuts, peaches, beautiful coastlines, bustling cities and mountain retreats. It's also known for having a lot of counties – with 159, it's second only to Texas. And that makes for a lot of county commissioners.
Georgia law requires that new commissioners undergo training before taking office – one of only a few states in the country to do so. Ross King, ACCG executive director, believes this strengthens the state.
"We're affording them the opportunity a month before they take office to really get some insight and guidance on the dynamics of the position that they have just been victorious in assuming," King says. "We provide them with a general overview of key issues related to legal matters, finance and ethics."
Commissioner-elects must take 66 hours of courses, which upon completion qualifies them as Certified County Commissioners.
The commissioner training program is in partnership with the Carl Vinson Institute of Government at the University of Georgia and is part of the ACCG Lifelong Learning Academy, which also offers in-depth specialty tracks so that commissioners can follow their interests in topics like revenue and finance, citizen engagement, economic development, public safety and intergovernmental cooperation. The goal is to create a well-rounded commission, with each commissioner an expert on a different subject.
"Better governance will in essence provide a better constituency response," King says, "and that's the key to training."
Georgia Trend talked with six commissioner-elects as they were set to take office in January, to find out a little bit more about them, the value they found in the Newly Elected Commissioner Conference and their goals for this term.
Profiles were written by John McCurry, K.K. Snyder and Lindsay Thomas Jr.
---
Chris Cohilas | Dougherty County
When Albany attorney Chris Cohilas learned that longtime Dougherty County Chairman Jeff Sinyard would not seek reelection, he was concerned for the community's future. At a time when Dougherty County desperately needs to move forward, having someone at the helm with strong leadership skills, a strong work ethic and a strong background in both public and private sectors is crucial, says the former chief assistant district attorney.
"Philosophically, I was brought up to be community-minded and to volunteer a lot of my time," says the father of four. "People who are community stakeholders – and have the ability – should do so."
And so he has. Cohilas is a past president of the Artesian City Sertoma Club, a past co-chairman of Albany's annual Martin Luther King Day Celebration and current chairman of the Darton College Foundation. But he's especially proud of his role as a founding member of Albany's Lily Pad SANE Center for victims of rape and abuse, particularly children. "As a prosecutor in Dougherty County, I was in charge of prosecuting serious violent felony crimes against women and children, many of which were sexually charged. The Lily Pad allows rape victims more dignity than having to go to the ER for exams and information gathering."
Like all incoming commissioners, Cohilas participated in the ACCG training. "It was refreshing to see that ACCG's format emphasized the importance of economic regionalism as opposed to isolationism," he says. "The training gave me numerous valuable opportunities to share ideas and concerns with leaders in our neighboring counties with an eye toward regional economic development."
Cohilas says that as chairman, one order of business will be developing the positive environment necessary for attracting more jobs. Dougherty County continues to face the challenges of economic recession, and "communities must get creative in marketing themselves and their interaction with businesses," says Cohilas. In effect, "What are we going to do to bring the next big Ford plant here?"
Raising the education level, providing opportunity for local businesses to grow and becoming a business-friendly environment are top issues. "The biggest thing I want to achieve is collaboration and cooperation between all of our local governments," he says. "I think a county commissioner is obligated to work in a positive way with the local school board, city commission and the mayor to develop a synergy so that resources are properly used as we drive toward core goals," he says. "Then we're all rowing in the same boat, and we'll get there a lot faster." – KS
---
Matt Blackburn | Emanuel County
Matt Blackburn brings youth and enthusiasm to the Emanuel County Board of Commissioners. In fact, at 29, he is one of the youngest county commissioners in Georgia.
An Emanuel County native, Blackburn is manager of Blanchard Equipment, a regional dealer of John Deere machinery. He says he decided to seek political office due to an intense desire to become involved in shaping the future of the county.
"I'm excited about the opportunity and looking forward to working hard for Emanuel County," Blackburn says. "I'm not a politician; I'm a businessman, and I have experience managing a business in Swainsboro."
As is the case with many counties, economic development is at the top of the priority list for local officials. Sometimes that can be a challenge for rural counties. Blackburn believes Emanuel County is best served by a regional approach. He cites the Emanuel Interstate 16 Industrial Park, which is located about halfway between the Port of Savannah and Hartsfield-Jackson Atlanta International Airport, as a major asset.
"Everybody wants more jobs. Our county has a good location, and we have some strong points," Blackburn says. "Our downtown development [in Swainsboro] is coming along, and we have an airport that is growing."
The ACCG training session was a big benefit to Blackburn, who says he stood out as the youngster in the crowd. "I didn't know what to expect, but it was very helpful and I enjoyed interacting with the other new commissioners. It was a chance to build some camaraderie and talk to other commissioners and ask about their counties and what they are doing. The sessions with neighboring counties were helpful."
Blackburn, who attended East Georgia State College in Swainsboro, says becoming manager of a business three years ago opened up some doors for him. He subsequently became involved with the local Rotary and Lions clubs. "I feel like serving the community is something I was called to do," he says. "I'm blessed to have the opportunity."
Blackburn says the best aspect of his campaign was the opportunity to meet a lot of Emanuel County's residents, even those who didn't vote for him.
"One of the best conversations I had was with an older gentleman. He's 88, and he told me he fought in three wars and came back to the county to farm. After our conversation, he told me he wasn't voting for me. I told him I appreciated him coming by. That was my favorite conversation of the campaign." – JM
---
Sharyn Dickerson | Athens-Clarke County
Born and raised in Clarke County, Sharyn Dickerson is now raising her own children there, just one reason behind her decision to enter public service. Mindful of the importance of this responsibility, she'll now have a chance to be instrumental in the future of Athens-Clarke County and in improving the quality of life for its residents.
Through the years, Dickerson has lent her time and talents to a number of local causes, including Project Safe – a local shelter for battered women – and The Cottage, a sexual assault and child advocacy center. "Many of my interests are family-centered," she says. "As a parent I find myself navigating toward those organizations because I strongly believe that many of the problems we face as a society occur as a result of the breakdown of the family unit."
Dickerson, who lives in the greenbelt of the county, is already tuned in to a number of issues facing residents, namely transportation and zoning. "I've got people who own tracts of land and want to leave some for their family, but some zoning issues are preventing that. I think there's something we can work on for a compromise," she says.
Investing in the eastern-most portion of the county is also crucial, she adds. "A lot of the growth we've seen was on the west side, but many of us have to drive 25 or 30 minutes to do any significant shopping," she says, noting that there are a lot of empty buildings on her side of town, offering the opportunity to control what businesses are brought to that area of Athens.
"As a professional, I also am very involved with environmental issues, as that has been my career for 23 years. Thus my interest in the Athens Land Trust which, by the way, also provides affordable, eco-friendly housing for our citizens," says Dickerson, who served as recycling coordinator for the Athens-Clarke County Solid Waste Department.
Although she was a local government employee for nearly 14 years, ACCG's training program provided not only an extensive overview of local government functions and operations, but also information on the legal aspects of her elected position, such as open records and open meetings. "The legal information was really helpful to me since I have not had much experience in that area. However, I think the most beneficial part of ACCG's training program for me was the opportunity to network with other newly elected local officials." – KS
---
Scott Gordon | Cherokee County
New Cherokee County Commissioner Scott Gordon has a long record of community service, including stints on several volunteer boards and as a member of the city of Woodstock's planning commission. The collective experience helped pique his interest in seeking local government elective office. Also fueling his political ambition was encouragement from an array of local leaders.
"I started having a deep desire to run for public office, and it was just a matter of deciding when the opportunity was right," Gordon says.
Issues facing Cherokee County are similar to other counties around the state: economic development, finding ways to pay for the ever-increasing cost of public services and development of a comprehensive transportation plan.
Gordon likes to cite 19th century surgeon Thomas Inman, who once said "First do no harm," when discussing his goals as commissioner. He hopes to apply that approach when dealing with county issues.
"First we have to continue the growth of economic development we've experienced over the past several years. We have a new outlet mall, some new industries, and Cabela's chose Cherokee County for its first store in the Atlanta area."
Other important issues that must be dealt with, Gordon says, include the state legislature's consideration of a Homestead Option Sales Tax for Cherokee, Cobb and Gwinnett counties, which he believes could reduce or eliminate property taxes for Cherokee residents.
Navigating the local cost ramifications of the Affordable Care Act to employees and the county is another challenge, he says. "My family and I have felt the financial impact at home as well as [at] my firm, which has more than 220 employees," he says. "The impact to the 1,300 employees of our county will be a significant issue in the days ahead."
Gordon describes ACCG's training program as "fantastic." As an architect, he has attended his share of professional conferences, and he rates the ACCG session as one of the best.
"There wasn't a minute scheduled without a purpose," he says. "All of the speakers were experts in their subject matter with nearly all having past or current experience as an elected official as well as additional credentials in their field of expertise. As a licensed professional, I have to complete continuing education on an annual basis to maintain my license, so I have seen more than my fair share of educational conferences, and I can safely say that ACCG is doing it right." – JM
---
Chris Paulk | Irwin County
With a civil engineering degree from Georgia Tech, Chris Paulk is trained to make a plan, stick to it, measure progress and celebrate when goals are met. He will rely on that strategy to help him in his new role as one of five Irwin County Commissioners.
Raised on Paulk's Vineyards, the family muscadine grape farm near Ocilla, Paulk returned there after college to assist in the business started by his grandfather, selling fresh muscadines to grocery distributors and wineries. Paulk saw an opportunity in the discarded muscadines that didn't meet the grade for fresh consumption, so he and his wife Jorjanne launched Muscadine Products Corp., which converts those grapes into raw materials for juices, dietary supplements and even cosmetics.
"We are selling products across the country, and very little of my business is here in the county," Paulk says. "On the flip side, my best friend and his wife, Matt and Roxie Seale, own a retail business in Ocilla [The Shoppes at Fourth and Cherry], and all of their business is local sales. Being personally connected to both local retail and the agribusiness sides of our economy gave me a unique perspective. We are an agricultural economy, but our homegrown businesses are our greatest assets. I saw this as the key to helping Irwin County grow, and that's what prompted me to run."
Through his involvement with the Rotary Club, chamber of commerce and industrial authority, Paulk became familiar with the county commission and its role.
"Having served on the industrial authority, I saw what kind of influence county leaders can have on economic development and how important it is for county and city leaders to work together, develop plans and follow through on them."
His immediate plan of action? "I'm going to take ACCG's advice and just listen first," he says. "Their commissioners training program was excellent, and that was one of the first things they told us."
Another important lesson learned: Successful leadership to resolve public issues requires balancing four critical values: liberty, equality, prosperity and community. "That was very, very helpful for cutting through rhetoric," he says. "It gives you a lens to look through and find the common ground on any issue.
"The training program gave me a valuable perspective on my role," Paulk adds. "It's not my commission seat, it's the people's. That was a great reminder." – LT
---
Sammie Sias | Augusta-Richmond County
In his 28 years in the U.S. Army, retired Sgt. Maj. Sammie Sias of Augusta says he was never afraid to take a calculated chance. "You've got to be bold. I can tie each of my Army promotions to my efforts to make improvements."
Not satisfied with pushing for improvements in the military, Sias applied his boldness to community activism and spent many years volunteering to make life better for Richmond County citizens. His community involvement helped him win a seat on the Richmond County Commission in 2014.
A native of Cordele, Sias spent most of his Army career based at Fort Gordon in Augusta, except for overseas assignments in Europe and Korea. In 1987, he bought a home in Augusta, and in 1991 he founded his neighborhood's community association with the goals of reducing neighborhood crime, erasing blight, improving property values and gaining the ear of the county government. He served as president of the association between deployments and has now served in that position steadily since 2000. He and other community leaders were instrumental in forming the larger Richmond County Neighborhood Associations Alliance, which represents more than 30 neighborhood associations, and Sias was president of the alliance from 2007 to 2010.
Meanwhile, he has volunteered to serve on numerous boards and committees, including Habitat for Humanity, the Board of Education Construction Oversight Committee, the crime-fighting Chronic Nuisance Ordinance Task Force and the Sheriff's Citizens Advisory Board. His success at fighting crime and saving tax dollars while improving community life led him to seek a seat as a county commissioner.
"I wanted our county leadership to have the same 'we can get it done' attitude," Sias says. "I wanted them to take the same bold steps I was willing to take as an activist."
Sias found the ACCG's Commissioner Training Program invaluable.
"For me, the greatest thing about ACCG's program was to be able to tap into the expertise of the guest speakers and the training leaders," he says.
He was so impressed by the program that he hopes to organize an economic summit in Augusta modeled after the commissioner training program. Convening experts from around the state to help local leaders and citizens improve economic conditions in Richmond County will require bold leadership, the kind that is found repeatedly in Sias's volunteer record.
"You can't just take a seat and follow the status quo," he says. – LT