It Takes A Village
Georgia's business incubators are nurturing new ideas and creating jobs across the state.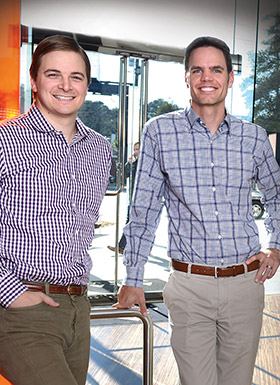 From Carrollton and Cordele to Athens, Americus and Atlanta, business incubators are helping entrepreneurs transform ideas into companies, while at the same time growing the economy of Georgia, introducing cool technology and improving lives.
Incubators vary, from those that support only tech- or biotech-related businesses by providing lab space, regulatory assistance and on-site experts to those that offer office space and educational opportunities to local enterprises that meet a community need. No matter where these incubators are located or the types of companies they focus on, they all offer mentoring, idea sharing and networking – and they share a common feel.
They are filled with people who are excited about what they're doing, who want to do it better, who want a community of like-minded people to share with and learn from, and who believe that it takes a village to develop a successful business.
---
Rural Support
The Business Expansion Center (BEC) at South Georgia Technical College (SGTC) in Americus is proving that you don't need a big city or high-tech focus to have a successful business incubator. BEC opened in 2004 when SGTC leadership saw a need.
"Many of [our students] have an entrepreneurial spirit, and they want to start their own company," says Wally Summers, SGTC's vice president for economic development services. "But many of them don't have a clue about business plans and money and all the planning. [We realized] we could give them some direction. We could mentor them and introduce them to some people who could really help them."
Since opening, BEC has expanded to offer office space and services "with all the bells and whistles" to businesses throughout SGTC's service area. To set up shop in the center, a company must show they're a viable business. "If we see an opportunity for this business to be real and hire our students, we're all over it," Summers says.
Once BEC approves the potential business, it offers personalized support to help that company thrive. Innovative Senior Solutions (ISS), a BEC graduate, is a good example.
"They looked like they were right on target to be successful," Summers says of his first meeting with ISS. "They had a business plan that would work. We were able to help them with some funding from the River Valley Regional Commission. And they got started.
"They worked me to death. They had other jobs, so they'd get here late in the afternoon and say, 'Wally, we have a couple of questions for you. Can you stay a little while?' At 7:30, 8 o'clock at night we were here talking about marketing and how you develop customers and all those kinds of things. I was glad to do it, because we could see that down the road they were going to be very successful."
He was right. ISS, a thriving, award-winning provider of in-home care for seniors and people with disabilities, recently hired its 100th employee. And they owe a lot of their success to those evening sessions at BEC.
The Burson Center in Carrollton also works with an eclectic group of companies – and it's all part of the plan. Carroll Tomorrow, the county's public-private economic development organization, owns the Burson Center, the only incubator in the state run by an economic development group, says Donna Armstrong Lackey, the center's executive director and senior vice president of business development at Carroll Tomorrow and Carroll County Chamber of Commerce.
A feasibility study in 2001 suggested three important must-haves for an incubator in Carrollton: regional scope; diverse industry representation; and nonprofit status. "The return on investment for our region is the job creation and then the capital investment back into the community and into the tax base," Lackey says. "That's how our board of directors measures success."
And they've had a lot to measure. With eight years under its belt, the Burson Center has graduated 64 companies that have created 680 jobs and more than $69 million in capital investment, including CalyRoad Creamery, artisan cheese makers now with a shop in Sandy Springs and winner of the 2010 Governor's Georgia Fresh Award in dairy.
The Burson Center itself has been recognized with several awards, including being named one of the top rural incubators in the country by both the National Business Incubators Association and the Appalachian Regional Commission in 2013.
---
Peer Networking
When David Cummings moved to Atlanta 12 years ago after he graduated from Duke University, he was lonely – not in the wanting-to-meet-someone kind of way, but in the need-for-a-peer-group way.
"I had already started a software company in college, and I was looking for a community of other tech entrepreneurs. This was before Twitter and before Meetup.com, so it was difficult for me to find a peer group," Cummings says. "One of the ideas I had was at some point in the future I'd like to buy a building and make it the hub for entrepreneurs, because I can't be the only person who's looking for a peer group among entrepreneurs to share and collaborate with."
Ten years after that initial thought, Cummings acted on his idea when he founded Atlanta Tech Village, his 2-year-old tech-entrepreneur center in the Buckhead area of Atlanta. Cummings deliberately calls the tech village an entrepreneur center, not an incubator, though they share many similarities.
"In the dot-com heyday, incubators were associated with requiring an equity component," Cummings says. "If you want to come work out of this office, you have to give up a piece of your company. We stay away from the word incubator since there's no equity component to be a part of the tech village."
Rather than taking an equity stake in the member companies, Atlanta Tech Village charges a membership fee. For the fees, member companies receive many of the same services provided by more traditional incubators. "Lots of continuing education, panel discussions, workshops, mentors, sponsors," Cummings says.
Atlanta Tech Village has just two requirements for member companies, Cummings explains. First, it has to be "a tech company with a proprietary idea, proprietary software, or website or mobile phone app. They have to have a proprietary technology product," he says. "On another level, they have to meet our core values: Be nice, dream big, pay it forward, and work hard, play hard."
One company that fits the culture is Rivalry, a sales coaching platform "that improves sales rep performance, reduces sales rep churn and speeds up sales rep onboarding," says CEO Jon Birdsong. Rivalry, one of the first tenants at the village, had been located in a more traditional business incubator. Birdsong moved his eight-person business when he learned about the village.
He sees a number of advantages to being located there: "Economies of scale with investors, so when they come from out of town and they meet with one company, you can schedule a meeting with them; event planning, hosting, getting together is extremely convenient; and recruiting," Birdsong says. "The tech village has a great culture and a great vibe. It's a place where people want to be."
---
Research Hubs
Two university-based incubators have carved out niches based on the research that goes on at their respective institutions – though both have grown beyond their university boundaries.
The matriarch of university-based incubators is the Advanced Technology Development Center (ATDC) at Georgia Tech. Launched in 1981, ATDC is the oldest surviving university-based business incubator in the United States, according to Stephen Fleming, ATDC director.
"ATDC companies must have a focus on creating – not just implementing – technology. But we're ecumenical within that range," Fleming says. "We like to say that we have companies 'from aerospace to zebrafish.' We have graduates this year ranging from visualization software to healthcare information systems to robotics to battery chemistry."
ATDC has two levels of membership. "Any technology company in Georgia can receive a basic membership for a nominal fee that lets them attend classes and social events," Fleming says. "A much smaller group of ATDC Select companies – currently about 30 – go through a competitive application process. ATDC Select companies receive hands-on coaching from experienced entrepreneurs in residence, are eligible for suite space in the incubator and receive priority in programs. Companies must apply for participation and meet progress criteria to graduate in three years or less."
Clearly the ATDC has the incubator process figured out. It was recently ranked by Forbes magazine as "one of 12 business incubators changing the world." It counts more than 150 graduate companies, with more than 90 percent still active in some form. The 400 currently active member companies and the graduates have a combined total annual revenue in Georgia of $1.8 billion and a payroll of 7,400 jobs.
"We lead an interesting double life at ATDC," Fleming says. "We're a statewide program, here to serve startups in the state of Georgia, that's located at Georgia Tech. We're by no means limited to Georgia Tech startups. We're by no means limited to Georgia Tech entrepreneurs, but we get to leverage the Georgia Tech name. We can contact a major company, and because we can use the magic incantation of Georgia Tech, we can normally get hold of their chief technology officer or their chief information security officer, whoever the right person is, even if the company we're trying to help is not part of Georgia Tech."
Many of the programs the ATDC offers will soon be available to more entrepreneurs around the state. The center currently has an outpost in Savannah and is planning to begin offering programs in Rome, Athens and Augusta this year.
"Our program [in Savannah] is different. We don't have a physical location," says Jennifer Bonnett, assistant director for education and community outreach and the person leading the charge as ATDC expands. "We have two pretty strong partnerships there right now, with the Creative Coast and ThincSavannah. We run programs out of those facilities. We have an entrepreneur in residence. He's half time, 20 hours a week, coaching companies out of Creative Foundry [the Creative Coast's co-working space].
"Last October we had an investors weekend," Bonnett continues. "We took the top eight companies in Savannah and prepared them through our investor readiness program and brought in investors. That event culminated with two of the companies raising six-figure seed rounds from people that they met at that event. I look at it [Savannah] as a model we can use to partner with other organizations around the state to really do our statewide mission."
That partnership is working well in Savannah, where the Creative Coast just opened Creators' Foundry, the co-working-business incubation space where ATDC is just one of the resources for entrepreneurs. The foundry was the next logical step for Creative Coast, says Executive Director Bea Wray. "In the 10 years of the Creative Coast, we have always been sort of an online incubator. Only this year, starting in January, did we actually bring in companies. People talked about, literally since 1984, running a business incubator in the Savannah area, and then actually signed the lease 30 years later. We took on an old train depot – 16,000 square feet, walking distance to four different SCAD [Savannah College of Art and Design] dorms, not far from downtown."
The Foundry also provides Creative Coast a home for StartupLounge and FastPitch, programs they have hosted for years that connect local entrepreneurs with each other and with venture capitalists.
"We did a lot of research," Wray says. "What we found was many incubators, hundreds of them, had so much funding that what they did is they gave away space. My personal feeling is this is the worst thing you can do. It makes business incubation all about the space, and not about the holding you accountable, not about the milestones you should achieve, not about the fact that we're going to push you out of here in six to 12 months because you're going to graduate and move on to something better. So we made a choice to not take 16,000 square feet and divide it amongst 64 companies … but to be intensely selective, have more co-working space, some event space, room for ATDC and only four incubated companies that will be gone in less than a year. We're already talking to people who want to be in the next class. So it's a different model. You come, you learn, you get help and then you go away."
---
Where Biotech Blossoms
Since 2000, the Georgia BioBusiness Center (GBBC) at the University of Georgia has been home to startups in the life sciences that have an established research relationship with UGA researchers, says Derek Eberhart, director of the center. "I think that's just a reflection of the research from the University of Georgia," he adds. Different types of research coming out of the new College of Engineering likely means the center will see a wider variety of startups interested in incubation – and has led to discussions of a name change to reflect the broader scope.
Meanwhile, the center continues to focus on life sciences, an incubation process that presents challenges not seen with other startups. "The life cycle of a life-science startup is longer than something in a technology space because of the regulatory path," Eberhart says. Despite the longer incubation period, the GBBC has hosted 33 companies and graduated nine. As of 2014, those nine companies had created 147 jobs in Georgia.
ViaCyte is a GBBC-affiliated company. "They're developing a therapy for type 1 diabetes – insulin-dependent diabetes," says Stefan Schulze, GBBC's associate director. "The company has a home office in San Diego, and the research and development arm is here in Athens. It's a little unusual to be split apart like that, but the main reason why companies want to be here in Athens is to be close to the University of Georgia and the research that's going on here."
And the main reason for a company to locate their headquarters in California is money. "The biggest challenge for any new business, regardless of which field you're in, is finding the funding to get going and keep it going," Eberhart says. "Companies have to go where there's venture capital funding … that's part of why they have a footprint in San Diego."
Georgia doesn't have a history of venture capital funding, which means that helping startups find money is one of the primary jobs of most incubators. Whether helping companies craft proposals for venture funding or federal grants, or even preparing documents for small business loans, this is a huge service incubators provide.
Which brings us back to the village aspect. Scientists, researchers and entrepreneurs can't possibly have all the skills needed to develop a successful product or technology and deliver it to the marketplace. Business incubators are places where people with an entrepreneurial spirit gather to tap the resources and brains of not just incubator staff, but also of other tenants to get their discoveries into the public realm for the benefit of the state and society in general.
"It's an exciting time for startup companies and entrepreneurial activities in general," Eberhart says. "We're fortunate to be a part of that. There's a lot of interest, not just here at UGA, but across the state. And it's a lot of fun."