Going to Town
The Georgia Main Street program is attracting national attention – and billions of dollars – by improving downtowns across the state.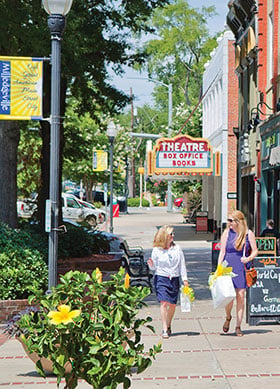 Its no secret that across Georgia and the nation, people are flocking to downtown city centers once again, drawn by historic architecture, walkability, and unique and creative small businesses. But what you may not know is that for more than 30 years, the Georgia Main Street program, a Department of Community Affairs program with design assistance provided by The Georgia Trust for Historic Preservation, has been quietly supporting and encouraging these downtown centers to become vibrant once again.
First launched in 1980 with five test cities – Athens, Canton, LaGrange, Swainsboro and Waycross – the program has grown to 96 participating cities across the state. Georgia Main Street is part of a larger national initiative of 46 coordinating state programs on the statewide level that has taken root in more than 2,000 cities across the country. The program has revitalized downtowns and created vibrant futures for its citizens by adding businesses and encouraging residents to take pride in these once-neglected areas.
"Downtown revitalization is one of the most important issues facing Georgia and our communities today," says Mark McDonald, president and CEO of The Georgia Trust, the only statewide nonprofit preservation organization. "So many of our communities have been victimized by strip [center] development around their downtowns."
And while many of Georgia's downtowns are seeing a resurgence, there's still plenty of work to be done.
---
Thriving Communities
Back in 1980, Georgia was one of the first six states in the U.S. to participate in the pilot Main Street program. Since the program's launch, Georgia Main Street communities have welcomed 11,879 new small businesses, which have created 56,966 jobs and leveraged $2.98 billion in public and private investment for downtown improvements. In fact, in 2012, the Georgia Main Street program led the nation in private investment and job creation.
Today, Georgia is viewed as a trailblazer in downtown revitalization. "We lead the country in national Main Street improvements in number of jobs created every year and number of net new business starts," says Billy Peppers, director of the Office of Downtown Development in the state's Department of Community Affairs. "We're a national leader as it relates to downtown development."
Last year Milledgeville was one of three U.S. cities to receive a 2014 Great American Main Street Award. The award is given to those cities that combine good design, historic preservation, public-private partnerships and business incentives to create a place where people want to live, work and play. Milledgeville joins Rome, which was recognized in 2003, and Thomasville in 1998.
And more attention is coming this month, when Atlanta hosts the National Main Streets Conference March 30 through April 2. It's the first time Atlanta is hosting the conference, which expects to attract 18,000 downtown leaders and state officials.
"When we look for conference locations, we look for Main Streets that our participants can go visit," says Patrice Frey, president and CEO of the National Main Street Center, a subsidiary of the National Trust for Historic Preservation. "That's a really important component of a learning opportunity – getting out and seeing how other Main Street programs are working. The Atlanta area has several."
While other states cut their Main Street program funding during the recession, Georgia's program not only survived, but has thrived. Georgia's success, Frey says, shows that cultivating small businesses at the local level can be effective in economic revitalization. In 2014 alone, Main Street communities added 3,600 net new jobs.
"It's really a record of accomplishment that has spanned decades that people are really waking up and appreciating the impact of this program," Frey says.
Over time, the Main Street program has adapted to the changing needs of Georgia's cities. While the program used to classify cities based on population, now it uses a tier system based on a city's ability and interest. Cities must have a paid Main Street program manager, an active board of directors and a budget for local programming to qualify as a Classic Main Street City. In addition, participating cities must complete annual self-assessments and monthly economic activity reports. Currently 19 more communities in Georgia are participating in the two-year process to become Main Street communities, Peppers says.
Many of the program's first Main Street cities have evolved and now have different needs than they did 30 years ago. A new initiative, the Georgia's Exceptional Main Streets (GEMS) program, seeks to help these more established Main Street cities by building on their successes. Five cities were selected for the pilot program: Bainbridge, Greensboro, Rome, Toccoa and Valdosta.
---
Live, Work, Play
Ten years ago, Milledgeville's downtown wasn't so vibrant. While there were some small pockets of new development and revitalization, dilapidated buildings dotted the landscape. Over the last decade, however, Milledgeville Main Street rallied the community to reinvent its downtown area. The program instituted $2 million in streetscape projects and launched a grassroots BOOST initiative, in which local people give small sums of money to help local businesses. Those funds are managed and distributed through Milledgeville Main Street grants ranging from $100 to $1,000.
Businesses are taking advantage of these community-funded micro-grants to rehab buildings for today's shoppers, diners and downtown residents, including students attending Georgia College and Georgia Military College. Baldwin Lofts, a former Belk-turned-mixed-use development, offers two commercial spaces and 15 apartments overlooking downtown. The $3.5-million renovation of the 1903 building was a massive undertaking for a local developer, says Carlee Schulte, executive director of the Milledgeville Main Street/Downtown Development Authority.
Today, the city of 20,000 residents is bustling. More people are living and working downtown, and historic rehabilitation projects, streetscape improvements, and promotions and events such as the annual Deep Roots Festival and First Fridays are building on that momentum. Since 2004, 55 buildings have been rehabbed, 63 net new businesses have opened and $66.5 million has been invested in the Middle Georgia city's downtown commercial district.
"One of the things that we saw in Milledgeville really echoes a powerful trend we're seeing across the country, which is a connection between downtown revitalization and housing development," Frey says. She adds that having a developer take that risk and demonstrate that there is a market for downtown housing can have a catalytic effect.
Providing residential options in and near downtown is necessary to the success of downtowns, McDonald says. One reason is simply logistics: People tend to shop and do business near their homes.
"If we really want to make downtowns active, we need to populate the downtown with people," he says. "It can mean above the store. It also means the residential district, which frequently is just a block from downtown. Saving those adjacent districts is just as important as saving the storefronts."
---
Designing a Vision
When Main Street communities have an issue like revitalizing a historic building or fixing outdated streetscapes, the Downtown Design Studio can help. The Athens-based studio is staffed by The Georgia Trust and Georgia Main Street program, along with graduate students from the University of Georgia's College of Environmental Design.
For a small fee, the design studio offers façade rehabilitation consulting, streetscape designs, public- and park-space planning, signage recommendations, infill planning and corridor improvement plans. As part of its services, a member of the design studio will visit the downtown, meet with project coordinators, take a look at the building or area and help develop a plan to implement the recommended design work.
Without the affordable services provided by the studio, Main Street officials in Georgia's small towns admit they could not undertake or pay a consultant for historic research and renderings that can attract developers and convince city officials to approve and fund projects.
The Downtown Design Studio has conducted historical research, such as finding photos of buildings in their original state, and uncovered elements, like transom windows that have been hidden for years, Schulte says. The studio's designers also recommend historic paint colors and façade updates to enhance downtown buildings.
Design research, combined with data from the Georgia Main Street program, equips local downtown directors to approach city officials with economic development plans and funding requests.
The assistance from the design studio helped Madison, for example, court the $5.6-million mixed-use Jefferson Square Parkside project to its downtown, says Monica Callahan, planning director for the city.
"We could actually show them our vision. That made a tremendous difference," she says, estimating that its costs are less than $300 for design services on a project. "We often call on the design studio. That is a source of inspiration, not just for us, but for developers."
When Georgia College renovated the 1935 Campus Theatre in Milledgeville in 2010, it worked with the studio to complete a historically accurate update that also retained the marquee, Schulte says. The $7-million project created a "black box" theater with performance, rehearsal and classroom space, along with offices and a bookstore.
Officials in other cities, such as Bainbridge, have told The Georgia Trust's McDonald that the studio's design assistance has been critical to build a vision for a building renovation. Offering research by a design staff trained in historic properties and renovations provides assurance that the investment can result in a quality project that can be leased, he says. "A building owner, or a smart one, is not going to want to make an investment in that building unless they think they can get tenants or rental income to make the improvements."
Madison has a 90 percent occupancy rate in its buildings, along with a re-emergence of business owners living above their establishments, among other downtown dwellers. "That keeps us vibrant 24/7," Callahan says. "We're not just a 9-to-5 community."
---
Four Steps to Success
The services offered by the design studio are just one element of the Main Street program's trademarked Four-Point Approach to community revitalization. Along with design, the other three elements are organization, promotion and economic restructuring, and Main Street communities develop an annual work plan incorporating all four elements.
The Four-Point Approach is a proven system that gives a focus to downtown development efforts, say city and state officials. "What it's helped us do is make sure that we're concentrating on four specific areas," Callahan says. "Not one of those specific components gets left behind. It helps us layer our activity year after year for success."
Organization refers to having a board of directors, volunteers and other stakeholders committed to the downtown district. Promotion encompasses efforts, from events to marketing to using social media, that create a sense of pride and excitement about the area. Economic restructuring focuses on strengthening existing businesses while diversifying the economic base, with some Georgia Main Street communities creating incentives for businesses.
Main Street is where historic preservation, economic development and management intersect, McDonald says. The Four-Point Approach encourages restoring historic resources and managing downtown as part of a larger team. Often, Main Street directors ask each other for tips on successful events and efforts related to signage, parking and other obstacles that could deter folks.
"It's the networking and the training that really make the difference," says Ann Huff, Madison's Main Street director.
The Georgia Main Street program also offers training on how to fund community projects and initiatives, such as grants for façade and other improvements. A Main Street city also has access to other financial tools to keep their communities strong, including tax credits and special incentives for new or existing businesses. Towns have pursued and won federal grants, such as a $5.1-million streetscape and pedestrian safety grant that Dahlonega received in 2014 from the U.S. Department of Transportation.
The state also provides a downtown development revolving fund loan at a reduced rate to communities with a Main Street program. The loan fund, along with state tax credits for the rehabilitation of historic properties, was essential to Milledgeville's Baldwin Lofts project, Schulte says.
"Many businesses that are relocating or expanding are moving from a smaller shop to larger shop, but still downtown. I think that speaks volumes to the success of our downtown," Schulte says.
McDonald rattles off a long list of more towns, including Americus, Valdosta, Athens, Toccoa, Moultrie, Griffin and LaGrange, that have and are making strides to bring people back to the city center. In the meantime, more developments attempt to resemble the charm of downtown while offering a mix of national and local retailers, sparkling new buildings and abundant parking. "They try to look like historic traditional communities but with lots of parking," McDonald says.
Sounds like the ultimate compliment. As they say, imitation is the sincerest form of flattery.