Eat, Drink, Enjoy
The restaurant industry feeds hungry Georgians at 17,000 different locations and nourishes the economy with $16.5 billion in sales each year. It's a tough, exciting business described by one owner as "a live performance every shift."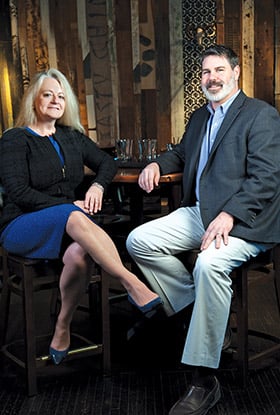 Karen Bremer has had a long career in the restaurant industry, starting as a teenage S&S Cafeteria checker in Florida, where she walked the line to make sure food was properly displayed and priced. She was a restaurant manager and then president of the Peasant Restaurant Group, which helped change the way Atlantans dine out; and she owned and ran two fine dining establishments of her own, which closed in 2009.
Bremer, now executive director of the Georgia Restaurant Association (GRA), understands the business side of restaurants, labor-intensive endeavors where the profit margin is 2 to 6 percent and the price of gasoline can affect everything from suppliers' costs to customers' willingness to drive five or 10 miles for a meal out.
She also understands, on a personal level, the less quantifiable attributes of heart and soul that drive many restaurateurs and still feels keenly the loss of her own downtown Atlanta restaurants, victims of the recession.
"I had City Grill in the Hurt Building – also Dailey's. I had such a wonderful team. When I closed those restaurants, I had to lay off 135 people. Some of them had worked for me for over 25 years," she says. "That was the hardest thing I ever had to do. I'm a cancer survivor, and dealing with that was harder than dealing with cancer. Those restaurants were my babies."
---
Bill Of Fare
The restaurant industry, which includes just under 17,000 eating and drinking establishments, is the second largest private employer in the state behind agribusiness. Last year restaurants accounted for 405,800 jobs in Georgia – 10 percent of the state's employment – and were expected to generate $16.5 billion in sales. Nationally, 990,000 restaurants employ 13.5 million and generate $683.4 billion.
About half of Georgia's restaurants are concentrated in Metro Atlanta, but every corner of the state shares in the bounty. Georgia is also home to several national restaurant chain headquarters, including Arby's, Popeye's, Chick-fil-A and FOCUS Brands, which owns Moe's Southwest Grill, Cinnabon, Schlotzsky's and McAlister's Deli, among others.
This is a fast-paced business in which fortunes and reputations can turn on a dime. "The restaurant industry is a manufacturing industry," Bremer says. "The industry buys products raw, prepares and serves them in a 12-hour cycle." Behind the scenes there are economic issues, public health concerns and workforce problems to contend with.
"It's a live performance every shift," says Ryan Turner, CEO of Unsukay Community of Businesses, which operates Muss & Turner's in Smyrna and other eating places around town. "You do not know what's coming at you. You are at the whim of people who have very high expectations. There are all these variables – perishable products, a workforce that can be very young, so many moving parts."
But for true believers like Turner, who is the 2015 GRA board chair, the industry has an enduring appeal. "Nothing we do can be duplicated online," he says. "There is nothing we do that can be made in Asia and shipped over here cheaper. And the longest we need to wait to get paid is three days from Am Ex."
There are lots of ways to slice and dice Georgia's eating establishments: full-service, limited service, fine dining, fast-casual, QSR – for quick-serve restaurants, which the industry folks like better than the terms fast food or family dining. The GRA uses close to 100 classifications: Italian, Korean, steakhouses, seafood, doughnut shops, etc.
But many in the industry think of restaurants in terms of chains and independents. The chains serve a lot of customers, but it's the independents, typically chef-driven, that create the buzz and set the trends. And nobody does that better than Atlanta's Ford Fry.
---
The Successes
Getting the right combination of concept, location, style, price point, environment and menu is more art than science. Fry, who has come up with some of Atlanta's most intriguing and successful dining places, like The Optimist, No. 246 and St. Cecilia, describes his restaurants as upscale casual, reflecting the top-quality ingredients he uses and the relaxed, informal atmosphere he creates.
Location is the starting point for him. "Then it's a combination of location and what's on my mind and what I wish Atlanta had – something I would be excited about."
The prime motivation for The Optimist, a casual seafood restaurant in West Midtown, was that "the city was full of more corporate-style seafood restaurants" but lacking in what he calls "an individual, independent restaurant, a real American place, serving fresh seafood from Maine all the way down the East Coast – in a casual environment. I like high quality but I don't like dressing up or feeling stuffy."
The restaurant was a hit with both local diners and critics. It was named Restaurant of the Year in 2012 by Esquire magazine, and Bon Appetit included The Optimist as one of its Best New Restaurants in America in 2013.
Fry was recruited to Atlanta in the late 1990s to run EatZi's, a high-concept food market and bakery that closed in 2006. He found the city to his liking and valued the opportunity to learn more about the food business, but it took a little prodding from his brother-in-law, who became a financial backer, and a good business plan to get him out on his own.
"My golden handcuffs were about to turn to platinum," Fry says. JCT. Kitchen & Bar, his first restaurant, opened in 2007 on Atlanta's Westside. Next came Decatur's No. 246 in 2011, something of a risk, considering the still-lagging economy; but he was confident that diners would support a good restaurant.
"During the recession they didn't give up going out to eat," Fry says. Instead, people gravitated toward restaurants that provided entertainment, a good experience and value. "That's what we tried to base everything on. Once people sign that check, how do they feel: 'Wow, that was worth it' or 'Hey, I was robbed.' That's really important to me."
So is understanding the community the restaurant will serve. In Decatur, a sophisticated clientele looks for value. "I knew going in we would have to run lower margins on things to really speak to the community," he says.
Even in the toughest years, Fry says, none of his restaurants ever fell below a 10 percent annual increase in sales.
---
Fancy Vs. Fine
Certainly restaurants suffered during the recent recession – Bremer says about 1,000 closed, many of them fine dining establishments – but overall the industry proved pretty resilient.
"What we do is timeless," says Turner. "People love to eat and need to eat. People love to escape. For a lot of people, we're an escape as much as a place to fill their bellies. It's entertainment. People like being able to get out of the grind."
Bremer says Atlanta is a true destination dining spot. She credits the international population with helping to create a world-food culture and the influx of younger people who are more concerned with where their food comes from and what's in it than older dining generations were. The easy availability of local produce and proximity to organic farms has helped restaurants stay on top of – and even lead – the movement toward healthy, farm-to-table fare.
But this top-tier designation is fairly new. Georgia Trend's longtime dining editor and restaurant critic Krista Reese recalls a number of "fancy" restaurants when she arrived in Atlanta nearly 30 years ago but says they were not necessarily fine-dining places.
She considers Pano Karatassos the leader of the restaurant renaissance, marked by the opening of Pano's and Paul's, the first of the Buckhead Life restaurants. The Peasant Group [the Pleasant Peasant, Mick's] played a part as well. "And then there was the Ritz-Carlton Buckhead Dining Room under Chef Guenter Seeger. It sparked a whole movement," she says.
Bacchanalia, opened more than 20 years ago by Anne Quatrano and Clifford Harrison, belongs on that list as well. [See our review in this month's issue on page 78.] It has flourished as a spot for fine dining, although it moved from its original Buckhead location to the Westside.
Seeger, who trained many of the city's top chefs, went on to open his own place in Buckhead. "That was a watershed moment," Reese says. "In its heyday, there was nothing else like it in the country. But he was not able to maintain it."
And when the Ritz-Carlton closed its Dining Room, that pretty much signaled the end of an era. "I was worried about fine dining," Reese says, "but what's come about is even better. The recession spawned a new kind of direction, with food that's seasonal, that embraces Southern cooking."
Chefs like Linton Hopkins of Restaurant Eugene and Holeman & Finch and Hugh Acheson of 5&10 and Empire State South have helped bring national attention to Georgia's food scene and this new Southern style. They even shared a James Beard award – the restaurant industry's equivalent of the Oscars – for Best Chef: Southeast in 2012. And although at one time Atlanta was far off the national food radar, it's quickly being considered one of the next cities to watch.
"What has come about is a lot of really great food and neighborhood restaurants," Reese says. "For a long time 'neighborhood restaurant' carried a negative connotation, but the new kind of places – like No. 246 – are changing that. Ford Fry sees what's going on in restaurants and understands the way people want to eat, in a comfortable environment, and is able to supply a kind of community life raft that people want to cling to. It's what they didn't find at Seeger's."
---
Beyond Atlanta
It's not just Atlanta diners who are benefiting from the new restaurant trends. In Athens, Acheson, who started out with 5&10, has helped create a thriving restaurant scene that encourages younger chefs – like Peter Dale, his partner at The National.
In other cities, the presence of a college campus, which generally provides a sophisticated clientele and a source of cheap labor, combines with a revived or reviving downtown to create opportunities for ambitious restaurants, Reese says – like the one Keira Moritz runs in Valdosta.
Steel Magnolias is the name of the restaurant, but the term describes Moritz herself. After a stint in Atlanta at Pacci Ristorante, she returned home and opened her own place in October 2011, a month after her 31st birthday – in a down economy, she points out. ("It could only go in one direction, right? Unless it got worse.") She renovated a historic building downtown, then added a rooftop bar and a banquet space, and serves what she describes as "good food, farm-to-table."
Her sense that Valdosta was ready for such a place was bolstered by the presence of Valdosta State University and Moody Air Force Base.
"Valdosta is different from Atlanta," Moritz says, but that doesn't translate as skimping on ingredients. "I buy good products that I'm proud to use. We have fairly decent prices for the market." She acknowledges having to do "a little tinkering" with the initial menu. "You have to be ready to adjust if something doesn't work," she says. She offers a large meat selection featuring prime cuts. The menu changes three times a year, but shrimp and grits and deviled eggs are constants.
Moving away from cooking to running a business was a big change for her. "It does not run itself," she says. "You can't take your foot off the pedal."
She is about to open a new downtown venture, Birdie's Market, which will sell wine, cheese, specialty items and some "grab and go" food items.
Reese believes one of the next restaurant hot spots outside Atlanta will be North Georgia, where increasing numbers of retirees with time, interest and disposable income make the conditions right. She also sees St. Simons Island, with its share of well-to-do residents and well-heeled tourists, as ripe for additions to its dining scene. "For a long time, it seemed to be where people went to cook, not eat out," she says. Savannah, going strong for a while but lately lagging, is also ready for a lift.
---
Making It Work
Many who start out with a passion for food find their enthusiasm soon extends to the business side, and that can make all the difference.
"My interest was to build something that would be successful, but wouldn't stop there," says Turner. "It would be a place where people could come and learn and grow," perhaps realize their dream of opening their own place. "We wanted to create an organization of restaurants that would mirror what chains were doing – with business acumen, but not saying you have to adopt our baby vs. creating your own."
Turner grew up in New England and started as a restaurant server and line cook while he was in college. He came to Atlanta to work at Villa Christina, then had a "real job" that put him in a suit and tie, but came back to the restaurant industry and the Food Studio, where he and business partner Todd Mussman met. "We started talking about doing our own thing and within a couple of years got a business plan and in 2005 opened Muss and Turner's," a bistro in Smyrna. Next came Local Three Kitchen & Bar in West Buckhead and Common Quarter in East Cobb – casual places, geared to their communities.
When they opened Local Three and brought on another partner, chef Chris Hall, Turner says, "It pushed me into an uncomfortable spot. I had to evolve as a leader and figure out ways to provide value to the organization." That meant trusting his employees and learning to delegate.
"I had to learn to effectively manage and lead myself, to effectively manage and lead and influence others and learn how to lead leaders." It is a role he is now very comfortable in, and he finds the restaurant industry a good match for his interests.
"I have an insatiable curiosity about human psychology and how to have a positive impact on it, and about business in general. You could not find a better laboratory to study both of those things. Every aspect of business is relevant in the restaurant industry – marketing, operations, logistics, finance and accounting," he says.
The fact that it may not always look difficult from the outside could explain why some restaurants simply don't make it. "People who made money doing something else and want to get into the restaurant business tend to romanticize it," Turner says. "If you are not experienced or well trained or determined to 'weed and seed' the garden every day, you're going to get exposed pretty quickly," he says.
Beyond the concerns of individual restaurateurs, the industry pays attention to political and economic matters that affect the business climate. The GRA opposed HB 87, Georgia's harsh immigration law. "We support immigration reform on the federal level," Bremer says. "Let's do it consistently across the U.S. Let's come up with solutions. We need workers for our country." The organization opposes an increase in the minimum wage, believing the industry needs the flexibility to pay as the market dictates.
---
The Next Course
No question, farm-to-table is here to stay. Ford Fry says it should be expected, not touted as something extraordinary. "People like eating what's in season. We want to eat what's local to us, not produce picked when it's green and then gassed."
Chefs will continue to be the driving force in innovative and successful restaurants. "Customers want to relate to the chef, want to know who the chef is onsite at each restaurant," Fry says.
He and others hope it will become easier for up-and-coming chefs to secure leases in prime spots, and he applauds developers who take risks and work with young chef-entrepreneurs for their projects.
The ups and downs that come with the restaurant business are not likely to go away, but people who love the business are optimistic: "It's a real example of the American Dream," Bremer says. "You can start small and create an empire."
---
FOOD TRENDS FOR 2015
So what's on the table this year for those who dine out – which is pretty much all of us, since the average American eats seven meals a week away from home?
Here are the Top 10 food trends from the National Restaurant Association. Bon appétit!
1. Locally sourced meats and seafood
2. Locally grown produce
3. Environmental sustainability
4. Healthful kids' meals
5. Natural ingredients, minimally processed foods
6. New cuts of meat
7. Hyper-local sourcing
8. Sustainable seafood
9. Food waste reduction/management
10. Farm/estate branded items – Susan Percy