Art Of The Meal: Bacchanalia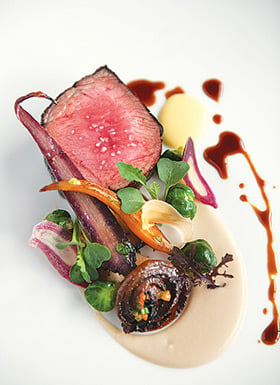 Bacchanalia
1198 Howell Mill Road, Atlanta
404.365.0410, ext. 22
www.starprovisions.com
Hours: Dinner, Mondays-Saturdays.
Parking: Free in attached lot.
Dress Code: Effortlessly stylish.
Since its opening in an old house on Piedmont Avenue, Bacchanalia has been Atlanta's fine-dining standard-bearer for – incredibly – nearly its entire 25-year history. Choose your term: Either prescient or visionary, chef/owners Anne Quatrano and Clifford Harrison anticipated what, where and how we wanted to eat, outrunning the cultural and economic quakes that cost our city such culinary avatars as the Ritz-Carlton Dining Room and Seeger's. Even its 1999 move to the Westside pioneered a wave of development in that then-desolate area, of not only new restaurants, but also lofts, condos and a lively retail scene that continues today.
However, what's most remarkable is not Bacchanalia's changes, but its fixedness – some menu items may date back to that Piedmont house. The prix fixe menu, the cheese course, the crab fritter and warm Valrhona chocolate cake are like family to those lucky enough to be Bacchanalia regulars; so are the formal service and stylish but casual atmosphere.
I'm certainly no Bacchanalia regular, though my first visit dates back to the Piedmont house. However, I've had weirdly bad luck here. More times than at any other restaurant – no matter its reputation – my meal was marred by rude and/or loud patrons and a lack of thoughtful response from the restaurant. The worst was a birthday dinner overtaken by screechy laughter and shouts from besotted guests in the "private room" (actually only separated by curtains in the center of the dining room) next to our table, making it nearly impossible to talk or even think.
I have also had good experiences here, but for a good long while, I preferred other Quatrano/ Harrison restaurants, like Floataway Café and especially Abattoir, simply because my visits were disaster-free. (I never could warm to Quinones' atmosphere.) So when it was time to check back in on Bacchanalia, I squared my shoulders and hoped for the best, deciding to first try a meal at the bar, which allows you to order à la carte, rather than by the tasting menu.
Two pals joined me, and to my surprise (perhaps because of the early hour), we were given the option of taking a table and were told we could still order à la carte. Another pleasant turn: We received all the extras – delicious bread, warm gougères, seasonal soup, hot chocolate with cocoa nibs, bonbons and cookies – that go with the tasting menu.
On this visit, I ticked off Bacchanalia's menu favorites. That crab fritter and chocolate cake have evolved over the years, but what I remember best about them remains: These are not edgy, show-off flavors, but delicately balanced – nuanced and more accommodating than challenging. A simple, small fritter sits surrounded by smears of avocado, grapefruit and coconut flecks; it's a little dollop of sweet, crisp crab with supportive friends. The Nantucket Bay scallops arrive in a little crescent to the side of the plate, with cauliflower, black truffle and radishes from Quatrano's Summerland Farm. They are lovely if perhaps emblematic of the slightly more precious presentation here these days; it's very good but not a revelation.
We loved the pork loin and belly (trimmed, but still unctuous), set into melted Summerland cabbage, apple and pickled roots. The wood-grilled New York strip is a couple of fat, perfect slices, with braised scallion, egg emulsion and marrow. But the table's favorite, even among pals whose tastes trend to red meat, was the celery root ravioli. Its odd shape – sort of a flat doughnut heaped with salt-baked celeriac, celery heart and hazelnut and mounded with shaved Burgundy truffle – at first leads you to believe that little pasta round is pooled sauce. But no – the deliciously earthy root-vegetable flavors subtly progress through each ingredient, while its textures supply contrast.
On a second visit, our favorite was a thoroughly unexpected serving of Kumamoto oysters, silkily raw, in a foamy emulsion of Bartlett pear, sorrel and ginger, topped with a thin, cracker-like lavosh. Its flavors also speak softly to each other, but the textures provide a storyline. While wines by the glass are perfectly serviceable, you may do better with choices by the bottle – and the cocktails here can be incredible. I especially loved an icy Ketel One "dirty" martini, served with a thin layer of lightly saline olive foam and gorgonzola-stuffed olives.
Yes, that chocolate cake is still there – if a smaller slice than I remember – and it's still fabulous, served on our visit with toffee crumbles and stracciatella gelato. But I liked two others even more – the orange soufflé, nearly breathing with lightness, with a side of Earl Grey ice cream; and the sweet potato cake, with brown butter pecan ice cream, candied ginger and a bit of toasted meringue. Outstanding.
Like the flavors here, change – one might even say progress – evolves slowly. That's one feature of Bacchanalia's incredible stability and success. I noticed on both recent visits, even after groups were seated in that once-"private" space, the curtains remained opened, so that diners there are now unmistakably a part of the dining room. I hope that will make a difference – but maybe it's just that my luck has changed here, at last, for the better.
---
Speaking of Anne Quatrano …
Bacchanalia's co-owner/chef plans to open her casual Ponce City Market concept, called W.H. Stiles Fish Camp (Dub's), after her great-great-great-great grandfather, sometime this spring. It's likely to be more like the Star Provisions store/counter attachment to Bacchanalia, with fresh seafood, a raw bar, sandwiches and "steamed fish bowls."
675 Ponce de Leon Ave., www.poncecitymarket.com