Selma Hero Honored in Atlanta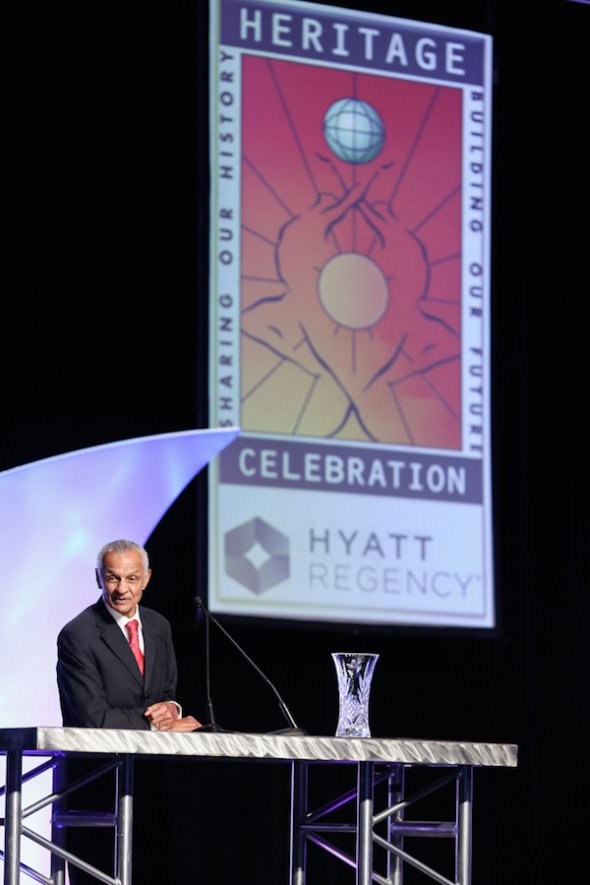 On the 50th anniversary of the March on Selma, and in the middle of Black History Month, a local hero has been honored whose activism helped change the nation.
The Hyatt Regency Atlanta honored Rev. Dr. C.T. Vivian with its 2015 Crystal Customer Award for his decades of work championing equality. Dr. Vivian, a hero of the Civil Rights era, participated in the march on Selma, Ala., with Dr. Martin Luther King Jr. and others in 1965, which led to the passage of the 1965 Voting Rights Act, a breakthrough in Civil Rights, months later.
The award was presented to Dr. Vivian at the 13th Annual Heritage Celebration held at the Hyatt Feb. 17 at a ceremony that also included keynote speaker Xernona Clayton, founder, president, and CEO of the Trumpet Awards Foundation Inc.; and special performances by the Alpha Rho Chapter (Morehouse College) of Alpha Phi Alpha Fraternity Inc. and youth from the C.T. Vivian Leadership Institute.
Dr. Vivian made headlines when he was assaulted by the Selma Sheriff's Department during the nonviolent protest for voting rights. Afterward, Dr. Vivian participated in protests with Dr. King, Coretta Scott King, Ambassador Andrew Young, U.S. Rep. John Lewis and others.
President Barak Obama presented him with the Presidential Medal of Freedom in 2013. At age 90, Dr. Vivian continues his work in the community through The C.T. Vivian Leadership Institute, which was founded in 2008 to train and educate leaders on a grassroots level to continue to help change the world.
The Heritage Celebration celebrates Hyatt Regency Atlanta's rich relationship with the African-American community and its proud history of opening its doors to Dr. Martin Luther King Jr., the Southern Christian Leadership Conference and leaders of the Civil Rights Movement from the time the hotel opened in 1967. For more about The C.T. Vivian Leadership Institute, visit www.ctvli.org.
Pictured: Dr. C.T. Vivian accepts the 2015 Crystal Customer Award from the Hyatt Regency Atlanta
Photo Credit: Hyatt Regency Atlanta