Where Science and Commerce Intersect
For 25 years, the Georgia Research Alliance has been bringing high-tech, high-value jobs to the state.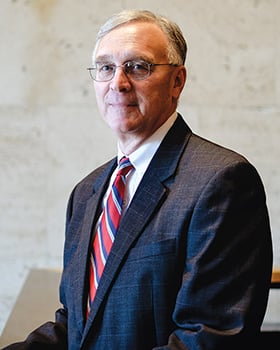 As you look around Georgia today at the growing number of technology-related companies springing up, it's easy to think that they landed here through some kind of cosmic coincidence. Nothing could be further from the truth.
It took the failure more than 30 years ago by the state to land a high-tech venture (it went to Austin instead), a hard look at the reasons behind the failure and the determination of a committed group of people that it wouldn't happen again to get us to where we are today – an up-and-coming hotbed for biotech and technology-based businesses and home to the Georgia Research Alliance (GRA), the 25-year-old organization that's helped make it happen.
The GRA's mission is to expand research and commercialization capacity in Georgia's universities in order to launch new companies, create high-value jobs and transform lives. GRA accomplishes its mission by recruiting eminent scholars – world-class scientists who work at Georgia universities; investing in cutting-edge research technology and equipment for the scholars' university labs; supporting the commercialization of university-based discoveries and inventions; and strengthening alliances among Georgia universities, industry and government to make our state more competitive.
Since officially opening its doors in 1990, the GRA has helped leverage $600 million in state funding into $2.6 billion in direct federal and private investment, launch more than 150 companies, create more than 6,000 high-skill, high-value, high-quality jobs and build a portfolio of inventions, processes and technologies that benefit people far outside the borders of our state.
---
A Perfect Storm
Like many success stories, the idea for the GRA sprung from failure. Back in 1983, not only had Georgia just lost a computer company that the state had tried hard to recruit, but about the same time Tom Cousins, retired CEO of Cousins Properties, was on the board of Rockefeller University in New York. He saw that university getting millions of dollars in federal research grants.
"Why would they have all this money given to them?" he asked himself. "It was not to be paid back, and whatever research they came up with as a result of the money belonged to the university." But the eye-opener for Cousins was the realization that, "they had scientists on the staff of the university that attracted the grants in the first place. When I discovered that, I said, 'My gosh, how do we get this?'"
I knew, he says, that "we needed to go recruit some eminent scientists like you would a star athlete. Go recruit them and sell them on coming to Athens and Georgia."
That solution became more clear as he and others looked at the reasons given by the technology company that chose Austin over Atlanta. "One of the observations by the location group that was siting that facility," says Mike Cassidy, president and CEO of the GRA, "was, 'we don't really see the universities, business and government all working together, and we did see that there [in Austin].'"
In reality, the feeling in Georgia was that while business and government had been working well together for decades, the state's research institutions didn't play well together, thanks in large part to athletic competition. "And they needed to be an important partner, because we're talking about an industry that derives much of its new ideas in the universities," Cassidy says.
As Cassidy tells it, Cousins and Larry Gellerstedt Jr. – GRA's co-founders – realized they needed a mechanism for the business, government and academic sectors to come together with a shared vision. The GRA would become that mechanism.
"When the GRA was created, it was already becoming clear that the traditional Sunbelt model of economic growth – low wages, low taxes, abundant natural resources – was a thing of the past," says Charles Knapp, the incoming president of UGA at the time. "Georgia needed an engine like the GRA to start the process of creating high-wage, high-skilled employment."
About this same time, there were openings for university presidents at the University of Georgia, Georgia Tech and Georgia State. Some of the same business leaders who sat on the search committees for those presidents were also involved with trying to create the GRA. They put their heads together and told the candidates at their institutions that a requirement for the position was a commitment to work with the other universities to bring new business to the state.
"Within a very a short period of time, we had the presidencies occupied by people who were committed to the concept before they came," Cousins says.
"In the '80s, the athletic competition between Tech and Georgia had evolved into a lack of cooperation on a wide variety of other issues," Knapp says. "In 1987, at nearly the same time the late Pat Crecine was named president of Tech, I became president of UGA. We decided early on that from a research and academic standpoint, there was a lot more to be gained by cooperation than competition. Pat and I found that the revolutionary concept of Tech and Georgia cooperating on anything was quite an attention getter."
Another key to GRA's success was getting government support. In 1990, Johnny Isakson and Zell Miller were running against each other for governor. Cousins, Gellerstedt and Bill Todd – GRA's first president and CEO – talked with them before the election and got them on board. "Politicians, they listen a little more clearly before they're elected," Cousins says, "when they're out raising money."
This group of high-fliers from the business community now had buy-in from the research institutions and state government for their vision of creating an environment that would attract the best and brightest academics, doing the kind of cutting-edge research that brings in millions in federal grants from organizations such as the National Institutes of Health and the National Science Foundation.
It was Todd's job to turn that vision into reality. The challenges, he says, "were to operationalize a grand vision without much specificity, which is the way vision works, … and to create a culture of collaboration."
He credits GRA's board – comprised of business leaders, university presidents and government representatives – with taking an amorphous concept and making it happen.
"They had a big idea and were supportive of the implementation plans that I came up with. The first year, those [plans] were that we should invest in people – eminent scholars – which has become the backbone of the Georgia Research Alliance over the years," Todd says. "We should invest in facilities and equipment, and we should invest in seed grants. That sounds pretty benign, but it was a little controversial, because nowhere in there was a research park or a big building that somebody's name could go on. It was more basic human infrastructure, intellectual capital that we were trying to build."
---
Game Changers
And build it they did. The GRA focused at first on recruiting scientists they called eminent scholars. "I think [the idea] was, 'How do we build capabilities in universities to be generators of cutting-edge work?'" Cassidy says. "As the organization was launched in 1990, the focus was on attracting top academic research talent to our universities. There are endowments that are created for each of those [eminent scholar] chairs. We work collaboratively with each of our institutions to identify and recruit these game changers."
In the beginning, there were six institutions involved: Georgia Tech, UGA, Emory, Georgia State, Medical College of Georgia (now Georgia Regents University) and Clark Atlanta. With the recent additions of Mercer University and Morehouse College of Medicine, there are now eight.
"Emory was a vital part because they were a private university," Cousins says. "If we had just the University [System] of Georgia schools, then it could get political. I think that was a key part as far as the organization, to keep it where it didn't have to become another state agency." That's one of the ways this organization is different from similar organizations in other states to this day – the public-private nature of the GRA.
The second part of the equation in the beginning was providing funds to outfit the school's labs with the equipment and resources eminent scholars needed. GRA came through – and still does. The organization funds lab equipment, in addition to the eminent scholar chairs themselves, in eight areas: agricultural science and genomics, biomedical engineering and regenerative medicine, cancer and human genomics, computing and networks, electronics and optics, energy and environmental engineering, immunology and vaccines, and informatics and systems biology.
"Those two things were our big focus for about 10 years – attracting talent and making sure the appropriate physical infrastructure was in place," Cassidy says.
---
A Seismic Shift
With the infrastructure in place – in the form of now 70 endowed chairs and the supporting lab resources – the next step was commercialization of the research that was being developed by these scholars and their teams.
The focus on commercialization – economic development, if you will – led to a stronger relationship with the government sector and Gov. Nathan Deal, who has worked to foster the business climate in Georgia.
"We were able to strengthen ties with our state government leaders," says Clyde Tuggle, senior vice president and chief public affairs and communications officer at The Coca-Cola Co., and last year's GRA board chair. "As a result, GRA enjoys a strong working relationship with the office of Gov. Deal and the Department of Economic Development. This partnership and Gov. Deal's leadership are just some of the reasons why CNBC and others have recognized Georgia as the best state for business."
"It was a great evolution a few years ago when the GRA moved to within the Department of Economic Development's budget," says Larry Gellerstedt III, president and CEO of Cousins Properties, son of one of GRA's founders and now a GRA board member. "It had been in the [Board of] Regents budget, which was great. But now, I think, in the economic development budget it's really being seen by the political leaders in the right sense. This isn't just an academic pursuit. This is something that's creating jobs and creating companies and creating an ecosystem in Georgia that other companies and other researchers want to be around. In today's times, that ecosystem is extraordinarily important to the economy."
The shift in focus and funding underscores the importance of having the corporate community so involved in the GRA board.
"I think because of that impact that [the GRA] can have on the Georgia economy, it's the responsibility of the corporate community around the state of Georgia to embrace the opportunity [to serve on the board] as well as to be stewards of the direction and stewards of the resources and assets that we're all contributing," says Doug Hertz, chair of GRA's board and president and CEO of United Distributors Inc.
---
Bumps in the Road
Commercialization of big research ideas comes with challenges. First, scientists generally aren't business people. They may not even recognize the commercial potential of their ideas. Second, if they – or someone working with them – sees the potential, attracting the funding necessary to get a business started can be difficult. Georgia doesn't have a long history of early-stage funding for startups. Third, making the connections necessary to get a business started – and keep it running well – can be difficult.
The GRA helps in each of these areas. Scouts at the universities are "out working across the campus, looking for these interesting ideas and helping faculty work through those real early stages of thinking about where could this go," Cassidy says.
Next, the GRA provides funding at different levels. "We're providing the funding to the universities. This is pre-angel funding," Amanda Schroeder, GRA's director of public relations, says.
There are three phases of funding the GRA can provide as scholars are exploring the possibility of creating a company. "The first piece is up to $50,000," says Schroeder. "The second piece is a matching portion, where GRA will put in a portion, but they [the university or the scholar] have to have matching funds. The third is a loan that they'll have to pay back at some point."
"At that point it's a company," Cassidy adds.
And to help with managing this new company, the GRA connects scholars with people they call industry fellows – serial entrepreneurs who can help ensure that the strong science evolves into a strong business.
---
Science Meets Business
One such pair is Eminent Scholar Max Cooper, M.D., professor of pathology and laboratory medicine at Emory University, and Industry Fellow Ed Cannon, Ph.D. Cannon serves as president and CEO of NovAb, a biotech company built – with the support of GRA – around an innovative antibody technology developed in Cooper's lab at Emory.
"A big part of my coming from the University of Alabama in Birmingham was the Georgia Research Alliance," Cooper says. "Their welcoming and support was a big factor. One of their strong goals [is] bringing in people that would hopefully bring in other people – young people and others – to start industrial spinoffs in biotech and agritech and so forth."
Cooper has built a team at Emory that is doing cutting-edge research on treatments for cancer and autoimmune diseases such as type I diabetes, lupus and rheumatoid arthritis, among others.
Cannon was looking for a way to get back to "God's country," as he calls Georgia. "I'm from Georgia, from Albany," he says. "I left and ended up spending over 25 years in Boston."
Boston is one of the two epicenters for biotech in the country. "I happened to be at the right place at the right time doing the right research and got in on the ground floor of the biotech industry," Cannon says. "While I was there, I was involved in founding and/or operating half a dozen or so biotechnology companies, two of which we got public, others we ended up selling, and just had a ball doing it."
He was ready to do it again in a warmer climate. He had previously been introduced to the GRA, got back in touch, read Cooper's papers about the work his team was doing and, as an immunologist himself, recognized the significance of the research right away, he says. He signed on as president and CEO of NovAb.
"There's dozens of autoimmune diseases that affect tens of millions of people," Cannon says. "There is really no adequate treatment for any of them. We think initially this program will meet important medical needs but also have good commercial opportunities."
That, in a nutshell, is the heart of GRA, fostering research that will help tens of millions of people who need medical treatment or who want clean energy or who are seeking high-quality, high-paying jobs in God's country.
"I sort of feel like I'm family with GRA, just because of my dad's involvement," Gellerstedt says. "I really think that of all the things my dad did civically and education-wise in Atlanta, that this was really the thing he was most proud of."
Those sentiments are echoed by GRA co-founder Cousins. "I have really considered it a very serious success," Cousins says. "I've never been involved in anything that I was more pleased with the outcome than the Georgia Research Alliance."