Renaissance Woman
Paula Wallace has redefined arts education for students around the world.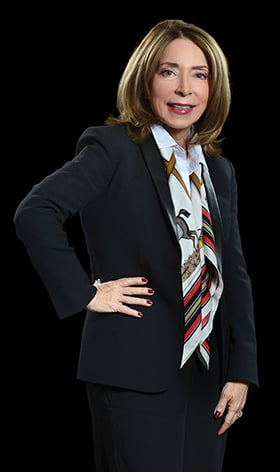 Take a look at a campus map of the Savannah College of Art and Design (SCAD), and you know right away that this is an unusual institution. SCAD's more than 80 buildings in Savannah, many of them renovated pieces of history, are sprinkled throughout the city like Spanish moss covers live oaks, serving as design inspiration to students and faculty alike. It's a university clearly founded by an innovator in education.
That innovator is Paula Wallace. A renaissance woman – teacher, writer, designer, musician, administrator – Wallace is co-founder and president of SCAD, the comprehensive nonprofit arts university that now reaches from Savannah to Atlanta to Hong Kong to France. Its graduates have made an impact even farther afield, and the school now has an international reputation. It is this legacy, her influence on generations of artists, designers, architects and more that led to her selection as a 2015 Georgia Trustee.
An Educator is Born
Wallace grew up in Atlanta, the daughter of May – a teacher and curriculum designer – and Paul Poetter, who worked for the Bureau of Labor Statistics. Wallace followed her mother into education at an early age; at 12, the musical prodigy was teaching piano to neighborhood children.
As an elementary and special ed teacher in the Atlanta Public Schools, Wallace used what had worked for her as a child to help teach her students. "Music was my co-teacher," she says. "I wheeled my piano into the classroom and used melodies to augment lessons." That approach has evolved, as her career and the number of students she has impacted have grown.
While teaching, she was also editing books. "In fact, I edited one of the textbooks that [my mother] wrote, and from the proceeds of Serendipity – how aptly titled – we gleaned the seed money to plant SCAD," she says.
SCAD was, in fact, a serendipitous, family endeavor from the beginning. "Today, many allude to the 'family feeling' of SCAD. This feeling of kinship … can best be explained by the fact that SCAD was literally started with my family around my kitchen table. I took my dream to my parents, and they gave up their retirement to help me realize it," Wallace says. "My late parents are my heroes. To help me achieve my dream, they traded retirement to help me build SCAD and to work what my mother called half days – 12-hour shifts."
---
The Dream Lives
Around that table, Wallace, her parents and Richard Rowan founded SCAD in 1978. At that time, there was not a college in Georgia offering arts education combined with career preparation – a powerhouse combo that propels SCAD to this day.
"I saw the need for a creative haven in the South for young designers, artists, scholars and performers," Wallace says. "I have never subscribed to the paradigm of the starving artist. I knew that both our students and SCAD could flourish in a positive environment with small class sizes and individual attention."
Through the fall of '78 and the winter of '79, a push was on to establish a board, hire faculty and find a facility. In the spring, SCAD found its home, the Savannah Volunteer Guard Armory, which was built in 1892. The building, now called Poetter Hall after Wallace's heroes, is still in use by SCAD today.
"SCAD Savannah's flagship building was the first of more than 100 buildings that the university has revitalized across three continents," Wallace says. The building is on the National Register of Historic Places – just one of a number of SCAD historic renovations that have been nationally recognized.
Next up was enrolling students. "The hardest part was going from zero students to one," Wallace says. "We worked ceaselessly toward the creation of SCAD, navigating tremendous legal and administrative hurdles in founding a nonprofit, earning degree-granting authority from the state and achieving accreditation."
Not to mention the less-than-presidential work Wallace did as the school was finding its way. "In the early days of SCAD, there was only a handful of worker bees," she says. "Consequently, I tried my hand at everything, including baking cookies for a vernissage [a private art showing before a public exhibition], babysitting children in my office while their parents were in class, developing programs of study and cleaning bathrooms."
SCAD – and Paula Wallace – have not slowed down since.
---
Study Abroad
Today SCAD is home to more than 11,000 students spread out across Savannah and the world, at sites in Atlanta; Lacoste, France; and Hong Kong.
"She is so busy. Her management style is that she has her finger on much of what the college is doing worldwide," says Robert Jepson, Savannah businessman and former chair of SCAD's Board of Visitors. "When it was just in Savannah, she had lots of time. Then when it moved to France, with the opening of the Lacoste campus she had less time. Now I just don't see how she does it every day. She is traveling all the time. Her influence is in Hong Kong and Atlanta, Savannah and in France. How she covers all those bases, as far away as they are and as dynamic as they are, you just look at it and marvel."
As Jepson says, Wallace's imprint is on every student's education – as well as the cities where they learn.
"We constantly adjust our academic degree programs and course offerings to reflect advancements in the professional job market," Wallace says. "I still remember ordering 25 Commodore Amiga computers in 1986 despite advice that computer art was not likely to catch on.
"Today, SCAD continues to prioritize relevance, offering vanguard technologies such as 3-D printing and cutting-edge certifications including biomimicry," she says. "In designing programs, I have also made a point of listening to the profession – when Disney needed graduates in themed entertainment, they asked SCAD to create the themed entertainment degree program we have today – and of asking SCAD students what they want to study or what they want in a career."
As important as providing what students want to study, Wallace believes providing an environment that will inspire them to learn is as essential – similar to dragging her piano into the elementary school classes she taught.
Today, SCAD occupies historic buildings as dorms, classrooms, lab space, museums and more in each of its four cities. The buildings have been restored – and reimagined – to be perfectly suited to inspire art and design students. In addition to being works of art themselves, many of the buildings are filled with the artwork of students and alumni, an approach that some find unusual for college students.
It seems perfectly natural to Wallace, as she wrote for The Huffington Post, "While sages wag that college-age students may damage or destroy fine art in their midst, SCAD finds that such proximity helps to cultivate among students a deep appreciation and personal connection to the work that surrounds them. These environments are not in a museum – they're bedrooms, study rooms, gardens, forums for thought and discovery, all used by thousands of students each day. In this digital age, we measure every imaginable element of what our students learn, but where they learn is just as important – and here, as ever, education begins at home."
Some of the restorations that Wallace is most proud of include "the renovation of Trustees Theater [in Savannah]. When we began the restoration in 1998, the theater had been closed for 15 years," Wallace says. "It was home to rats and pigeons who didn't mind the lack of plumbing or electricity or the fact that there was no ceiling over the balcony."
After demolition began, Wallace told her staff that the goal was to have Tony Bennett give the inaugural performance in just five months. "As ambitious as my deadline was, we debuted the theater as planned, and Tony Bennett himself went on to say that the hallmark of a superior theater is its acoustics." He illustrated the grand acoustics in the new facility with impromptu a capella singing.
A more recent restoration in Savannah is of an antebellum railroad depot to house the SCAD Museum of Art (MOA). "Today, it is a teaching museum that serves as a platform for contemporary artists," she says. SCAD MOA is also the winner of a 2014 American Institute of Architects National Honor Award for Architecture.
"[The museum] is just mesmerizing, and it is so beautiful," Jepson says. "Now Paula, with that museum, has a place to store important art, handle it in a proper way, to display it in galleries that are really quite lovely. And above the museum, we have classrooms, so art history and other classes relative to what SCAD is doing in the museum and art world are taught right above the museum. It's been in Architectural Digest. It's been in numerous architecture magazines because of its uniqueness and its unbelievable beauty. It's a wonderful way to display art from around the world and art from the school's own collection and student's art as well."
Wallace's and SCAD's commitment to historic preservation, which, Wallace says, "safeguards architectural gems for posterity, conserves the environment and revitalizes communities," began in Savannah, but it's since stretched far and wide.
"SCAD Atlanta's Ivy Hall Cultural Arts and Writing Center, an exemplar of Queen Anne architecture, is one of the oldest surviving homes in Atlanta," she says of the building that was built in 1885. Now, the grandly restored Ivy Hall hosts a lecture series that has featured authors like Augusten Burroughs, the late Elmore Leonard, Margaret Atwood, Philippa Gregory, Richard Ford and William Gibson. The Atlanta Regional Commission awarded SCAD's Ivy Hall the Exceptional Merit for Historic Preservation Award.
Also in Atlanta, SCADpads are getting rave reviews from the likes of the Today show, Time magazine and more. SCADpads are apartments built in – and the size of – a parking space. The three SCADpads, built in a parking deck adjacent to SCAD Atlanta and occupied by SCAD students, received the WAN Urban Design Award in 2014 from World Architecture News. It's a brand-new vision for the use of parking decks that many believe may become obsolete as transit options increase.
In Hong Kong, SCAD occupies "the magnificent former North Kowloon Magistracy building," Wallace says. "SCAD's restoration of the building earned the university a 2011 UNESCO Asia-Pacific Heritage Award."
And in Lacoste, France, SCAD's "living and learning environments date back to the medieval era. La Maison Basse, once a silkworm farm and the carriage house of the Marquis de Sade, now provides students with studio and residential space." The building and 30 others were given to SCAD by the former Lacoste School of the Arts.
"I am also proud of how much SCAD architecture has grown," she says. "In 2013, the National Architectural Accrediting Board awarded SCAD architecture an unprecedented eight-year term of reaccreditation."
---
Partnerships
From the beginning, partnerships with businesses have been essential to educating creatives who are prepared for careers. In 2010, SCAD took that commitment further with the creation of the SCAD Collaborative Learning Center (CLC). The CLC brings Fortune 100 companies to SCAD classrooms, giving students real-world experience at developing solutions to real business challenges. "Since the CLC's establishment in 2010, SCAD students from multiple disciplines have collaborated with 115 businesses on nearly 220 projects," Wallace says.
"This year, SCAD students created the opening animation for the United States' largest television viewing event, Super Bowl LXVIII, with FOX Sports," Wallace says. "Guided by client requirements and led by their SCAD professor, motion media design, illustration and animation students created motion graphics for the opening animation in just 10 weeks, collaborating with 22 FOX staff members." Students presented their work to executives and implemented client feedback. "At the completion of the project, SCAD students' graphics for the opening animation were used as the basis for other live broadcast design elements."
The Super Bowl isn't the only work SCAD students have done for FOX. At SCAD's Savannah Film Studios, FOX Studios recently shot a green screen promotional scene for Penguins of Madagascar, an animated feature film released in 2014.
SCAD also works closely with such Georgia-based CLC partners as Coca-Cola, Chick-fil-A and Kids II, says Wallace. But partnerships extend beyond the state's borders as well, with companies such as Fisher-Price, Hewlett-Packard, Microsoft and even NASA sending executives specifically to work with SCAD students.
From partnerships such as these to the creation of iconic cultural events like the Savannah Film Festival to the architectural legacy of SCAD, Paula Wallace continues to use her influence to change the world – the mark of a true Georgia Trustee.