Lighting The Way
In response to tragedy, Alana Shepherd and her family have built one of the best hospitals in the country.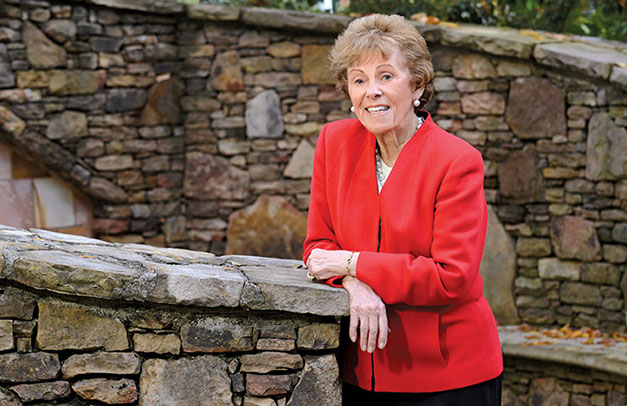 Alana Shepherd comes every day to volunteer at the Shepherd Center, the private, not-for-profit hospital she and her husband Harold and son James founded 40 years ago in Atlanta to specialize in treatment and rehabilitation for people with spinal cord injuries. She raises money, serves as the board secretary, greets patients and families and makes sure the center stays true to its mission.
"Once your name is on the building," Shepherd says, "you can't walk away from it. I am a volunteer, but if I walked away I would feel terrible, so here I am. I can't believe people retire. What would I do?"
The Shepherd Center, now one of the top 10 rehabilitation hospitals in the country, was born of a family tragedy. It started out as a six-bed unit in rented space and has become a 152-bed facility with a strong research component, providing care for individuals with spinal cord injuries, brain injuries, multiple sclerosis and chronic pain. The hospital is located on its own five-acre campus in Buckhead adjacent to Piedmont Hospital.
"Alana has led the way," says David Apple, M.D., medical director emeritus. "People she knows just can't say no to her when she asks. People want to help. She is the shining light for our success."
For her leadership and guidance in establishing the Shepherd Center, Alana Shepherd, 84, is a 2015 Georgia Trustee.
The center's success is a testament to her and the Shepherd family's indomitable spirit, dedication and determination to make the road to recovery and rehabilitation smoother for others than it was for them.
In 1973, James, now the center's chairman of the board, was newly graduated from the University of Georgia and backpacking around the world when he was severely injured in a bodysurfing accident in Brazil.
His mother tells the story: "He backpacked through Africa – that's unbelievable in itself, you couldn't do it today. They started in Egypt, went to find the source of the Blue Nile, went all the way down the West African coast and over to Capetown then Johannesburg, then took a plane and got to South America. The second morning he was there he was on the beach and saw the good waves. He loved to body surf. He got out there, but he didn't realize they were crashing a little differently. They had dredged the beach so they had a drop-off. The wave tumbled him and he hit that. He hit his head, and he broke his neck immediately.
"He knew he couldn't move under the water and finally just had to suck in the water and drown. He said it was very peaceful – you throw up a couple of times and the sand goes in and out and you're gone. He washed up right away – luckily, it was cold water."
A lifeguard on the beach walked over and looked at him, saw that he was already blue, and walked away, assuming he was beyond help. Friends rushed to his side and started reviving him.
"They called us from the aid station," Shepherd says, "and we were there the next morning at six. We were there for six weeks in Brazil, doing this in Portuguese, which is not our native language."
Fortunately, the family had a friend there who was influential and able to help. "They weren't going to give him antibiotics," at the local hospital, she recalls. "They just let you go if you break your neck. Our friend started pounding on the desk – and got him the antibiotics.
"He had pneumonia and was on a ventilator. He had 17 stress ulcers, [was given] 22 units of blood and got hepatitis from that. Finally, pulling a lot of strings, we got an Air Force Medivac team to go get him – we paid for the flight and were fortunate to be able to do that.
"He came back here to Piedmont, and we thought everything would be fine; but it wasn't. They kept him alive for two months, but it wasn't spinal care – 40 years ago things were so different. He got down to 85 pounds."
The family had heard about the Craig Hospital in Denver and took him there for treatment and rehabilitation. His was an incomplete injury, meaning there was partial damage to the spinal cord, but some sensation and motor function remained.
"After five and a half months in Denver, he walked out of there with a leg brace and a crutch," Shepherd says. "He was lucky."
---
Starting The Center
After James returned to Atlanta, there was conversation with others who had been to Denver for treatment. "They were talking and said we really needed to have something like that in Atlanta," Shepherd says. It was agreed that "somebody" ought to do something about it.
"For some reason, the somebody became us," Shepherd says.
For very good reason, it turns out. The Shepherd family owned one of the largest construction businesses in the state, heavily involved in road and bridge building. They were active in the business and civic life of Atlanta, well connected to individuals who could and did respond to their requests for financial support. And they had Alana Shepherd, who became both the energy source and the public face of the endeavor.
For the medical part, they found Dr. Apple, an Atlanta orthopedist and authority on spinal injuries, who had trained at a rehabilitation hospital in California.
"We asked all our doctor friends," Shepard recalls, "and they kept saying, 'See Dr. Apple, see Dr. Apple.' He agreed to do it. He said, 'It needs to be done. It could be a success. I'll do the medical, you do the rest.'"
And they did. "A year and a half after James's injury, we opened with six beds in leased space. It's been a journey to the moon on a rocket ship ever since. A rocket ship that took off," she says.
Three weeks after they opened, they had 12 beds and a waiting list. Shortly thereafter they were up to 30 beds, which was capacity until they got their own building in 1982. Atlanta real estate developer Scott Hudgens sold them the prime Buckhead property for a bargain $1 million, then donated $200,000 back to the center.
Once they moved, the number of beds increased to 40 then to 80, and ultimately to the present number, which includes a 10-bed intensive care unit. Additionally, there are 84 apartments on campus for patients' families and several more nearby, including a separate enclave for military families. A stand-alone facility in Decatur houses a day program for individuals with brain injuries.
Initially, Shepherd says, "We were raising money from mostly our friends and people in the highway industry and their suppliers, who were very generous. By today's standards, it was still a modest amount." At a key point, Boisfeuillet Jones, then head of the Woodruff Foundation, offered them encouragement – and then a gift. Money started coming in.
"Everything that happened always, all along, was at the very last minute, with sleepless nights for a week before – thinking it's never going to happen. But it did," Shepherd says. "We say God had a hand in the whole place."
She never actually doubted that their efforts would be successful, although even she didn't anticipate the scale of their success. "We were naïve," she laughs. "We envisioned some of this, but not all. We never thought we would have MS patients – about 4,000 under treatment. We never thought of doing just brain injuries. A lot of people who break their neck have a brain injury. We were doing dual treatment – spinal cord and brain. The insurance people came to us to urge us to do the brain injury [part], to serve that patient population."
The center has a staff of 17 doctors who work there exclusively and 187 consulting staff – mostly from Piedmont Hospital; it employs 90 physical therapists, 80 occupational therapists, 39 speech therapists, 34 recreation therapists and 19 psychologists. "Everybody has a team that treats them," Shepard says.
---
Making It Work
It's hard not to wonder if there was something about Atlanta in the 1970s that made it receptive to an undertaking like the Shepherd Center, and whether the same effort at another time would produce the same results.
"I don't think you could do it today," Shepherd says. "The stars were aligned correctly. It was needed; this was the place for it. It did take off. Every time we had to expand we could justify it because the need was still there and the waiting list was still there.
"We're now getting gifts from the business community – much more than we ever did, except for the highway industry and suppliers of tractors that were related to our family business. Beyond that, it was a good while before the business community got behind it. It was individuals and foundations."
The medical community was receptive, but there was some difficulty in getting the Certificate of Need (CON) required to build a hospital; they were opposed by the now-defunct for-profit hospital in Atlanta that had initially rented them space. "But we found out later many of the people on the board that approves [CONs] had reason to want to see this happen, felt it was needed."
Decisions to add services and programs like the pain institute, treatment for MS and brain injuries and to increase the research effort were driven by need and often motivated by gifts from benefactors – among them Billi Marcus, Virginia Carroll Crawford and members of the Woodruff family.
Some years ago, Shepherd says, the medical community was beginning to understand that pain should not be regarded as something inevitable, that it should be treated along with other medical problems. "You started seeing pain clinics all over the city," she says. "Some of them can be just pill dispensers. Our patients have pain; our military patients have terrible pain. We have this great need and a lot of people who realized how we wanted to approach it."
For MS, the center had everything in place to treat patients – an MRI suite, counseling and the ability to provide exercise, care and medication. Shepherd now has the largest MS treatment program in the Southeast.
The research effort at Shepherd, which includes 80 different projects along the continuum of care, draws a number of grants.
"Most anyone who wants to do research for our patient population will come here," Shepherd says, "because we have such a big population of former and current patients and can find people to be part of trials and research. That's been exciting. That's the hopeful part for our patients and families, that this goes on at Shepherd, whether it's mechanical or computer-driven or now a Bluetooth hook-up or eye-gaze, using eyes as your mouse."
Much of the work is driven by Georgia Tech researchers, but Vanderbilt, Duke, Harvard and other institutions have also done research at Shepherd. Dr. Apple stayed on after his retirement in 2006 to oversee the research.
Perhaps surprisingly, Shepherd says there haven't been many moments of real discouragement. "It's just going so fast. Things are exciting. People bring new ideas, new devices. Patients come from every state in the U.S. and 60 foreign countries."
Foreign patients don't have insurance plans that work here, Shepherd says, so they pay by credit card or cash. "The affluent pay – we negotiate a price. We don't charge full price; but they pay, so that helps us pay for scholarship beds."
She and the center have become very savvy about navigating the health insurance landscape – which can literally make the difference in getting help to a patient and staving off financial ruin for the patient's family.
The center has evaluators all over the country who see prospective patients immediately to determine whether they are appropriate for the care offered at Shepherd.
"We can turn around a patient – insurance problems and everything – within about 48 hours. If you bring them in a day before the insurance company signs off on it, they won't pay you a dime. Somebody oftentimes has to wait another two days or one day until their insurance company signs off. We have learned: do not bring them in until their insurance company says OK."
---
Looking Ahead
The center has embarked on another expansion on the Buckhead campus that will add an additional MRI suite and update the labs and pharmacy.
Shepherd's formidable business acumen – she was the first woman admitted to the Buckhead Coalition and she has been on the boards of Genuine Parts and the Wachovia Bank of Georgia – has driven every fundraising effort for the Shepherd Center, and the current capital campaign is no exception.
The goal of the campaign is $12.5 million, which started with lead gifts and appeals to foundations. "You always gulp when you have a capital campaign, no matter how small or how large," she says, noting the need to balance it with ongoing financial requirements, like the $12 million a year the center needs for recreation therapy and some kinds of assistive technology not covered by insurance.
Shepherd says most rehabilitation nationally takes place under the wing of general hospitals, rather than specialized facilities like Shepherd or Craig in Denver. "In the hospitals," she says, "the heart transplant guys get all the money, because rehab is not a big money-maker. That's one thing that's kept excellence from being everywhere. There are some good places, but they just don't do everything that we do."
She gets questions about the future of the center, she says. "People ask what's going to happen after you all step down or go. What they really mean is when you die." She assures them there are people in the community and in her own family who will continue the work. "The culture is going to be there."
A granddaughter works at the center as a case manager, and a grandson has just come on the board.
"For a while the board was our close friends, because they were the only people we could ask to do this. But other people began to show great interest and show expertise. We've consciously started taking younger people, to bring in new ideas."
But the new ideas will have to meld with the comfortable upbeat atmosphere she so carefully nurtures at the center. Staff members make eye contact and offer greetings to everyone they encounter. Anyone leaving a patient's room is expected to ask if there is anything else they can do before they go.
"She makes it seem like a family," Apple says. "Even after 40 years, Alana is still front and center, on the go, keeping the center in the spirit we envisioned when we first started."