Engineered For Success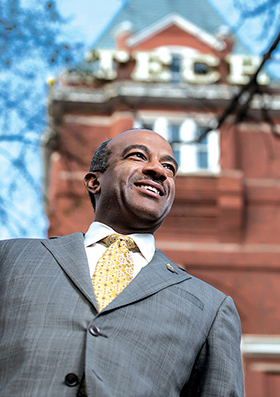 When most people play "Rock Band" – the video game that lets friends live out their dreams of worldwide rock 'n' roll domination right from their living rooms – they see a string of notes to hit to achieve rock stardom. But when Jennifer Hunter and her fellow researchers at Georgia Tech play, they see a way to help improve the lives of people living with cerebral palsy or the aftermath of a stroke.
Hunter, a third-year computer engineering major, is part of a research team in the school's Opportunity Research Scholars' Program that is designing a robotic exoskeleton arm and Android app that mimics the popular video game to help patients regain fine motor control. Using the robotic arm, patients will be able to use a guitar pick on the screen to play notes – and, because the arm can be customized to each patient, the therapy will be more effective for a wider range of patients, including children.
"Typical physical therapy patients usually have a slower recovery time because the physical therapy is really monotonous," says Hunter, "so when the doctors tell them to go home and do these exercises every day, they don't stick with the regiment. We wanted to design something that can engage people and be habit forming, so that they can enjoy the physical therapy a little more."
Hunter is just one of Georgia Tech's approximately 9,000 College of Engineering undergrads – and one of the state's estimated 13,500 engineering undergraduate students. The research she's working on now is the result of rapid developments in the engineering field that have changed how educators approach and teach engineering.
Advances in medicine, infrastructure and computer technology have created entirely new demands from industry, spurring new engineering disciplines and creating more and more challenges for educators. Here are just a few ways that the field of engineering has evolved – and how Georgia's engineering programs have responded to address them.
---
Information Overload
With the giant advances in technology over the past decade have come equally giant amounts of information that must be taught to the next generation's engineers – all in the same four years of undergraduate education. And while we might have developed promising methods for harnessing and storing solar energy, we have yet to discover a way to bend time.
"Engineering is already a curriculum that requires a lot of courses and credit hours, so one of our challenges is how do we give those students those skills without having them take more courses," says Dr. Donald Leo, dean of the University of Georgia's College of Engineering. "What that's required us to do is be more creative."
One of the ways UGA combats this is by introducing both the engineering design process and the professional working world of engineering to students early in their education, starting in their first semester of classes. Required freshman classes, which vary by degree, introduce students to the fundamentals of engineering, the basic design process, practicing engineers themselves and the professional engineering world through design projects, speakers' series and visits to power plants and manufacturing facilities. It's all in an effort to jumpstart problem-solving abilities early and guide students toward specific disciplines that best fit their interests and skills before they reach highly specialized courses.
"We are trying, in that first semester, to not only get them immersed in the foundational disciplines, but also give them a taste of what it's like to be a practicing engineer [and the] different types of engineering professions," says Leo. "We recognize that it's very important to tell students early on and give them a sense of what could be expected in terms of professional environ-ment and what it means to be a practicing engineer."
Another way to combat teaching the nearly overwhelming amount of information is to simply accept that not everything can be taught. Of course, students gain a solid foundational knowledge of math, physics, chemistry and biology, but they also learn how to learn – how to define a problem, design a solution, execute a plan and refine that plan through successes and failures.
This is accomplished through a strong, intentional focus on experiential learning. In all of Georgia's engineering schools, hands-on, interactive learning is integrated throughout the curriculum. Students tackle open-ended, and often undefined, problems in individual and team settings that mimic conditions in the working world.
In addition to classroom experiential learning, all Georgia schools offer research opportunities and co-ops or internships with some of the state's biggest names in industry. In Georgia Tech's Interdisciplinary Research Institutes, for example, researchers, government and industry collaborate around a dozen key areas to boost the impact of discoveries and technological advancements.
At Southern Polytechnic State University (SPSU), now a part of Kennesaw State University (KSU), instructors applying for grants must include an undergraduate research component in their applications, ensuring that students have the opportunity to gain valuable hands-on experience before graduation. And Mercer University's Engineering Research Program aims to foster and showcase undergraduate research efforts throughout the campus. Mercer undergraduates can also gain valuable research experience at the Mercer Engineering Research Center, the school's nonprofit research and applied engineering arm.
Outside of the laboratory, internships and co-ops offer different de-grees of professional experience. Co-ops are "a much more deeply integrated experience with a company and with the curriculum," says Dr. Gary May, dean of the College of Engin-eering at Georgia Tech. "A student may co-op four to six terms, as opposed to an internship, which is two or three summers."
Georgia Tech students typically co-op with one or two companies, with each semester of experience building on the last. The school's voluntary co-op program is the largest in the United States, with about 35 percent of students participating, says May. Co-ops and internships give students an effective one to two years of professional experience upon graduation, leading to higher salaries, higher titles and more responsibilities on the job – but their benefits can be felt before graduation, too.
"In general, students don't always understand the applications of what they're learning," says Hunter. "In introduction classes, you're learning about transistors and gates, and you don't really understand why you're learning those until you see circuit diagrams and move into what those diagrams mean and what they can represent. I think research and work really help apply that."
---
Specialized Studies
In response to the broadening of the engineering field, many engineering schools now offer more specialized degree programs than those offered in the past. For example, a civil engineer 15 years ago might now be an environmental, structural or geotechnical engineer. By specializing areas of study for engineering, educators can both respond to the ever-growing body of knowledge and support and build emerging technologies.
"As society's problems have become more complex, engineering specialties have arisen that didn't exist before," says May. "Biomedical engineering, for example, is less than 20 years old as a field but is already having a significant impact. [It] is growing in terms of enrollment degree production, but also in terms of commercial impact."
Here's a small example of the number of engineering specialties offered in Georgia alone: Georgia Tech offers 12 undergraduate degrees ranging from aerospace engineering to nuclear and radiological engineering. UGA is the home of the state's only agricultural, biochemical and biological engineering programs, and SPSU's mechatronics engineering (a combination of computer science, mechanical engineering and electrical engineering) and construction engineering degrees are also unique programs. In the fall of 2015, Georgia Southern University will begin accepting students into its manufacturing engineering program, the only such program in the Southeast.
Why are so many different programs needed? Well, because engineers do so many different things. "Name any device that's currently on the market, and an engineer had something to do with it," says May.
As our societal issues have become more complex, our engineers have specialized in response – a trend that is likely to continue into the next decade. Civil engineers design the bridges and roadways that connect our communities. Environmental engineers manage environmental concerns like groundwater pollution and erosion. Biomedical engineers develop advanced medical devices and products, making treatments for diseases and prevention easier and more cost-effective. Aerospace engineers tackle missiles and satellites, helping with national security and everyday communications systems.
---
Increased Demand
Nationally, engineering programs have been growing in popularity for more than a decade. According to statistics reported by the American Society for Engineering Education, engineering bachelor's degrees grew by 6 percent in 2013, continuing a 10-year increase of 28 percent since 2004.
And while the nation has been producing more and more engineers each year, the state of Georgia has not been keeping up with the pace. Georgia ranks in the upper quartiles of high-tech companies, yet ranks in the lower quartiles of the number of engineering graduates it produces, says Leo.
Though UGA has been producing agricultural engineers for more than 100 years in its College of Agricultural and Environmental Sciences, the university's College of Engineering was born in 2012 as the result of a Board of Regents vote to approve the addition of three engineering programs – mechanical, electrical and civil engineering – at the school.
"For years it had been recognized that the number of engineering graduates that came out of public institutions in Georgia was not keeping up with the need in the state and also was not in line with many of our peer states that have similar size and growth in high-tech industries," Leo says. "That mismatch between the need in the state and the production of engineering graduates is one of the reasons why not only our program was created, but other programs as well."
In the same vote, the Board of Regents approved upgrading three of Georgia Southern University's engineering technology degrees – civil, electrical and mechanical engineering – into baccalaureate degrees, adding another three bachelor's programs to the state's engineering portfolio.
Currently, there are five engineering schools in Georgia at Georgia Tech, UGA, Mercer University, SPSU and Georgia Southern University. Dual-degree programs, in which students take foundational classes at one institution and receive specialized engineering instruction at a number of in- and out-of-state institutions, are also offered at Morehouse College, Berry College, Emory University, Oglethorpe University and Spelman College.
The expansion of engineering programs at UGA and Georgia Southern University means more choices for Georgia's families, according to Leo. But opportunities for Georgia's students are also underfoot by the joining of SPSU and KSU. The merger was formally approved in January.
Before the merger, SPSU was considered the second-largest engineering school in Georgia. By joining KSU, the "New U" is the second-largest university in the state. It will also join the Top 50 of public universities in the country in terms of sheer numbers, which adds up to a lot of opportunity for students and faculty alike.
"That recognition alone will open some doors for us that were not open before," says Dr. Thomas Currin, dean of the Southern Polytechnic College of Engineering and Engin-eering Technology at Kennesaw State University. "Plus, the research opportunities – we have a physics department now at SPSU. That, combined with the physics department at KSU, will triple the size of the physics department that we interact with. That's significant for us in terms of going after grants and undergraduate research opportunities and collaboration with other faculty."
And that collaboration has already started. KSU's Department of Dance is teaming with SPSU's mechatronics program to fuse dance and robotics. The greatly expanded athletics department is also opening new doors in biomechanics engineering that were not available before.
Another notable development in engineering in Georgia is the expansion of the Regents' Engineering Transfer Program (RETP), which aims to keep engineering students in the state by offering advanced consideration for in-state transferring students.
"If you look at the student population that's out there, the top 3 to 4 percent will go to Georgia Tech or UGA. That leaves a whole lot of other students that are very, very qualified to go to an engineering school with no place to go. In the past, they were going to Auburn, Tennessee, South Carolina or Florida, and there was no reason they shouldn't stay here," says Currin.
With RETP, students not accepted to engineering schools in the state of Georgia can study their first two years at a participating Uni-versity System of Georgia school and transfer to Georgia Tech, UGA, Georgia Southern or SPSU with priority consideration. In the past, only Georgia Tech was part of RETP. By adding the three engineering colleges, the program will allow hundreds of highly qualified students to study engineering – and benefit the communities in which they live.
"We're going to be supplying a lot more graduate engineers to the state than we have before. Plus, the students who are not in that top 3 to 4 percent tend to go to a school and then stay in the area of the school. If we can have them take engineering in Georgia, they're going to stay in Georgia and they're going to help our economy and help our state," says Currin.
Ultimately, Georgia's engineering schools have responded to the growing demands of engineering education by remaining focused on the students themselves: "We're all student-focused," says Currin, "and not just on our students, but all students. We know that if we help them, we're helping ourselves."
---
Engineering Schools in Georgia
Georgia Institute of Technology
www.coe.gatech.edu
Georgia Southern University
ceit.georgiasouthern.edu
Kennesaw State University
www.spsu.edu/engineering
Mercer University
engineering.mercer.edu
University of Georgia
www.engineering.uga.edu
Dual-degree Programs
Berry College
www.berry.edu
Emory University
www.emory.edu
Morehouse College
www.morehouse.edu
Oglethorpe University
www.oglethorpe.edu
Spelman College
www.spelman.edu