Dodge County: Toward A Common Goal
Aerospace, infrastructure and industry development.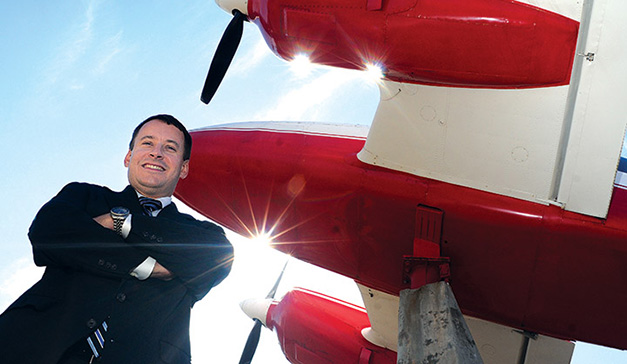 The July 4th fireworks display returned last year to Eastman, and it was a great show, recalls City Manager Bea Edge.
The annual celebration had fallen victim to the recession, but its resurgence last year – funded through private/public cooperation that was spearheaded by the door-to-door efforts of City Council Chairman Raymond Mullis, says Edge – is symbolic of what community leaders believe is a renewed spirit of unity and cooperation that can carry Eastman and Dodge County into the future.
The community's prevailing economic vision – growing the aerospace industry – remains literally up in the air. Aerospace, which is soaring across the state, has a firm hold in this county of rolling hills and woodlands about 60 miles southeast of Macon.
A trio of companies adjacent to Eastman's Heart of Georgia Regional Airport – Heart of Georgia Metal Crafters, parts fabricators; Dynamic Paint Solutions, aerospace and industrial metal finishers; and the new Aremac Heat Treating plant – form what is described as "one-stop shopping" for aircraft parts that is unique in the Southeast, perhaps even the country.
"With those three companies and their ability to mesh together to provide support for some of the Tier One suppliers to Boeing or Airbus [or Gulfstream in Savannah], we're going to pretty much do what it takes to get someone of that caliber here," says Dodge County-Eastman Development Authority Chairman Butch Kirkley. "The regulatory climate in California is so restrictive and shows signs of only getting worse, so it's not friendly to manufacturers. I think you'll see more companies migrating toward the Southeast, and hopefully Dodge County."
The development authority owns a tract of land with potential for future aerospace development, Kirkley says, although as yet no infrastructure improvements have been made to it. The county also has a 52,400-square-foot spec building on 10 acres with water and sewer available, he adds.
Aremac's original site is in California, and the Eastman plant will be their East Coast location. The presence of Heart of Georgia Metal Crafters and Dynamic Paint Solutions was a key factor in the decision to locate in Dodge County. Of course, it doesn't hurt that the adjacent Heart of Georgia Regional Airport is also home to Middle Georgia State College's (MGSC) nationally recognized School of Aviation.
The Aremac plant, which was scheduled to begin production in January, will initially employ 40 to 45. A later expansion will add another 15 to 20 employees, says Denny Butler, Aremac vice president. The aviation school's technical courses will provide good training for a labor force, he believes. He notes that Eastman is strategically situated between aircraft manufacturers Airbus in Mobile, Ala., and Boeing in Charleston. The combination of those factors, he believes, is a plus for Aremac and the future of the aerospace industry in Eastman.
Dynamic Paint Solutions has a $4.7-million expansion underway slated to be completed by the third quarter of this year. The expansion, which will add 50 employees over the next three years, will allow the company to better serve emerging aerospace markets across the Southeast.
"The goal here is to increase our volume capacities as well as adding new processes that allow us to be a better solution for our customer and the aerospace manufacturing market as a whole," says Robert Pruitt, president of Dynamic. "Our industry serves the aerospace supply chain in a unique way. We take our customers' air-frame and engine parts and provide services to those new parts prior to them being delivered to the assembly line. We provide inspection services as well as applying corrosion preventative coatings and painting."
The School of Aviation also supports Eastman's retail businesses with its 134 students who reside in Aviation Hall. Those students have brought life to the community and are encouraging entertainment venues like Heart of Georgia Stadium Cinemas, a five-screen multiplex with new-release films, to open – the likes of which most towns Eastman's size no longer have.
Henry Whitfield, MGSC's director for the Cochran and Eastman campuses, says the school has a $226-million economic impact on its five-campus mid-state area.
The school invests heavily in Eastman, with new planes, a new helicopter, a new simulator and new course offerings, including a Bachelor of Science in Operations that was rolled out in November. "We're the only state-supported comprehensive aviation school in the state of Georgia," Whitfield says.
"Since opening the Eastman air traffic control tower in 2007, our combined landings and departures have nearly doubled to over 30,000 annually," he adds. "Due to increased demand, in 2013 we increased the hours of operation of the tower by two hours. For an airport with only one runway, the Heart of Georgia Regional Airport is extremely active and busy."
"In conjunction with our airport and the aviation school, there's a steady supply of good, quality-trained young people that can feed these industries," says Mike Harrell, Dodge County Chamber of Commerce chairman. "They will work hand-in-hand, I think, with the school to develop some curriculum and training programs to help with the employees they need, so it's really a one-stop shop" for parts manufacturing.
Long-time chamber president/economic developer Judy Hemphill Madden retired last July, and a search is currently ongoing to find her successor, according to Harrell and Kirkley.
---
Improvement and Implementation
On a rainy, late-November day, lunchtime traffic on Oak Street, a major downtown thoroughfare, was heavy. Congestion in the commercial district may be relieved with completion later this year of a new connector road from Highway 341/Golden Isles Parkway to Cochran Highway (U.S. 23), but according to Dodge County Commission Chairman Dan McCranie, the major benefit will be easier truck access to industries.
The project is part of the Transportation Special Purpose Local Option Sales Tax (T-SPLOST) approved by the region's voters in 2012. McCranie believes the connector could also hold potential for further commercial growth.
The city of Eastman will also benefit from the T-SPLOST, with funding for three phases of street paving over the next 10 years. Phase One alone is expected to include 26 streets, Edge says.
Elsewhere downtown, Edge points to the completion late last summer of a streetscaping project that includes resurfacing, curbing and brand-new streetlights. Other downtown revitalization possibilities are awaiting the reconstitution of the city's Downtown Development Authority.
"They're in the process right now of taking applications to set up a board to get members," Edge says. "When we get members, [they will] be redoing the bylaws for that committee." When the authority is back up and running, says Edge, "I'm sure one of the first things they will do is search out to see where there is some funding." The city would like to see the refurbishment of several buildings on downtown back streets, as well as plans for a site where two buildings were destroyed by fire.
An ongoing downtown project is the former 1940s bus station, which is on the National Register of Historic Places. Edge says it is in the process of being fixed up and could potentially house a museum, arts center or genealogy site.
Exciting things are also in the pipeline outside the city center. On Griffin Street, out toward the bypass, plans are being drawn for a roundabout to improve traffic flow near Dodge County Hospital. With the hospital and a Walmart shopping center further out, the city council's Mullis cites city and DOT traffic counts of up to 10,000 vehicles a day.
That flow could get heavier still with plans Mullis says he and a family member have for an 11-acre commercial tract across from Walmart. "We've got some investors who want to go in with us," he says. Plans are still on the drawing board, but he emphasizes, "It's going to happen." The site will potentially include a convenience store/gas station, fitness center, restaurants and a car wash.
"I think that [development] will be a pretty big asset to bringing in business," Mullis predicts. New businesses would join a Tractor Supply that opened nearby in 2013.
A $500,000 Community Development Block Grant, to be matched with $100,000 from the city, has been awarded for curbs, gutters and water and sewer improvements in the Bacon Heights neighborhood, and the city expects to add $200,000 for ditch-drainage up-grades, plus another $400,000 to redo sewer lines in the 7th Avenue/Chester Road area. On the public-safety front, the city recently purchased a new fire truck and plans to acquire seven new police vehicles this year.
---
Supporting Existing Business
While Dodge County's economic developers believe aerospace is their best bet for attracting new industry, they are putting out the welcome mat for other types of commerce and are heavily supportive of existing manufacturers and major employers in the county.
Mondi is an international manufacturer of paper pet food containers and employs about 130; Alcoa, an aluminum manufacturer, employs 150; the 55-bed Dodge County Hospital, which just opened a new geriatric/psychiatric unit, has 280 employees; and about 450 people work for the Dodge County School System. Freddie Dwo-zan, a local pharmacist, employs 163 across four divisions of health services through the company IV Care Options.
Other companies include Inglewood Custom and Service Center, which specializes in cargo trailer customizing ranging from foodservice to racecar transport. W.T. Howell & Sons is a third-generation family-operated company that buys, processes and sells steel.
An upcoming industrial addition is Agro-Culture Liquid Fertilizers, a Michigan-based company that purchased and is remodeling the former Spurlock Vehicles building that had been shuttered for about two years. Agro-Culture is also installing a rail spur to serve the site, its first Southeastern location.
In the past there has been political fragmentation and litigation over issues, but Kirkley says, "That has been largely overcome. We're all moving in the same direction now, for a prosperous Dodge County."
Chamber chair Harrell agrees. "The city and the county, the development authority and the chamber … everyone is working toward a common goal. Of course, it's diligent work and nothing happens overnight. We are starting to see some results of this uniform, united presentation of the community, and [with] what we have at the airport, it's a good building block and it's a good first step, and it's not going to be our last step by any means. We're moving forward."
---
LOCAL FLAVOR
CANDY CAPITAL: It was during the era before interstates, when "Burma Shave" and "See Rock City" signs were ubiquitous along major two-lane thoroughfares, that the small city of Eastman earned the title "Candy Capital of Georgia," thanks to W.S. Stuckey Sr.
It all began in the mid-1930s, when Stuckey harvested a bumper crop of pecans and decided to sell some of the nuts to travelers from a roadside stand. The operation proved popular, and in 1937 pecan-based candies – in particular, a scrumptious pecan log roll homemade by Stuckey's wife, Ethel – were added, and the enterprise moved from the stand into a new building.
The Stuckeys soon expanded their services to tourists by offering a restaurant, gas and souvenirs along with a commitment to excellent service. The Stuckey's empire was born.
Eventually, there would be more than 350 Stuckey's store franchises spanning the country. The birth of the interstates proved a boon for the company, and the iconic stores with the teal-blue roof popped up at major interchanges. Billboards along the freeways advertising "Free Pecan Log with Purchase of 10 Gallons of Gas" drew travelers by the thousands.
In 1948, Stuckey built a plant in Eastman to produce the sweet pecan treats. Eastman City Council Chair Raymond Mullis worked for 10 years at the plant in the shipping department.
"I would have to stencil the [company] name on a box before it went out. I remember Fairfax, Virginia. I remember a lot of them. I hated to see it go," he says, recalling the plant's closure after Stuckey's was sold in the 1970s.
Stuckey died in 1977, but in the meantime his son, W.S. Stuckey Jr., had been elected to Congress, eventually serving five terms from 1967 to 1977. In the mid-1980s, he and a group of partners reacquired Stuckey's, reportedly because W.S. Stuckey Jr. couldn't bear to see the family name vanish from the nation's roadsides. There are now about 200 Stuckey's stores, mostly in travel plazas.
Today, Stuckey's has a distribution center in Eastman. The original candy factory at 100 Candy Court was renovated and reopened in 2010 as Southside Market, an indoor retail gallery featuring more than 100 vendors. – David Shivers