Cherokee County: Building A Following
New talent, businesses and investment.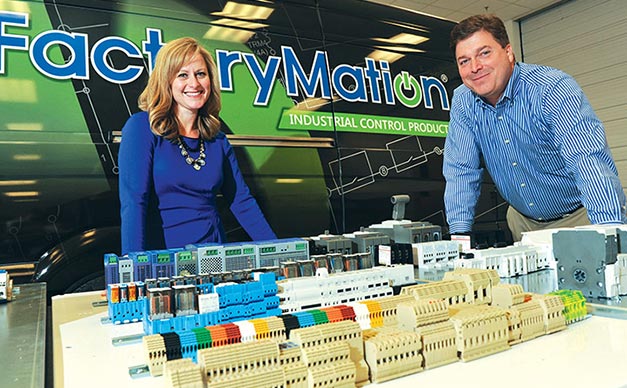 Cherokee County businesses can find their location is sometimes a hard sell when seeking young college grads to fill out their workforce. It seems too far outside Atlanta's perimeter – until the 20-somethings get here and begin to see all that this fast-growing region has to offer.
"They think we are much farther away than we really are," says Russ Sanders, founder and president of FactoryMation, a national supplier of industrial control products. "Once we get them to visit and they realize it's not that far up 575 to get here, then it becomes a non-issue."
Sanders should know. He's often at his alma mater Georgia Tech talking up the county to the bright young grads he needs for his burgeoning business. Canton, home of the company's corporate campus, is also less than an hour's drive from Hartsfield-Jackson Atlanta International Airport – an important asset for a firm with clients across the country.
"There are many reasons we chose to expand in Cherokee, one being its close proximity to Atlanta without the congestion," he says.
Cherokee has built a loyal following among its existing industries, many of which say that the area has been a winner in giving them the resources of land, buildings and talent they need to be successful.
"We've actually evaluated our physical location twice since the beginning of the company 10 years ago, and Cherokee was the best selection both times," says Sanders.
---
A Balancing Act
This sprawling, once-rural county in North Metro Atlanta has experienced tremendous growth over the past decade. From about 90,000 people in 1990, the population has swelled to more than 225,000 today.
"The residential side has grown tremendously and the business sector has grown as well, but not at the same pace," says Misti Martin, a Cherokee native who returned to head the county's office of economic development. "In the '90s, when things were going bananas, there was no way for us to keep up with the rate of the residential growth."
These days, county leaders are doing much more planning to ensure there is a better balance between people and jobs. More than 79 percent of locals travel outside the county for work. Many of them – especially the large crop of white-collar workers – say they would like to stay here, even if it means taking a pay cut, according to Martin, citing a recent survey by the county.
"We're trying to match our business growth to our workforce," says Martin. "Our goal is to be a more self-sustaining community. We will also rely on Atlanta because of the airport. It's so wonderful to be so close to Atlanta and still have the five cities that have their own individual characteristics."
In recent years, the county has found increasing success in building a diverse local business community. After a downturn during the recession, the number of inquiries has come back along with some impressive wins.
"Something we're seeing that came out of this study that we did several years ago is we are really well poised for companies that have a heavy office component, but also with a manufacturing or distribution component to it as well," Martin says. "That's why the I-75 corridor has been really popular. About 65 percent of our prospect inquiries are for that area. I think it's that connectivity to 75 and also being on the southern end of the county."
The I-575 corridor has attracted a number of new companies thanks in part to incentives that are available in areas such as the 3,772-acre Technology Ridge Opportunity Zone. Another oppor-tunity zone offering favorable tax incentives for jobs is helping fuel business growth near I-75, including a large part of the Cherokee 75 Corporate Park – one of the state's few Georgia Ready for Accelerated Development (GRAD) sites.
"We've seen a lot of growth in the corridor that we're trying to capitalize on – especially for companies that need to be on 75 vs. 575 from a distribution standpoint," says Martin.
Inalfa Roof Systems, a leading supplier of sunroofs and open roofing systems for automotive manufacturers, invested $35 million in a new facility in Cherokee 75 Corporate Park that now employs about 400 workers.
The win was one that almost wasn't and demonstrated Cherokee's aggressive pursuit of new job opportunities for its citizens.
"They were looking at a spec building that was owned by a private developer who leased to someone else in the final days of negotiation, and we lost the project to Nashville," admits Martin. "We went back to them with a compressed timeline for a build-to-suit in our new park – two miles down from where they wanted to go."
It became one of the hardest time schedules the development authority ever had to meet, but meet it they did. The company moved into a 165,000-square-foot structure in January 2014 and almost immediately began an expansion. The effort won the Georgia Economic Developers Association 2013 Deal of the Year Award.
Other companies have also found a favorable environment in the county. According to Martin, high-end children's play-set manufacturer PlayNation just bought a new 44,000-square-foot building, making a total of four locations in the county – including a corporate presence in Canton. During 2014, the company invested more than $33 million in expansion and added nearly 200 jobs.
---
Broad Appeal
Of course, a growing number of companies have been willing to look farther north to the county seat of Canton. Sanders' FactoryMation has gone through several expansions within The Bluffs, a 700-acre development that is part of the Technology Ridge Opportunity Zone. The most recent was the construction of a 62,500-square-foot building just across the street from its longtime campus.
"We've experienced fairly consistent growth from the beginning, even though economic conditions the year we started were not the best," says Sanders. "We had looked at several other counties as we reevaluated our choice of Cherokee. We looked north and south and all around, and with everything considered Cherokee won."
The company is still experiencing a healthy organic growth of about 15 to 20 percent annually. He projects the company will need to open new locations elsewhere in the country in order to better serve customers outside the Southeast, but Cherokee will remain the center of its operations.
"There are some other initiatives we want to do to accelerate that growth, but our corporate [headquarters] will always be here," says Sanders.
Canton's appeal has stretched far and wide and even enticed one company all the way from California. Universal Alloy Corp., an aircraft component supplier for Boeing and other large plane builders, relocated here from Anaheim in 1997. At the time the company was seeking an operation in the Eastern U.S. that would put it three time zones closer to its Swiss owners. The proximity to Atlanta means easier phone calls and a shorter flight for board meetings, according to CEO Chip Poth.
"It gave us a second base of operations for customers in this part of the country and also customers in Europe," he says. The move also allowed the company to avoid some of the contentious labor issues that have plagued the aircraft industry on the West Coast.
Since then the company has continued expanding. After constructing a 100,000-square-foot facility with four large extrusion presses for airplane fuselage construction, it embarked on a $30-million capital expansion in 2004. This effort saw the construction of one of the country's largest extrusion presses that enabled it to build wings for Boeing and other companies.
"That put us on the map of not just doing fuselage components, but wing components as well," says Poth. The company spent another $28 million on a second heavy press that came online last year. This year they are investing in an additional $22-million expansion. In the process they have maxed out their 331,000-square-foot campus. The next step is to find a new location within Cherokee County that will allow the company to grow still more. The company is looking at a parcel of land near Ball Ground in northern Cherokee that could meet its need for both space and connectivity to the nation's railway system, according to Poth.
Universal Alloy's success here has been somewhat at odds with the standard idea that suppliers need to be close to their primary customers. The 103-foot-long wing components for the 747 they build are loaded onto rail cars and follow a track that leads across the country to Boeing's operations on Puget Sound.
That spur off the Northeast Georgia Railway was critical to the company's ability to move its products. Wing components are far too large for over-the-road trucking, meaning that the entire trip had to be by rail. First told that getting rail service was impossible, Poth credits state and local development authorities with getting the necessary track laid to their plant.
Another area that is generating development and more jobs is healthcare. Northside Hospital-Cherokee is building a $250-million replacement for the former R.T. Jones Hospital it acquired a few years ago. The new 84-bed facility will be in Canton off I-575 at exit 20.
---
Small Business Support
The brightening economic prospects within the county have spilled over to many smaller businesses as well, according to Pam Carnes, president of the Cherokee County Chamber of Commerce.
"We found that 2014 has been very positive in business support for not only our organization but the community as a whole," she says. "Businesses are seeing growth and new opportunities. That doesn't mean every new day is easier than before, but we're seeing a real upswing in the community."
Carnes maintains that Cherokee's business community didn't feel the effects of the economic recession as soon as some other places. "Where some were experiencing it in 2007 and 2008, we weren't seeing it in our organization till really into the latter part of 2009," she says. "So we were able to sustain a little longer than some communities. Our membership has continued to grow."
Canton's historic downtown has been attracting a number of new businesses. While not every storefront is occupied, most are these days, according to Meghan Griffin, director of the Canton Main Street Program.
Turning a profit in a small business can be tough under the best of conditions, and locals here are finding innovative ways to bring in customer traffic. Consider Audio Intersection on East Main. Owner Michael Buckner had long wanted to bring a coffee shop to town, but realized that his high-end home theater installation business didn't exactly qualify him for running an unrelated business. Instead he rented out the front section of his store to a coffee shop.
The deal brought in a steady stream of customers who can sip their brews in his showroom while getting a close-up look at the systems he offers.
One big addition to the downtown could be the newly renovated Jones Mercantile Building. Constructed in the early 1900s, the structure has undergone a facelift that removed much of the 1970s-era stucco façade. The effort also revealed interior walls made of serpentine stone originally quarried in nearby Holly Springs.
The county, which owns the building, is looking for a buyer who can develop it. "The county had a deal with Westbridge Partners that fell through," Griffin says. "Since then they've had some local interest."
Woodstock's Main Street has undergone some of the most extensive transformations. The quaint little town has seen a renaissance of sorts with midrise mixed-use developments appearing on land bordering the tracks that bisect the downtown.
The story of its recent comeback is told in residential building permits. The city issued just 60 in 2009 as development dried up. By 2011 the number had risen to 109 new homes and 238 the following year. In 2013 there were 301, with about the same number being issued in 2014.
"We've also seen an upsurge in multi-family and commercial as well," says Woodstock City Manager Jeff Moon.
He revealed the city currently has three apartment complexes under construction that will add approximately 636 units to the city's inventory. These follow the live/work/play development Woodstock West by Walton, with its 300-unit apartment complex and a variety of restaurants and shopping within easy walking distance.
Commercial real estate is also up and running as well. A 236,000-square-foot Sam's Club is being built on the site of an old Walmart store in the city. The project follows the successful Outlet Shoppes at Atlanta. Located at the junction of I-575 and the new Ridgewalk Parkway exit, this 375,000-square-foot outlet center features more than 80 high-end outlet stores and is already planning to expand.
"Things have really rebounded nicely for us," says Moon. "It's the old adage that density drives retail. That has come true in our downtown area. As it has developed, and we had the people, we've seen the restaurants, the retail follow."
The city will also be getting a combination restaurant, recording studio and music venue on Main Street as well, he adds.
Woodstock, like the rest of Cherokee County, was a busy place even during the lean times. The city, for example, put money into upgrading its water treatment plant and constructing a new intersection to accommodate growth they knew was on the way, but hadn't yet arrived.
"The growth wasn't really fully back yet, but we were trying to get ahead of it some," says Moon. "I think that's one reason we bounced back so quickly."
---
Local Flavor
EXPANDED EDUCATION: Long a rural outpost in the North Georgia hills, the small town of Waleska's main street has lately started to flourish with new businesses.
Much of Waleska's growth is fueled directly or indirectly by Reinhardt University's rapid expansion. A United Methodist Church (UMC) affiliated school founded in 1883, the college's compact campus has lately sprouted a variety of new buildings as it has evolved from a small two-year liberal arts college into a multi-faceted university with graduate programs.
One of those new buildings will be on downtown land recently acquired from a former bank that failed during the recession. It will soon have new life as home to the school's alumni and fundraising departments.
The school has even added a bevy of sports teams, including an intercollegiate football team that won the Mid-South Conference West Division championship. While fans filled the newly constructed stadium, some faculty and staff questioned the addition of sports.
"They thought these athletes would change the character of the student body," says Reinhardt's Vice President for Advancement JoEllen Wilson, an alum and longtime staffer. "It did. For the better. These young men are the nicest and most polite you'll find. They're the ones who are holding the door for you."
She credits the good behavior to the coaching staff and Head Coach Dr. Danny Cronic's insistence on discipline.
With about 1,400 students total, the school almost dominates the tiny community. From a new visual arts building to an expansion of the library and science center to a state-of-the-art music classroom and performance center, the campus is the equal of any small college in the country.
It's also a prime contributor to the quality of life in Cherokee County. The Falany Performing Arts Center is home to performances by the Atlanta Symphony and other outstanding musical talent, including Reinhardt's own University Symphony Orchestra.
The school's success can be attributed to its longstanding ties to the community. Many residents and local officials attended classes here. A couple of decades ago, the school even implemented a grant program that enabled local residents to attend classes here for the same price they could go to a state school.
That devotion and its faith-based roots (the campus minister is a UMC appointee) have enabled the college to raise millions to erect buildings and fund scholarships. The school is already through the first phase of a nine-year effort to raise $21 million with about $10 million in hand. The goal of the campaign is to expand its academic offerings in the health sciences and perhaps offer a new nursing degree.
"We actually started this campaign during the recession, and there was a lot of discussion of maybe we shouldn't do it then," says Reinhardt President Dr. J. Thomas Isherwood. "We may not meet an immediate goal, but the first years of any capital campaign you're just defining the need."
It was a need, he adds, that the university's large and faithful corps of alumni and supporters embraced. – Randy Southerland