Art Of The Meal: Paper Plane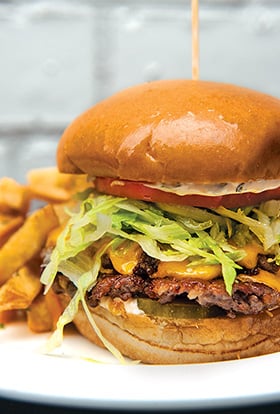 Ever since it opened in summer 2013, I've been going to – and loving – Paper Plane. You could say I'm a fan, but I prefer "denizen," as in "denizen of the deep, dark bar" – something that implies belonging.
For a while, I wasn't sure Paper Plane would be a good fit for Georgia Trend readers, but I've changed my mind. Yes, it's small; yes, its demographic seems aimed at hip young night owls and creative types; and yes, its faux speakeasy atmosphere can give you pause the first time you encounter the "Members and Non-Members Only" sign on the door, which you will find after spotting the small Church Street plaque pointing down a narrow alley.
Go on in. That's just the first indication of Paper Plane's understated wit. It's downstairs, with a narrow band of windows high over the booths to give you a glimpse of your fellow diners up above as they find their way in. If you're part of a group of three or more, you can reserve one of the big, upholstered booths; parties of two or fewer are seated at the long bar (or outside on the patio in nice weather).
It's dark in here and pleasantly womb-like, with walnut paneling and single, fixed-arm spots aimed over the tables like streetlights in a Hopper painting. Lately, I've seen as many of us with hair that gleams like the zinc-topped bar as younger folks, some of us led in by them for family get-togethers around those big booths.
In its earlier days, Paper Plane had a longer, more involved menu and a special Monday "Steak Night." That proved such a hit that steak – as a tartare starter, a steakburger with hand-cut fries, a simple hanging-tender steak frites, or the "Caveman" ribeye dinner for two, with mashed potatoes and mushrooms – now dominates the much shorter, sharply edited bill of fare.
That fits with Paper Plane's Depression-era ethos, where the big splurge is a full-out red-meat dinner for two for $50. Another throwback, fondue, serves two to four with bread, fruit and veggies. (If you don't mind sitting at the bar for a great meal for two, or sharing a booth with another couple, Paper Plane might be a nice offbeat choice for Valentine's Day.)
But you'll also find beautifully portioned meals of, for example, steelhead trout, its skin salty and crisp, its pink interior fall-apart perfection, with sautéed kale and roasted cauliflower. The steak is sliced in perfect bites; the fries nicely sized to deliver light-brown crust in every mouthful. The Caesar salad is terrific, with Little Gem lettuce, its lemony-parmesan dressing flecked with white anchovies. The shrimp cocktail is very basic but well-executed, with modest-sized, poached pink Gulf shrimp, perfectly cleaned, cool and tender, with house-made cocktail sauce.
Paper Plane's wine and cocktails are perhaps its most outstanding feature. The by-the-glass wine list has something for even the most adventurous; I loved the slightly effervescent Ameztoi Txakoli Rosé from Spain with the trout; the Domaine des 2 Anes Syrah provided a nice backup for the steak. If you are in search of a creative cocktail, it's hard to do better than whatever Paper Plane's Paul Calvert dreams up. The Ol' Bobo (rye, oloroso sherry, bitter orange, lemon, clove, vanilla and salt) was a fragrant farewell to the holidays; my Trail's End (Spanish brandy, cranberry shrub, alpine amaro, lemon and tonic) was almost chocolatey in its richness and complexity.
The dessert – when I visited it was a simple chocolate mousse with caramel and pear, one of only two choices – wasn't quite as interesting or engaging as the rest of the meal, but perfectly fine nonetheless. You might prefer something from the long list of digestifs and after-dinner concoctions. Like, for example, the sublime Grasshopper. Even we silverbacks may have stolen sips of this crème de menthe classic from our parents' glasses, but this updated, frothy version (with creme de cacao, cream and mint) is by far the top meal-ending choice.
What I might like best about Paper Plane is how you feel when you leave – like you've just shared a secret, and now you're flying, light and sure, but under the radar.
Paper Plane
340 Church St., Decatur
404.377.9308
www.the-paper-plane.com
Hours: Dinner, Mondays-Saturdays.
Parking: Available in nearby lots.
Dress Code: Hip casual.
---
Speaking of Valentine's Day …
Looking for something locally made – and delicious – for your sweet-toothed sweetheart? Get thee to Atlanta-based Cacao, the "bean-to-bar" chocolate makers who have earned praise in Bon Appetit, Food & Wine and many others. They offer exquisite flavors and beautiful packages, and they ship far and wide. Valentine's Day specials are expected to include champagne-ganache truffles decorated with a crystallized rose petal or gold leaf. Two new locations are scheduled to open this month in Inman Park and Buckhead Atlanta; see www.cacaoatlanta.com for details.