Eggs & Issues Update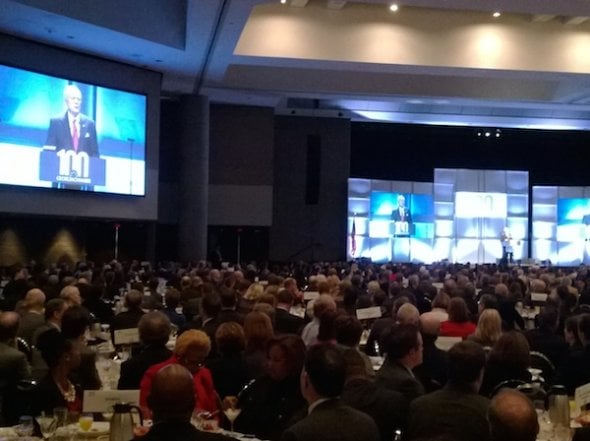 Gov. Nathan Deal laid out his vision for ensuring our state stays No. 1 in the nation for business at the Georgia Chamber of Commerce Eggs & Issues Breakfast held at the Georgia World Congress Center Jan. 13.
As University System of Georgia colleges continue to consolidate, Deal aims at nothing short of a change of culture for high school and higher education by collaborating more closely with target industries.
Dubbed the High Demand Career Initiative, it includes plans to change the name of Georgia's Technical College System to the Georgia Career College System, as well as an expansion of a program that fully funds "tuition for students in our technical colleges pursuing a degree in certain strategic industries," says Deal. These industries, nearly all of which have projected workforce shortages in Georgia, include nursing, early childhood education, welding, commercial driving, deisel mechanics, healthcare tech, precision manufacturing, engineering technology, computer programming, and film/set design.
Deal would set up a Georgia Film Academy to train students for film-crew positions in "Hollywood South," so productions don't have to import employees. "We can't afford to have another state do to us what we did to Hollywood,' he joked.
"We shouldn't need to import our computer programming workforce," he added. "Only a fraction of our students currently take AP computer science, or it isn't offered. We should have programming courses count toward graduation requirements."
These education reforms could really move the needle on some deep-rooted Georgia problems and help keep the state competitive.
Legislators have a full plate all right, and I ain't talking about eggs. – Ben Young
Pictured above: Gov. Nathan Deal speaking at the Georgia Chamber of Commerce Eggs & Issues Breakfast
Image credit: Ben Young