Georgian Of The Year: Higher Education, Higher Stakes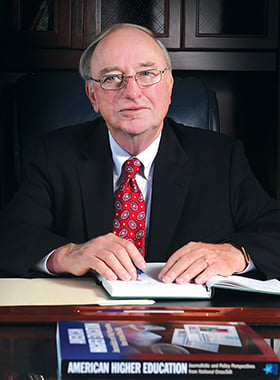 In 2006, after a long and distinguished career in public service and academia, Hank Huckaby retired. Or so he thought. Retirement didn't seem to suit him, however, and in 2010, he ran successfully for the Georgia House of Representatives from District 113 in northeast Georgia and was just a few weeks into his first term when he was approached about taking on one of the toughest jobs in the state and perhaps the biggest challenge of his career: chancellor of the University System of Georgia.
It was 2011, and the university system was dealing with drastic cuts to its budget – down $300 million in state funding from 2009 levels. The relationship between the chancellor's office and the General Assembly was tense – the system's tuition and fee hikes had not been well-received. Worse, some critics were actually questioning the value of the education provided.
It was not exactly a comfortable spot made for coasting into one's golden years. But Huckaby said yes.
"It was exciting, but in some ways I knew it was going to be a daunting experience," he says. "What was transpiring nationally at that time and had been for several years was a public questioning about the value of what we do in public higher education – its efficacy for graduates and their careers. A lot of that was brought about by the very deep and prolonged Great Recession.
"All of higher education was in a state of introspection, to identify where we are, where we needed to go and how we're going to get there. That part excited me."
Less than four years later, the university system has seen budget-soothing consolidations that have reduced the number of institutions from 35 to 30; faculty and staff received their first raises in several years; and the relationship between the chancellor and the legislature is much improved, despite Huckaby's firm and successful stand against guns on campus, which ran counter to many lawmakers' views.
His assessment of where the university system is now: "I feel very good about where we are at this point. We're not where we want to be, but we've come a long way. I'm very proud of the system."
For his strong, steady and principled leadership of Georgia's University System, Chancellor Hank Huckaby is Georgia Trend's 2015 Georgian of the Year.
---
Getting Started
After a national search, it was apparent that Huckaby was the right choice, says Board of Regents member Ben Tarbutton III. He was a known quantity, a candidate who could hit the ground running.
"You were not going to spend six months introducing Hank Huckaby to Georgia," says Tarbutton, who began an 18-month term as board chairman the same day Huckaby became chancellor. "Everybody had great respect for him, a lot of respect for his business acumen and budget [experience]. He has brought stability to the University System of Georgia and the perception of the University System of Georgia among faculty, students, legislature and government. He has really centered the board behind him."
And exactly what was waiting for the new chancellor when he arrived at his post? "I found a system struggling as all systems were at that time throughout the U.S., adapting to this new normal," Huckaby says. "There was some anxiety among personnel. There was a lot of uncertainty, some uneasiness about the future – for individuals and institutions. It led me to think we've got to do things differently."
He began with three major goals for stabilizing and improving the system. The first was performance: "We had to do a better job of utilizing public resources and utilizing individual students' resources – the tuition and fees."
Second: "We had to be more collaborative in establishing partnerships with other entities."
And, finally: "I was very much concerned about the whole issue of validating the value of higher education – both from a career economic perspective but also the intrinsic value of higher education."
During his first six months on the job, he visited all 35 of the existing institutions in the system. "I came away from those visits with the feeling we had exciting things happening on every campus, but there were too many institutions spending more than they needed to on administration."
That led to a tough but generally successful consolidation of 10 schools into five. "We were not trying to cut the bottom line, but decrease the amount of administrative overhead and plow it back into the academic enterprise," Huckaby says. "I think we've been successful."
There was some pushback, especially over the merging of Augusta State University with Georgia Health Sciences University to form Georgia Regents University – many in the community wanted to retain "Augusta" in the name – but Huckaby believes the overall goal was achieved.
"The decision on names – we knew it would be an issue but were not prepared for how salient an issue that was," he says. "From the first four, we learned that the board ultimately makes the decision." Facing the fifth consolidation, of Kennesaw State University and Southern Polytechnic State University, he says, "The board made the decision out of the gate it would be Kennesaw State. We took that off the table."
---
Preparation
As chancellor, Huckaby is in charge of a $7.5-billion annual budget for the university system, which includes some 312,000 students and more than 45,000 faculty and staff members, spread out over 30 schools.
When the regents hired Huckaby, they were looking for a problem-solver who could work with other state leaders, and he is tailor-made for the position. "His contacts and relationships gave him instant credibility with the decision-makers in government," Tarbutton says.
"Hank's very respectful. He will listen; he will hear you out. He is someone open to discussion – he's steadfast, very dependable. He is the caliber of person you want to be on your side."
Huckaby, 72, is a product of the university system. After getting an associate's degree from Young Harris, a small private school in north Georgia, where he was a student of former Gov. and U.S. Sen. Zell Miller, Huckaby received his bachelor's and master's degrees from Georgia State and did additional graduate work in public administration at the University of Georgia.
He held positions at several colleges and universities and served in state government as director of the Governor's Office of Planning and Budget and commissioner of the Georgia Department of Community Affairs. In Miller's administration, he was a key player on the team that designed Georgia's HOPE Scholarship.
Huckaby retired as senior vice president for finance and administration at the University of Georgia.
"I've enjoyed every experience. I learned so much from everyone, established relationships and friendships that linger to this day."
His characterization of his leadership style is modest. "I've always understood what my strengths and weaknesses are. I know what I don't know. My overriding goal or premise is that I hire the very best people I can to support whatever the mission is, whatever the entity I'm involved with at the time. That has served me very, very well.
"The key in leadership: You can't let your ego get in the way.  You hire the best people, principled people."
---
Tight Money
Budget has been No. 1 on the chancellor's list of concerns since day one. State funding for the university system dropped 17.5 percent from 2009 to 2013. Huckaby is encouraged by the improving economy and by last year's 3 percent funding increase but is not anticipating a return to the days of plenty.
"When I was in school," he says, "the rule of thumb was that the state provided about 75 percent of the cost of educating students, and students' parents about 25 percent. Out of the recession, that ratio had changed. The best case was 50/50; some specific institutions were lower than that. I think long-term we will not get back to 25/75. There may be some steady small increments, but the message our board sends to institutions is because we are not going to go back, we can't assume a higher level of funding. We've got to change the way we do business."
Yet the former budget director in him can't resist pointing out that Georgia is in better shape than many other places. "From a comparative viewpoint, we're better off than so many other states in appropriations. But it has been a challenge – changing the way you administer and manage funds, culture changes. Our presidents, our faculty and staff are doing a remarkable job. They have stayed the course."
He says he is pleased that some schools are actively raising money for scholarships but does not favor any changes in the way HOPE scholarships are awarded; he believes they should remain merit-based rather than need-based.
"One of the things I'm very proud of in my career: I was in the Miller administration. I was state budget director. My staff played a great part in designing the current lottery program we have. I support the merit-based use of those funds."
One of the goals of the scholarship was to keep bright students in the state. "It's been remarkably effective there and also to encourage students who might not otherwise think of going to college. We are really trying to broaden the base of our college population."
---
The Legislature
Even before Huckaby served in the legislature, he had plenty of experience with its members.
"In almost every position I've had in my career, I've had to deal with the legislature. I've always had respect for legislators. A number of them I've known for 20 to 30 years. Having offered for election and gone through the election process and raised funds gave me an even greater appreciation for being on the elected side rather than the appointed side."
Rep. Amy A. Carter (R-Valdosta) served with Huckaby when he was in the legislature; both were floor leaders for Gov. Deal, and they shared an office. "I was amazed by the excitement and interest he had in learning so much when I considered him the authority on pretty much everything," Carter says. "He is such an experienced man. He has done so much in his lifetime."
She believes his service in the General Assembly serves him well in his role as chancellor. "We're all a product of the experiences we have had in life. Through the variety of roles he has played – in the governor's office, at UGA and the legislature – he has been able to marry all those experiences to lead the University System of Georgia. I think he is the absolute best person to serve in the role at this time."
Despite the good relationship he has cultivated with Georgia lawmakers, Huckaby is keenly aware of the differing perspectives of legislators and educators. He is asked about the possibility of too much legislative involvement in day-to-day operations.
"To the credit of the legislature," Huckaby says, "I haven't experienced anything like that in my tenure. Over the last 20 or 30 years, there has been an understanding [that] those have to be kept separate. From the university system perspective, it is important. It's not only the right thing to do in terms of academic freedom, but there are accrediting issues.
"Sometimes there may be issues where we have to draw the lines. One of them was guns on campus. The board made its position very clear. We did not do it in any provocative way – we told them straight up, matter-of-factly what our position was and why and stayed the course on that."
---
No Campus Carry
Standing up to the legislature, his primary funding source, at a time when he was trying to strengthen the relationship with the General Assembly was not easy; but when he deemed it necessary, Huckaby didn't flinch.
During the 2013 session, Huckaby appeared before the House Public Safety and Homeland Security Committee to speak out against HB 512, the Safe Carry Protection Act, which would have permitted concealed guns on all university system campuses, excepting only dormitories, fraternity and sorority houses and athletic events.
It was a tough room, but the chancellor, himself a gun owner, spoke his mind: "In my position I believe strongly that allowing our students to carry weapons on our campuses will not increase their personal safety but instead reduce it."
He noted that the police chiefs on all university system campuses believed that allowing students to have weapons on campus would make campuses more dangerous, not safer. The Board of Regents, the university system administration and all its presidents were in agreement, as was Ron Jackson, head of the Technical College System of Georgia.
"Adding loaded weapons to an already potentially volatile mix of youthful exuberance, stress, and yes, at times alcohol and other factors, could lead to a tragedy of our own making that we could otherwise avoid," he told the lawmakers.
It was a powerful statement. That version of the bill ultimately passed the House, but failed in the Senate so did not become law.
"We all felt it was just the right thing to do," says Huckaby. "We never took any of this personally. It was never an acrimonious relationship. They understood our position and we understood theirs, and we went forward."
---
Defining Education
Apart from budgets and campus safety, Huckaby is focused on the educational experience of individual students and how that affects their futures.
"The big challenge for us is that our graduates come out with some basic fundamental skills and abilities – communications, problem-solving skills, analytical, [the ability to] work with groups of people so they will be successful regardless of what their degree is.
"We've got to increase workforce development within the context of Complete College Georgia." This is part of a national effort; in Georgia, the university system and technical college system are working to increase the number of graduates to prepare them for the jobs of the future.
The effort was initiated not by government, says Huckaby, but by a number of large private foundations, like the Bill and Melinda Gates Foundation, and based on research done at Georgetown that found the U.S. had fallen sharply in terms of preparedness of its workforce.
"If the U.S. is going to be economically competitive, it requires at least 60 percent [of the workforce] has some bona fide credits past high school. It's now at 42 percent; that's a huge gap over the next 10 or 15 years."
Firms looking to move into Georgia, he says, always ask, "Can you provide the workforce that I need?"
And even though economic development is on everyone's minds, particularly lawmakers', the chancellor believes it is important to strike the right balance between job readiness and scholarship.
"I want all students to have successful careers – both from a financial standpoint and from the career satisfaction standpoint – but another measure of success is not just how much money you can make. It's your life. We have a responsibility for producing educated accountants but also educated citizens," Huckaby says. "The more broadly educated, the better community member, better family member. We've still got to tackle that one."
As Ben Tarbutton puts it, "Hank takes it seriously, educating the future leaders of Georgia. He's very mindful of that. He took the job to make a difference."
Huckaby himself seems to be a man doing something that he loves, confident in what he can bring and appreciative of the opportunity.
"I am honored to be chancellor," he says. "I thought I already played my last rodeo, but I'm excited about what we're doing."