Cobb County: The Power Alley
Sports, Tourism, Development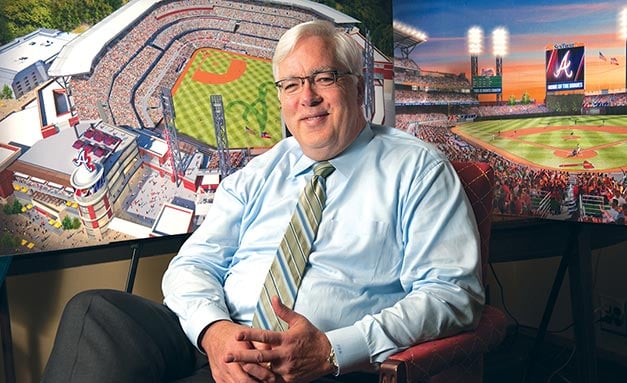 In baseball, power alleys are the areas of the field just to the left and right of center field, so named because it's where balls launched by power hitters go when hit the hardest. In the Metro Atlanta area, many have taken to calling the I-75 corridor through Cobb County the Power Alley.
"Tourism is our No. 1 industry," says Cobb County Commission Chairman Tim Lee. "With the Braves on one end, and on the other end the new development that's going on in Emerson [LakePoint Sporting Community], we find ourselves right smack in the middle of two of the biggest attractions from a travel and tourism perspective."
The Braves – and SunTrust Park, the team's home come April 2017 – may be the focus of most of the sports talk about Cobb, but county leaders say Major League Baseball is just the tip of a tourism juggernaut. In fact, travel a bit north of SunTrust Park and you reach Kennesaw State University (KSU), the epicenter of college football for Cobb, when the Owls begin play in Fifth Third Bank Stadium as part of the NCAA Division I Big South Conference in the fall. Finally, LakePoint Sporting Community & Town Center, just over the Cobb-Bartow line to the north, is making its presence known throughout Cobb.
"We know that [sports is] the fastest-growing niche for tourism in Cobb," says Holly Bass, CEO of Cobb Travel and Tourism. "Last year we launched the Cobb Sports Alliance, which is a part of Cobb Travel and Tourism. We have gotten together all of the sports leaders within Cobb County." The sports brass is working together to enhance sports and to get people to stay in the county for one more night when they come for sporting events.
The Braves should be able to help with that goal. Not only are they building SunTrust Park, they are also creating a $400-million mixed-use development right outside the gates. This 74-acre open-year-round development is expected to draw a crowd that's looking for walkability, restaurants, bars and retail.
"It's giving us something we've never had before," says Brooks Mathis, senior vice president of economic development at the Cobb Chamber of Commerce. "You'll have greenspace, walkable places to live, to eat, to shop, to connect you to the trail system on the river over here at the Chattahoochee."
The new home of the Braves is smack-dab in the middle of the Cumberland Community Improvement District (CID), which is helping fund the deal. "The Cumberland CID is contributing $10 million to the Braves stadium," says Malaika Rivers, executive director of the CID. "Beyond that, the CID has brought $90 million worth of transportation infrastructure to construction over the past three years at a cost of $14 million to area businesses."
Rivers is excited by the increase in interest in the CID area since the Braves announcement. In fact, Greenway Health recently announced it is opening a technology development center within the Cumberland CID that will employ 150. And that's not the only activity. "The Braves announcement has certainly spurred a lot of interest and activity, particularly in the residential and retail sectors," she says. "In 2012, there were four commercial properties sold. In 2013 there were 12, and by November of 2014 there were 18. Across the board, the average sale price now commands a 70 percent premium over the tax assessor's value compared to a 25 percent premium in 2013."
Good feelings about the Braves are spreading across the county, where their impact is being felt in many ways. In South Cobb, County Commissioner Lisa Cupid says, "I cannot be more pleased with the working relationship that I've had with the Braves organization. We had a meeting here in the district where different businesses throughout Metro Atlanta or the state could come and find out about different subcontracting opportunities with the Braves on the construction of the stadium. We had over 300 people attend. It went so well that they're planning on doing it again."
In terms of numbers, however, the big news is LakePoint Sporting Community, a 1,400-acre, mixed-use development that will feature venues for more than 40 sports and 5 million square feet of hotels, restaurants, shops, office space and other entertainment options. LakePoint opened in grand fashion this past summer with a six-week youth baseball tournament that filled 55,000 hotel-room nights in neighboring Cobb County during that one tournament alone.
"Just multiply out the economic development benefits of that much hotel-motel tax, and that's around $500,000," says Earl Ehrhart, CEO of LakePoint. And that's just the beginning.
Starting in 2015, LakePoint will be the home of United States Basketball Association championships, which will bring some 500 boys and girls youth basketball teams – and their families – to the area. The four-day tournament this summer is expected to fill about 35,000 room nights, many of which will go to Cobb hotels, says Bass.
And that's just tourism for sports fans. Those fans bring with them family members who may be more interested in amusement park rides. Cobb's got that covered at Six Flags, the current leading tourism attraction. Six Flags opened a water park – Hurricane Harbor – last summer and extended its season through the holidays this past year with Holiday in the Park. Hurricane Harbor added more than 300 jobs, says Cupid. "Cobb [Travel &] Tourism estimates the overall economic impact of the park to be about $175 million."
More interested in history? Cobb's got that covered, too. "We're really very fortunate as a county to have many assets with historical significance," says Bass. "Kennesaw Mountain National Battlefield Park and the Marietta Square and the Southern Museum of Civil War and Locomotive History – the list goes on. Kennesaw Mountain National Battlefield Park held a three-day event over June 26-29 [recognizing the 150-year anniversary of the Civil War], and there were 23,000 visitors who attended during those three days." In fact, Kennesaw Mountain is the most-visited Civil War national park in the country.
You can take in a play, the opera or the ballet at the Cobb Energy Performing Arts Centre or spend a day in the great outdoors along the Silver Comet Trail or the new Noonday Creek Trail in Kennesaw (see Local Flavor on page 77). All told, tourism has an annual economic impact of $2.1 billion and employs more than 31,000 people in Cobb, says Bass.
---
People Movers
Lest you think it's all fun and games in this northwest metro county, fear not. There is development and redevelopment and a host of infrastructure improvements. One of the most visible projects is the 30 miles of managed lanes construction along I-75 and I-575. These toll lanes will have limited access points and will be for southbound travel in the mornings and northbound travel in the afternoons. Given all of the other activity in Cobb, the work couldn't have come at a better time, says Mathis.
Ehrhart agrees. "The transportation effects of [the managed lanes] are significant to our business model – to be able to move people between here [LakePoint] and Braves stadium. We have a lot of joint marketing arrangements with a lot of different Cobb properties. The key is to be able to move people up and down the corridor all the way to the city of Atlanta."
The managed lanes, which are scheduled to open in 2018, will also be key to moving people to and around Braves games.
Other projects helping move people around include a diverging diamond interchange at I-75 and Windy Hill Road, and the Big Shanty Connector, which moves people from the KSU area under I-75 to the Town Center Mall area.
"We crossed under I-75, which was no small feat," says Mason Zimmerman, Town Center Area Community Improvement District (TCACID) chairman. "And changed the dynamic of the mid-section of our entire CID." Next is the Skip Spann Connector, located just north of the Chastain Road exit on I-75 and scheduled to be completed in April 2016.
These projects were all born out of the simple question, "How do we solve an east-west traffic problem?" Zimmerman says. The next phase of the solution is the South Barrett Reliever, which will close a loop road in the high-traffic Town Center/I-75 area, making it far easier to travel back and forth between East and West Cobb.
An ongoing Special Purpose Local Option Sales Tax (SPLOST), which again passed in the November election, has helped with infrastructure projects around the county and will continue to fund those and other improvements through 2021. In South Cobb, it will triple the amount of money for sidewalks, which, according to Cupid, is the No. 1 concern of people in her booming district.
Workers in South Cobb will soon have another new transportation option – door-to-door bus service, says Cupid. "We've identified three pockets where they don't have the greatest transit ridership numbers but have very high transit need. Those areas were impacted when we had budget cuts a few years ago. We had to cut some of our transit services, and it left some people stranded," Cupid says. Now, for $2.50, people in these three zones will be picked up at their homes and delivered anywhere within the three zones or to a traditional transit stop.
---
Strong Commitments
In Marietta, Cobb's largest city and the county seat, leaders are redeveloping the Franklin Road area – a region of the county once riddled with crime and poverty. Upgrades are coming with funds from a brand-new CID – the Gateway CID – and a commitment from the city in the form of a $68-million redevelopment bond.
"We bought three apartment [complexes]," says Marietta Mayor Steve Tumlin, adding that one is already demolished with two more set to come down. Once demolished, "we're going to have close to 70 acres available for redevelopment."
Officials envision high-quality mixed-use development, including Class-A office space for the revamped Franklin Road. "We'll have seven or eight apartment complexes survive, but I think you'll see them become more appealing to young professionals," Tumlin says. The surviving apartments have also absorbed some of the people displaced by the demolished complexes. "It will be a mixed-use area from the get-go, because there's already a little bit of everything there."
One company that's been there and is staying – though moving to a larger rabbit warren – is Red Hare Brewing Co., which had at one time announced a move to nearby Roswell Road in Marietta. "I was happy they were going to move over to Roswell Road," Tumlin says, "but when they changed their mind, I was more happy, because they've been a good anchor. And they have Marietta on the label, which tickles us. I think this sends a great message to other businesses that this is a viable area."
Ties between Marietta and Kennesaw just up the road got stronger this month when the KSU-Southern Polytechnic State University merger was completed. The combined institution retains the KSU name, with KSU President Dan Papp now in charge of one of the 50 largest public universities in the country. The student population as of Jan. 1 is 32,400, says Ken Harmon, provost and vice president for academic affairs.
"I think [the merger] is going to make both schools stronger," Lee says. "Southern Poly [located in Marietta] will have the resources of KSU, and KSU will have a stronger offering. I think that will be a win for the students within the community."
Just down the road from the newly enlarged school is McCollum Field, which is adding services and technologies designed to increase traffic and support the corporate customers that keep business soaring.
"It's going to be huge for us. There is land available across the street for us to market. There's also hangar space, office and other types of space on-site, with all the upgrades, the tower and customs," says Mathis.
The airport is adding a $2.9-million air traffic control tower – scheduled to open this month – and an $800,000 customs facility, which means international travelers will be able to fly directly into McCollum Field, clearing customs there, rather than having to land somewhere else before continuing to Cobb County – a time-saver for the business travelers who use the facility every day.
"With the new tower and the new customs office, we're going to be able to make [Cobb County] more attractive to international flights coming into town and be able to accommodate our corporate community with their needs for aviation better and more efficiently," Lee says.
There's another airport facility – and so much more – that's keeping county leaders awake at night. When the federal government announced another round of possible military base closings in 2017, Cobb County kicked into high gear in support of Dobbins Air Reserve Base. Lately, Dobbins has been used as the entry point for Ebola patients arriving from West Africa, because it provides both the security and isolation needed to protect the patients as well as the general population.
But Dobbins' commitment and ties to the community go much deeper and include an annual economic impact of $282.9 million. Dobbins, the only military base left in Metro Atlanta, employs 4,500 military and civilian workers and supports the 6,300 Lockheed Martin employees just next door. It's an essential piece in the mosaic of business and industry that makes up Cobb's economy.
"You have this wonderful airport that can accommodate all types of needs. You've got this corporate office space here and manufacturing space," Mathis says. "That's why I think Cobb has been so successful financially for so long. We have a diverse economy, and that's something we've really been able to hold on to."
---
Local Flavor
Walking the line: The Town Center Area Community Improvement District (TCACID) has been focused on infrastructure and quality-of-life improvements in North Cobb County since 1997. The centerpiece of their commitment, Noonday Creek Trail – a seven-mile walking and biking trail from Bells Ferry Road in the Town Center Mall area to Kennesaw Mountain National Battlefield Park – was recently completed. The trail is part of Cobb County's system of well-maintained trails that could one day take walkers and bikers from Cherokee County in the north, west to Paulding County and from there to Alabama.
Mason Zimmerman, chairman of the TCACID, still seems stunned by the reality of the trail. "The idea that we ran a seven-mile trail through an existing regional activity center and plugged it into a national park and connected it to the third largest university in the state of Georgia," he says. "It has already begun to change the dynamic [of this area], and that is just a starting point for us."
The 10-year project was completed in three phases in partnership with Cobb County, the Georgia Department of Transportation and the National Park Service.
"When you walk it, I think you're going to be staggered," Zimmerman says. "Am I really in the shadow of all this retail and hustle and bustle? It's like you're in the North Georgia mountains."
"A fair part of [the trail] follows the creek, which is just beautiful," adds Jennine Duelge, the CID's financial director.
The trail runs through the CID's next quality-of-life project, a park behind Town Center Mall. "This is a 40-acre park that we're going to facilitate," Zimmerman says. "The park breaks into three components. There's a water element; there's a linear park, which the trail goes right through today; and there's a woodlands area. That's our next bold project."
Once again, the CID is partnering on the project, because, as Zimmerman adds, "The cool thing is, we figured out a long time ago nobody can do it alone. It's completely collaborative. And I think to me that's the key." – Karen Kirkpatrick