Caring For Georgia Seniors
Increasing numbers of aging Georgians are shunning the restrictive environment of nursing homes for the relative independence of growing older at home. Do they have what they need to age in place?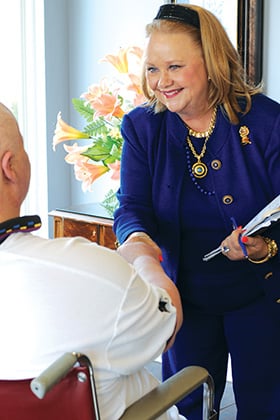 Two decades ago, almost a quarter of Americans who reached the age of 85 could expect to spend the rest of their lives in a skilled nursing facility, or nursing home. Today, even as the number of seniors is increasing, decreasing numbers are spending their final years in the nursing home environment, opting instead to join a trend experts call aging in place.
Aging in place refers to the ability for seniors to live in their own homes, wherever that may be, for as long as they are independent and safe, says Atlanta-based gerontologist and author Alexis Abramson, Ph.D. For many seniors, home is the same place where they raised their children, she says. For others, it may be a smaller house they chose as empty nesters, a family home or adult child's home, seniors' apartment or retirement community.
Regardless of where one calls home, aging in place is most definitely a growing trend, says Abramson. "In fact, research suggests that over 95 percent of people 75 and older say they want to stay in their homes and live independently indefinitely."
---
Why There's No Place Like Home
"People do not want to go into a nursing home," says Martin Miller, founder, president and CEO of the Savannah-based Coastal Home Care Inc., a private home-care provider offering a range of services from simple companionship to skilled nursing. "Although we need good nursing homes and some people reach the stage where a nursing home is what they need, home care is a first choice for everyone."
The ability for seniors to stay in their homes, living as independently as possible for as long as possible, offers benefits for both the individual and society, say experts.
For individuals, the greatest benefit of aging in place is the ability to maintain a degree of control over their lives that is not possible in an institution, says Lynette Bragg, president of the Georgia Association of Community Care Providers, an organization of more than 350 service providers that help people who are elderly and/or functionally impaired to continue to live in the community.
"If it were you, would you rather live in your home or would you rather live in a place where you do not choose what food you eat, you do not choose who your roommate is, you do not choose what time you go to bed and what time you get up?" she asks. "The majority of people are happier if they are in control of their life and as many parts of their lives as they can be."
For society, aging in place offers even greater benefits. "It is much more economical for people to live in the community and receive services in the community than it is for them to live in the nursing home," says Bragg. "When I go into an institution, someone has to pay the electricity, the rent and the insurance for me to be there."
In the majority of cases, that someone is the taxpayer. Nursing homes are paid for almost entirely by public funds. In Georgia, 73 percent of skilled nursing home revenue is from Medicaid, with an average reimbursement of $143 per day – $4,290 monthly.
A person who ages in place, on the other hand, is able to contribute to their community and its economy, says Bragg. Staying at home, if you are able, just makes sense.
It makes so much sense, in fact, that many Georgians who were previously nursing home residents – and in many cases thought they would be for life – have taken advantage of a Medicaid waiver program called Money Follows the Person, which helps integrate nursing home residents back into the community, says Bragg.
The program, which was strengthened and expanded with the Affordable Care Act, covers anywhere from $8,000 to $25,000 of costs such as apartment and utility deposits and furnishing a home, says Bragg. "That cost is a one-time expenditure for the state as opposed to the monthly cost of maintaining the person in a nursing home. The person would then go into a long-term support such as the community care services programs that would help sustain them in the community with the support that they need."
---
Aging In Place
Money Follows the Person is just one of several Medicaid waiver programs that can help Georgia seniors age in place, while saving taxpayers high nursing home costs.
"Medicaid is required by federal law to provide institutional care," says Bragg. "Every state can determine whether they want to waive the institutional requirement and provide services in the community. Georgia has several of those waiver programs where they have said you don't have to go into the institution to get a certain amount of care."
Others pay for recipients to live in assisted living facilities or licensed personal care homes, which are less restrictive and less expensive than nursing homes and in some cases consist of as few as two beds in an individual's home.
A downside of waiver programs is the relatively small percentage of Medicaid patients they cover. Only a fraction of people with disabilities – including the elderly – who could live in the community with community care services receive Medicaid funds to do so, says Bragg. The waiting lists for Georgia's waiver programs are long, consisting of as many as 7,000 people in some cases.
"We've got services and supports for people in the community. They are available, but there is a waiting list for those slots, whereas people can go into a nursing home today without waiting," Bragg says.
Another downside is that the criteria for Medicaid and its waiver programs can sometimes change, says Walter Coffey, president and CEO of LeadingAge Georgia, a statewide association that represents not-for-profit and other mission-driven organizations committed to advancing the vision of healthy, affordable and ethical long-term care for older Georgians. In some cases, people who have had services lose them, creating not only a bind for the older person but a difficult situation and sometimes a moral dilemma for those who care for them.
This problem is particularly troublesome in rural Georgia, where resources may be scarce and many licensed personal care homes are struggling to make it financially, says James Pettis, president-elect of the Assisted Living Association of Georgia (ALAG), a state-wide nonprofit organization for those involved in the management and ownership of assisted living communities, senior communities and homes for the mentally and/or physically disabled.
Pettis, who owns 10 personal care homes, seven of which accept Medicaid waivers, says at least two long-term residents of his facilities are being discharged from the program. One, whom he calls Ms. Jones, is being released from the program after 10 years, because she doesn't have a "specific diagnosis," he says.
With the Medicaid waiver, his facility was reimbursed $35.04 per day for Ms. Jones. Without the waiver, Ms. Jones' only means of payment is her Social Security check totaling less than $700 monthly, not enough to cover the cost of her care, much less to help maintain his facility to standards.
"Now I am forced with the dilemma: What am I going to do with Ms. Jones?" he says. His choice, for now, is to use revenue from his three private-pay facilities to supplement the care of Ms. Jones. But there is a limit to how long and for how many patients he can do this.
"There has to be a grandfathering in," he says. "If you are on the program and have been for 10 years, lucky for you," he says. "If the criteria change, they should change the people applying for services, not for people who have them and have no place else to go."
---
No Time Like The Present
For most Georgians, however, the picture is not as bleak. Not surprisingly, those who have financial resources or access to community resources are those most likely to successfully age in place, says Abramson.
For those people, there has never been a better time to live independently. A wide range of services, products and technological advances make it possible for seniors to stay safe and active wherever they are or prefer to be. These include:
Accessible housing/universal design. Universal design is the creation of environments and products that are meant to be used by all people to the greatest extent possible without the need for adaption or specialization, says Abramson. Essentially, it's about building or modifying places and spaces – both public and private – to accommodate people of all ages and abilities.
"Builders are thinking about aging in place and building a house that is meant for a lifetime," says Bragg. "For example, a house with a no-step en-trance is perfect for a young mother with kids in strollers or perfect if you are playing football and break your leg. As you start getting older and think 'I can't do stairs,' you don't have to think about moving out of your house.
"Accessible stores, businesses and government buildings, as well as designated handicapped parking spaces, make it easier to age in place because we can still get around and be sociable and take part in the community," says Bragg.
Home modifications. For seniors who find themselves in a home that is inaccessible, sometimes even simple changes can make a difference. Modifications such as ramps to replace or complement front porch steps, door locks that rely on numerical codes or fingerprint recognition instead of fumbling with a key for entry, raised toilet seats and step-in showers can all make your home safer and more accessible, says Abramson.
Seniors who need home modifications may seek help from a number of sources. For example, Medicare Part B will often pay the cost of an occupational therapist to assess the home and make recommendations and in some cases may pay for medically necessary modifications prescribed by a doctor or bathroom modifications and walk-in tubs.
Veterans may receive assistance with home modifications through grants and other programs from the VA. The national non-profit organization Rebuilding Together offers home modification assistance to veterans through its Heroes at Home Program. Rebuilding Together has affiliates in Atlanta, Fort Valley, Gwinnett County, Savannah, Warner Robins and Waycross.
Home health agencies. Home health agencies provide a wide range of services – including injections, wound care, intravenous nutrition therapy and disease monitoring – for seniors with medical needs. The cost is often covered at least in part by Medicare. Care is comparable to, yet usually less expensive, than that received in a nursing facility.
Home care agencies. Unlike home health agencies, home care agencies may help with medical issues when necessary but are primarily available for help with tasks such as toileting, ambulating, meal preparation, assistance with eating and oral care, says Coastal Home Care's Miller. Except in cases where medical care is needed, help is provided by nursing assistants.
The cost, though considerably less than that provided by home health agencies, is not covered by Medicare. The majority of services are paid by clients out of pocket or by long-term care plans. In some cases, a certain number of hours daily or weekly are covered by Medicaid waiver programs.
Home delivery services. For today's seniors – or virtually anyone – getting a prescription, household items, a week's worth of groceries or a hot, prepared mid-day meal need not mean leaving the house, says Abramson.
Larger cities tend to have more services. For example, last September, Whole Foods Market and Instacart, a one-hour grocery delivery service, announced a partnership that enables customers to have Whole Foods products delivered in as little as one hour in 15 major U.S. cities, including Atlanta. In Athens and Watkinsville, a local service called Doorway Deliveries delivers groceries from the customer's favorite store within a 15-mile area for a small fee.
For seniors in small towns and rural areas without local delivery, mail order and online services can provide home delivery of medications, food, household items and even pet supplies, says Abramson.
Community services. Through its network of 12 Area Agencies on Aging, Georgia offers an array of non-Medicaid home and community-based services to help seniors remain in their homes, says Abramson. The services vary depending on the part of the state where the seniors live and the funding available and may include adult daycare, home modifications and repairs, home-delivered meals or congregate meals (group meals served in a senior center), chore services, respite care for caregivers of the elderly and personal care assistance.
These services are open to all Georgia residents age 60 and older regardless of income or assets. People who are interested in these services can inquire about them through their local Area Agency on Aging.
Technology. Perhaps the greatest boon for seniors wanting to age in place is advances in technology that make it possible for them to stay connected and safe even when they are alone.
For example, seniors are the fastest-growing group of users of social media, particularly Facebook, says Abramson. Social sites allow seniors to meet new people in a virtual environment and keep up with activities of friends and family. With Skype, a senior can have face-to-face meetings with loved ones, even if their family is scattered geographically, she says.
With modern medical alert devices, also known as personal emergency response system devices, seniors are never far from help whether they are at home or out and about. Traditionally these devices have consisted of a pendant worn on the senior's wrist or around the neck and a receiver that works with one's landline.
The devices were first marketed in the 1980s as a way for seniors to call for help when they are unable to reach the phone. Many of the newer devices work with cell phones. Some have features such as GPS tracking in case a senior needs help away from home and must be located quickly and fall-detection capacity that summons help for a senior who has fallen, even if the fall has left him or her unconscious or disoriented and unable to call for help.
Some of latest systems feature technology that can detect unusual activity in the home – a shower left on or a fridge that goes unopened for a day, for example – and alerts a caregiver, Abramson says. Other systems use information from wireless sensors placed around the home to track a senior's activity and alert a caregiver when there is a disruption from the norm.
---
Understanding The Options
With all the options available to today's seniors, going to a nursing home is not a given.
Oftentimes when seniors do go to nursing homes, it's because their families don't understand their options or grow weary of dealing with the red tape involved in getting services, says Coffey. "Trying to navigate the system is getting more and more confusing."
The Center for Positive Aging, an Atlanta-based nonprofit that connects seniors and their families to services they need, hopes to make the process a little easier and help seniors understand the services available to them through a series of new materials to be posted on the organization's website, www.centerforpositiveaging.org.
The information will break down every part of the aging services network, says Coffey. For home care, for example, it will answer questions regarding what home care is, typical services for a home care agency, how to know if you are eligible and payment options.
For a person seeking a retirement community with only a Social Security check, the materials will provide information on HUD-subsidized communities, including the eligibility and payment requirements to live in one.
The center already has materials for its members who work directly with seniors seeking services, Coffey says. It plans to offer training to ministers of congregations that have older adult ministries to help them identify and gain access to services that are appropriate for them.
Services such as those of the Center for Positive Aging will make it possible for even more seniors to age in place, says Abramson. "Certainly many seniors will require nursing home care, and nursing homes will be available for those who need them; but for most people, nursing homes will not be the only option or best option," she says. "Increasingly, the home where they spend their final years will be their own home or a home that they choose, a home where they are comfortable, have a sense of control and can maintain their independence for as long as possible."