Art Of The Meal: Seabear Oyster Bar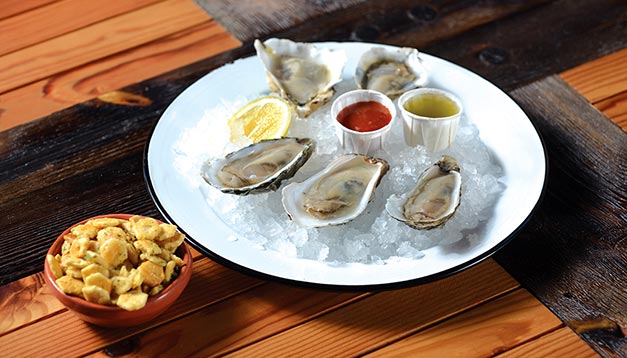 Seabear Oyster Bar
297 Prince Ave., in the Bottleworks, Athens
706.850.4367 or www.seabearoysterbar.com
Hours: 3 p.m.-midnight daily
Parking: Free in Bottleworks lot (access on Meigs Street)
Dress Code: Super casual
---
Think of Athens' Seabear Oyster Bar as The National 2.0. The co-owner of both restaurants and chef at The National, Peter Dale, slowly carved a solid niche for his first downtown restaurant by offering offbeat, updated Mediterranean dishes, often in small plates (hummus with sumac and flatbread; Medjool dates stuffed with Manchego and celery; seared octopus; and always, interesting and plentiful vegetables) combined with hardworking practicality. Serving both lunch and dinner, The National stays open all afternoon for light snacks and drinks and offers a "movie night" special with Cine, the art house next door.
Its other co-owner, local luminary Hugh Acheson, informs The National's intensely personal and inventive overall style. You're likely to find a cross-section of Athens' successful creatives trading ideas and presentations, often over the Power Lunch, The National's vibrant, eclectic and always delicious vegetable plate (recently including curried cauliflower fritters with harissa; split, roasted okra; basmati rice and green lentil salad; and pomegranate and blueberries in basil syrup, among other colorful components).
At Seabear (where Dale is co-owner and The National alum Patrick Stubbers is co-owner and executive chef), some of this philosophy, and a few of the dishes, arrive intact. But Seabear Oyster Bar is both more casual and more mature. Just as people evolve into more intense versions of themselves as they age, Dale's second restaurant epitomizes his approach to what a restaurant experience should be: both comfortable and adventurous. Opening daily at 3 p.m. and staying open till midnight, Seabear's tiny plates, craft cocktails and interesting list of beer and wines invite you to hang out, have a bite and hang out some more.
The site, a smallish, rehabbed former Coca-Cola bottling plant in the Bottleworks, is attractive and airy, with big windows that open in warm weather and small rustic tables that can be pushed together for big groups. Seabear's focus, as the name suggests, is oysters – like some of the most exciting new restaurants in the state (Kimball House, and before that, the Optimist), and for that matter, the country, such as Eventide Oyster Co., in Portland, Maine.
Open since July, Seabear is still finding its sea legs as well as its audience – on several pleasant visits, the fare was hit-and-miss, but the hits were home runs and the misses just short of the mark. The menu changes based on what's in season, and the staff here is incredibly helpful, polite and knowledgeable about everything from the oysters (from creamy East Beach Blondes to gutsy Maine Belons, depending on supply) to the beers (a long list of interesting brews) to the drinks.
Let's start with the out-of-the-park slammers: The Negroni slushy, a tiny sip of the famously bitter cocktail made more approachable both with a bit of extra orange and its party-down freeziness, perfect for Georgia's wiltingly hot evenings. (Dale says the restaurant may switch to a different cocktail in cold weather, but we wonder if his customers will let him.)
It's fantastic with the oysters, served with cocktail sauce or house-made cilantro-jalapeño mignonette. Even the oyster crackers, dusted with ranch and dill, are delectable. If they're offered, grab the Oysters Rockefeller, a light version that's more spinach and bacon than cheese, or the salt-dotted Parker House rolls, a yeasty treat from Seabear's bread supplier, Athens' Independent Baking Co.
Despite Seabear's focus on proteins (as you might expect at an oyster bar), the vegetables can be stellar, such as the green bean salad, a Jackson Pollock composition of yellow and green wax beans with a smear of crème fraîche, trout roe and light horseradish vinaigrette. The crispy scallion pancake is conveniently hand-held, perfect for face-stuffing – covered with rock crab, spicy mayo, radish and microgreens. Crisp, cool, hot, chewy.
From there, oddly, the seafood small plates occasionally disappoint, while other proteins shine. The mini-lobster roll, with its little bird's nest of fries, for example, is fine – but it's a too-polite version, over-mayonaised and boring. Clam chowder is similarly fussy and rich, lacking clarity. Eagerly awaited fried clam strips ranged from OK to unforgivingly overcooked and rubbery. The shrimp cocktail was also perfectly acceptable, with large, beautiful gulf shrimp and a straightforward cocktail sauce – it's also what you should be able to find in almost any good seafood restaurant.
But man, that Japanese-style fried chicken leg? Gimme, gimme, gimme. Dusted with peanuts and chives, with a little garnish of vinegary napa slaw, it could almost stand upright as a little exclamation point. Ditto the beer-braised Beeler's bratwurst, with sauerkraut, mustard and greens – great with one of Seabear's Belgian-style ales. Rich key lime pie, a custard-mousse combo and dense flourless chocolate torte are fine meal-enders, but if you've done this right, you won't need them.
I haven't mentioned so many other great treasures on Seabear's list of cocktails, beers and wines (also including absinthe service) – if you wanted a drink or two and a small bite, I could think of no better casual environment and interesting beverage selection than what is offered here. Even in a deep dive of Athens' abundant offerings of great food and drink, Seabear is a pearl.
---
Speaking of new Athens hangouts …
Sister Louisa's Church, a satellite (or "chapel") of Atlanta's popular dive bar, has only been open a few weeks at press time but already seems cozily at home. Packed with Pee-Wee Herman dolls, disco lights and unprintable slogans, it's attracting a diverse following – a nice relief from the often-cliquey self-segregation in this college town's downtown bars. Drinks are simple (no craft cocktails here) and food is limited to Goldfish crackers. 254 W. Clayton St., Athens. 706.850.3668.