100 Most Influential Georgians
2015 Georgia's Power List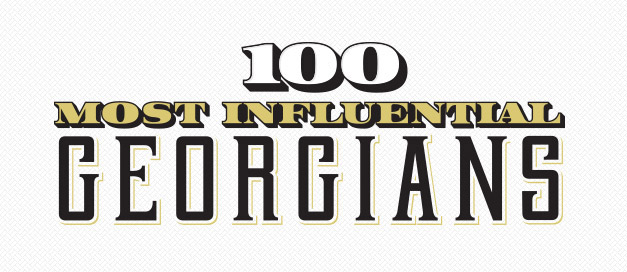 Georgia Trend's 2015 list of 100 Most Influential Georgians includes, as always, some new names and some old ones, as leadership changes and recent achievements combine with resignations, retirements, course corrections and shifts in power to shake the list up.
Selecting the 100 most influential citizens is pretty much a year-round process for the editorial staff at Georgia Trend, but the task begins in earnest in the summer when we meet to compare notes and make suggestions for our initial working list, which always comes in considerably over 100. That prompts more meetings, discussions, consultations and debates to produce the final list – subject to late-in-the-year hirings, firings and changes in status, of course – that we believe reflects the realities of leadership, power and influence in Georgia.
Some of the 100 wield their influence in the limelight; others work behind the scenes. But all of them impact the daily lives of Georgians everywhere.
You'll also find a list of more than 80 Notables on page 48 – Georgians who are making an impact in the state or have made an impression on the Georgia Trend staff this year.
The individual profiles were written by Anna Bentley, Ellen Berman, Lori Johnston, Karen Kirkpatrick, Elizabeth Schwartz, David Shivers, Christy Simo, Karen Snyder and Lindsay Thomas Jr. – The Editors
---
Stacey Abrams
Minority Leader
Georgia House of Representatives
Atlanta
Age: 41
Abrams, a Democrat, was first elected in 2006. She is the first African-American minority leader and the first woman to lead either party in the Georgia legislature. In 2014, she launched the New Georgia Project to drive voter registration among minorities, adding more than 85,000 names to Georgia's voter rolls in time for election day. – LT
---
J. David Allen
Founding Chairman
Georgia Natural Resources Foundation
Atlanta
Age: 69
A retired dentist turned healthcare consultant, Allen helped establish the nonprofit foundation in 2010 to support the preservation of Georgia's natural and cultural resources through projects, activities and programs of the Georgia Department of Natural Resources. Its first grant was awarded in 2012, keeping Georgia Outdoors on-air into its 20th season and beyond. – KS
---
Russell Allen
President and CEO
Georgia BIO
Atlanta
Allen is helping make Georgia a leading state for the biotechnology, pharmaceutical, health informatics and medical device sectors. Already 433 bioscience companies call Georgia home. Founded in 1989, the nonprofit brings together universities, research institutions and others working to improve people's health and well-being. Allen also leads the group's newly formed Healthcare Angel Network, which helps match investors with bioscience startups. – CS
---
Dan Amos
Chairman and CEO
Aflac Inc.
Columbus
Age: 63
A leader in corporate citizenship – the company and its employees passed $87 million in donations to the Aflac Cancer Center in 2013 – and often listed among best places to work, the Amos-led insurance company boasts annual revenues of more than $25 billion. Declines in sales last year led Amos to restructure and focus on business models better suited for today's economy. – KS
---
Brian Anderson
President and CEO
Greater Dalton Chamber of Commerce
Dalton
Age: 50
Anderson, president and CEO of the Greater Dalton Chamber of Commerce, understands that developing strong leaders helps build strong communities. The chamber's initiatives like Leadership Dalton-Whitfield and the Emerging Leaders Institute aim to develop the next generation of Dalton's leaders to continue to strengthen the region's economy. – AB
---
Richard Anderson
CEO
Delta Air Lines
Atlanta
Age: 59
As a result of Anderson's bold leadership of Delta since 2007, the airline was named the 2014 Airline of the Year by Air Transport World magazine and was named to Fortune magazine's top 50 Most Admired Companies. Barron's magazine tapped him as one of the World's Best CEOs in 2014, and Anderson was also among Fortune's 2013 Top People in Business. – EB
---
William S. Arnett
Founder and Chairman Emeritus
Souls Grown Deep Foundation
Atlanta
Age: 75
Born in Columbus, Bill Arnett founded the Souls Grown Deep Foundation in 2010 to preserve and document African-American art from the Deep South. The organization recently donated 57 works to the Metropolitan Museum of Art in New York, including pieces by Thornton Dial, Lonnie Holley and 20 Gee's Bend quilts – the first for the Met's collection. – CS
---
Ricardo Azziz
President
Georgia Regents University
Augusta
Age: 56
A renowned medical researcher and healthcare and higher education executive, Azziz is founding president of Georgia Regents University. In 2014, Azziz presided over the grand opening of the J. Harold Harrison, M.D. Education Commons, which is central to the university's efforts to address the statewide shortage of physicians and dentists. He also serves as CEO of Georgia Regents Health System. – EB
---
Mark Becker
President
Georgia State University
Atlanta
Age: 56
From possibly turning Turner Field into a football stadium to helping more low-income students complete college, Becker is seeking to expand Georgia State's presence and prominence. Under his tenure as GSU's seventh president, the 100-year-old urban university's graduation rate has increased by 10 percent. GSU, with more than 32,000 students, already is a national leader in graduating students from diverse backgrounds. – LJ
---
Vance Bell
Chairman and CEO
Shaw Industries Group Inc.
Dalton
Age: 64
Founded in 1946, Shaw Industries is the world's largest carpet manufacturer. CEO since 2006, Bell oversees the full-service flooring company with $4.8 billion in sales and 23,000 employees – 15,000 of them in Georgia. Expect those numbers to grow – Shaw is expanding its reclamation and recycling program with a new $17-million Evergreen facility in Ringgold, part of its efforts to keep end-of-use carpet out of landfills. – CS
---
Charlie Bethel
State Senator, District 54
Dalton
Age: 40
First elected in 2010, Bethel ran last November unopposed. A Republican, he represents his hometown of Dalton, Murray and Whitfield counties, and parts of Gordon and Pickens counties. During the 2013-2014 session, Bethel served as the governor's administration floor leader. He co-chairs the High School Athletics Overview Committee that will review operations of Georgia's high school athletic association. – CS
---
Gary Black
Commissioner
Georgia Department of Agriculture
Commerce
Age: 56
Gary Black's tenure as agriculture commissioner has been marked by increased trade partnerships, improved management of state farmers markets, reduced paperwork and a reintroduction of Georgia Grown, the department's marketing and economic development program. Georgia Grown Farmers Showcase events have attracted nearly 3,000 shoppers and businesses.  – ES
---
Arthur Blank
Philanthropist
Owner Atlanta Falcons
Atlanta
Age: 72
Blank has made an undeniable mark on Atlanta in business, professional sports and philanthropy. He owns the Atlanta Falcons and is bringing Major League Soccer to the Georgia Dome in 2017, when the Atlanta Falcons take roost in their new stadium. In addition, he chairs the Arthur M. Blank Family Foundation that works to improve the lives of young people. – AB
---
Paul Bowers
President, Chairman and CEO
Georgia Power
Atlanta
Age: 58
Bowers leads the state's utility giant as it works to finish the Plant Vogtle expansion, which is expected to be completed by 2018. In 2014, the company solidified its investment in alternative energy with its Georgia Power Advanced Solar Initiative. Bowers is the 2015 chair-elect of the Georgia Chamber of Commerce and vice chair of the Georgia Department of Economic Development. – EB
---
Robert Brown
President and CEO
RL Brown & Associates
Decatur
Brown and his facilities design firm have left their mark all over Georgia and the Southeast, including the Ray Charles Performing Arts Center at Morehouse and the Birmingham Civil Rights Institute. A proponent of civic leadership, Brown serves on several boards, including the Metro Atlanta and Georgia chambers. He also serves as chair of the Georgia Department of Transportation's Statewide Transportation Planning/Strategic Planning Committee. – CS
---
Carol Burrell
President and CEO
Northeast Georgia Health System
Gainesville
Age: 58
As president and CEO of the Northeast Georgia Health System, Burrell handles the tricky business of responding to dramatic changes in healthcare while maintaining quality and efficiency of care. She also leads efforts to expand care in northeast Georgia: In 2013, NGHS opened an out-patient/specialist center in Dawsonville, and a 100-bed hospital in Braselton is scheduled to open this spring. – AB
---
Mark Butler
Commissioner of Labor
Atlanta
Age: 44
Re-elected in November, Butler is committed to reshaping the agency's operations through strategic alliances and community relationships. In 2014, Butler developed a program that streamlines the recruiting process for newly located businesses. The agency's GeorgiaBEST program, certifying high school students as work-ready, has been so popular that it was expanded to include middle school students. – EB
---
Casey Cagle
Lieutenant Governor
Chestnut Mountain
Age: 48
Recently re-elected to his third term as lieutenant governor, Cagle was the state's first Republican to hold the position when he was initially elected in 2006. Education has been an important issue for Cagle throughout his terms, reflected in his Charter System Initiative and Georgia College and Career Academy Network. – AB
---
Chris Carr
Commissioner
Georgia Department of Economic Development
Dunwoody
Age: 42
As commissioner of the Georgia Department of Economic Development, Carr plays a vital role in the development and continued growth of the state's businesses, international trade and tourism, and arts, film and music industries. His work has helped Georgia stay the nation's top state for business, according to CNBC and Site Selection magazine. – AB
---
Michael D. Casey
Chairman and CEO
Carter's Inc.
Atlanta
Age: 54
Since joining Carter's in 1993, Casey has helped make the company the largest U.S. branded marketer of apparel for babies and young children. Carter's delivered $2.6 billion in sales in 2013, its 25th consecutive year of growth, while achieving record earnings. The company is focused on extending its reach both domestically and internationally as it celebrates its 150th anniversary in 2015. – EB
---
C. Michael Cassidy
President and CEO
Georgia Research Alliance
Atlanta
Age: 61
The Georgia Research Alliance is a nonprofit that brings together academia, business and government to strengthen the state's research capabilities, commercialize scientific discoveries and launch new businesses. Cassidy has been its president and CEO for more than a decade. Since the organization's founding 25 years ago, it has helped launch more than 150 businesses and create more than 6,000 jobs statewide. – AB
---
Chris Clark
President and CEO
Georgia Chamber of Commerce
Peachtree City
Age: 44
Appointed president and CEO of the Georgia Chamber of Commerce in 2010, Clark focuses on developing international trade, strengthening partnerships with chambers throughout  the state and forging a strong, clear path forward for Georgia businesses. He serves on several boards related to growing Georgia's economy, including the Georgia Department of Economic Development and the Technical College System of Georgia. – AB
---
David Connell
President and CEO
Cobb Chamber of Commerce
Marietta
Age: 63
Connell leads the seventh largest chamber in the Southeastern United States, serving some 5,400 members and 2,500 businesses. In 2013, he launched Competitive EDGE, a five-year regional growth initiative aimed at highlighting the county's natural strengths. Prior to joining the chamber in 2010, he served as a region executive for Georgia Power. – KS
---
Shan Cooper
Vice President and General Manager
Lockheed Martin
Marietta
Age: 46
Recently honored with the 2014 Woman of Distinction Award from Cobb Executive Women, Shan Cooper has been a key leader at Lockheed Martin since joining the company in 2002. Now vice president and general manager, she leads the Marietta assembly plant – and its 6,300 employees – through uncertain military funding and demand. – AB
---
Gretchen Corbin
Commissioner
Georgia Department of Community Affairs
Rome
Age: 43
Corbin has been nominated by Gov. Nathan Deal to be commissioner of the Technical College System of Georgia. She will assume office this month. She has served as commissioner of the Department of Community affairs since 2013, working across the state to promote and implement economic development and safe, affordable housing. – ES
---
Cathy Cox
President
Young Harris College
Young Harris
Age: 56
A House representative and two-time secretary of state in her former political life, Cox has helped transform Young Harris from a sleepy two-year school to a booming college with more than 20 four-year degrees since becoming its president in 2007. In the past five years, Young Harris has designed and constructed three student-housing complexes and a student center to LEED standards. – AB
---
Deron Davis
Executive Director
The Nature Conservancy in Georgia
Atlanta
Age: 46
During his first year at the helm, Davis and others collaborated to open the 10,800-acre Chattahoochee Fall Line Wildlife Management Area and longleaf pine restoration area. He is also part of the negotiations with neighbor states over water through the Apalachicola-Chattahoochee-Flint Stakeholders and the U.S. Army Corps of Engineers Savannah River Basin Study. – KS
---
Nathan Deal
Governor of Georgia
Demorest
Age: 72
Deal's focus on business during his first term led to Georgia being named the No. 1 state in which to do business for the past two years by several organizations. "If it ain't broke, don't fix it" will likely be the motto for his second term, as he continues to advance policies to enhance the state's business-friendly reputation. – KK
---
Terry England
Chairman, Appropriations Committee
Georgia House of Representatives
Auburn
Age: 48
England, a farmer and agribusinessman, was elected to the House of Representatives in 2004. In addition to chairing Appropriations, he serves on five other committees including Ways & Means. A Republican, England was one of only four legislators honored in 2014 with a Legislative Service Award from the ACCG "for working with county governments for the benefit of Georgia's citizens." – LT
---
Tom Fanning
Chairman, President and CEO
Southern Co.
Sandy Springs
Age: 57
Fanning was named chairman, president and CEO in 2010, after working for Southern Co. for more than three decades across a spectrum of subsidiaries and divisions. He is leading the company to produce electricity for 4.4 million customers in four states via an array of resources, including nuclear, coal gasification, solar and wood biomass. – DS
---
Larry Flynn
President
Gulfstream Aerospace Corp.
Savannah
Age: 62
Flynn is in the pilot's seat for the aircraft maker, as Gulfstream continues to expand. He also is a vice president of General Dynamics Corp., Gulfstream's parent company. Flynn, who joined the company in 1995, previously was responsible for the company's worldwide sales. Gulfstream, which employs nearly 10,000 people along the coast, received Gov. Nathan Deal's 2014 Georgia Large Manufacturer of the Year Award. – LJ
---
Curtis Foltz
Executive Director
Georgia Ports Authority
Savannah
Age: 54
Foltz administers a $280-million annual budget and oversees all activity of the deepwater ports of Savannah and Brunswick, as well as inland terminal operations in Bainbridge and Columbus. Foltz has aggressively pursued the Savannah Harbor Expansion Project, and his efforts paid off when President Obama signed into law the Water Resources Reform and Development Act in 2014, which authorized the project. – KS
---
John T. Fox
President and CEO
Emory Healthcare
Atlanta
This year, Emory Healthcare stepped into the national spotlight when it became the first U.S. hospital to successfully treat patients with Ebola, and Fox credits his heroic staff for the achievement. The seven hospitals, three physician groups and more than 200 Emory Clinics statewide comprise the state's largest and most comprehensive healthcare system. Fox is also chair of the Georgia Hospital Association. – LJ
---
Larry Gellerstedt III
President and CEO
Cousins Properties
Atlanta
Age: 58
Gellerstedt heads the 56-year-old Real Estate Investment Trust, which manages a 17-million-square-foot office and mixed-use portfolio across the Sunbelt. In 2014, Cousins acquired Fifth Third Center, a 698,000-square-foot office tower in Charlotte, for about $215 million and Atlanta's NorthPark Town Center for about $348 million. Cousins' properties define Atlanta's skyline, including Terminus, Promenade and 191 Peachtree Tower. – LJ
---
Keith Golden
Commissioner
Georgia Department of Transportation
Atlanta
Age: 51
Golden was officially named GDOT commissioner in March 2012 after serving in an interim position since 2011. Georgia has the nation's 10th largest highway system, and major projects under his watch include the revamped Georgia 400/I-85 interchange, a $21.4- million project that opened in 2014, along with the upcoming I-75 managed lanes and Georgia 400/I-285 projects. – LJ
---
Todd Groce
President and CEO
Georgia Historical Society
Savannah
Age: 53
Groce has been described as one of the country's leading public history executives. During his tenure, the operating budget has increased from $200,000 to $3 million, the endowment has grown from $1 million to $8 million, and membership tripled from 2,000 to 6,000. The society has also revived the Georgia Trustees, the highest honor the state can confer. – DS
---
P. Russell Hardin
President
Robert W. Woodruff Foundation Inc.
Atlanta
Age: 57
As president of six philanthropic funds, Hardin's job is to be a good steward of assets exceeding $3 billion and supporting a wide range of charitable activity, primarily in Georgia. In 2013, the Woodruff Foundation awarded grants totaling $155.8 million. Hardin also serves as a director of SunTrust Bank – Atlanta Region; Gwinnett Industries Inc.; and the Commerce Club in Atlanta. – EB
---
Douglas Hooker
Executive Director
Atlanta Regional Commission
Atlanta
Age: 60
Hooker's commission is charged with regional planning and intergovernmental coordination of transportation, community development, land use, water and natural resources, aging services and workforce development for the 10-county, 70-city Atlanta region, home to 4.3 million people. In 2014, the ARC reported increased population in the region of 52,700, the biggest increase since the Great Recession. – KS
---
Donna W. Hyland
President and CEO
Children's Healthcare of Atlanta
Atlanta
Age: 54
Inducted in 2014 into Junior Achievement's prestigious JA Atlanta Business Hall of Fame, Hyland manages one of the nation's largest and best pediatric healthcare systems, with 8,400 employees and some 6,500 volunteers at three hospitals, serving the needs of nearly 350,000 children. CHOA is annually ranked among the best places to work. – KS
---
Tim Hynes
President
Clayton State University
Morrow
Age: 65
Tim Hynes leads this south Metro Atlanta institution of approximately 7,000 students as it concludes a five-year strategic plan. Last year he was named recipient of the inaugural Gene Hatfield Annual Service Award, presented by Clayton State's College of Arts and Sciences, for securing $20 million in state funding for a new science building. – DS
---
Johnny Isakson
U.S. Senator
Marietta
Age: 70
The moderate Republican is now Georgia's senior senator in the GOP-controlled Congress. Isakson was re-elected to the Senate in 2010. He serves on the Senate's committees on finance; health, education, labor and pensions; veteran's affairs; and ethics. The Northside Realty founder began his public service career in the Georgia legislature in 1974. – LJ
---
Edna Branch Jackson
Mayor
City of Savannah
Age: 70
Inducted into the 2014 National Black College Alumni Hall of Fame, Jackson, in 2011, became the first African-American woman elected mayor of Savannah. Prior to that, she served three terms as alderman at large on the city council. A participant in the Civil Rights movement, she first joined the NAACP Youth Council in Savannah at age nine. – KS
---
Ronald Jackson
Commissioner
Technical College System of Georgia
Atlanta
Age: 66
Jackson, who is retiring this month, has led the TCSG – with its $1.2-billion annual impact on Georgia – since 2006. The agency is responsible not only for Georgia's state technical colleges, it is also the home of Quick Start, a workforce training program often cited by heavy-hitters moving to the state as an important reason for choosing Georgia. – LT
---
Reynold Jennings
President and CEO
WellStar Health System
Marietta
Age: 67
Since joining WellStar in 2011, Jennings has embarked on an expansion program of Georgia's largest not-for-profit health system. WellStar opened the WellStar Pediatric Center and WellStar East Cobb Health Park and launched Mayo Clinic Care Network, which offers consultations with Mayo Clinic. Working Mother magazine named WellStar in the top 10 on its 2014 100 Best Companies list. – EB
---
Robert S. Jepson Jr.
Chairman and CEO
Jepson Associates Inc.
Savannah
Age: 72
Jepson completed his second term as chairman of the board of the Georgia Ports Authority in 2014, having guided the agency through the crucial proposed deepening of the Savannah port and phase one of construction. Savannah's container traffic grew by 13 percent in the third quarter shortly after the deepening project was secured, making it the fastest-growing Atlantic port. – LT
---
Henry C. "Hank"
Johnson Jr.
U.S. Representative, District 4
Lithonia
Age: 60
Hank Johnson has been the U.S. Representative for Georgia's 4th Congressional District since 2007 and serves on the House Armed Services and Judiciary committees. On behalf of veterans, he has supported legislation to address post-traumatic stress disorder and soldier suicides and maintain veteran education benefits. Johnson previously served as a DeKalb County magistrate judge and commissioner. – ES
---
Robert Johnston
President and CEO
MEAG Power
Atlanta
Age: 62
Johnston has more than 33 years of electric utility industry experience and is using it to ensure MEAG remains one of the top 15 public power supply companies in terms of megawatt sales. He  serves on the boards of the Large Public Power Council, the Energy Authority, the Georgia Chamber of Commerce and Colectric Partners Inc. – EB
---
Jan Jones
Speaker Pro Tempore
Georgia House of Representatives
Milton
Age: 56
Jan Jones was re-elected Speaker Pro-Tem by the House Republican Caucus. The full House will vote on her election Jan. 12. She represents District 47, which covers Northwest Fulton. Her goals include keeping taxes low, cutting spending and enhancing the state's job growth. She has authored a number of bills designed to improve the state's education system.  – ES
---
Dan Kaufman
President and CEO
Gwinnett Chamber
Lawrenceville
Age: 67
Since July 2013, Kaufman has headed one of the largest suburban chambers of commerce in the nation, serving as an advocate for a more competitive economy and an enhanced quality of life. Kaufman was founding president of Georgia Gwinnett College, the first new public four-year college in Georgia in more than 100 years. – KS
---
Brooks Keel
President
Georgia Southern University
Statesboro
Age: 58
Keel became the 12th president of Statesboro's Georgia Southern University in 2010. Under his leadership, the university has won awards recognizing its "best buy" value for education, especially in online degree programs. Its football program is also making big strides; the team moved to the Sun Belt Conference this year and will be bowl eligible in 2015. – AB
---
Brian Kemp
Secretary of State
Georgia
Athens
Age: 51
In his four years serving as secretary of state, Kemp has focused his efforts on protecting the security and fidelity of the state's elections, respecting taxpayers through fiscally conservative principles and supporting small businesses. With his recent re-election, Kemp can continue his efforts to improve the transparency and efficiency of his office. – AB
---
Muhtar Kent
Chairman and CEO
The Coca-Cola Company
Atlanta
Age: 62
Kent leads a homegrown soft-drink mega-corporation that reaped more than $46 billion in annual revenue in 2013. Kent is active on the world stage as chairman of the International Business Council of the World Economic Forum. He also serves closer to home on the boards of Emory University, Special Olympics International, Ronald McDonald House Charities and Catalyst. – EB
---
Ross King
Executive Director
ACCG
Fayetteville
Age: 56
King has worked for ACCG since 1987 and was named executive director in 2010. The 100-year-old nonprofit launched its "You Are Why We're Here" communications campaign in 2014, which includes a professionally designed website, communications toolkit and other support designed to help Georgia's 159 counties engage citizens and educate them about county services. – LT
---
Tim Lee
Chairman
Cobb County Board of Commissioners
Marietta
Age: 57
Lee has been busy this past year overseeing Cobb County's agreement with the Atlanta Braves to fund $300 million of the total $672 million in construction costs for SunTrust Park, the baseball franchise's new home starting in 2017. The Cobb Chamber of Commerce named him Citizen of the Year for 2014. – DS
---
Craig Lesser
Managing Partner
The Pendleton Group
Sandy Springs
Age: 63
As managing partner at the Pendleton Group, Lesser uses his business connections amassed from more than 20 years of experience developing Georgia's economy and international reputation to help business and local governments grow. He also serves on the board of directors for Georgia Public Broadcasting and the World Trade Center of Atlanta. – AB
---
Dennis P. Lockhart
President and CEO
Federal Reserve Bank of Atlanta
Atlanta
Age: 67
Lockhart, who took office in 2007, is responsible for the Atlanta Fed's activities, including monetary policy, bank supervision and regulation, and payment services. In addition, he serves on the Federal Reserve's chief monetary policy body, the Federal Open Market Committee; serves as a director of the Metro Atlanta Chamber; and chairs the Midtown Alliance and World Affairs Council. – KS
---
Kyle Marrero
President
University of West Georgia
Carrollton
Age: 51
Since joining UWG in 2013, Marrero has led the university in the development and implementation of a new strategic plan, the implementation of its first leadership development program and an expansion of student-business partnerships. The former chief fundraiser at the University of West Florida has also presided over record enrollment and fundraising during his 18 months. – KK
---
Lauren "Bubba" McDonald Jr.
Georgia Public Service Commissioner
Clarkesville
Age: 76
McDonald, a Republican, was re-elected to the state's utility commission this past November. The former state representative was first appointed to the PSC by Gov. Zell Miller. He is a member of the National Association of Regulatory Utility Commissioners' Electric Committee and Nuclear Subcommittee and has been an advocate for increasing the development of solar energy in Georgia. – LJ
---
John Meadows
State Representative, District 5
Calhoun
Age: 70
John Meadows has represented District 5 in the Georgia House since 2005 and currently serves as chair of the Rules Committee. His tenure in the Statehouse follows years of government service as mayor of Calhoun and a member of the Calhoun City Council. The U.S. Marine Corps veteran also served as vice president of life and health for the Starr-Mathews Agency. – ES
---
Hala Moddelmog
President and CEO
Metro Atlanta Chamber of Commerce
Atlanta
Age: 58
Hala Moddelmog became the first female president and CEO of the Metro Atlanta chamber in January 2014 following a career in leadership roles in the corporate and nonprofit sectors. In her first year, she and the chamber continued implementing a new strategic plan and waded into politics when the chamber came out and prevailed against the Preservation of Religious Freedom Act.  – ES
---
Jere W. Morehead
President
University of Georgia
Athens
Age: 58
Since taking on the position of lead dawg in 2013, Jere Morehead has returned UGA to a top 20 ranking in U.S. News & World Report for public research universities. The university also moved up to 10 in Kiplinger's ranking of best values in public education. In addition, UGA also experienced a record fundraising year, with almost 57,000 contributors donating $126.4 million. – ES
---
Paul Morris
President and CEO
Atlanta BeltLine Inc.
Atlanta
Age: 54
Morris was tapped in 2013 to manage Atlanta BeltLine Inc., a nonprofit, multi-billion-dollar sustainable development initiative. The Atlanta BeltLine was recently recognized by the International Real Estate Federation as the world's best rehabilitation project and received the Environmental Protection Agency's highest honor. An award-winning urban and community planner and consultant, Morris has been involved in developments around the world. – EB
---
Jeff Mullis
State Senator, District 53
Chickamauga
Age: 55
Jeff Mullis currently serves as chairman of the Senate Rules Committee, chairman of the Economic Development Subcommittee of Senate Appropriations and is a member of the Banking and Financial Institutions, Economic Development and Appropriations Committees. He also chairs the Senate Music Committee and the Halls of Fame Joint Committee. He's been a proponent of legislation to improve schools and our economy.  – ES
---
Charlotte Nash
Chairman
Gwinnett County Board of Commissioners
Dacula
Age: 61
Nash retired from a 27-year career with Gwinnett County government in 2004 before becoming chairman of its Board of Commissioners by special election in 2011. In 2014, she served as first vice president of ACCG, an organization for Georgia's county governments, and assumed the role of president this year. – AB
---
Lamar Norton
Executive Director
Georgia Municipal Association
Atlanta
Age: 68
Norton guides GMA as its 521 municipal government members face challenges, from financial to the impact of the state's new gun law. Norton is former director of governmental relations for GMA, which provides lobbying, training and technical consulting services to government officials. – LJ
---
Sam Olens
State Attorney General
Marietta
Age: 57
Elected in 2010 and just re-elected in November for a second term, Olens spent his first four years in office strengthening ethics rules for state officials and penalties for open-records act violations by local governments. He put special focus on curbing sex trafficking, especially involving children, and helped secure Georgia's rights to use lakes Lanier and Allatoona for water supply in the ongoing tri-state water dispute. – LT
---
Larry O'Neal
Majority Leader
Georgia House of Representatives
Bonaire
Age: 65
Rep. O'Neal, a tax lawyer and pro-business accountant, has held the majority leader position since 2010. In his role, he has been involved in major legislation including the ethics bill passed by the Georgia legislature in 2013. He was first elected to the House of Representatives in 2001. He serves on the advisory board of directors of CB&T Bank of Middle Georgia. – LJ
---
Dan Papp
President
Kennesaw State University
Marietta
Age: 67
Dan Papp's responsibilities at KSU grew by the thousands when KSU merged with Southern Polytechnic State University this month, putting him in charge of one of the 50 largest public universities in the country with more than 32,000 students. KSU continues to rank among the nation's top degree producers of minority students. – KS
---
Keith Parker
General Manager and CEO
MARTA
Atlanta
Age: 48
Parker leads MARTA as it embarks on what's being described as the first major expansion for Atlanta's public transit in 40 years. In November, Clayton County voters approved bringing MARTA service to the area, which will expand MARTA outside of its core counties and add jobs. Parker joined MARTA – the ninth largest transit system in the nation – in 2012. – LJ
---
David Perdue
U.S. Senator
St. Simons
Age: 65
The state's new junior senator, David Perdue, a Republican, ran on a business platform, touting his experience as CEO of such mega-corporations as Reebok and Dollar General. His goals include reducing the national debt and repealing the Affordable Care Act. He has also pledged to limit himself to two terms in office. His family ties didn't hurt his ambitions. He's a cousin of former Georgia Gov. Sonny Perdue. – KK
---
G.P. "Bud" Peterson
President
Georgia Institute of Technology
Atlanta
Age: 62
Bud Peterson oversees a top-10 public research university with more than 21,500 students and research expenditures of more than $730 million. A distinguished scientist himself, Peterson served through 2014 on the National Science Board, which oversees the National Science Foundation and advises the president and Congress on national policy related to science research and education. – ES
---
Michael Polk
President and CEO
Newell Rubbermaid
Atlanta
Age: 54
Polk took the job at the marketer of consumer and commercial products in July 2011. With his reputation as a global innovator and leader with a proven record of growing brands, driving change and delivering superior financial performance, he's transforming Newell Rubbermaid, which had sales of $5.7 billion in 2013, into a bigger, faster-growing, global and more profitable company. – EB
---
David Ralston
Speaker of the House
Blue Ridge
Age: 60
A Majority Caucus nominee who first became speaker in 2010, Ralston is expected to be voted speaker once again when the General Assembly opens this month. Ralston has called for changes to the state's forfeiture law to increase accountability. He was elected to the Georgia Senate in 1992 and served until 1998; in 2002 he was elected to the Georgia House, representing District 7. – KS
---
Kasim Reed
Mayor
City of Atlanta
Age: 45
Now in his second term, Reed has weathered Atlanta's "Snow Jam," dealt with the city's sports franchises, cut spending and increased the number of Atlanta police officers and other services. Reed is a former member of the Georgia General Assembly and chairman of the Regional Transit Committee of the Atlanta Regional Commission. – LJ
---
Robert Reichert
Mayor
Macon-Bibb County
Age: 66
Reichert handily won the 2007 mayoral election with 96 percent of the vote. In 2013, he became the first mayor of the consolidated Macon-Bibb County government. Bibb County and Macon were the first U.S. localities to become part of AARP's Network of Age-Friendly Communities, an affiliate of the World Health Organization's Age-Friendly Cities and Communities Program. – EB
---
A.J. Robinson
President
Central Atlanta Progress and Atlanta Downtown Improvement District
Atlanta
Age: 59
As president of Central Atlanta Progress and the Atlanta Downtown Improvement District, Robinson plays an integral role in developing an evolving, thriving downtown. And he's been busy: In 2014, the National Center for Civil and Human Rights and the College Football Hall of Fame opened, offering visitors and residents two more downtown destinations. – AB
---
Earl V. Rogers
President and CEO
Georgia Hospital Association
Atlanta
Age: 61
Under Rogers' leadership, GHA member hospital Emory Healthcare was commended in 2014 for its role in the Ebola situation. But his GHA hospitals continue to face a challenging future. Georgia has refused to expand Medicaid while federal payments have been sharply cut with full implementation of the Affordable Care Act.  – KS
---
William H. Rogers Jr.
Chairman and CEO
SunTrust Banks
Atlanta
Age: 56
Rogers heads one of the country's largest financial institutions with $180 billion in total assets and 26,000 employees. He advocates company philanthropy and volunteerism and champions financial education to enable every person to better control their finances. He is a trustee of the Woodruff Arts Center and served as 2014 chairman of the board of the Atlanta Committee for Progress. – DS
---
Ninfa Saunders
President and CEO
Navicent Health
Macon
Age: 62
Saunders leads the charge for this health system comprising 830 beds for medical, surgical, rehabilitation and hospice purposes. An executive co-founder of Stratus Healthcare, a collaborative partnership of hospitals, she has more than 40 years of hospital administrative experience. Saunders was named the 2014 CEO of the Year by the Georgia Alliance for Community Hospitals. – KS
---
David Shafer
President Pro Tempore
Georgia Senate
Duluth
Age: 49
Shafer was first elected to represent the 48th Senate District in 2002. In January 2013, fellow senators elected him president pro tem. In that role, Shafer has worked to ensure shorter legislative sessions that operate smoothly and cost taxpayers less money. He also serves as vice chair of the Senate Insurance and Labor Committee. – KS
---
Beth Shiroishi
President
AT&T Georgia
Atlanta
Age: 39
Shiroishi was named president of AT&T Georgia in December 2014 following a 15-year career with the company. She works to bring new technology and a reliable infrastructure to communities across the state and previously served as president of the AT&T Foundation, which has given more than $350 million to help underserved youth succeed in education. – AB
---
Page Siplon
Executive Director
Georgia Centers of Innovation
Savannah
Age: 40
As executive director of this arm of the Georgia Department of Economic Development, Siplon leads the center's six strategic industry teams: aerospace, agriculture, energy technology, IT, logistics and manufacturing. He also serves as executive director of the logistics team, which hosts the annual Georgia Logistics Summit. In 2014, the summit hosted 2,300 attendees from 38 states and 11 nations. – EB
---
Lynn Smith
State Representative, District 70
Newnan
Age: 69
Rep. Smith is an environmental champion, serving as chairman of the House Natural Resources and Environment Committee. She authored the successful brownfields program legislation, which offers tax incentives and liability protection for those who clean up environmentally damaged land. Smith, who was first elected to the Georgia House of Representatives in 1996, is known statewide and nationally for helping develop Georgia's water plan. – LJ
---
John W. Somerhalder II
Chairman, President and CEO
AGL Resources Inc.
Atlanta
Age: 59
Somerhalder heads one of the nation's largest distributors of natural gas, serving about 4.5 million customers in seven states. The industry is surging due to the increased production of natural gas from shale formations. AGL also has retail operations, wholesale services, midstream operations and cargo shipping. He also serves as chairman of the board of the Atlanta BeltLine. – LJ
---
Miguel Southwell
General Manager
Hartsfield-Jackson Atlanta International Airport
Atlanta
In leading Georgia's largest employer and the world's busiest airport, Southwell, who accepted the role in 2014, may well be one of the world's busiest managers. He is charged with rolling out the airport's new master plan that will guide development through 2030. He is also leading the expansion of the $500-million concessions program. – EB
---
Jeff Sprecher
Chairman and CEO
Intercontinental Exchange
Chairman
New York Stock Exchange
Age: 59
Jeff Sprecher oversees Intercontinental's strategic direction, operations and financial performance. In 1997, he purchased Continental Power Exchange (CPEX), the predecessor to Intercontinental Exchange, with the vision of building and operating a transparent electronic energy trading platform. In 2013, he purchased the New York Stock Exchange, significantly raising his own stock in the process. – ES
---
Kessel D. Stelling Jr.
Chairman and CEO
Synovus
Columbus
Age: 57
Stelling guides the second-largest banking company based in Georgia as it experiences loan and income growth. While profitability continues, the banking environment remains challenging, with regulations, competition and customers demanding more online and mobile banking options. Stelling, who joined Synovus in 2006, was named president and CEO in 2010 and chairman in 2011. – LJ
---
Jimmy Tallent
President and CEO
United Community Banks Inc.
Blairsville
Age: 62
Jimmy Tallent has been president of United Community Banks, a $7.5-billion bank holding company, since 1984, adding the CEO title in 1989. UCB has 28 community banks across Georgia, North Carolina, South Carolina and Tennessee. He also serves as a trustee of  Young Harris College and is on the boards of the Georgia Chamber and Georgia Power.  – ES
---
Lee Thomas
Deputy Commissioner
Georgia Film, Music & Digital Entertainment Office
Georgia Department of Economic Development
Atlanta
Age: 49
The state's celebrity status is increasing due to Thomas' efforts. In fiscal year 2014, 158 feature film and TV productions generated an economic impact of $5.1 billion. Blockbusters – and blockbusters-to-be – including Marvel's Ant Man and Mockingjay, plus TV hit The Walking Dead have been filmed here. All 159 counties are now Camera Ready, which means they have liaisons who can provide local expertise and support to visiting production companies. – LJ
---
Hugh P. Thompson
Chief Justice
Georgia Supreme Court
Milledgeville
Age: 71
Appointed to the Georgia Supreme Court by Gov. Zell Miller in 1994 and sworn in as chief justice in 2013, Thompson previously served as a superior court judge in the eight-county Ocmulgee Judicial Circuit. He has a long-standing career in Georgia's justice system, including service as president of the statewide Council of Superior Court Judges. – ES
---
Michael Thurmond
Superintendent
DeKalb County School District
Athens
Age: 60
The former commissioner of labor inherited a mess when he took over leadership of the third-largest school system in Georgia (100,000 students, 14,000 employees and a $1.2-billion dollar budget). He stabilized the troubled district, built a $30-million surplus, improved student achievement and increased graduation rates. Along the way, he has enhanced his reputation as a leader and public education advocate. – EB
---
Teresa Tomlinson
Mayor
City of Columbus
Age: 49
Tomlinson's success at improving services while saving tax dollars made her the first Columbus mayor since 1971 to be re-elected in a contested race when she earned a second term in 2014. She leads Georgia's second-largest city (Columbus recently passed Augusta for that distinction) and now has her eye on a high-speed rail connection to Atlanta and a 10-year plan to end homelessness in her city, among other projects. – LT
---
Steve "Thunder" Tumlin
Mayor
City of Marietta
Age: 67
First elected in 2010, Tumlin is serving his second term as mayor of Marietta, the fourth largest city in the Atlanta metropolitan area with more than 59,000 residents. Part of his focus the past few years as mayor has been the revitalization of the Franklin Road area funded in part by a $68-million redevelopment bond. Tumlin's a former member of the Georgia House of Representatives, a CPA and attorney. – LT
---
William D. Underwood
President
Mercer University
Macon
Age: 58
Underwood's leadership has propelled the institution's growth in enrollment (up 20 percent), research/doctoral status and athletics. (The football program joined the Southern Conference in 2014.) He and Mercer have been vital partners in the revitalization of the College Hill Corridor, just outside Mercer's gates, which has won international honors. Underwood was named the Greater Macon Chamber of Commerce 2013 Citizen of the Year. – DS
---
T. Rogers Wade
Executive Director
Governor's Defense Initiative
Sandy Springs
Age: 73
With more than 40 years' experience in Georgia business and politics, Wade was appointed in 2012 to lead Gov. Nathan Deal's initiative to drive economic development in the communities surrounding Georgia's military bases. Wade is also chairman of the board of the Georgia Public Policy Foundation, where he formerly served as president. – LT
---
James W. Wagner
President
Emory University
Atlanta
Age: 61
Wagner continues to advocate for the value of a liberal arts education, while working to build strong collaborations in the community and with crosstown university Georgia Tech. Wagner serves on the boards of  The Carter Center, the Georgia Research Alliance, SunTrust Bank, the Metro Atlanta Chamber of Commerce and as vice-chair of the Presidential Commission for the Study of Bioethical Issues. – ES
---
Joel Wernick
President and CEO
Phoebe Putney Health System
Albany
Age: 60
Wernick has led Phoebe Putney, an organization with a $1.2-billion annual economic impact on the Southwest Georgia region that sustains more than 9,400 jobs, for more than 25 years. During his tenure, he has seen incredible physical growth of the medical center's campus amid challenges including an increasing number of uninsured patients and continued cuts in Medicare and Medicaid payments. – ES
---
Philip A. Wilheit Sr.
President and CEO
Wilheit Packaging
Gainesville
Age: 70
Wilheit, who has helped guide Gov. Nathan Deal's political career for more than 30 years, again carried Deal over the gubernatorial finish line in 2014. He also served as chairman of the University System of Georgia Board of Regents last year and has served on the board of the Georgia Department of Economic Development and the Commission for a New Georgia. – KK
---
Robert Wright
Bishop
Episcopal Diocese of Atlanta
Atlanta
Age: 50
The Right Rev. Wright was elected bishop in 2012, the first African-American Episcopal bishop in Georgia. In 2014, Wright waded into the gun debate, urging the defeat and then the veto of HB 60, the concealed carry law. When the law passed, he issued a policy banning guns in Episcopal Churches in the Atlanta diocese. Wright has also supported the church's blessing of same-sex relationships. – KK
---
Sally Quillian Yates
U.S. Attorney
Northern District of Georgia
Atlanta
Age: 54
Yates and her staff prosecute federal crimes like the case of Estonian cyber-criminal Sergei Tsurikov, who hacked an Atlanta-based credit card processor, stealing $9 million in 12 hours. Tsurikov was recently sentenced to 11 years in prison. Yates became the first woman to serve as U.S. attorney for the Northern District of Georgia when she was appointed in 2010. – LT
Click here to see a list of our 2015 Notable Georgians