Georgia Writers Inducted into Hall of Fame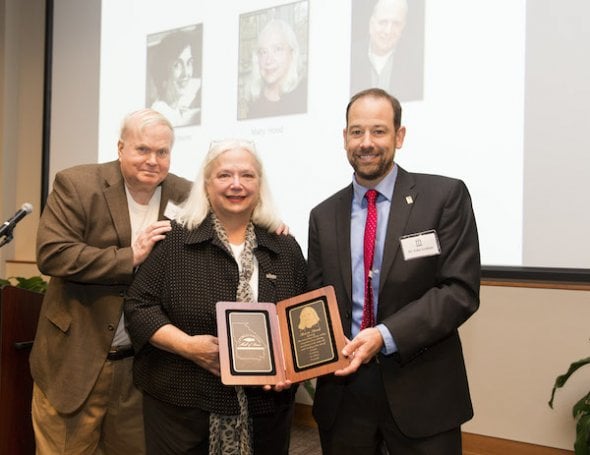 ​The Georgia Writers Hall of Fame hosted induction events and a ceremony in early November to honor 2014 inductees Olive Anne Burns, Mary Hood and Alfred Uhry. The hall of fame, housed at the University of Georgia, inducts writers – both living and posthumously – who are either native Georgians or have produced a significant work while in the state or about Georgia.
Highlights of this year's events included a staged reading of Uhry's play The Last Night of Ballyhoo and a program featuring Hood and Uhry.
Following the ceremony, the judges sequestered themselves to select the inductees for next year. The 2015 Georgia Writers Hall of Fame inductees are Taylor Branch, Janisse Ray, Paul Hemphill (husband of Editor at Large Susan Percy) and Vereen Bell.
Branch is best known for his trilogy about Martin Luther King Jr., including the Pulitzer Prize-winning first in the series, Parting the Waters: America in the King Years, 1954-63, which was published in 1988. Branch was also the recipient of the John D. and Catherine T. MacArthur Fellowship – better known as a Genius Grant – in 1991.
Ray, a writer and naturalist from South Georgia, is the author of five books of literary nonfiction and a collection of poetry. Her first book, Ecology of a Cracker Childhood, is a memoir about growing up in a junkyard and a plea to protect and restore the pine forests of the South. The book was a New York Times Notable Book in 2000 and won the Southern Book Critics Circle Award for nonfiction that same year.
Bell, who was killed in 1944 in World War II, wrote Swamp Water, set in the Okefenokee Swamp. The book was made into a movie in 1941 and again in 1952, when it was renamed Lure of the Wilderness.
Hemphill, who passed away in 2009, began his writing career as a journalist in the 1960s. In 1970, he published his first book, The Nashville Sounds: Bright Lights and Country Music, "generally regarded as one of the best books on country music ever written," according to The New York Times. Country music, sports and the South were themes throughout his career, which included The Heart of the Game, about a Durham Bulls player; Lovesick Blues, a biography of Hank Williams; and A Tiger Walk Through History, about Auburn University football. Lovesick Blues along with his book, Leaving Birmingham were named to the Georgia Center for the Book's lists of the 25 Books All Georgians Should Read.
To learn more about the Georgia Writers Hall of Fame and the 2014 inductees, see Georgia Trend's November feature "Creative State."

2014 Hall of Fame inductee Alfred Uhry
– Karen Kirkpatrick
​Photo credit: Andrew Davis Tucker, UGA Photographic Services