Up In The Air
Georgia's aerospace industry is soaring with new companies and established leaders rising to new heights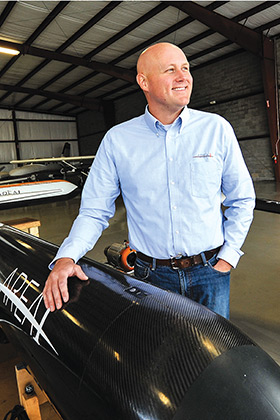 From Phoenix Air, a Cartersville company with flying emergency rooms that deliver Ebola patients to life-saving treatment in the United States, to a variety of companies working on unmanned aircraft systems (UAS – also known as UAV, unmanned aerial vehicles, but never called drones by those in the biz), a growing crop of Georgia businesses are on the cutting edge of the aerospace industry.
They're building on a $51-billion behemoth that includes the world's busiest passenger airport, home to Delta's maintenance, repair and overhaul (MRO) – the largest such operation in North America; airplane manufacturer Lockheed Martin, with 6,000 employees in Marietta; Gulfstream Aerospace, with 10,000 workers who keep the economy flying along the coast; and Robins Air Force Base with 13,000 civilian workers – on top of the thousands of military personnel – supporting Middle Georgia.
"Georgia is a very solid aerospace state. But if you look at what we call aerospace, in reality, we're a very strong aeronautics state," says Robert Braun, professor in the Daniel Guggenheim School of Aerospace Engineering at Georgia Tech. "We're probably one of the top five states in the country on the aeronautics side."
That means we're big into airplanes (aeronautics) and still growing our space-related sector (aerospace), though the term aerospace often refers to the industry as a whole.
In fact, according to Steve Justice, director of the Georgia Center of Innovation for Aerospace, a division of the Georgia Department of Economic Development, we are ranked No. 3 or 4 among the states in several measures of the industry. "We're ranked No. 4 among U.S. states in aircraft/spacecraft and No. 3 among U.S. states in engine parts exports," Justice says. "We're in the top three or four states in the country in terms of international aerospace exports. We're ranked in the top three or four states in MRO as well, in terms of employment.
"Our aerospace industry is composed of three main sectors: aerospace manufacturing – building the products; air operations/transportation – operating the vehicles that we build; and sustainment or MRO. That's critical, because a lot of times people focus just on the manufacturing part; but if you think about aircraft, when you pay $150 to $200 million for an airliner, that's a big capital asset for an airline. You have to operate it for 20 or 25 years to get that money back. So most of the revenue stream in aerospace is really in the operation and the maintenance side of the house."
This diverse industry includes companies like Thrush Aircraft, which builds agricultural aircraft in Albany, and Maule Air, which constructs general aviation aircraft in Moultrie.
"Then we have a large number of companies that build components and parts for aircraft," Justice says. "In fact, that's probably the dominant part of our manufacturing here. Triumph, in Milledgeville, builds what we call aero-structures – components, wings, fuselages – for Boeing, for Airbus, for Lockheed, for all these companies.
"The other piece of it is aircraft engines. We have a large number of companies building components and parts for aircraft engines: Pratt & Whitney in Columbus, PCC Airfoils in Douglas, Firth Rixson in Liberty County near Savannah [which was recently purchased by Alcoa]."
Much of our strength lies in international exports of aerospace products. "For 2013, we had roughly $7.8 billion in exports of aerospace products," Justice says. "That's 25 percent of Georgia's international exports."
But that's only part of what keeps our economy flying, he says. "We also have a very strong military component. We have Warner Robins Air Logistics Complex (WR-ALC), in Warner Robins, Ga. It's one of three ALCs for the United States Air Force that do the heavy maintenance and sustainment of the whole United States Air Force fleet."
All of this adds up to more than 85,000 aerospace employees at 500 companies in Georgia.
---
Learning to Fly
According to aviation economists at Golden, Col.-based Flightpath Economics, there is a looming, worldwide pilot shortage. Regional airlines, those affiliated with large commercial carriers and flying smaller jets often into smaller towns around the U.S., will be most affected as the airlines hire regional pilots away – at substantially higher salaries. This is a problem that will have real consequences across the globe as people find it harder, more expensive and less convenient to move themselves – and goods – around in the air.
One school, Middle Georgia State College (MGSC), is helping address this coming shortage – and educating air traffic controllers and maintenance workers as well – at the School of Aviation in Eastman. The current class has 250 students in the flight program.
"The primary program that we have is flight, which is training individuals to learn to fly and then go out in the industry," says the dean of the School of Aviation, Ed Steigerwald. "We've had very great success placing pretty much every graduate that is seeking an airline career. It's almost 100 percent placement rate."
While the pilot shortage stems from a number of factors, the School of Aviation is able to help address a couple of the problems, including a new requirement by the FAA. "It now requires that pilots, if you would like to fly for an airline – a commercial carrier – you have to have an airline transport pilot's certificate (ATP)," Steigerwald says. "That requires individuals to have 1,500 hours of flight time. In the past, with a commercial certificate it was only 250 [hours], so it's a significant difference."
The FAA allows students from some schools, such as MGSC's School of Aviation, to be exempt from the ruling. "We're one of the schools in the country that has approval for students to apply for the ATP with only 1,000 hours."
Either way, it's an expensive endeavor for students to train to be a pilot – adding to the shortage. "The average cost when the student's completed a four-year degree, including all the flight training, it's going to be about $80,000," Steigerwald says. That's at MGSC, which, he adds, is one of the less expense programs in the country.
The college is also one of only two in the country that operate an FAA air traffic control tower.
In addition, says Steigerwald, "We have a maintenance and structures program, where we teach students how to fix not only the aircraft itself – the sheet metal and parts that make up the airplane – but also the mechanical parts, the engines and the components that make the airplane fly."
The college has had success placing air traffic controllers with the FAA, and maintenance and structures students at Robins Air Force Base and with Georgia companies including TIMCO, Parker Aerospace and even Blue Bird – the bus company.
The school's presence in Eastman has also had an impact on the economy of that area, where a small cluster of aerospace companies are popping up around the campus, which is on the grounds of Heart of Georgia Regional Airport – also home to the Georgia Center of Innovation for Aerospace.
---
The Final Frontier
The center does more than coordinate the state's economic development activities in the aerospace industry. "We're working very closely with Georgia Tech," Justice says. Tech has the largest aerospace engineering school in the country.
"The space side of aerospace engineering is really booming from an R&D perspective and from a commerce perspective," Braun says. "We rely on space for an awful lot of things. If you have GPS on your phone, then you need spacecraft. If you're getting your weather from The Weather Channel, you need spacecraft. If you're doing command and control of the military in places around the world, a lot of that is done via spacecraft.
"There's a large and growing market for commercial services in space, and like most markets, research and development precedes that market. A lot of the R&D that we're doing at Georgia Tech today is aligned with growing either the societal benefits or the national security benefits or, frankly, the economic security benefits of our nation's continued reliance on space assets."
The increasing importance of the space field led to the creation of the Center for Space Technology and Research (C-STAR) at Tech in 2013, with Braun as the director.
"C-STAR is a focal point for all the faculty and students who are doing space-oriented research at Georgia Tech," he says. "It's a way we collaborate and do bigger things than any of us could do individually."
C-STAR already has "a very strong strategic partnership with the Jet Propulsion Laboratory (JPL), NASA's center of excellence for robotic exploration and space science," Braun says. "Maybe a decade ago, we [at Georgia Tech] weren't a significant part of those missions, and today we are. Today we have all kinds of students involved in those missions. We have faculty involved in those missions. Just last year, JPL hired more graduates from Georgia Tech than any other school in the country."
But that was last year. Braun and Tech are constantly looking forward to where the industry is going – and where students and faculty can participate.
"I think smaller, more flexible, more resilient spacecraft is certainly where we're headed," Braun says. "We're getting to the point now where anyone can build a spacecraft. The space program for most of its life has been dominated by agencies, by federal governments – U.S. and Russia predominantly. Spacecraft, as they get smaller and become more flexible, they get easier to manufacture and actually cheaper to build and fly. If you think about it, what has always been a barrier for new ideas, new innovation, new entrants in the space sector has been the barrier to entry – the amount of time it takes, the dollars it takes to launch spacecraft. As that time comes down – and it is coming down dramatically – and as the costs involved come down, I think you're going to see a large range of new services, new products and new technologies that are proven in space."
---
UAVs
New products and technologies are the stuff of daily life at Area-I, the Kennesaw company that develops UAVs and UAV-related technologies. While many of us think of UAVs as looking like little helicopters, Area-I is building fixed-wing aircraft that look like airplanes in order to pre-test new materials and components before testing on actual planes.
"They have a twin-jet powered UAV," Justice says. "It's probably the most sophisticated UAV flying non-militarily right now. They developed this to do advanced aeronautics research for NASA, to test stuff that will some day end up on manned aircraft."
"We deal in two focuses: one is the brains of the aircraft in developing guidance systems, to help them fly smarter, better, safer," says Nick Alley, Area-I's CEO. "Then also in the body of the aircraft."
Fixed-wing aircraft can handle missions that helicopter-type UAVs weren't designed for, Alley says. "Fixed-wing can stay in the air much, much longer than rotary wing can." They can also travel farther, which makes them ideal for atmospheric sampling. "They have UAVs flying in and around hurricanes, [so] they obviously have to fly pretty good distances," he says.
Area-I also works with the Department of Defense (DOD), because, as Alley says, "the farther away you can be from the bad guy the better. The platforms we've developed for the DOD are meant to provide situational awareness, target acquisition and damage assessment from a distance. Obviously it's a lot better if you can get a camera up close, and you can tell if it's a bad guy."
Area-I's latest UAV is PTERA – as in pterodactyl. PTERA is a variant of ptero, the Greek word for wing, but for Area-I, PTERA stands for Prototype-Technology Evaluation Research Aircraft.
"PTERA is a flying laboratory," Alley says. "PTERA's meant to be able to test new technology that might be too high-risk to move on to actual flight test, to provide a near-to-real-life environment for testing those technologies. The way we designed the aircraft was to be fairly reconfigurable, so that you could try out different wings or different tails or different lengths of the fuselage."
Area-I is working on a PTERA aircraft now that is designed to help airlines avoid crashes because of ice on the wings. "It looks almost identical to a regional jet," Alley says. And it will be operated almost like a regional jet as well. A person will sit in a trailer that replicates the cockpit and fly the PTERA remotely.
"He'll take it up, and they'll do stalls, which is when the wings cease to generate enough lift to keep the airplane in the air," he says. "They'll do other types of experiments that are extremely high risk, that you would never do in a manned airplane. You wouldn't risk the airplane; you wouldn't risk the pilots. At present, they just have to depend on wind-tunnel data and computational analysis, which is historically not good at predicting post-stall flight behavior.
"PTERA doesn't exist for itself," Alley adds. "It exists for the experiment. It exists for the technology that it can test."
He and Area-I are just two of the players helping increase Georgia's role in the aerospace industry.
"Georgia is not one of those states that people naturally think of when they think aerospace. We're trying to change that perception," Justice says. "In every measure we're in the top five in aerospace. We have a very large, balanced, very diverse industry. It's not all in one sector. That makes us resistant to some of the downturns and fluctuations of the industry. So, we just want people to know we have this industry. It's big, it's important to the economy of Georgia, and we're doing everything we can to grow it."
---
---
THE C-130 TURNS 60
When the first C-130 Hercules took off in Burbank, Calif., in 1954, no one could have imagined the impact the aircraft would have on the state of Georgia – and around the world – 60 years later.
In the past six decades, Lockheed Martin's C-130 has traveled the globe delivering military troops and supplies to Korea, Vietnam and Afghanistan; provided humanitarian aid to Haiti, New Orleans and Iraq; and used skis to land on the ice while making deliveries in Antarctica and Greenland. And every single one of the nearly 2,500 C-130s that have flown since the 1954 test flights were manufactured in Marietta – and many of those are maintained at Robins Air Force Base outside Macon.
The C-130's hallmark is its versatility. The aircraft has been configured to support more than 100 different mission capabilities, including cargo plane, troop transport, flying hospital, hurricane hunter and Santa's sleigh.
"For the past 60 years, the C-130 has supported missions that no other aircraft could – from airstrips in the Himalayan mountains to landing on an aircraft carrier to providing unparalleled humanitarian support in times of need," says George Shultz, vice president and general manager of the C-130 Programs for Lockheed Martin Aeronautics.
It's hard to estimate the economic impact of the C-130, but the impact of its parent company, Lockheed Martin, on Marietta, Metro Atlanta and the state is huge – and C-130 production is a big piece of it. The company has approximately 6,000 employees at its Marietta facility, with an estimated impact on Georgia of almost $1 billion annually.
The C-130's impact is also felt in Middle Georgia, where the U.S. Air Force fleet of 536 planes is maintained and managed by some 1,500 people at Robins Air Force Base. World-wide fleet management, modifications, avionics and software upgrades, foreign military sales and more have been run out of Robins since the first C-130s entered Air Force inventory in the 1950s.
The C-130's flexibility and ability to take off and land from unprepared surfaces night or day, in hostile environments and all weather make it ideal for a number of military missions, including tactical and intra-theater airlift and airdrop, arctic resupply, aerial refueling, special operations support and firefighting. – Karen Kirkpatrick