Unbroken Circle
The Atlanta BeltLine is the city's – and likely the country's – largest urban redevelopment project. But it's a great deal more.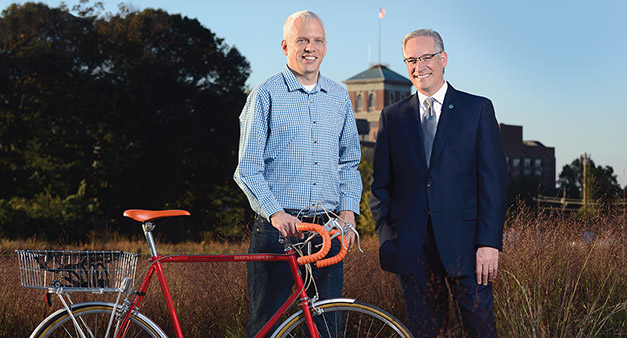 Our guide for the three-hour Atlanta BeltLine bus tour on a crisp autumn morning is an engaging young man named Sundiata Rush who clearly loves his work. He tells us that "smart growth" and "connectivity" define the project that we are about to see – and can't resist adding his own favorite description: "eco-fabulous." He will prove his point again and again as we circle through the 40-plus distinct neighborhoods along the old rail corridors that make up the BeltLine route.
With so much to take in, it's the small sights and scenes that stick in your mind – a mom with her baby in a stroller walking the Eastside Trail near Piedmont Park; a pair of soaring-and-swooping young athletes at the city's only free skateboard park in the Old Fourth Ward; the BeltLine Bike Shop near Adair Park in Southwest Atlanta, where at-risk students learn to repair donated bicycles that are then given to them.
These separate pieces help bring a massive undertaking into focus and make it easier to wrap your head around some impressive goals for the project when it is completed in 2030: 22 miles of rail transit, 33 miles of multi-use trails, 1,300 acres of parks, 5,600 units of affordable housing out of an anticipated 30,000 to 40,000 new units.
There are brownfield remediation, historic preservation and public art components. The project will create 30,000 permanent jobs and 48,000 temporary construction jobs.
The actual cost will be $4.8 billion, but the total projected investment is $30 billion in public and private funds. The nearly 1,300 acres of added parkland will bump the city's greenspace by 40 percent – a significant statistic given that Atlanta was recently ranked 42 out of the 60 largest U.S. cities by the Trust for Public Land's 2014 ParkScore Index.
Atlanta BeltLine Inc. (ABI) President and CEO Paul F. Morris, whose organization is responsible for making all this happen, is quick to cite the urban redevelopment and economic development possibilities. "But most importantly," he says, "the Atlanta BeltLine has become the thing that brings Atlanta together in a way that no other public infrastructure project has been able to."
---
The Vision
Designed as a 25-year effort when it was officially launched in 2005 by the city of Atlanta, the BeltLine is not just a gleam in someone's eye; it is a project well underway.
It's big, it's bold and it's working – in a way that even the man who first came up with the idea to redevelop a 22-mile loop of mostly abandoned railroad tracks never imagined.
Ryan Gravel is now a senior urban designer for the architecture and design firm Perkins + Will and a member of the Atlanta BeltLine Partnership board – the group that handles fundraising and community outreach – but in 1999 he was a Georgia Tech student whose graduate thesis proposed a beltline primarily as a transportation project with some trails to link Atlanta neighborhoods.
"I became fascinated in college by the role of infrastructure in the way we live our lives and build our cities and the economy and culture that creates," Gravel says. "I spent a year abroad in Paris and became enamored of the role of cities' grand boulevards, with the culture and economic development of city."
He came home to Atlanta and went back to Tech to study architecture and city planning. The BeltLine was his thesis, what he calls "the kernel of an idea for redeveloping an old loop of railroad as a way of connecting neighborhoods."
After Tech, Gravel was working with an architectural firm on the Inman Park Village development that backs up to the railroad tracks; he mentioned his idea to colleagues, who urged him to pursue it. He wrote some letters and attracted the attention of then-City Council Member Cathy Woolard, later council president, who was, Gravel recalls, "frustrated with the lack of investment in transit … and she thought it was cool." She is now a community representative to the ABI board.
The two of them embarked on a two-and-a-half year campaign, speaking to community and civic groups to talk up the project, and they built a strong grassroots effort.
Support came from three main groups: community people – including intown activists who had joined forces years before to fight a proposed highway that would have divided their neighborhoods; developers looking to take advantage of the city's population growth; and environmental groups looking for ways to advocate for improved regional policy.
"These were groups that were not used to being around the same table," Gravel says. "They were sitting across from each other, looking at each other a little strangely. It was an amazing time."
Out of those efforts came the Friends of the BeltLine, which eventually became the Atlanta BeltLine Partnership.
With growing momentum, the project developed a life of its own, Gravel says. "We started out with the idea of a 22-mile loop of transit and trails." Then came economic development, housing, public art, parks and public health, as more individuals and groups got behind the effort and added to it, strengthening it in the process.
"The expanding vision made it robust as infrastructure and also durable politically," he says. "The fact that we're doing it, changing people's lives, including my own – is pretty amazing."
Gravel lives on the BeltLine and expects that his elementary-school-age children will eventually ride to high school via BeltLine transit.
---
The Reality
Paul Morris has headed Atlanta BeltLine Inc. since July 2013. His organization handles the nuts and bolts of implementing a project whose scale is beyond grand, guided by the 2030 Strategic Implementation Development Plan.
Funding for the BeltLine includes money from city, state and federal sources as well as private and philanthropic interests. A considerable chunk comes from the BeltLine Tax Allocation District (TAD) created by the city of Atlanta, Fulton County and Atlanta Public Schools, which agreed to direct a portion of their tax revenues to BeltLine development. An $18-million Tiger V grant from the U.S. Department of Transportation will help develop the 2.5-mile Westside Trail from Adair Park to Washington Park.
Morris and his staff say the 2012 opening of the 2.25-mile Eastside Trail, which runs from Piedmont Park past the new Historic Fourth Ward Park into Inman Park, was a light-bulb moment for the city. After hearing about the BeltLine for several years, people could finally see and enjoy a portion of it.
"Even a lot of Atlantans didn't know that railroad corridor was there," says Morris, "or realize it had potential to do something as grand if not greater than the Olympics in terms of impact on the city, [to] create a canvas of sorts for a lot of innovation in arts and historic preservation and, most importantly now, the idea of bringing business back to the city. A lot of cool entrepreneurial startups have decided to make Atlanta their home."
Many of those businesses are attracting the kinds of young workers who love city living and are not interested in long commutes to the suburbs.
Still, the economic development aspect needed a big, splashy "get," and it found one in Ponce City Market, a former Sears facility on Ponce de Leon Avenue that is being redeveloped by Jamestown Properties as a mixed-use project. It was built in 1926 and, at 2.1 million square feet, it's believed to be the largest brick structure in the southeastern United States.
Well underway, the final product will have some 500,000 square feet of office space, 330,000 square feet of retail and restaurant space and 259 housing units at varying price points. Some heavy-hitter business tenants, among them athenahealth, have already signed up, and many of Atlanta's buzziest restaurants have already announced new locations there.
"It's the real tipping point," Morris says. "Putting that into one city block is a signal to the business community that Atlanta has a whole new place for them to locate. It will be the new Peachtree Street of Atlanta, the place businesses want to be."
Ponce City Market is helping ABI achieve two of its fundamental goals – to create jobs and housing. "We were given a specific number we had to hit – 30,000 permanent jobs and 48,000 construction jobs," Morris says. "The city and its supporters required 5,600 units of workforce housing, a quantifiable target we have to meet. Ponce City Market is clearly a key project for the corridor." BeltLine groups have provided some $2 million toward the housing initiative and some improvements to help make the project happen.
Adjacent to Ponce City Market, the Historic Fourth Ward Park is unique in scope and impact for Atlanta, Morris says. "It's the largest project in terms of commitment of multiple private, corporate and philanthropic donors.
"Were it not for the private sector, we probably wouldn't be sitting here. Those private dollars came out of the gate first – a signal to the world that Georgia and Atlanta are really the first to do something this great."
---
The Difference
The BeltLine is often mentioned in the same breath as Manhattan's High Line, the elevated rail line transformed into a 20-block urban walking trail that has New Yorkers giddy with excitement, although Atlanta's project is in fact larger and more comprehensive than the High Line.
It is primarily the housing component that sets the BeltLine apart from other large-scale projects.
James Alexander, ABI housing policy and development manager, says more than 500 housing units have been created around the BeltLine and more are on the way, including affordable workforce units. "The goal is to ensure that people and families of varieties of different incomes are able to continue to live along the BeltLine in 2030 when it's completed, that people who live along it reflect the demographics of the entire city."
Some 15 percent of every bond issued for BeltLine projects is used to help provide affordable housing along the route, he says, in the form of assistance to homebuyers and some incentives for developers.
Jerald Mitchell, ABI economic development director, says the diversity in housing is a significant driver to attract economic development. "The Atlanta BeltLine is the only project I am aware of that intentionally incorporates a workforce housing component as part of the project rather than as an afterthought. That makes it huge."
---
The Breakthrough
Kwanza Hall, District 2 Atlanta City Council member, in whose district the Eastside Trail and Historic Fourth Ward Park are located, was an early BeltLine supporter.
His take on what really gave the project a boost was Gwinnett developer Wayne Mason's 2004 purchase of property on the northeast section near Piedmont Park. It was controversial – some saw Mason as a suburban outsider, an interloper. But Hall says that was a breakthrough.
"It needed to have the lights come on. That was what happened when Wayne Mason bought the property. His acquisition made everybody wake up. It's real. When somebody puts up, everybody shuts up. It changed the tone for people in the city. The mayor [Shirley Franklin] got behind it. People started believing."
Ultimately Mason's proposal to put condo towers near the corner of Monroe Drive and Piedmont Avenue was shot down; neighbors didn't like it at all. He sold the property and pulled out.
"Some say there was a little bit of politics involved," Hall says, "inter-developer politics, turf wars. He [Mason] ended up being able to exit, and the mechanics of a BeltLine became more real and clear to everybody. The market got a little dicey, but his acquisition and speculation put parcels online that put lots of property in play for development. It provided catalytic energy.
"Until the private sector move happened, government was still slow," he adds. "It shows that the private sector really does lead."
Hall is particularly excited about the possibilities for creating jobs and access to jobs for people in parts of Atlanta that badly need them. "It's a game-changer for the community," he says.
Atlanta BeltLine Partnership Inc. Interim Executive Director and Program Director Rob Brawner sees the BeltLine as a force for positive change in quality of life. "It is beloved by the community," he says, "and recognized as the top environmental reclamation project in the world."
His organization, which has the responsibility for raising funds to complete the BeltLine, is in the midst of a $12.5-million capital campaign; much of it will be dedicated to building the Westside Trail, using a mix of funding sources and building a meaningful philanthropic model.
"Over 25 years, we'll have multiple mayors and governors," he says. "It's critical that there's a sense of having to support" the project among corporate and philanthropic donors.
"Some are driven by economic development, like the Woodruff Foundation in Historic Fourth Ward Park. They want to know what are the plans for development, to create a vibrant economic core," he says. Others are interested in greenspace or health issues, like the Cox Foundation or PATH; The Arthur M. Blank Family Foundation is attracted to the transformative things that can happen in the communities.
---
The Model
Many of those who have spent a lot of time thinking about and working on the BeltLine believe much about it can be adapted to other cities in Georgia and throughout the country.
The project has had its share of bumps along the way. There is an ongoing and fairly acrimonious dispute between the city of Atlanta and APS about late payments due to the school system under terms of the TAD agreement. The Great Recession took a toll on tax revenues, and the city is seeking to renegotiate the agreement. At one point, APS was threatening to sue.
A few well-publicized incidents of crime along the Eastside Trail have caused stepped-up security.
Additionally, some critics believe private developers stand to make too much money in the northeast section, and a little less than 30 percent of the BeltLine trail corridor and about 45 percent of the transit corridor have yet to be acquired.
There's a lot of work to be done and a lot of money to be raised, and it will be a challenge to keep citizens' and benefactors' enthusiasm up for another 16 years until it's completed in 2030.
But something that stands out when you listen to BeltLine enthusiasts – whether it's the CEO or the guy who conducts the bus tour – is their consistent belief that this project is a lot more than simply the sum of its transit and economic development and job-creating and housing-generating parts. It has the potential to redefine a city.
Hall sees it as a unifying force, built on the very railroads that once divided the city by race, class and income. "It's an opportunity to bring us together in a very powerful way – like Martin Luther King Jr. and his idea of the beloved community. We'll see a new level of diversity and equality you don't see in cities. It surely steps up our position as a city that can dream big dreams and bring them to fruition, execute them well in a short period of time."
Or, as the Atlanta BeltLine Partnership's Brawner sees it: "It's not just transformational, but inspirational."
---
The BeltLine Lineup
The city of Atlanta owns the BeltLine, but other public, private and philanthropic groups are playing a part in funding and developing the project.
Among them are the Atlanta BeltLine Tax Allocation District (TAD) partners, including the city of Atlanta, Fulton County and Atlanta Public Schools; Invest Atlanta, the city's economic development arm; MARTA; the Georgia Department of Transportation; Atlanta Regional Commission; the U.S. Environmental Protection Agency; and the U.S. Department of Transportation, which has provided an $18-million TIGER V grant.
The PATH Foundation, an early partner, is helping develop the 33 miles of trails and assisting with procuring funding; Trees Atlanta is planting trees along the BeltLine; The Trust for Public Land was instrumental in acquiring some key parcels of land for parks; and Park Pride has provided assistance with greenspaces.
Among the corporate and foundation donors are the Robert W. Woodruff Foundation, The James M. Cox Foundation and The Arthur M. Blank Family Foundation. – Susan Percy
---
Sources: Atlanta BeltLine Inc. and Atlanta BeltLine Partnership