Southwest Georgia: Reloading and Rebranding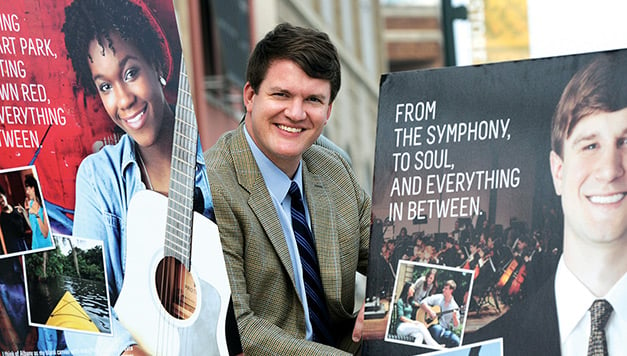 Economic developers in Southwest Georgia, which boasts some of the richest, most biologically diverse ecological systems in the United States, seem to be drinking the same water. Throughout the area, communities of all sizes are undertaking bold new efforts to pitch their stories beyond their borders to attract business, industry and visitors.
Lowndes County, for example, is beginning to tout itself as a "cool community" ripe with opportunities for young people, particularly downtown. The aim: "Keeping more of our college and university graduates in South Georgia," says Myrna Ballard, the Valdosta-Lowndes County Chamber of Commerce president. "Young professionals seek out vibrant downtowns and communities that have a lot of diverse things for people in their age group to do – shopping, restaurants, coffee, nightlife. That's our community – and that's our message."
While many communities have hired out-of-town promotion experts to assist with their efforts, leaders in Dougherty County also are soliciting the aid of tens of thousands of individual marketers – its residents.
The "There's Only One Albany" branding campaign was created in 2014 because local research shows that many residents have a negative community outlook, says Justin Strickland, the Albany-Dougherty County Economic Development Commission president.
The multimedia campaign includes a strong Web and video push along with print and broadcast advertisements, billboards and downtown banners. The venture features familiar faces proudly touting the community as a great place to live, work and play and includes a "Local Heroes" program that encourages people to bring attention to their friends, neighbors and coworkers who lend helping hands and are change agents in the community.
"The best people who can tell the Albany and Dougherty County story are those of us who live here," Strickland says. "The campaign is a reminder to all of us about how much there is to love about Albany and Dougherty County, and that there are lots of reasons to be proud about living here."
Just months into the campaign, Strickland says he thinks the efforts are paying off.
"You can just tell that there's a positive change and a lot of community pride here that we haven't felt in Albany and Dougherty County in a long time," he says.
Strickland's team also is in the early stages of building a regional alliance of partners in Southwest Georgia.
"All of us who do what we do have found that if we cooperate with the people we compete against for projects, we can all benefit in the long run," Strickland says of forming a regional economic development organization, which is in its infancy. "Positioning ourselves [collectively] puts us in a much better competitive position with companies and industries."
Barbara Grogan, the Americus-Sumter County Payroll Development Authority and Chamber of Commerce executive director, says small communities like hers will benefit greatly from the collaboration.
"All of our communities rely on each other for our combined regional workforce, and we don't mind helping each other," she says. "It's a great opportunity, and we're very eager to be a part of it. We look at it as if Southwest Georgia benefits, we all benefit."
In Colquitt County, two big projects are well underway that could benefit the entire region. The county will soon have a new $45-million high school, and the $30-million renovation and expansion at Colquitt Regional Medical Center in Moultrie will offer upgraded services and facilities that will help keep the region healthy.
In neighboring Tift County, American Textile Co. (ATC) is expanding. ATC has operated a bedding products manufacturing and distribution facility since 2011. A recently announced $10-million investment will create more than 100 new jobs over the next three years.
Cook County is exploding with infrastructure investment and new industry, according to Lisa Collins, director of the Cook County Economic Development Commission (EDC). Just this year the EDC has been working with three new companies to bring $70 million in capital investment and 130 jobs when the details are finalized.
The EDC also completed a $1.3-million road improvement project at the South Georgia Megasite, Cook County's 3,000-acre industrial park adjacent to I-75. In addition, the recently completed $5-million-plus airport improvement project features new hangars, a 4,000-foot and a 5,001-foot crosswind runway, 24/7 fuel station and an FAA-approved repair station. The terminal also now houses the EDC office – handy for folks flying in and out for site visits.
---
MOMENTUM SHIFTING
It's only a feeling, but community leaders say the newfound optimism that was pervasive during an October panel discussion on downtown redevelopment was an encouraging – and necessary – step toward progress.
Strickland says Albany Mayor Dorothy Hubbard's positivity, passion for community improvement and her Coalition for Economic Development, which is leaning on the Georgia Department of Community Affairs for help while learning from successful revitalization efforts in Macon and Columbus, are changing attitudes and opinions communitywide.
Among the reasons to be optimistic, Strickland says, is an emerging growth sector: renewable energy.
In September, the Albany-Dougherty Payroll Development Authority approved inducements supporting a Procter & Gamble-led collaboration that is attempting to build a $230-million heat and biomass renewable energy facility by 2017. The facility would process waste products – unused harvested timber, peanut shells, pinecones and other agricultural byproducts – to create energy; leftover ash would be used for fertilizer in agribusiness.
"The partnership on steroids," as described by P&G Global Business Development Manager Bob Bourbon, also includes Georgia Power, the Georgia Public Service Commission, Sterling Energy Assets, Constellation New Energy, and local and federal governments.
Already, Marine Corps Logistics Base Albany uses renewable landfill gas to produce energy that supports essential base operations, saving about $1.3 million annually and reducing carbon pollution equal to that from the generation of electricity used by more than 1,200 homes.
It's Dougherty County's existing cadre of industries, though, that serve as the local economy's foundation, Strickland says.
"With so many staple products, including tissue paper [P&G], snack foods [Mars Inc.] and beer [Miller Coors], these companies stabilized us through the recession. And then to have a great forward-thinking military base [MCLB-Albany] doing repair and reset work for the war-fighting equipment that the U.S. uses, we're seeing good growth, as well, especially in terms of momentum in the logistics and distribution areas."
---
COLLECTING DIVIDENDS
In up-and-coming Lee County, chief economic developer Winston Oxford says that investment in the retail, commercial and industrial sectors is paying big dividends in his bedroom community just north of Albany.
Oxford says taxpayer-funded infrastructure projects and local leaders' behind-the-scenes efforts have resulted in the commercial tax base increasing 170 percent in 10 years – much of which occurred during the Great Recession.
"I wish I could have gotten a 17 percent yearly return on my personal investments over the last 10 years," says Oxford, the Lee County Chamber of Commerce and Development Authority executive director.
In addition to Albany Tractor Co.'s upcoming move to Oakland Meadows Business Park, seven new industries brought 248 new jobs and generated more than $500,000 in local property tax revenue to the community over the past year, Oxford says.
---
RARING TO GO
Valdosta's position on Interstate 75 and proximity to nearby Interstate 10 in Florida has led Lowndes County economic developers to set their scopes on manufacturing and distribution.
"With eight exits on I-75, we've always had a legacy of strength as it relates to logistics, yet this may be our biggest opportunity for growth and expansion," says Andrea Schruijer, the Valdosta-Lowndes County Development Authority's executive director. "One of the things we've been very proactive about in the community is investing in our existing companies and their products. With the recession starting to kind of fade away, we're starting to see the economic activity rebound."
Schruijer's team recently assisted Valdosta's Steeda Autosports, which distributes Ford vehicle aftermarket parts worldwide, by helping broker a $3.5-million deal with a Chinese firm, creating new jobs and capital investment in Valdosta. It's yet another approach local economic developers view as essential. We're "helping existing industries that want to diversify into other markets by bringing them together with our contacts and the other resources they need," Schruijer says. "Some of the things we bring to the table aren't always going to be tax abatements, or incentives, or land. It's also going to be service as it relates to foreign direct investment."
Lowndes County further solidified its niche as a logistics hub in 2014 by notching distribution facilities for a local company, Fussell Tire & Service, at Westside Business Park; and Pennsylvania-based Bimbo Bakeries at Hahira Industrial Park, with investments of $2 million by Fussell and $771,000 by Bimbo. The county now has more than 40 logistics and distribution centers that provide more than 1,000 jobs and generate more than $175 million in sales. In addition, the county has more than 450 acres of Georgia Ready for Accelerated Development (GRAD)-certified property.
A comeback company symbolic of Valdosta's success is Saft, a French firm that designs, develops and manufactures batteries used in transportation, industry and defense. "Saft saw a reduction in workforce [during the recession], and when it started to see some recovery, hired those employees back – and an additional 25 employees," Schruijer says.
Similarly, boat manufacturer Regal Marine Industries "fought hard to keep its doors open," succeeded in doing so, and recently announced that it would manufacture a new luxury model in Valdosta, she says.
Ballard, the chamber director, is knee-deep in a downtown business technology incubator project – 10 years in the making – aimed at college and university graduates with the notion of increasing average wages in the community. Participating companies will receive marketing, accounting and other assistance, report on their progress, and ultimately will "graduate" from the incubator as fully operational businesses.
"Years ago, the chamber came to the realization that, while we were growing literally thousands of new jobs in our community, our average weekly wages were not going up," Ballard says. "The bottom line is the mix that matters. As a friend of mine says, just because you're getting bigger, it doesn't mean you're getting healthier."
---
HELPING COMMUNITIES GROW
Per capita, Americus and Sumter County may have had the most recent success in the job-growth arena in Southwest Georgia. Grogan says that through October, Sumter County added 200 jobs with more than $7 million in investment in 2014. Local leaders' efforts include reaching out to existing industries and merging the economic development and payroll development offices.
"We've seen steady growth across the board with many types of companies coming in, but we're also seeing our industries being able to expand with the economy picking back up. We see positive signs, and everything is happening at a steady pace," Grogan says.
Golden Gourmet recently broke ground on a 48,000-square-foot facility that will produce 1 million ready-to-eat meals a year for senior citizens, along with creating 65 jobs. Over 18 months, in an expansion in which the Payroll Development Authority played a key role, Caravelle Powerboats grew from having five employees and two dealers to having 143 employees and 50 dealers in 2014.
"There's a cohesive approach to marketing and strategic planning and communications among the city and county leaders," Grogan says. "We are going to companies locally and asking, 'What can we do to help you grow?' and, 'How can we make you thrive?' We made some very achievable goals, and I think we're starting to see the fruits of our labor."
---
THE VIRTUE OF PATIENCE – AND PLANNING
Bruce Drennan, the Cordele-Crisp County Industrial Development Council executive director, says he and others who thought it would be a great idea to build a so-called "port" 175 miles from the coast knew that patience would have to be a virtue. Planning, too.
What was a curious-at-best notion to many in the community, Cordele Intermodal Services now is expected to generate 20,000 containers per year to send to Savannah and Brunswick for overseas shipment.
"The word is getting out about us," says Drennan. "It's been a long-term effort like we knew it would be, and we are really doing now what we thought it would do. I think we are well on our way to becoming a logistics hub for South Georgia."
Case in point: Luring Stella-Jones, a leading manufacturer of pressure-treated wood products, to Cordele. About 30 percent of the company's products head overseas upon being "shipped" out of the inland port of Cordele.
To ensure that they capitalize on their opportunities, Crisp County leaders are developing a comprehensive marketing plan with the Georgia Ports Authority.
Meanwhile, the community's post-recession economic status also has been buoyed by the reopening of two shuttered local manufacturers. Drennan says that Lasco Bathware/Tompkins Industries soon will be under a new ownership group that will restore the bathware manufacturing operation at its Cordele plant seven years after closing, following the lead of Southeast Frozen Foods, which had shut down in 2005.
"It's always nice to see businesses rebound and reopen for the good of the community. All of those folks who worked there before are able to go back to work there if they want to," Drennan says.
---
Gone Fishing
As it turns out, one of the most ambitious and creative economic development projects underway in Southwest Georgia is in rural Grady County – about 80 years after it was conceived.
The man-made 960-acre Tired Creek Recreational Lake off U.S. Highway 84, just west of Cairo, could open by year's end, when a $9-million dam is completed. In addition to fishing, boating, swimming and other fun and leisure activities, the park is slated to include recreational vehicle park-ing and residential areas.
Grady County recently received a $1.2-million state grant for transportation infrastructure for the project, and a $4-million replacement bridge is scheduled to be built in 2016 along the lake on Georgia Highway 112.
"The economic benefits of this project ultimately will reach far beyond the lake," says Chadd Mathis, the Cairo-Grady County Chamber of Commerce and Grady County Joint Development Authority executive director. "This project did not happen overnight and is the product of the tireless effort of the community over the last 40 years."
Among the community's other recent economic development coups was recruiting golf cart accessory manufacturer and distributor Madjax to town by facilitating the acquisition of a vacant 112,000-square-foot building and helping the company secure $200,000 in deal-closing funds from the city of Cairo.
---
AN EDUCATED APPROACH
In agriculture-centric Worth County, economic development efforts are often tied to partnerships with Moultrie Technical College and Worth County High School.
Moultrie Tech and Georgia's Quick Start workforce development program were key components of ConAgra's decision to create 45 new jobs, while the high school is "helping students with work ethics and helping them to define what their future goals are – whether it be go to technical school or a four-year college." says Karen Rackley, the Sylvester-Worth County Chamber of Commerce president.
It's the mega-retail industry, though, that has provided its greatest recent economic boon: The newly opened Walmart has hired more than 100 locals.