Sherman's March To The Sea
150 years after Gen. William Tecumseh Sherman's strategic maneuver across Georgia, this period in history still resonates throughout the state and influences the way wars are waged around the world.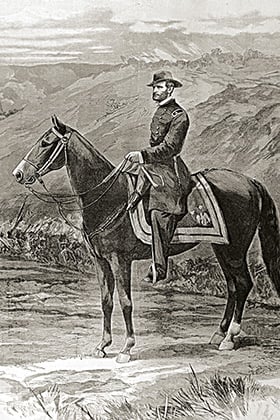 This December marks the 150th anniversary of the American Civil War's surrender of Savannah, where in 1864 Gen. William Tecumseh Sherman ended his infamous March to the Sea. His scorched-earth tactics changed the history of warfare and are still studied and taught in military institutions all over the world.
The March followed Sherman's successful Atlanta Campaign of May through September 1864, when Confederate Gen. John Bell Hood and his army tried to slug it out with the Yankees and were badly beaten. Hood soon moved his army north to Tennessee, giving Sherman no real opposition as he moved 60,000 thousand troops southeast to Savannah. Only a few thousand Confederates stood between Sherman and his goal, including members of the First Georgia Cavalry. One member of that cavalry was my great-great-grandfather James Young, of Youngs Station, Polk County, Ga. (See photo on page 48).
Young was born in 1832, the son of Augustin and Catherine Pounds Young, early pioneers of Polk County, near Cedartown. He served in the Confederate Army as a second lieutenant, Company G, First Georgia Cavalry, which was called Floyd Legion. The unit was under the command of the skillful Maj. Gen. "Fighting Joe" Wheeler.
The history of the Georgia Cavalry's participation in Sherman's March to the Sea is recorded in the book Polk County, Georgia: The First One Hundred Years by Larry Carter. The March to the Sea for Floyd Legion started with a skirmish at Buckhead, just south of Madison, on Nov. 19, 1864, and ended in Savannah on Dec. 10, 1864. For all of the ink written about Sherman and the way he burned, scorched and killed between Atlanta and Savannah, the monstrous event lasted only 22 days.
During that time, the Georgia Cavalry did its best to hold off Sherman in actions and skirmishes near Louisville, Statesboro, the Little Ogeechee River, Jencks Bridge, Ebenezer Creek, Monteith Swamp, Harrison's Field, Springfield, and finally during the Siege of Savannah, Dec. 10-21.
---
Significance
Why was Sherman's short march through Georgia such a big deal? Author James Street said, "His march from Atlanta to the sea was no contest. It was like an elephant crossing a pea field." It was Sherman's Special Field Order No. 120, dated Nov. 9, 1864, that changed the way armies fought in that war and future wars. Previously, battles had followed tactics of Napoleon Bonaparte, the French general of the early 1800s. Civilians and their homes, cities and transportation networks were off limits. Napoleon attacked the opposing army head on and didn't disrupt the local population. Field order 120 changed all of that.
The order reads in part, "To army corps commanders alone is intrusted [sic] the power to destroy mills, houses, cotton-gins, etc.; and for them this general principle is laid down: In districts and neighborhoods where the army is unmolested, no destruction of each property should be permitted; but should guerrillas or bushwhackers molest our march, or should the inhabitants burn bridges, obstruct roads or otherwise manifest local hostility, then army commanders should order and enforce a devastation more or less relentless, according to the measure of such hostility."
Sherman (illustration 2) was following what Union Gen. Ulysses S. Grant called the strategy of exhaustion, which focused on the enemy's war-making supplies such as food and water, shoes and clothing material, and transportation systems like railroad stations and tracks.
The primary military missions during the March to the Sea included ripping up bridges and railroad tracks (illustration 1, previous page) and using the latter to create what came to be known as Sherman's Neckties, when the tracks were heated then tied in knots around trees. The Union Army then proceeded to burn crops and storage barns; take cattle, horses and mules; and free the slaves from plantations and farms from Madison south through Milledgeville, Millen, Statesboro, Springfield and other cities on the path to Savannah.
---
The War at Home
The March also demoralized the South's civilian and army populations. Seeing the horrific damage Sherman's troops did as they crossed Georgia eroded the confidence of Confederate Army soldiers, who were anxious over the well-being of their families.
National Book Award-winner The Children of Pride, written and edited by Robert Manson Myers, contains letters to family and friends, along with journal entries written by Mary Jones from her Georgia home during the Civil War. The following excerpts record some of the chilling experiences of women and children during this period of time.
Journal entry, Dec. 17, 1864: "About four o'clock this morning we were roused by the sounds of horses; and Sue, our faithful woman, came upstairs breathless with dismay and told us they had come upon the most dreadful intent, and had sent her in to tell me what it was, and had inquired if there were any young women in my family. Oh, the agony – the agony of that awful hour no language can describe! No heart can conceive it. We were alone, friendless, and knew not what might befall us. Feeling our utter weakness and peril, we all knelt down around the bed and went to prayer; and we continued in silent prayer a long time. Kate prayed, Daughter prayed, and I prayed; and the dear little children too, hearing our voices, got up and knelt down beside us.
And there we were, alone and unprotected, imploring protection from a fate worse than death, and that our Almighty God and Saviour would not permit our cruel and wicked enemies to come nigh our persons or our dwelling."
At twilight, the family found that the Federals had bypassed their house. But their situation was the exception, not the rule, because Sherman's troops robbed and burned most of the dwellings along the route.
Dec. 24, 1864: "Yankees made their appearance … and one knocked at the door. A Dutchman said: 'I have come to search your house.' He remarked in a most cruel manner: 'This house will make a beautiful fire and a great smoke.'"
Jan. 7, 1865: "Do the annals of civilized – and I may add savage – warfare afford any record of brutality equaled in extent and duration to that which we have suffered, and which has been inflicted on us by the Yankees? For one month our homes and all we possess on earth have been given up to lawless pillage. Officers and men have alike engaged in this work of degradation." Later she wrote: "A pistol and carbine presented to my breast, [and I was] cursed and reviled." Then later: "Every trunk, bureau, box, room, closet has been opened or broken open and searched, and whatever was wanted of provisions, clothing, jewelry, knives, forks, spoons, cups, kettles, cooking utensils, towels, bags, etc., etc., from this house taken."
---
The Path Through Georgia
In The Untold Civil War, by James Robertson, the march is described as an unforgettable sight.
"The prospect of 75,000 or more soldiers moving in the same direction down the same roads, accompanied by a seemingly endless procession of wagons, was an awesome thing for soldiers to behold and be a part of." (illustration 3)
Sherman's 60,000 Federal troops started the march outside Decatur on Nov. 15, with two wings led by Maj. Gens. Henry Slocum (the left wing) and Oliver O. Howard (the right wing).
If you look on a map of Georgia (See map on page 49), Sherman's March to the Sea followed just north of the general path of today's I-16, which runs from Macon to Savannah.
Who knows what Federal soldiers thought of the names of the towns they walked through? The communities that suffered from Field Order No. 120 had names like Buckhead (not the wealthy Atlanta neighborhood, but the town south of Madison), Crackers Neck, Tennille, Brier Creek, Sandersville, Statesboro, Springfield and Pooler. Time and again Georgia's many rivers, with names like Oconee, Ogeechee and Canoochee, were crossed by pontoon bridges – temporary floating bridges.
On Nov. 23, Federal troops were all in or near Milledgeville – then the state capital – and Sandersville. Gov. Joseph E. Brown along with the Georgia legislature beat a hasty retreat, with Brown getting out of town just in time. (illustration 4)
Union Army troops occupied the state Capitol building and held a mock legislative session, where they declared that Georgia had voted to rejoin the union. According to the book The March, by E.L. Doctorow, Yankee soldiers had a great time passing around bottles of whiskey and partying until way into the evening.
As the Union Army continued through Georgia, thousands of people liberated from slavery trailed behind hoping the Army would take them in and provide food and clothing. But it was not to be. Sherman was a racist of the highest order. He showed his disdain for emancipation by looking the other way when one of his subordinates, Maj. Gen. Jefferson C. Davis, cut the pontoons over Ebenezer Creek, leaving 5,000 formerly enslaved people to the mercy of the pursuing Confederate Cavalry. Many died trying to swim the river to safety. During this part of the march, James Young's Confederate unit fought with Federals at Jencks Bridge and Ebenezer Creek. (See photo above )
Troops continued across Georgia before halting only four miles from Savannah on Dec. 11.
---
Taking Savannah
The main approach to Savannah was barred by Confederate Lt. Gen. William Hardee's 10,000 defenders.
Sherman's tactics of avoiding frontal assaults proved useful once again, when he decided to capture Fort McAllister to the south and open up the Ogeechee River to Federal gunboats. Brig. Gen. William Hazen's Federal division was given the task, and the fort was taken after only a 15-minute siege (illustration 5, next page). Hardee feared that his outnumbered army would be bottled up, so he ordered a pontoon bridge to be built across the Savannah River. On the night of Dec. 21, the Confederates escaped north into South Carolina. Savannah's mayor, Richard Dennis Arnold, offered Sherman the proposition that the city would surrender and offer no resistance if Federal forces would not harm local citizens or property. The Federal army then entered the city without opposition. Sherman sent a telegram to President Lincoln saying in part: "I beg to present you, as a Christmas gift, the city of Savannah." (illustrations 6 and 7).
James Young's cavalry unit tried to slow Sherman during his campaign into South Carolina, where the Federals turned up the heat and increased the burning of towns and plantations all the way to North Carolina. The record of the First Georgia Cavalry's last action was recorded as "Surrender at Bennett's House, Durham Station, North Carolina, April 26, 1865."
---
The Aftermath
After the war, Sherman became a national hero. He continued his military career under President Ulys-ses S. Grant as general commander of the U.S. Army. He was quite the writer, coining such phrases as "War is hell," and when asked to run for president, "If nominated I will not run; if elected I will not serve."
Sherman died Feb. 14, 1891. In a recent biography, Fierce Patriot, author Robert L. O'Connell ended by writing that Sherman was "a mixture of good and bad. It's hard to imagine a more American man than Sherman."
Many historians claim Special Field Order No. 120 started a new strategy for war and cost millions of civilian lives in future conflicts. During the Boer War in South Africa (1899-1902), the British Army rounded up women and children of the Dutch population that had settled the area and interred them in barbed-wire fences, with little food and water. It was the first concentration camp in history, and thousands died as a result. Was this Sherman's fault?
There were many similar examples of the exhaustion strategy during World War I and World War II. The Nazi's extermination of civilians demoralized their enemy. Was this Sherman's fault? The burning of villages by U.S. troops during the Vietnam War was common strategy. Was this Sherman's fault? These same tactics continue to this day around the world.
There is an old saying, "We should not condemn those in the past for their actions by applying the standards of today." Perhaps it is not Sherman's fault that these later atrocities occurred, but he certainly opened the door to such tactics.
---
Legacy
I know that my great-great-grandfather fought for the Confederacy, the home of slavery. During this conflict, James Young was also defending his family and property.
Like many of those who participated in the conflict, both Southern and Union, he was proud to be an American citizen after the war. He went back to his farm near Cedartown and took up where he left off, running a farm, a mill and a country store. He died March 27, 1918. I am sure he would have been proud that his children and grandchildren played a role in defending our country in 20th-century wars. And he would have been proud of his descendants who helped champion civil rights for all Americans.
This month we should take time to reflect on how our country has evolved over the past 150 years. It took nearly 100 years for human rights to find their role in U.S. policy, and we have a ways to go. Still, we can recognize how the Civil War eventually brought our country back together to form a more perfect union. The United States of America is still one nation, under God, with liberty and justice for all.
Georgia Trend would like to thank historian, author and lecturer Michael K. Shaffer for his assistance with this article.