In Transition
The medical world – and how patients interact with their healthcare team – continues to change at a rapid pace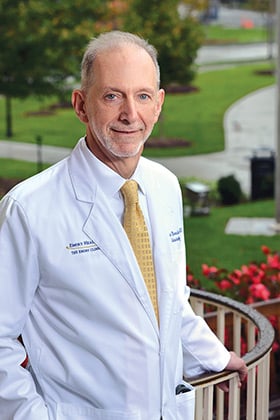 ---
Healthcare in the U.S. and Georgia has seen radical changes over the past few years, including a number of treatment and technology advances, the advent of the Affordable Care Act, and the consolidation or closure of hospitals. And there is no sign that things will settle down soon. Since 2010, there have been several changes for Georgia hospitals and health systems (and in most cases elsewhere), with more major trends that doctors and hospital officials say are likely to play a major role in the next four years and beyond.
---
Recent Trends
Hospital closings. Since the first Top Hospitals rankings were published – and in fact in just the past year or so – five Georgia hospitals and one state-run mental health facility have closed their doors. The most recent, closing this October, was Smyrna's Emory-Adventist Hospital, in which Emory Healthcare had a 30 percent interest.
Most of the closings have been of small rural hospitals. The state's high uninsured population – close to 20 percent overall and higher in some rural areas – is largely to blame, says Kevin Bloye, vice president of public relations for the Georgia Hospital Association. Decreasing reimbursement by Medicaid – which pays just 87 cents on the dollar for healthcare costs – and Medicare – which is better, but still results in a net loss for most hospitals – also play a role, says Bloye.
In the most recent Hospital Financial Survey conducted by the Georgia Department of Community Health in 2013, 42 percent of 135 hospitals completing the survey finished the year in the red. For rural hospitals, it was 60 percent.
In the midst of all the closings, one new hospital, Northeast Georgia Medical Center Braselton, was under construction and is scheduled to open its doors this spring. The 100-bed hospital will be the state's first net-new hospital – meaning it is not a relocation or replacement for another hospital – since the late '90s.
Partnerships and collaborations. Realizing there is strength in numbers, many hospitals and healthcare systems have formed collaborations and partnerships that allow them to create economies of scale they didn't have previously, says Bloye.
For smaller hospitals, these alliances provide the ability to invest in capital improvements and purchase needed technology. For larger systems, collaborations mean increased market shares.
The largest such partnership in the Southeast is Stratus Healthcare, an alliance of hospitals and physicians from central and south Georgia that was formed in July 2013 with 23 hospitals. By January 2014, the partnership had grown to include 29 hospitals, including critical access hospitals, safety net hospitals, urban hospitals as well as 18 rural hospitals.
In February 2014, Marietta-based WellStar Health System joined the Mayo Clinic Care Network. For WellStar and its patients, some of the greatest benefits of the membership network will be the availability of electronic consults with Mayo physicians and 24/7 access to Mayo Clinic's clinical database.
In West Georgia, four providers have joined to form the Tanner, West Georgia, Floyd and Hamilton Collaboration LLC. The group will improve operations by working together and sharing their resources, expertise and experience to deliver innovative and responsive patient care while reducing costs through economies of scale.
In July 2014, Oconee Regional Health Systems and Oconee Regional Medical Center, both in Milledgeville, entered a partnership with Navicent Health (formerly Central Georgia Health System) in Macon to improve the value of healthcare and increase service offerings in Milledgeville.
Electronic medical records. The paper files that used to follow patients around have been largely replaced by records that are entered into and accessed by computer, often at the bedside. In the past four years, virtually all hospitals and health systems in the state and the nation have made the move toward electronic records, which promise to improve patient safety, facilitate the transfer of information and reduce repetitious tests.
"Almost every medical practice in the U.S. that participates in Medicare has migrated to some type of electronic medical record or another," says Robert Jansen, M.D., executive vice president and chief administrative medical officer of WellStar. "[Providers] are required to submit Medicare claims electronically, and now there are increasing requirements to prescribe medications electronically instead of written prescriptions."
WellStar recently migrated to an electronic medical record system called Epic, says Dr. Jansen. "We have a single patient record for all of our patients, regardless of whether they are in one of our offices or in the hospital, so that every physician taking care of those patients can see all of the information that the patient has in their medical record regardless of whether it is something delivered in the hospital setting or office setting. All laboratory tests results, all X-ray results, all medications and allergies are there for you to see. It is a much safer situation than we had in the past."
More patient involvement. While people traditionally went to the hospital to have something done to or for them, patients today are taking – and demanding – a more active role in their care, and hospitals are increasingly taking steps to promote patient involvement. One way they have done this in recent years is though the adoption of patient portals.
With a user name and password, patients can access their portal from any computer, tablet or smartphone with an Internet connection and view their medical record. "After all, it is the patient's record," says Dr. Jansen.
Different medical centers offer different levels of patient involvement on their patient portals. At the least, patients can receive their lab and X-ray results, which they can use for their own information or share with other physicians if they choose.
"If a patient is under our care and let's say they move to another part of the country, they can allow that physician to have access to their record," says Patty Lavely, senior vice president and chief information officer at Gwinnett Medical Center in Lawrenceville and Duluth. "They will not be adding to that record, but they will have an existing medical record that they can share with a provider in another city. The provider could move that info into a new medical record."
Hospitals, including Gwinnett, also use patient portals for giving discharge instructions and providing follow-up information patients will need when they get home.
For some centers and systems, the portal is more interactive. "We are moving toward allowing patients to actually schedule appointments electronically through our patient portal called MyChart," says Jansen. "They can also send and receive emails from their physicians."
---
What's Ahead
As we enter the next four years, electronic medical records technology will continue to advance, patients will take an ever-increasing role in their healthcare, additional hospital partnerships may form and, sadly, other struggling hospitals are likely to close. Experts say these and other trends will likely shape the future of hospitals.
Increased focus on wellness. While hospitals have traditionally been places for treating the sick, increasingly their focus will be on keeping people well.
At Hamilton Medical Center in Dalton, that focus is evident in the 11,700-square-foot expansion of their wellness center, which it offers as a service to the community.
"The center not only provides rehab services, PT [physical therapy], speech, and occupational therapy, but it is also a gym for members," says Sandy McKenzie, Hamilton Medical Center COO. "For individuals, we offer a large assortment of classes, including spin, yoga and water aerobics for children through [to] our geriatric population."
The expansion will allow the center to offer more group session activities, more space for the center's cardiac rehab program and biomechanics spine and sports program. The expanded center will have a dietitian, massage therapists and personal trainers on staff, an enlarged spin room, a special room for hot yoga and a biomechanics lab equipped with motion-capture equipment that allows therapists to help athletes, whether they are coming back from an injury or trying to improve their pitch or golf swing, she says.
Promoting wellness – whether it be through wellness centers, smoking cessation programs or weight loss classes – makes financial sense. "A lot of the hospitalizations for chronic disease we see are the result of people's lifestyle choices – what they choose to eat and if they choose to exercise," says the Georgia Hospital Association's Bloye. He believes we are heading into an era where hospitals will likely be incentivized not to treat sick people but to keep people healthy.
"I don't think it is going to be different in a year, but I think in the long term a lot of the incentives in our system are going to be based on health and wellness," says Bloye. "It has garnered a lot of discussion in the hospital community in the past couple of years. I think it will flip our healthcare system right on its ear."
More reliance on non-M.D.s. As the growth of the population – particularly the aging population – outpaces the growth of new medical school graduates, hospitals and health centers will rely more heavily on advanced practitioners (physician assistants or nurse practitioners, for example) to handle many of the tasks that once were performed solely by physicians. Doing so will not only ensure patient care when physicians are in short supply, but will also help manage healthcare costs.
For years nurse midwives have been delivering babies and nurse anesthetists have been delivering anesthesia services during surgery, but increasingly such practitioners are showing up in other areas of the hospital, says Dr. Jansen. "Cardiac surgeons now have advance practitioners to help them during surgery doing things like harvesting veins – which they are equally qualified to do – so the surgeon can be doing the more complicated things in the chest. We have advanced practitioners who are qualified to put in certain types of IVs that previously only physicians were doing, and they are doing them so frequently they are probably better at them than the doctors.
"Advanced practitioners are becoming more and more a part of the fabric of the medical profession," says Dr. Jansen. "At first it was a little uncomfortable for people because they were not accustomed to having a non-M.D. seeing them or doing certain procedures, but that has become the norm. That is what we have to do in order to meet the needs that we have."
Doctors as hospital employees. Not long ago, most doctors' offices were also small businesses. Doctors rented their own offices, hired their own staff and gained privileges to admit their patients to one or more of several hospitals in their area. "But today we are seeing a huge trend in which more and more physicians are deciding to become employed by the hospitals," says Bloye.
Employee-physicians make sense for both doctors and hospitals. "It has become increasingly difficult for small practices to deal with the complexities of the business side of medicine – the contracting with managed care payers, the regulations they have to meet, the electronic medical records, the prescribing electronically," says Dr. Jansen. "With the cost and complexity of these applications, it becomes very onerous for a small two- to three-physician practice to be able to maintain all of those things and make a living."
"For a physician, becoming a hospital employee offers the opportunity to do what they love – helping patients – and leave the business side of the equation to the hospitals," says Bloye. For the hospital, the benefit of having physician employees is referrals. "You enhance your referral base when you have physicians who are employed by hospitals who can refer to one hospital or a number of hospitals in that health system," he says. "You have a chance to enhance your share within the marketplace."
Dr. Jansen estimates that 50 percent or more of the physicians who are actively taking care of patients in WellStar's five hospitals are now part of the WellStar Medical Group. Seventy WellStar physicians are members of a relatively new and growing specialty called hospitalists. "These are internists who focus on taking care of patients who are admitted to the hospital," says Dr. Jansen. "They do not do outpatient work. They strictly take care of patients once they come to the hospital for admission."
Advances in technology. In just a few short years, procedures that once seemed like science fiction have become almost routine, says William A. Bornstein, M.D., Ph.D., chief quality and medical officer for Emory Healthcare. In a procedure called Transcatheter Aortic Valve Replacement (TAVR), doctors are able to replace defective aortic valves though a catheter snaked through the veins from the groin to the heart. Many other minimally invasive procedures – performed through natural orifices or employing interventional radiology (a medical sub-specialty of radiology that uses minimally invasive image-guided procedures to diagnose and treat diseases) – are in development, he says.
Another advance we are likely to see in the coming years is new pharmaceuticals and personalized therapies using the analysis of the individuals' genetics to determine which drug or combination of drugs are likely be the most effective for a particular patient while at the same time having the fewest side effects, Dr. Bornstein says.
Eventually this could lead to getting genetic analyses of patients and putting that information in their electronic medical records to guide their doctors' prescribing decisions.
Hospitals will increasingly use technology to monitor patients at home – or in the case of Emory Hospital, even other hospitals. "Here at Emory, we are putting what is called an eICU or electronic intensive care unit in place," says Dr. Bornstein. With the eICU, he says, Emory physicians will be able to supplement the ICU staff of smaller community hospitals in the state remotely. "So if we see a signal when the physician or nurse is not at the bedside or maybe it is not showing up on their local monitor, we can bring it to their attention."
The technology, supported by a grant from the Center for Medicare and Medicaid Innovation, will allow Emory doctors to monitor patients' vital signs remotely. High-definition cameras will enable them to see with detail anything happening in the room. "Such technology is not commonplace, but I think it will get there, and I think it will help provide better care more efficiently, which is where everything is needing to move."
The shifts in the healthcare system in Georgia over the past few years show no real signs of slowing, as medical professionals continue to adapt to regulatory and technology changes in an effort to increase access and care to all the citizens of our state.
---
GEORGIA TREND'S 2014 TOP HOSPITALS
There are more than 130 hospitals dotting the Georgia landscape, from the 25-bed Higgins General Hospital in Bremen to Level I trauma center Grady Memorial Hospital in Atlanta. No matter the size or location, though, their goals are all the same: to treat and heal Georgians and be there in their time of need. And for Georgia Trend's annual Top Hospitals feature, we ranked them all.
To determine the rankings, we grouped hospitals of similar size and mission together and compared them with their peer institutions. The top hospitals are listed in five categories: Teaching Hospitals, Large Hospitals (more than 400 beds), Medium-sized Hospitals (151-399 beds), Small Hos-pitals (fewer than 150 beds) and Critical Access Hospitals (rural community hospitals, typically with fewer than 25 beds).
The data used to compile the rankings came from publicly available information on quality of care, patient satisfaction, mortality and readmission statistics, and hospital-acquired infections and conditions. The information comes from the Centers for Medicare & Medicaid Services (CMS) and is available at www.hospitalcompare.hhs.gov. The data download date for our analysis is July 2014.
Information for determining bed number/hospital size is from the Ameri-can Hospital Directory (www.ahd.com), individual hospital websites and/or government websites.
To come up with the rankings, Georgia Trend worked with researchers and healthcare professionals at WellStar Health System in Marietta under the direction of Melissa Cornwell, executive director of quality. Those individuals are Olympia Anderson, MPH, senior informatics analyst; Matthew Hooper, MSIT, senior informatics analyst; Shannon Dalton, MPH, CPH, senior informatics analyst; and Anthony Peel, MSIT, quality informatics manager.
The WellStar team accessed the databases and compiled the data mathematically; decisions on how to present the data were made by Georgia Trend.
Where scores were identical, we gave identical rankings, so some hospitals share a numerical spot on the list.
TOP TEACHING HOSPITALS
Hospitals affiliated with accredited medical schools that provide education and training opportunities for students
1 Emory University Hospital – Atlanta
2 Floyd Medical Center – Rome
3 Georgia Regents Medical Center* – Augusta
4 Navicent Health** – Macon
5 Emory University Hospital Midtown – Atlanta
6 Midtown Medical Center – Columbus
7 Phoebe Putney Memorial Hospital – Albany
8 Atlanta Medical Center – Atlanta
9 Houston Medical Center – Warner Robins
9 Memorial Health University Medical Center – Savannah
10 Mayo Clinic Health System in Waycross – Waycross
11 Grady Memorial Hospital- – Atlanta
*Formerly Medical College of Georgia Hospitals and Clinics
**Formerly Medical Center of Central Georgia
---
TOP LARGE HOSPITALS
Hospitals with more than 400 patient beds
1 Gwinnett Medical Center – Lawrenceville
2 University Hospital – Augusta
3 WellStar Kennestone Hospital – Marietta
4 West Georgia Medical Center – LaGrange
5 Northeast Georgia Medical Center – Gainesville
6 DeKalb Medical Center – Decatur
7 Northside Hospital – Atlanta
8 Piedmont Hospital – Atlanta
---
TOP MEDIUM-SIZED HOSPITALS
Hospitals with 151-399 patient beds
1 Hamilton Medical Center – Dalton
2 Tift Regional Medical Center – Tifton
3 St. Francis Hospital – Columbus
4 St. Mary's Hospital – Athens
5 John D. Archbold Memorial Hospital – Thomasville
6 Redmond Regional Medical Center – Rome
7 South Georgia Medical Center – Valdosta
8 Tanner Medical Center – Carrollton – Carrollton
9 WellStar Cobb Hospital – Austell
10 St. Joseph's Hospital – Savannah – Savannah
11 Athens Regional Medical Center – Athens
12 Fairview Park Hospital – Dublin
13 Piedmont Fayette Hospital – Fayetteville
14 Saint Joseph's Hospital of Atlanta – Atlanta
15 Spalding Regional Hospital – Griffin
16 Southeast Georgia Health System – Brunswick Campus – Brunswick
17 Coliseum Medical Center – Macon
18 North Fulton Hospital – Roswell
19 Candler Hospital – Savannah
20 Eastside Medical Center – Snellville
20 Piedmont Henry Hospital – Stockbridge
21 Northside Hospital – Forsyth – Cumming
22 Trinity Hospital of Augusta – Augusta
23 Southern Regional Medical Center – Riverdale
24 Doctors Hospital – Augusta
---
TOP SMALL HOSPITALS
Hospitals with fewer than 150 patient beds
1 WellStar Douglas Hospital – Douglasville
2 Emory Johns Creek Hospital – Johns Creek
3 Gordon Hospital – Calhoun
4 Piedmont Newnan Hospital – Newnan
5 Rockdale Medical Center – Conyers
6 Tanner Medical Center – Villa Rica – Villa Rica
7 Newton Medical Center – Covington
8 Phoebe Sumter Medical Center – Americus
9 Meadows Regional Medical Center – Vidalia
10 Coffee Regional Medical Center – Douglas
11 East Georgia Regional Medical Center – Statesboro
12 Colquitt Regional Medical Center – Moultrie
13 DeKalb Medical Center at Hillandale – Lithonia
14 WellStar Paulding Hospital – Dallas
15 Stephens County Hospital – Toccoa
16 Perry Hospital – Perry
17 Ty Cobb Regional Medical Center – Lavonia
18 Cartersville Medical Center – Cartersville
18 Oconee Regional Medical Center – Milledgeville
18 Wayne Memorial Hospital – Jesup
19 Upson Regional Medical Center – Thomaston
20 Piedmont Mountainside Hospital – Jasper
21 Habersham Medical Center – Demorest
22 Barrow Regional Medical Center – Winder
23 Grady General Hospital – Cairo
23 Northside Medical Center – Columbus
24 Northside Hospital Cherokee – Canton
25 Coliseum Northside Hospital – Macon
25 Donalsonville Hospital – Donalsonville
26 Fannin Regional Hospital – Blue Ridge
27 Clearview Regional Medical Center – Monroe
27 Elbert Memorial Hospital – Elberton
27 Emanuel Medical Center – Swainsboro
28 Dodge County Hospital – Eastman
28 University Hospital McDuffie – Thomson
29 Murray Medical Center – Chatsworth
30 Taylor Regional Hospital – Hawkinsville
31 Cook Medical Center, a Campus of Tift Regional Medical Center – Adel
32 Jefferson Hospital – Louisville
33 Emory-Adventist Hospital – Smyrna
34 Dorminy Medical Center – Fitzgerald
34 Southeast Georgia Health System – Camden Campus – St. Marys
35 Washington County Regional Medical Center – Sandersville
36 North Georgia Medical Center – Ellijay
---
CRITICAL ACCESS HOSPITALS
Hospitals in rural communities, typically with 25 or fewer beds
1 Higgins General Hospital – Bremen
2 Effingham Hospital – Springfield
3 Bacon County Hospital – Alma
4 Polk Medical Center – Cedartown
5 Putnam General Hospital – Eatonton
6 Mountain Lakes Medical Center – Clayton
7 Clinch Memorial Hospital – Homerville
8 Liberty Regional Medical Center – Hinesville
8 Mitchell County Hospital – Camilla
9 Brooks County Hospital – Quitman
10 Chatuge Regional Hospital – Hiawassee
11 Louis Smith Memorial Hospital – Lakeland
12 St. Mary's Good Samaritan Hospital – Greensboro
13 Jasper Memorial Hospital – Monticello
14 Jeff Davis Hospital – Hazlehurst
15 Phoebe Worth Medical Center – Sylvester
16 Morgan Memorial Hospital – Madison
17 Wills Memorial Hospital – Washington
18 Medical Center of Peach County – Byron
19 Bleckley Memorial Hospital – Cochran