2014 Family Business Awards
Meet the winners of this year's competition, selected by the Cox Family Enterprise Center at Kennesaw State University.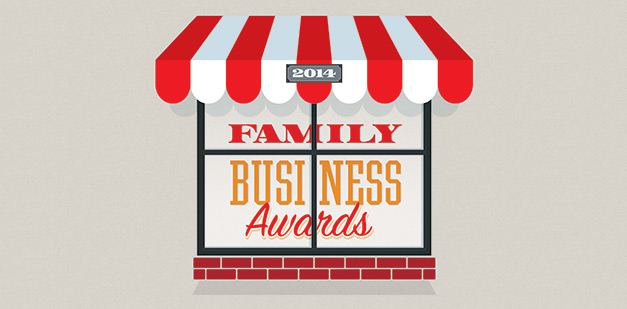 No one ever said mixing business and family was easy. That's why the recipients of the 2014 Cox Family Business Awards are winners two times over. Not only do they run successful companies, they have found ways to successfully run family businesses that work for themselves, their employees and their customers.
Now in its 23rd year, the annual awards recognize companies that have combined strong business practices with strong family. Winners are selected based on their proven business success, positive family and business linkage, multigenerational family business involvement, contributions to industry and the surrounding community, and innovative business practices and strategy.
Winners were selected by the Cox Family Enterprise Center at the Michael J. Coles College of Business at Kennesaw State University; the recognition program is sponsored by the center and Georgia Trend.
Awards are given in large, medium and small business categories; the Century Award honors a family business that has been in operation for 100 years or more.
RaceTrac Petroleum, based in Atlanta, is the large business winner. Smyrna's Benning Construction is the medium-sized business winner. Atlanta Light Bulbs, based in Tucker, is this year's small business winner, and Smyrna's R.F. Knox Company Inc., founded in 1914, is this year's Century Award Winner. Finalists for this year's awards are also listed.
---
Large Business
---
RaceTrac Petroleum Inc.
Atlanta
Since its founding in 1934, Atlanta-based RaceTrac Petroleum Inc. has grown from a handful of independently operated gas stations to a top 25 convenience store leader with 2013 revenues exceeding $9 billion.
It has expanded into 12 states across the Southeast – and pioneered self-service in many of those markets. Yet with all of these milestones, its culture is considered its largest accomplishment by those closest to the company.
"The company was a lot smaller [when I was a child], and we were really all about just keeping the business growing," says Natalie Bolch Morhous, director of strategy and development and third-generation RaceTrac shareholder. "In the last 15 years or so especially, we've slowed things down a bit and really figured out how to have a strong people culture and a focus on not just growing the business, but how to really use our people to our competitive advantage."
That focus has paid off. In addition to being this year's Cox Family Enterprise Center Family Business of the Year Award winner in the large company category, RaceTrac has been named a Top Workplace in Atlanta for four consecutive years by The Atlanta Journal-Constitution and has won top workplace awards in Florida and Texas as well.
The company's dedication to Bolch family values – honesty, respect, a positive attitude, teamwork and efficiency, collectively known as the RaceTrac Way – has fueled growth despite changes in the gasoline market and consumer expectations.
While the Carl Bolch Trackside Stations of the '50s and '60s focused mainly on delivering low-cost fuel, today's RaceTrac has branched out considerably. Its newest prototype, the RT6K, aims to offer existing customers more options while attracting a new clientele with an expansive selection of more than 4,000 items, including a proprietary frozen yogurt line.
The RT6K continues a trend of innovation that began with Carl Bolch Jr., the company's second-generation CEO. Under his leadership, the chain grew considerably and took on the RaceTrac name, which includes both company-operated RaceTrac locations and independently operated stores under the RaceWay brand.
In 2012, Allison Bolch Moran, granddaughter of the company's founder, became RaceTrac's third CEO. In all, three Bolch sisters hold leadership positions at RaceTrac; in addition to Moran and Morhous, Melanie Bolch Isbill serves as director of brand communications. Bolch Jr., wife Susan Bolch, and son Jordan Bolch also serve on the board of directors, along with the three sisters and two long-term employees. The leadership team capitalizes on the strengths of each member, taking a team-based approach to continue to drive innovation and growth in an uncertain market.
"One of the things that's made RaceTrac successful in the past is our willingness to test and fail or test and succeed," says Isbill. "Today, we have stronger competition, and where the world of fuel is going is still kind of up in the air. Because we are a very flexible company and have built our history on innovation, we'll be set for success." – Anna Bentley
---
Medium-Sized Business
---
Benning Construction
Smyrna
Take a drive around Metro Atlanta and you'll likely see landmarks built by Smyrna-based Benning Construction Co., including Atlanta's first shopping center, the 1939 Plaza Shopping Center on Ponce de Leon Avenue, and the "Top of the Country" Toco Hills Shopping Center on North Druid Hills Road built in 1961.
The firm's origins date back to the late 1890s, when former ship captain and prominent banking exec Augustus Harrison Benning decided to help rebuild his hometown after the Civil War. In fact, Atlanta's oldest building, the Flat Iron Building, was constructed for his bank, the English-American Loan and Trust Co., in 1897. Construction was clearly in the Benning blood.
Augustus Benning's two sons went on to launch T.R. Benning Building Contractors in the 1920s. The company thrived in pre-depression Atlanta, when it built pharmacies with soda fountains and movie houses that showed films like Gone with the Wind. With the stock market crash of 1929, however, business dried up.
After returning home from World War II, T.R. Benning Jr., Augustus's grandson and father of current president T.R. "Ted" Benning III, formally incorporated the business and renamed it Benning Construction Co. in 1953. T.R. and his father, the original T.R. Benning, continued to grow the company over the next several decades.
Throughout the 1950s, as highway infrastructure zigzagged across the nation and the country expanded into the suburbs, Benning also moved into markets outside the central city core. It began to build shopping centers and continued to specialize in retail pharmacies. During the 1970s and '80s, it branched out into building big-box style stores like Kmart and supermarkets like Winn-Dixie and Big Star.
Today, Benning Construction Co. is run by the third and fourth generations of the Benning family and is employee owned. The fifth generation of Benning leadership, Kelly Benning Huckaby, serves on the board of directors.
Ted Benning has been at the helm of Benning Construction for more than 30 years. Under his leadership, the firm has continued to grow its retail and cinema market share with clients like Publix, Regal Cinemas and CVS. One recent project is the $50-million The District at Howell Mill developed by Selig Enterprises.
"It has been a privilege to serve our loyal clients for over a half century, and we look forward to many more decades of assisting developers, facility directors, owners and commercial tenants throughout the Southeast," says Ted Benning.
The company continues to follow the practices instituted by T.R. Benning and T.R. Benning Jr. in the 1950s: The company must be able to do the job and do it well. It must be able to make a profit on every deal, and it requires a fair contract. If one of those requirements is not met, the company does not take on the project.
"The values and traditions the company was founded on absolutely provide a moral compass in business decision making," says Channing Mason, director of operations and a Benning family member by marriage. "Who you work with has a great deal to do with how you conduct yourself. We prefer to work with other family businesses. That goes back to our roots as developers."
The company is owned by its more than 80 employees, which Mason says contributes to low turnover, employee engagement and business success.
"Working here is like a marriage. If you make it through the first year, you will make it through 50," says Mason.
For its generations of success and strong corporate values, Benning Construction is the 2014 winner of the Cox Family Enterprise Center Family Business of the Year Award in the medium-sized business category. – Elizabeth Schwartz
---
Small Business
---
Atlanta Light Bulbs Inc.
Tucker
While devising ways to brighten Atlanta Light Bulbs' future, brothers and company leaders Doug and Jesse Root also recognize the legacy of their family business.
Their father, Gary Root, began the Tucker-based business in 1981, selling lamps and ballasts to commercial and industrial customers. Since the sons entered the business, they have dealt head-on with changes in retailing, such as the growth of online sales and the evolution of the lighting industry with the introduction of LED and energy-efficient choices.
Their actions have led Atlanta Light Bulbs to be selected as the 2014 Cox Family Enterprise Center Family Business of the Year Award winner in the small business category.
After Doug graduated from the University of Georgia in 1997, he joined the company full time. Back then, online shopping was "this weird thing people were hearing about," Doug, now CEO, says. "We built a little website and put some product out there."
Since then, online sales have grown from $20,000 in 1998 to roughly $4 million in 2013 – about 40 percent of Atlanta Light Bulb's revenue of $10.5 million.
But the Roots are not relying solely on online shoppers for growth. The business is expanding into the lighting solutions market to consult with customers about how they can save energy and cut power costs.
In those ways, the Roots are heeding their father's advice: to focus on what's next rather than past successes to maintain the company's growth. The brothers grew up in the business, starting in the warehouse and working their way up to leadership positions. Another brother, Jimmy, is also involved in the company.
"Really for us, it was just looking at the past of what we've done and using that to move forward into this new area," says Jesse, 31, Atlanta Light Bulbs' account manager.
Doug, 40, took on the top role about two years ago from his father, who remains majority owner but is not involved in day-to-day decisions. He's honest about the pressure to succeed for his family and their 30 employees.
"That's what keeps me up at night," he says. "At the end of the day, it's on somebody's back for the company to succeed. At the end of the day, it's on my back. The worst thing anybody can do is do nothing, and that's one thing I'm not going to do."
As the company explores new ways to increase revenue, Doug says he wants to entrust employees with decisions that could lead to business and career growth. He considers Atlanta Light Bulbs a family business that extends beyond the Roots.
"All of our employees have families, and they are part of the family as well," he says. "I want them to be successful. I want them to be able to take care of their families and to personally grow and all that good stuff that you want to give."
As the Root brothers settle into their new roles and look forward to the next phase of their family business, it's not surprising they can't stop talking about Atlanta Light Bulbs.
"With other family members, we try not to bring that up," Jesse says. "When we're together, most of the time we're talking about business." – Lori Johnston
---
Century Award Winner
---
R.F. Knox Company Inc.
Smyrna
Long gone are the days when their employees had to catch an Atlanta streetcar to get to the jobsite, tool bags in tow. While that and many other things have changed in the 100 years since R.F. Knox Co. Inc. opened for business, their steadfast loyalty to employees and commitment to quality work remains the same.
Established in 1914 as Knox and Maier Co., the high-quality metal contractor was involved in smaller metal fabrication and installation projects such as repairing roofs or making grate fronts and stovepipes as well as other custom applications.
"When the company was founded, there wasn't any air conditioning and no mass-produced products for kitchens. They did a lot of fascia work … commercial and industrial," says Fred Knox, grandson of founder Robert Fletcher Knox, and retired since 2006.
Having grown from just a handful of employees to 200 today, the workforce includes highly qualified craftsmen, estimators, project managers and administrative staff, some of whom have been with the company for decades. "We've been very fortunate through the years to have a lot of long-term employees," says Fred Knox, noting that while the average tenure is 14 years, many employees have stayed 20 or 30 years or more. One is now in his 56th year at R.F. Knox Co., rising from a sheet metal worker to vice president.
The workforce isn't the only thing that R.F. Knox has expanded over the past century; their product line has progressed as well. The company's custom fabrication showcases the best in decorative sheet metal work. Some of their more notable clients include NASA Space Center, the University of Georgia and the High Museum of Art.
The recipient of this year's Cox Family Enterprise Center's Century Award for family businesses more than 100 years old, R.F. Knox Co. Inc. is now led by its fourth-generation president, Jack Knox.
A 1995 graduate of Auburn University, Jack says going to work for the family business was always in the back of his mind. Now at the helm, Jack also recognizes the value of supporting a loyal staff and the importance of completing a job to satisfaction.
"Without a doubt, we would not be where we are today without our employees. And our reputation is everything. We're only as good as our last job. If we didn't do well on that job, we won't get the next one."
Though he has young children of his own, Jack doesn't want to pressure them to follow in his footsteps. "I want them to pursue whatever makes them happy," he says. "They've got a lot of life to experience." – Karen Snyder