State of the Metro Atlanta Region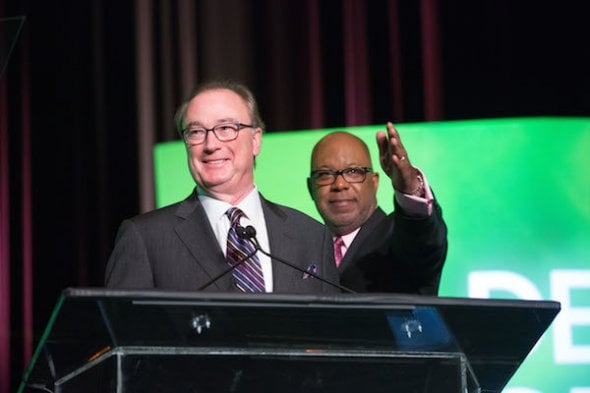 The Atlanta Regional Commission (ARC) State of the Region Address brought transportation back to the forefront of local issues with the results of a new survey that showed support for transit in all 10 Metro Atlanta counties.
According to the region-wide poll, 92 percent of those surveyed favor improving public transit across the region, up from 88 percent in 2013. Transit displaced the economy as residents' biggest concern. Respondents are more upbeat about the economy, with 43 percent rating job opportunities excellent or good, up from 36 percent last year. While only 1 percent of the region is considered walkable, a walkable area is the most coveted place to live, according to the survey. Also, arts and culture emerged as factors equally as vital as transportation and education to region residents.
Keynote speaker Atlanta Mayor Kasim Reed addressed a packed Georgia World Congress Center Friday, Nov. 7, about the importance of transportation and quality of life in attracting and retaining future workforce talent.
"As a result of the preference of millennials, businesses are following density," Reed says. "Not just in downtown Atlanta, but in Avalon [a community in North Fulton], Buckhead, Serenbe [in South Fulton], and Cobb County's new Braves stadium area."
In Germany, Reed says, a recent poll revealed that 70 percent of young people would choose a smart phone over a car. "If it were me at 16, a phone instead of a car would have been a big problem. But Atlanta is ready [for the millennials]. We have invested $325 million in the BeltLine, which has generated a billion dollars in matching funds." (Watch for Georgia Trend's coverage of the Atlanta BeltLine in the December issue.)
Baby boomers are also moving into these dense neighborhoods, he noted. But the millennials will be driving Atlanta's economic growth, especially if the city can retain more of its student population of 250,000. Currently just half of Georgia Tech's students stay here; bringing that up to 75 percent, and linking the burgeoning tech community with local Fortune 500 companies, will "bring the world to us," says Reed.
Metro Atlanta also has the second-fastest-growing foreign-born population and is in the top 10 for direct foreign investment in the U.S.
In addition to drawing from the world and its own campuses, Atlanta should be enticing more talent from the Southeast region. "We have to be the center of where smart Southern people want to come. It's not just about retaining our own students," says Reed. "We can draw them from Duke, Vanderbilt and the University of Alabama.
"We're the biggest center for technology-company acquisitions in the Southeast. We need [this young talent] so a billion-dollar, ISS kind of technology company deal will happen every year, not just every seven years. We can change our economy forever."
During the event, the ARC also recognized seven Developments of Excellence and honored Ann Cramer, senior consultant for Coxe Curry & Associates, with the inaugural Harry West Visionary Regional Leadership Award.
– Ben Young
Pictured: From left, ARC Board Chairman Kerry Armstrong and Executive Director Doug Hooker at the State of the Region Address
Photo courtesy of the ARC​