Thinking Ahead
Georgia lags in education rankings, but the REACH program is tackling the issue one student at a time.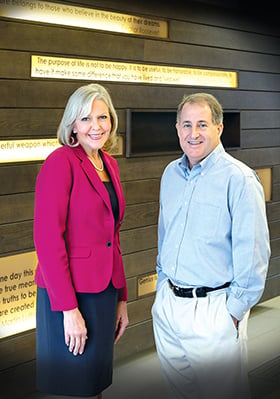 The United States, once a shining example of higher education attainment, now trails behind 15 other countries in the percentage of college graduates. And within that dismal figure, Georgia remains in the bottom five among the states.
Increasing access to post-secondary institutions in the state has become a priority, not just to raise our standing in the U.S. and the world, but also as an economic imperative. Studies show that by 2020, more than 60 percent of job openings in Georgia will require some post-secondary education.
Gov. Nathan Deal, in conjunction with the University System of Georgia and the Technical College System of Georgia, launched the Complete College Georgia initiative in 2011. The goal is to graduate 60 percent of young people in Georgia by 2020. To get to that number from today's 42 percent will require an additional 250,000 college graduates.
A number of programs are being implemented around the state to ensure we meet the goal, including REACH (Realizing Educational Achievement Can Happen). Launched in 2012, REACH is a needs-based scholarship and mentorship program designed to encourage kids who may not have thought about college as a possibility to stay in school, graduate from high school and attend a post-secondary school. Possible candidates apply in the seventh grade and are selected, often by a committee made up of community members as well as educators, in the eighth grade. Once accepted as REACH scholars, the students must sign a contract that they will maintain a certain grade point average, abstain from drugs and criminal behavior, and meet with a mentor throughout school until graduating from high school. In addition, parents or guardians sign a contract to support their student in their education.
Students accepted into the REACH program and who meet the requirements through middle and high school, receive a renewable annual college scholarship of $2,500 upon high-school graduation that can be used at any HOPE-eligible institution.
"This scholarship just continues our state's ongoing commitment to provide access to higher education to all Georgians regardless of their income," Sasha Dlugolenski, the governor's press secretary, says. "This scholarship in and of itself rewards self-accountability, and it promotes parent involvement and provides motivation and support. All those are factors that we know are critical in students' education achievement."
Focusing Early
Middle school – when kids are 12 to 14 years old – may not seem like the most effective place to start a college-prep program. Studies paint a different picture.
"It's usually at 8th grade where students begin to get behind," says Joy Hawkins, vice president of student aid services for the Georgia Student Finance Commission (GSFC), which administers REACH. "By identifying students in 7th grade and starting in 8th grade, we're identifying the students who have the academic persistence, but without the additional support may be one of those who would drop out in 9th or 10th grade."
"From the community perspective, [selecting students in 8th grade] gives the community the opportunity to invest in those middle-grade students and help them access college," says Brad Bryant, executive director of REACH. "We've got [a] number of our communities that do not have a rich history of post-secondary attendance and degree attainment. This gives them a chance to get to know the kids, invest in the kids and mentor the kids. It's a longer-term investment; the longer-term investments generally are the ones that are sustainable for both our state and our nation."
REACH started with school systems in three counties, Rabun, Douglas and Dodge. Nearly three years later, it has now spread across the state to 23 school systems and includes 150 REACH scholars.
"The goal in selecting these initial participating systems was to blend diversity of the district – the size and the geography. They're also identified for established innovation and leadership in collaboration," says Dlugolenski.
"The other thing that we looked at was, what schools had a really good mentoring program in place. And Douglas [County] was chosen because of that, because they had a Communities in Schools program," says Hawkins.
Communities in Schools is a national organization that focuses on dropout prevention. There is a local affiliate, CIS in Georgia, and 40 schools participate in the program throughout the state.
"What we're looking for is strategically aligning with established mentoring programs [such as Communities in Schools] that know that safety and welfare of the child is preeminent," says Bryant. "At the end of the day, we know this is most sustainable and serves the student, the parent, the school district and the community best if that local community feels the ownership."
While the REACH initiative has steadily expanded over the past few years, it's preparing to ramp up quickly in 2015. This past fall, the program reached out to all the remaining school systems in Georgia that are not currently part of the program with an invitation to apply.
"Our intent is to double that number of districts and number of students for the 2015-2016 academic year," says Bryant. "We would roughly have found our way into 25 percent of the local districts within the state and would have 300 REACH scholars residing within Georgia's borders.
"We look to continue to double each year until we reach the goal of every public high school, every district within the state," he adds. "Once we're able to scale into all of the districts, I think future business and government leaders will have the exciting opportunity to determine how you scale to the next level, which is to add additional students per grade, until at some aspirational day we provide this opportunity for every student in need in Georgia."
Supporting Scholars
REACH offers a way for businesses and individuals to support the next generation of high school and college graduates, who will be prepared for the jobs of tomorrow. The program is supported by founding sponsor AT&T, along with other corporations like Arby's, Gas South, Georgia Power and Verizon, as well as the University System of Georgia Foundation. Individuals have also donated to the cause, with 100 percent of donations going to fund REACH scholarships. In addition, communities are raising money for local scholars, a number of Georgia colleges and schools are offering matching programs and REACH is exploring a capital campaign, with the goal of raising $20 million.
"If we're looking at our roughly 400 public high schools, and we know that we need to have a presence in each of those high schools, then to get to that place we need to have 2,000 REACH scholars named and funded," says Bryant. "So, the math is pretty simple. That $10,000 commitment to each of those scholars, at the number of 2,000, gets you to the $20 million."
The campaign is in the feasibility stage now, Bryant says. "We have roughly raised $1 million in private donations. Then the governor recommended and the General Assembly overwhelmingly endorsed and approved a $2-million appropriation for FY 15. We believe [those are the] building blocks for that public-private commitment."
Some of the districts have developed innovative ways to raise REACH funds. Dodge County, a rural area 60 miles south of Macon, for example, found a creative way to raise money this summer.
"We're small. We don't have a car dealership in our county. There is a car dealership next door in Laurens County," says Dodge County School Superintendent Dr. Melinda Dennis. "They used to come set up in the Walmart parking lot and sell cars. [The] Walmart corporation didn't allow them to do that anymore. I contacted them about during the summer utilizing some of the school parking lots for a small cleaning fee and then a small gift per car. For every car you sell, I want x amount. We got $3,800 just from the car dealership coming over. That was a win-win."
Overcoming Challenges
Once a district is in the program, it's in for good. But there were things to consider when deciding whether to participate in REACH, Dennis says. "Why do I want to start something that I'm not sure that I can maintain after the first couple of years?" she wondered. "The first two years of REACH, scholar money came from the REACH program. The thought of a system that's rural and poor like mine being able to raise $10,000 per child was not something I knew I could keep up."
Then she realized that keeping the program up shouldn't be the deciding factor at all. "I knew that for every child that would receive the REACH scholarship, it would matter to that one." And since the beginning, the program has changed, she says. "Some of the REACH money is matched at the state level now. So, instead of the $10,000 per child, now I only have to raise $1,500 per child, and they still get the entire benefit. We've been able to sustain the program. And at that rate I don't see why we can't."
REACH scholars receive benefits beyond the money that is designed to help make up the difference between HOPE scholarships and actual college costs. Through a partnership with Usher's New Look Foundation, the students attended leadership development training at Emory University last summer.
Many of the students were invited to the College, Yes You Can Day at the state Capitol last year, including those from Dodge County. "I think the REACH folks are trying to plan something every year for these REACH scholars across Georgia to get together, because chances are they're going to be at some of the same colleges and post-secondary institutions," Dennis says. "It's so important to have a friend there, to help you connect. I think they're trying to help this group connect even earlier, so they'll increase their success in college."
The scholars also meet with volunteer mentors and academic coaches throughout middle and high school who can help them explore career options and navigate the college application process. "We have teamed up with the Dodge County Communities in Schools organization. They already had a mentor program in place, and they have helped us place our REACH scholars with mentors," Dennis says. "We've got folks from our chamber who are mentors. We have business owners. We have people from Alcoa. [The scholars] also have an academic advisor, an academic coach, that we provide through the school system. They just have a lot of people in their business."
While this program is only two years old, there are some positive outcomes to report. "We look at attendance, behavior and grades," Hawkins says. "Just in the first two years, we're already seeing marginal improvements. There are definitely improvements in all three categories. What we're hearing and from testimonials is that the students who had not been known in the school, those students that were quiet, the ones who may have fallen off the radar without support, are now taking on leadership roles. They are taking seriously their school activities and they're planning their futures, whereas before they hadn't thought about where they were going to go to college, or if they were going to go to college at all."
"This is what we're about in education," Dennis says. "We're providing options and opportunities. That's what REACH does."