Getting To Gigabits
A strong telecommunications industry pays big economic development dividends.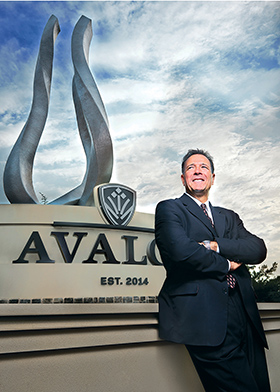 It's safe to say "connectivity" is one of Larry Brooks' favorite words. In fact, Brooks, director of the Walker County Development Authority, probably has a hard time not smiling when he hears the word.
His county, just south of Chattanooga and the Tennessee state line, is busy welcoming a $54-million investment from Audia International Inc., in the form of a plastics manufacturing plant that is locating in the county industrial park on U.S. 27 north of LaFayette. That means jobs and revenue for the community.
A big reason Walker County was chosen over sites in five competing states is its connectivity – thanks largely to a fiber line that links to the county's two industrial parks.
"One of the things that's a wonderful tool as far as recruitment is concerned is to be able to provide that interconnectivity via fiber," Brooks says, "not only with the plant they are working on but also to be able to connect them to networks they have across the country and across the globe."
Throughout the state, connectivity is always on the minds of executives looking to locate their companies in Georgia. "One of the first things companies ask about," says the Georgia Department of Economic Development's Amanda Shailendra, director of life sciences and corporate solutions, "along with water, sewer and transportation, is the telecommunications network."
Big Business
Telecommunications is a large umbrella that actually covers just about anything having to do with transmitting signals over long distances: telegraph, telephone, radio, television, the Internet and cell phone networks. But nowadays, when people talk about telecom, they are likely to mean wireless, broadband and mobile communications: the faster, the better.
Fiber, or fiber-optic technology, is the Holy Grail of broadband; it uses light signals to transmit data and can deliver video and voice (VoIP or Voice Over Internet Phone) as well. Fiber is super-fast, efficient, versatile – and just plain cool.
Demand for high-speed data transmission is snowballing – downloading movies, playing video games, teleconferencing and conveying big chunks of business data require increasingly more bandwidth. It's not just residential and business users who are anxious for more speed and more capacity: 911 systems, schools, courts, public libraries and healthcare – where the diagnostic potential is staggering – are all in need.
The industry is booming – everywhere. Globally, telecommunications revenue was about $2.2 trillion last year and not likely to stop growing.
The telecom landscape is ever-changing: As this goes to press, Comcast, the cable TV provider, is seeking to merge with Time-Warner; AT&T, which purchased Alltel Wireless last year, is looking to acquire Direct TV.
In the U.S., Georgia is an industry leader – ranking fifth among all states in employment, according to Shailendra.
There are 49,553 telecom jobs in Georgia, with average earnings per job a whopping $102,988. (In contrast, the U.S. has 854,068 telecom jobs, with average earnings of $97,989.)
Shailendra counts more than 100 telecom companies in Georgia, making it a strong industry with significant assets: two of the country's largest fiber routes that cross in downtown Atlanta; a collection of more than 50 large data centers; and more and more R&D activity and innovation.
Additionally, there are "fiberhoods," communities with astonishing data transmission speeds of one gigabit per second in and around Atlanta (most of the metro area currently have somewhere between 10 and 20 megabits); competitive Internet and cable providers outdoing each other with "bundled" or combined service packages; and customers ready to jump at new opportunities to send and receive data speedily and reliably.
Keeping Up
Georgia's modern telecom industry got its start with fiber investments made in preparation for the 1996 Olympics in Atlanta – and we have never looked back. Atlanta has been called "The Most Wired City in America." Its infrastructure is among the top five in the country, and it is clearly the telecom hotspot in the state.
"From a bandwidth standpoint, there is more investment in fiber," says Tino Mantella, president and CEO of the Technology Association of Georgia (TAG), "and there's some movement recently to what's being call gig [for gigabit] communities – Avalon [in Alpharetta] and places where a lot of tech companies are congregating." He mentions Atlanta Technology Village in Buckhead and Ponce City Market in Atlanta's Old Fourth Ward.
Beyond Atlanta, Columbia County outside Augusta is using a $13.5-million grant from the U.S. Department of Commerce to help build a 220-mile fiber-optic network; Savannah has more than 33,000 miles of fiber-optic cable, and the North Georgia Network has more than 3,000 miles of fiber.
Mantella says Georgia ranks 22nd among the states in overall connectivity. We are a little above average for DSL (digital subscriber link) coverage – 92 percent of the state population has access, compared to 89 percent nationally – and we're a little below the average for fiber – 20 percent compared to 25 percent.
A lot goes into creating a "wired" community – location, population and opportunity, to be sure. But sometimes an outside force can provide the impetus.
Peter Tokar III, economic development director for the city of Alpharetta, one of the most wired communities anywhere and site of the new Avalon development, says the real boost came when the Georgia Department of Transportation built roads – Georgia 400 in particular – and Georgia Power provided grid extensions. It didn't hurt that his was an affluent, well-educated community with lots of amenities. Technology companies began to come. "It became kind of follow the bouncing ball," Tokar says, as the city realized what it had going and seized the opportunity to enhance it.
Most metropolitan areas of the state – Atlanta for sure, but also Savannah, Augusta, Athens and the Georgia suburbs of Chattanooga – are in fine shape; smaller communities like Valdosta are actively creating partnerships to upgrade their telecom.
But many rural areas are lagging. The lower population density – fewer customers to pay for the services – combined with challenging topography and geography make it expensive and difficult to connect. There are pockets throughout the state – in eastern and southwestern Georgia and elsewhere – that are not well-served.
"Most have some level of connectivity," Mantella says, "but that's the operative term – some. There's a real range that we're seeing." He believes the presence of so many telecom companies with money and clout and the continuing investments in fiber will ultimately help non-metro areas of the state achieve some parity.
Regulation
So with all the telecom activity and the statewide thirst for even more, you might wonder who's regulating all this connectivity. Turns out, it's pretty much the free market, according to Georgia Public Service Commission (PSC) Chair Chuck Eaton.
Back in the day, Georgia's PSC had regulatory power over the telecom industry. In the mid-'90s, on both a state and federal level, deregulation became the watchword, however, and the Georgia General Assembly removed many industries from regulatory oversight.
Today, Eaton says, the PSC regulates shareholder-owned monopolies, but not industries where there is active competition.
"There are still aspects [of telecom] that we regulate," Eaton says – primarily the state's 35 smaller independent telephone companies, which serve a total of 573,611 access lines. And there are times when the commission is called upon to serve as referee if there are territorial disputes among carriers.
"So maybe we are afforded a bully pulpit on the issues," Eaton says. "We do get our fair share of calls about Internet service, which we really have almost nothing to do with. The companies are good about responding."
Eaton doesn't anticipate the pendulum swinging back toward more PSC regulation anytime soon, but he does speak of the need for balance in achieving connectivity for all parts of the state.
"I'm a pretty conservative person," he says, "so I don't look for new ways to regulate. The free market is naturally going to gravitate toward getting the most bang for the buck. I don't blame them one iota for that. It's not going to make a whole lot of sense to run all these state-of-the-art fibers to a farm in a rural area, but maybe that farm is a pretty big farm and they need that technology for their business. So that's where you've got to talk about these balances – and decide whether we're going to let it go completely to the free market, understanding there will be areas of the state that get completely aced out of it – or do we try and strike a balance to be sure these folks in the rural areas have access?"
A recent legislative attempt to regulate broadband didn't fare so well. In 2012, then-Sen. Chip Rogers was pushing the Broadband Investment Equity Act (SB 313), which ultimately died; it said local governments could not use tax revenue to pay for communication networks. A Peach Pundit report on the bill noted that telecom companies, some communities and the Georgia Municipal Association opposed the bill because it would inhibit the growth of broadband infrastructure.
Coverage, Capacity
Heavy-hitter telecom providers say they are aware of needs around the state.
"We are always looking at our network and looking to expand," says Beth Shiroishi, president of AT&T Georgia, which provides 94.7 percent of the population of Georgia with access to its mobile broadband network.
"Expanding for us is really two things. It's coverage, but it's also capacity. That's somewhat of a new concept. In the 'old world,' if there is such a thing in wireless technology, you needed coverage and you needed cell towers that geographically covered areas," she says.
"What happened with the rise of data and the rise of video on mobile devices is we may have a tower and we may have equipment, but at some point the capacity all gets used up because it takes so much more bandwidth for data and for video," she adds. "Now what we're doing in addition to continuing to expand our coverage is also having to go back, and even where we have current coverage, upgrade the capacity of those sites. Sometimes that means building a new tower because of certain weight limits, so we are looking at ways to expand coverage and capacity.
"Atlanta has great coverage," Shiroishi says, "and we continue to look at the rest of the state. Just in 2013 we did 1,500 wireless upgrades." She mentions AT&T's acquisition of Alltel and says work is being done to migrate that capability into the network. "That should help with coverage in some areas that are not as strong."
Shiroishi says her company, which has 21,000 employees in the state, has invested more than $3.9 billion in Georgia in recent years.
Comcast is seeing a need for additional broadband, says Alex Horwitz, public relations VP for the Big South Region. The company, with about 4,000 employees in Georgia, operates in Atlanta, Athens, Augusta, Savannah and the Greater Chattanooga area. The impending merger with Time-Warner would likely increase the footprint in the state.
Horwitz uses the term "digital divide" and cites Comcast's program of providing affordable Internet service – at $9.95 a month – for families of school children eligible for free or reduced-cost lunches. He notes that Comcast has increased its network speeds in Georgia 13 times in the last 12 years.
Spreading The Wealth
So what does Georgia need to do to boost connectivity in areas that don't have it?
TAG's Mantella advocates tradeoffs – incentives and tax credits – to make a company's investment in an underserved area worthwhile.
"Let's be sure we're rewarding and incentivizing the ones we want – much like we do for the film industry," he says, "and have a full understanding of what that's going to mean to the state going forward."
Partnerships among communities, businesses and institutions are effective, Mantella believes. A shared approach can lead to good plans and master plans that will make an area more attractive to telecom and business investment.
That sentiment is echoed by Andrea Schruijer, director of the Valdosta-Lowndes County Development Authority, who says her community relies on its partners – among them Valdosta State University and South Georgia Medical Center – to "continue to improve current capacity and plan for the future. Good relationships and open dialog are important."
Demand for telecom is not just coming from under-wired areas; everybody wants more, faster, and the power players are fully aware of this. AT&T just announced it will bring super-fast Internet connections of up to 1 gigabit – 100 times faster than the average connection – to Atlanta, Sandy Springs, Decatur and Newnan. Google is also considering bringing its super high-speed Google Fiber to the Metro Atlanta area.
The desire and need for more high-speed connectivity is only going to grow. It's not just a nice thing to have on a civic resume – it can mean economic investment and opportunity for business and industry, and it is increasingly important to citizens' safety and health.
Especially in industry recruiting, says Schruijer, the issue of telecom services is vital. "It's not whether or not you have it, it's the amount of infrastructure you have with broadband."
"Connectivity," says Walker County's Larry Brooks, "is not just icing on the cake. It's a necessity. Like water and sewer, people expect the community to provide it for them."
HIGH-SPEED DECODER
Broadband refers to high-speed Internet access, available via several different kinds of technology.
Digital Subscriber Line (DSL) uses copper telephone lines already installed in residences and businesses.
A cable modem uses the same coaxial cables that bring audio and video to television sets.
Fiber, or fiber-optic technology, converts data-carrying electrical signals to light, which is sent through miniscule glass fibers. Transmission is faster than DSL or cable modem speeds.
Wireless broadband, which can be mobile or fixed, uses a radio link between the customer's location and that of the provider.
Satellites orbiting the earth can provide broadband links; they are most commonly used in remote areas.
Broadband over Powerline (BPL) uses the existing low- and medium-voltage electric power distribution network for data transmission.
Source: Federal Communications Commission, www.broadband.gov