DeKalb County: Kicking It Up A Notch
Major development, residential resurgence and transit options.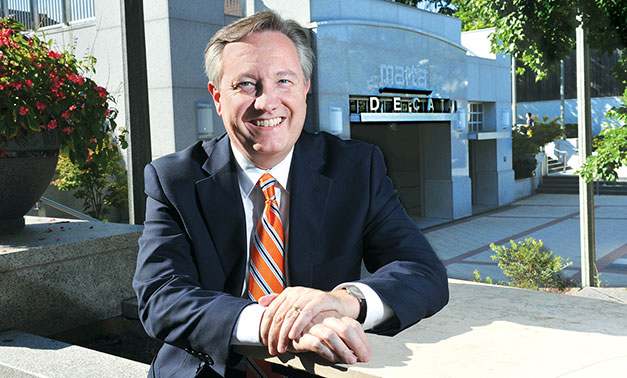 It seems you can hardly look at the news these days without seeing another DeKalb County government official in trouble. At press time, former county commissioner Elaine Boyer had just pleaded guilty to federal charges of lining her pocketbook with more than $90,000 of taxpayer money and suspended county CEO Burrell Ellis was on trial for corruption.
Despite these serious problems, there is a growing sense across this Metro Atlanta county that the economy is about to once again kick into high gear. No, it's not the giddiness of the pre-recession boom days when the building and growth never seemed to end – until it did – but it is an unmistakable optimism.
This upturn can be seen in the subtle indicators such as a growing number of building permits for new homes and renovations of old ones. Then there are big headline makers such as the massive State Farm campus taking shape in the Perimeter area and the plans for an expansive mixed-use development on the site of the old General Motors plant in Doraville.
"The recession hit us pretty mildly," says Dunwoody Mayor Mike Davis. "Our housing pricing went down 15 or 20 percent, and there was not a lot of movement in the retail or commercial side of it. The Class-A office space remained steady during the entire recession. Then we started seeing a lot of movement in the last couple of years, especially in Class-A office space, but also housing prices are at or above the peak in '06 or '07."
Dunwoody is not only the county's biggest city, it also includes the metro area's biggest employment center – Perimeter – and is strategically located to pull workers from Buckhead as well as the surrounding suburbs. This heavy concentration of companies and office workers has started to grow again. While Class-A office vacancy rates rose to 42 percent at the bottom of the recession, that number has lately fallen to less than 17 percent, according to Davis.
Location is a big factor in the county's renewed success in attracting new business and industry. DeKalb is close to both Atlanta and Hartsfield-Jackson Atlanta International Airport. Yet it's more than just location. The county's new managing director of economic development, former state senator Doug Stoner, is quick to point to impressive infrastructure that makes it easy to get in and out of the county.
"We've got access to an extensive interstate network including I-20, I-285, I-85 and I-675, which makes DeKalb unique in the whole Southeast," he says. "We have a heavy rail system and extensive MARTA bus system, so we have an excellent public transit system. That's becoming a bigger and bigger issue for major companies. That was a deciding factor, too, in the State Farm decision."
Any list of recent news for DeKalb begins with the decision by State Farm to consolidate its regional offices into a 2.2-million-square-foot mixed-use project in Dunwoody. It's one of the largest corporate office developments in Metro Atlanta's history. As one of the company's three national hubs, it will bring 3,000 new jobs upon opening and up to 7,000 over the next decade. Along with the 585,000 square feet of office space for State Farm, the development is expected to include 100,000 square feet of retail and entertainment space and a 200-room hotel.
"It's not just huge, it's the biggest office deal in the history of Atlanta," Davis says.
Then there's the recent announcement that the former GM site, which has sat abandoned since 2008, has finally been purchased. Local investment company The Integral Group, in a joint venture with Houston-based Consolidated Asset Management Services (CAMS), has purchased the 162 acres for roughly $60 million, with plans to convert it to a mixed-use development with 20 blocks of office buildings, housing, retail and restaurants. The land has been designated a brownfield site by the Environmental Protection Agency, and it will take approximately eight months to demolish the existing structure and remediate the site.
The site will become "a livable, mixed-use, transit-oriented development," says Doraville Mayor Donna Pittman.
An Easier Commute
While many factors came into play with State Farm's decision, local leaders say transit was a big one. It's one reason why the campus is located next door to the Perimeter Mall MARTA station. Instead of those thousands of workers all arriving by car, many are expected to travel by rail, and a great many of them will be coming from Buckhead and Midtown Atlanta in what transit experts call a "reverse commute."
When MARTA first built rail in 1979, it was to take people from suburban communities to jobs downtown. Now a growing number of riders are traveling the other way, reflecting the return of residential to the city and the growth of job centers like Dunwoody.
Dunwoody and the Perimeter area are home to several of Metro Atlanta's Fortune 500 headquarters. With three transit stations, it has as many as Buckhead, the other big office market. Companies have taken notice of these plentiful transit links.
"Today, it's a real requirement for most corporate locations, and with Central Perimeter you're getting the best of all worlds," says John Crocker, MARTA's director of development and regional coordination. "You get ready accessibility by interstate to the bedroom communities where the executives live, and then you've got access to the millennials that live in Buckhead, Midtown and Downtown."
Dunwoody in particular has attracted a wide variety of companies from corporate giants such as State Farm to tech startups. All of these firms are eager to recruit millennials who desire a walkable urban environment and an easy commute.
A study from the University of Georgia's Carl Vinson Institute revealed the greatest benefit provided by MARTA was an increase in labor force mobility. The trains and buses provide a means for people to get from home to work. Out of the 3,400 riders who use the Dunwoody station every day, approximately 73 percent were traveling for business or work, according to transit authority data. About 38 percent are in the millennial age group, commonly considered those born between the early 1980s and early 2000s.
Despite Atlanta's reputation as a car town, a significant amount of job growth has taken place along transit lines. Approximately 28 percent of the metro area's jobs are located within one half mile of a MARTA station – about one percent of the region's land area.
"There is definitely a corporate mindset that we want our employees to have access to transit, and we want that as an amenity and a necessity," says Yvonne Williams, president and CEO of the Perimeter Community Improvement Districts (CID). "They're looking at the metro region as a broad population base and know they can draw [workers] to Perimeter from across the region. They know that we will always have traffic and that with a steady workforce, you're going to have traffic congestion."
With all these jobs coming to an area that has long been noted for the number of commuters it attracts, the need for better road connectivity has become obvious, according to Williams.
"The transportation agenda for Perimeter has been a transformational opportunity to strategically position Georgia's economic growth and competiveness," she says. "It's proven to be a very, very huge indicator that the transportation improvements in these high-level activity centers are vital to drive the next level of economic capital investment."
The CID is supporting the redevelopment of the I-285/Georgia 400 interchange and the Georgia 400 collector-distributor projects. The organization has committed a $10-million bond for measureable milestones and $500,000 for advocacy, technical research and outreach to the more $700 million that has been gathered to make the project a reality.
It will be the largest surface transportation improvement for the state and will play a major role in easing congestion for the Perimeter area, especially as construction on the State Farm site and other development ramps up and an improving economy brings more commuters into the area, says Williams.
A Proactive Approach
While DeKalb has many assets that sell themselves, the county adopted a more marketing-oriented approach to economic development, says DeKalb Interim CEO Lee May. "We've traditionally had a very reactive approach to development," he says. "If a company wanted to come here, we would leap into action to help them."
Now the county is using a much more structured, well-financed approach (to the tune of $1.25 million annually) to economic development through a public-private partnership with the DeKalb County Development Authority.
The new agency is expected to produce more good news like the State Farm announcement and the General Motors redevelopment project.
"We are looking at the GM plant [site] to be an employment center for DeKalb again," says May. "When GM closed, we lost over 1,000 jobs. Now we want to begin to replace them with high-quality, sustainable jobs, and I think the GM site lends itself well to becoming that kind of employment center."
This development will at last begin to replace the 10 percent loss in the city's revenue base and the staggering 36 percent drop in overall employment base that came with the closure.
The county is also seeking to develop the eastern and southern sections of the county. Earlier this year, the Board of Commissioners approved the creation of the East Metro DeKalb Community Improvement District. This 39-square-mile area along the I-20 corridor in South DeKalb will become a self-taxing district with the capacity to jumpstart infrastructure improvements.
The new CID includes commercial property stretching from the Mall at Stonecrest in DeKalb's far east to Gresham Road in South DeKalb. Officials say there are about 1,250 commercial property owners and more than $1 billion in property value within the area, making it the largest CID in DeKalb County and nearly the largest in the metro area.
Courting Millenials
The growth of jobs is also fueling a growth in residential development throughout DeKalb. A wide variety of apartment complexes are sprouting as builders are once again able to get funding for a surging market.
"The people who commute 30 or 40 miles each way to work are a dying breed," observes Davis. "The ability to get somewhere very quickly in Atlanta is going away, and I don't see that getting much better. So we're seeing it's not just Dunwoody seeing the explosion of people wanting to live closer to work, it's the other cities as well. We're all seeing the effect of people realizing they have to live closer to work than they were doing 15 or 20 years ago."
More than 2,000 apartment units were already in the pipeline even before State Farm launched its new campus. Now those numbers are certain to grow, say local leaders.
Making sure all those workers can live in DeKalb has spurred the county to look at providing some assistance to companies and employees to make housing a little more attainable. The program, which is still in development, is expected to provide financial incentives to ensure that more people are staying here – and spending their money here – rather than going elsewhere.
"This isn't affordable housing," says Stoner. "This is housing for employees of companies here and also for folks who are looking to relocate here. This is an opportunity to help them with being able to purchase a home in DeKalb or refinance that home if they're underwater."
Several apartment developments are also underway in downtown Decatur. Most are designed to appeal to the millennials who are increasingly attracted to the city's highly walkable core.
"In the early 2000s up until around 2006, we had a large growth in the downtown of mostly condos," says Decatur Mayor Jim Baskett. "They were condos above retail spaces, and of course that came to a halt."
Overwhelmingly those units were occupied by empty nesters. Now as multi-family development is cranking up again, the emphasis is on rental properties, including the affordable variety.
"We did a study back in '08 on affordable housing, and we identified then that we had a real lack of apartments," says Baskett. "So what we're looking at now are apartment developments."
These include The Place on Ponce, with 234 units above 10,000 square feet of retail. Over on Clairemont Avenue, the Alexan, a Trammell Crow Residential development, is rising on a parking lot behind the Fidelity building. It will include another 176 units. Another 210 apartments with 5,900 square feet of retail are slated in the Trinity Triangle.
Prior to this upsurge in private development, Decatur had been busy refurbishing its public infrastructure. Since 2007, more than $60 million has gone into renovating older fire stations, recreation centers and other buildings – most of which had not seen improvements in a half-century. The city also added streetscapes and improvements to city parks.
"We issued some capital bonds before the recession hit, so in some ways it's really benefited us because we were able to go forward with some pretty important public infrastructure improvements when the construction costs were very competitive," says Lyn Menne, assistant city manager and community and economic development director. "So we kept some construction going by making public sector improvements."
With its own MARTA station right downtown on Church Street, Decatur has evolved into what has been called a "transit-oriented development," with residential, retail and other commercial development surrounding it. Locals can easily hop on a train for a trip to downtown Atlanta or all the way to the airport.
Now, the other two train stations within the city are being eyed in a similar fashion. Plans are underway to build apartments on five acres adjacent to the Edgewood/Candler Park MARTA station. The project is expected to break ground next year. A mixed-use development, including apartments, condos and retail, is also in the works at the Avondale station.
"The number of [MARTA] stations we have and the locations of those stations and the potential for development around those stations will generate residential, retail and particularly opportunities for small business folks," says Stoner.
MARTA is eying this kind of development for 10 of its train stations throughout Metro Atlanta, including Medical Center and Brookhaven in DeKalb. Brookhaven has 10 acres available and is already close to the successful Town Brookhaven, a mixed-use development.
Throughout DeKalb, people are looking to the future with a renewed sense of optimism. As business deals are finalized and construction projects rise from empty lots, the mood is one that the economy is vibrant and ready to grow.
LOCAL FLAVOR
New City, New Successes: Most cities measure their life and progress in decades or centuries, but in Brookhaven history has been short. After voters approved the creation of the city in 2012, local leaders had to get to work assembling the government and its services from scratch.
"They say the startup phase takes three to five years, and we're less than two years into it right now," says Mayor J. Max Davis.
Unlike other new cities in Metro Atlanta that outsourced all public services to a private company, Brookhaven has adopted a "hybrid model" that ensures contractors are reporting directly to city officials.
"We think it's better for our department heads to be city employees and have them managing the contracts and the contractors answering to them," says Davis. "We're experiencing quite a boom here, and some of it has to do with our location."
The city has worked to be more responsive to business by cutting back unnecessary regulation. The city hired its own fire marshal so businesses no longer have to deal with different personnel from the county who may make different demands.
"It's a big deal when you're trying to build a restaurant and you have one fire marshal tell you to do this and the next time it could be a different fire marshal who tells you to do something else," says Davis. "There were sometimes consistency problems."
Although it's reduced the millage rate twice in the last two years, the city has also expanded services and completed nearly $1 million in sidewalk improvements. The city is also on the shortlist for the Google Fiber project, which offers ultra-high speed Internet access. (Although it's reduced the millage rate twice in the last two years, the city has also expanded services and completed nearly $1 million in sidewalk improvements. The city is also on the shortlist for the Google Fiber project, which offers ultra-high speed Internet access. (See "Getting to Gigabits" for more on Georgia's telecom industry.)
The success of Brookhaven, coupled with county-level woes, has inspired other areas in DeKalb to consider cityhood. If approved by the legislature and voters, look for the cities of Briarcliff, Lakeside and Tucker to come online soon. – Randy Southerland