Creative State
The Georgia Writers Hall of Fame shines a spotlight on the state's rich literary heritage.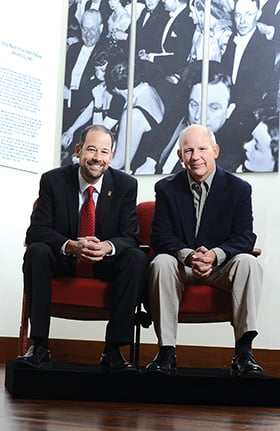 Georgia's literary heritage includes the likes of Margaret Mitchell, Erskine Caldwell, Flannery O'Connor and even those who may not be thought of primarily as writers, but whose words have touched millions, like Martin Luther King Jr.
These authors have inspired generations of readers and writers, including a strong pack of current Georgia literary luminaries, such as former U.S. Poet Laureate Natasha Trethewey, novelists Pat Conroy and Anne Rivers Siddons, short-story writer Mary Hood and Pulitzer Prize winner Alfred Uhry. With a pool of talent this deep, the Georgia Writers Hall of Fame (GWHF) – all of the writers listed above are members – is overflowing with words to stir every soul.
"The Georgia Writers Hall [of Fame] is the signature annual event of the Hargrett [Rare Book and Manuscript] Library," says Toby Graham, university librarian and associate provost at the University of Georgia, home of the GWHF.
It was started in 2000 as a way "to honor writers and at the same time to use materials in the Hargrett library to create exhibits that would celebrate Georgia authors," says Skip Hulett, Georgiana Collection librarian in the Hargrett Library.
The hall of fame inducts writers – both living and posthumously – each year at a ceremony at the Russell Special Collections Building on the UGA campus. At this month's ceremony, Nov. 9 and 10, Olive Ann Burns, Mary Hood and Alfred Uhry will be honored and inducted.
Burns, who wrote Cold Sassy Tree, is this year's posthumous inductee; she passed away in 1990. Cold Sassy Tree, set in a North Georgia town modeled after Burns' hometown Commerce, was chosen in 2002 as one of the books all Georgians should read by the Georgia Center for the Book. It was nominated for an American Book Award, and Burns was named Georgia Author of the Year by the Dixie Council of Authors and Journalists in 1984, the year the book was published. Cold Sassy Tree has remained in print since its original publication date and is a fixture in high school literature classes and book clubs, and a mainstay on many recommended reading lists.
Hood, a Georgia native, is best known for her short-story collections. Her first, How Far She Went, won the Flannery O'Connor Award and the Southern Review/Louisiana State University Short Fiction Award in 1984. Since that time, she has also won a Pushcart Prize, a Whiting Award, the Southern Regional Council's Lillian Smith Book Award, and been named Georgia Author of the Year by the Dixie Council of Authors and Journalists.
Alfred Uhry is the only American writer to earn Tony and Academy awards as well as a Pulitzer Prize. The Atlanta native's Pulitzer Prize-winning play Driving Miss Daisy was based loosely on the relationship between his grandmother and her chauffeur. Uhry later adapted it into an Academy Award-winning movie.
Uhry, who now lives in New York City, remains eligible for inclusion in the Georgia Writers Hall of Fame. GWHF bylaws state that a writer must either be a native of Georgia or have produced a significant work while in the state.
That definition is wide open to interpretation. Inductees vary from authors such as Olive Ann Burns, Philip Lee Williams and Mary Hood – "all writers who have spent almost their entire lives in Georgia and writing about Georgia," Hulett says, "to writers like Harry Crews who spent more than half his life in Florida as a professor at the University of Florida. But he wrote considerably about characters that had roots in Georgia."
Nominations for inductees are accepted online from the public. If a nomination is accepted, it stays in the nominee pool from year to year. The goal is to honor a writer's body of work and career, rather than a particular book, which, says Hulett, makes sense for the Hargrett Library. "We're a research library, and what we do is try to obtain research collections for scholars on writers."
"We have the largest, most comprehensive collection of books by Georgians and about Georgia in existence," Graham says. "The Hargrett Library is really one of the great repositories on Georgia history and culture. It has documents that start with the origins of the Georgia colony through to the most recent books by Georgia writers. We have the papers of Georgia writers like Margaret Mitchell, Erskine Caldwell, Corra Harris, Calder Willingham, Harry Crews, Lillian Smith, Frances Mayes, Judith Cofer, Philip Lee Williams and others." Many of those have been inducted into the GWHF.
For this year's induction events, "we're going to have a program around the work of Mary Hood and have Mary Hood do a reading," says Graham.
Hood's short stories, often set in Georgia, are marked by a strong sense of place, though it's not always the Georgia people think they know.
"I think of Georgia as being a place where people from all different cultures have been coming and passing through for a long time," says Hood, who spent her childhood on the coast in Brunswick. "That is the story of Georgia. The fact that people meet, their paths cross in this place. The pollination that comes with a coast."
And it's Hood's story as well. Her father was from New York, in Georgia with the military during World War II, and her mother, a Georgia native, was in Brunswick teaching when they met.
The two-day event also includes a presentation of The Last Night of Ballyhoo, a play by Uhry, performed by UGA theater students, and an exhibit. "The exhibit has a two-fold purpose. It's to honor [the inductees], but it's also to showcase the materials and the function of Hargrett Rare Book and Manuscript Library," Hulett says. "So we draw upon materials in our collections. That can be letters, manuscripts, drafts of writings, different – both English and foreign – editions of works. It can be other things that represent the ways in which writers work."
The induction ceremony and luncheon for the honorees takes place Monday morning, then it's on to 2015.
"We spend the rest of the day figuring out who the next round of inductees are going to be," Graham says. "The board of judges is named by the university librarian and includes previous inductees into the writers hall. It includes the directors of the University of Georgia Press and the Georgia Review. It includes UGA faculty members. And it includes other citizens from around the state who have a love of literature."
Judson Mitcham, Georgia's poet laureate, was inducted into the GWHF last year. "I was thrilled by it," he says. "It made me want to write better." This year, he'll be serving as a judge for the first time. "I've only just become a voting judge, but I believe the main criterion should be that there is an undeniable quality, a consistent excellence, in the work."
The award is meaningful to Georgia writers, even those who have won bigger, national awards, like Uhry. "Being honored by Georgia is a big deal to me. I grew up in Atlanta," Uhry says. "I write a lot about Georgia. I haven't lived there since I left Druid Hills School, but it seems to be part of my writing DNA. I am deeply honored to have this."
Despite years living in New York City, Uhry continues to write about the South. He's currently working on a musical adaptation of the Jon Berendt bestseller, Midnight in the Garden of Good and Evil. "When somebody called me with the idea, I thought, this is a great idea," he says. "I should do this."
"We just have such a wonderful literary heritage in Georgia," Graham says. "Just an outstanding group of writers who have emanated from this state in the past, but also so many great writers that are working today. This is just one of the ways we can acknowledge and promote that wonderful literary legacy in Georgia, and also encourage people to read Georgia writers. They'll be better for it."
GEORGIA WRITERS HALL OF FAME
The Georgia Writers Hall of Fame started in 2000, with 12 writers inducted that year. Since then, a total of 48 of the state's literary luminaries have been named to the hall of fame, which is housed at the University of Georgia.
2000
Erskine Caldwell
James Dickey
W.E.B. Du Bois
Joel Chandler Harris
John Oliver Killens
Martin Luther King Jr.
Sidney Lanier
Augustus Baldwin Longstreet
Carson McCullers
Margaret Mitchell
Flannery O'Connor
Lillian Smith
---
2001
Byron Herbert Reece
---
2002
Harry Crews
Jean Toomer
Alice Walker
---
2003
Conrad Aiken
Elias Boudinot
---
2004
Pat Conroy
Henry W. Grady
Ralph Emerson McGill
---
2006
Jimmy Carter
Terry Kay
Frank Yerby
---
2007
Melissa Fay Greene
Georgia Douglas Johnson
James Patrick Kilgo
Johnny Mercer
Caroline Miller
Ferrol Sams
Celestine Sibley
Anne Rivers Siddons
John Stone
Natasha Trethewey
Walter Francis White
Philip Lee Williams
---
2008
Bailey White
Calder Baynard Willingham Jr.
---
2009
Raymond Andrews
Coleman Barks
David Bottoms
Robert Burch
---
2010
Judith Ortiz Cofer
---
2013
Toni Cade Bambara
Judson Mitcham
---
2014
Olive Ann Burns
Mary Hood
Alfred Uhry